Last Updated on March 1, 2017 by NandiNN
"Ladies Make Money Online" is all about helping ladies in today's society make some extra money on the side. This entire blog focuses on the thing you can easily do to start earning income online. We want you as a lady to advance financially by side hustlin' ! Are you a "Diva?" As Beyonce puts it "A Diva is a female version of a hustler!" We will give you all the great reasons why you need a side hustle and how to achieve it. 
My blog is my full-time hustle and I started this outlet as a way to help other female entrepreneurs achieve the success I believe they can. This is where I express everything I know about blogging, how to achieve success and how to properly monetize your business. 
A lady's guide to side hustlin' and why you should too!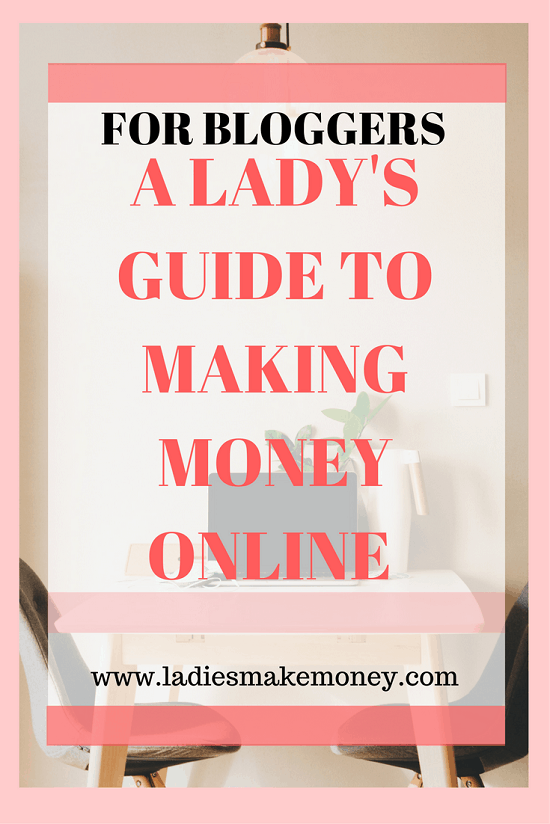 What do we mean when we say side hustle? This is simply a way for you to make more money outside your full-time job, or even make it your full-time income. I, for example, decided to dedicate my energy to turning this blog into a full-time hustle and by the end of this year, I want to earn about $5000 per month blogging. 
As of right now, I am currently making around the 1K mark and I wrote an e-Book dedicated to helping you make your first $1000 by using different income streams. You can grab the book here: (Please use the code "ebook10" to grab it for as little as $10.00). 
WHY YOU NEED A SIDE HUSTLE 
They are so many reasons why we believe you need to pursue a side hustle. It could be a way for you to earn extra income which will help you pay down debt, stay out of debt or do things you have always loved such as traveling or enjoying the finer things in life. 
It's a great way for you to use skills that you might not have known you could use to make money. For example starting a photography business, or starting a petting sitting firm. Here is a list of 10 ways you can make money using your skills- 10 Easy Way to Make money from Home doing odd jobs! 
Not sure why you need a side hustle? In my case,  it's a way for me to do exactly what I want,  do what I love, and still earn money from it. Depending on your business, you are able to be flexible, do the job from anywhere and just be in your own zone. It's also a fantastic way to let out my creativity and teach others. 
HOW CAN YOU SUCCEED WITH YOUR SIDE HUSTLE AND MAKE MONEY
They are a few things you can do to ensure your success. Pick a side hustle that you are truly passionate about, something that you know well or are willing to learn about and be true to yourself. Get educated for sure. This is our number one tip. I started a wedding planning business and although I was passionate about it, really organized I decided to take multiple courses to help me further that career. And I was able to grow it to a $60,000 a year wedding business in less than 2 years. 
That's why we created this simple to follow e-guide that will help bloggers trying to monetize their blog. Grab it for only $10.00. The code is "ebook10"! 
You might also like: 7 Ways to Boost your Online blog INCOME and make Money
HOW CAN YOU START MAKING $1000 PER MONTH SIDE HUSTLING! 
We have mentioned our e-guide that outlines the programs, tips, and step by step guide of what we are doing to make that extra income per month. It includes the following and a bit more. 
You might like: How to make $500 per month with your blog
WORKING WITH BRANDS
If you are passionate about working with brands, then this is something you should explore. You are able to sign up with brands that will pay you to blog, post on social media about their products. You do not want to work with just any type of brands. The e-Guide outlines a few major and reputable brands that you should work with in order to succeed. These brands pay anywhere from $80-$500 a post. 
CREATE YOUR PRODUCTS
We have a step by step guide that you can use and follow that shows you exactly how to promote your new product and services. Don't start creating products until you know people want it. Setting up funnels and a few other things will make or break your launch. Grab the e-Book today to start making some serious money. Products are my number one source of income although I am trying to grow my affiliate sales. See below: 
BECOME AN AFFILIATE ASSOCIATE 
Become an affiliate associate and recommend products that you love. This is the best way of making money online. But if it is not done right, you can put links all over your site and still make 0 dollars from it! We will guide you in the right direction so you can succeed. Affiliate marketing is the new black! So easy to earn money if you understand the concepts. 
If you want to know more about how to make that $1000 from your blog sooner than later, check out our e-book. It's only available for a limited time at $10.00. This is great if you are able to start making $1000.00 from it. You will also get bonus tips on increasing traffic, promotional tactics and places that pay bloggers to write. 
MAKE YOUR NEXT $1000 FROM YOUR BLOG WITH OUR NEW E-BOOK. USE PROMO "eBook10″ FOR LIMITED TIME AND GET IT FOR $10.00. BE WELL ON YOUR WAY TO MONETIZING YOUR BLOG TODAY! 
If you enjoyed our blog we would like to have you join our email list and receive weekly money-making tips, you can join now! Don't forget to join our Private Facebook page. The page is created to share your work, pitch your services and learn from other experienced bloggers!
---
***We would like to note that this post and most posts on our blog may contain affiliate links. This means that if you purchase something that has an affiliate link, we will get a commission from it. Not all items recommended on our site are affiliate links. We only recommend items that we have used and tried. These items have brought us much success and we highly recommend them to you in order to be successful. Thank you for your trust!