Last Updated on May 13, 2021 by NandiNN
What is the Best Budget Planner?
I am so glad that you are here today as we will be looking at what I believe is the best budget planner for those looking to take control of their money!
We definitely encourage our readers to budget, document every cent coming in and out and find ways to increase their wealth.
One of my best posts here on Ladies Make Money Online is a post I wrote on the different strategies one could use to get rich fast.
But as you know, that is not always possible for a lot of people, and this is where budgeting comes into play.
Budgeting typically works well if you write things down so you can have a clear view of what you are working with.
Having a great budget planner notebook or a monthly budget planner book will make budgeting easy.
How does budgeting help you?
By budgeting, you are essentially managing the money that you already have to make ends meet and balance it all out.
This way, you can find different ways to stretch that money until you get more money to add to your budget.
Sometimes it is easier to work with what you already have than to find ways to make more money!
Ideally, having a financial planner notebook to balance things out works wonders.
But how can you stretch your money, you ask?
They are simple things you can do to ensure you make the little money you have to work with, last longer.
These are some of my favourite ways to ensure the money I have lasts:
I negotiate my bills when I can

I follow a strict budget using some of the best budget planners out there
If you are not sure how to start with taking control of your money, I suggest grabbing one of the beginner budget planners we will suggest below.
Speaking of budgeting planners, be sure to also grab my 30 days to more money guide below. It is completely free and has plenty of epic tips you can use to make more money.
Go ahead and sign up for the 30 days to more money challenge below.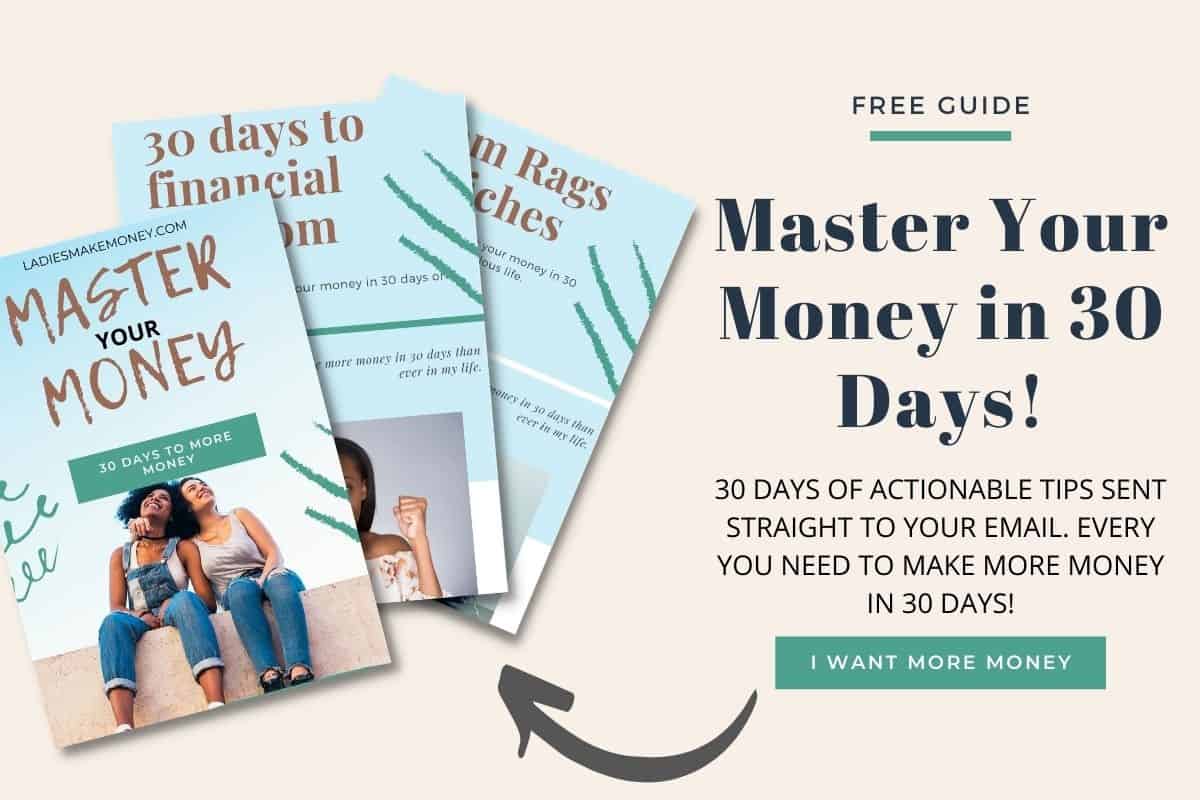 Now that you got that, now we can get back to looking at budgeting planners and finding one that will work for your unique situation.
I personally own most of these planners.
But let's find out what budgeting planner I love the most!
Before we get started on what the best budget planner is, we did want you to follow us on Facebook for more awesome ideas on saving or making more money. You can also follow us on Instagram for more tips.
We also wanted to take the opportunity to let you know that we use Affiliate links on some of our blog posts. This means that we could make a commission if you click on an affiliate link and purchase something.
I will be covering the following:
What the best monthly budget planner is

What makes a good budget planner

What is included in the best budget organizer?

As well as what the budget planner for beginners are
I hope you stick around, today is the day we find you the best planner for budgeting.
We will be looking at the following criteria today to help us determine the best financial planner organizer by analyzing:
The content of the budget planner

How popular the budgeting planner is

We also need to ensure it is un-dated for multiple uses
With this in mind, we will get started with the post and share the best budget tracker out there.
By using the best budgeting planner out there, you will soon be on your way to financial freedom.
Start slow, and work up to really using it to your advantage.
We excited to share the best budget planner book beginners can use to start budgeting.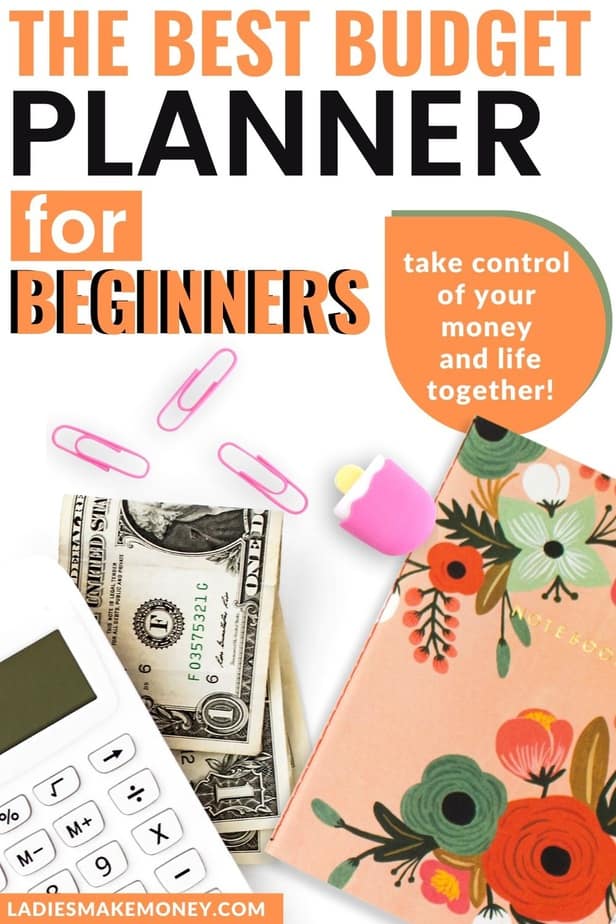 What exactly is a Budget

Planner?
I am so obsessed with planners as I use them in my everyday life to stay organized financially.
Without planners and templates, I think I would be so disorganized and feel out of the loop on a daily basis.
But finding the best budget planner book for beginners was the ultimate goal of my post.
I know how hectic life can get especially if you are new budgeting.
As a busy mom, using planners of any type is what gets me through the day. My go-to everyday life planner is this beauty – "The Organized Life Planner!"
It's something I use every day.
Learning how to organize your finances is a great way to be financially responsible.
Since the beginning of the year, I have been on a mission to get my finances organized as much as possible.
This prompted me to look around for the best budget planner that I could add to my already Life Planner Binder.
But we didn't want just any budgeting planner.
We wanted to find the best budget planner for beginners!
That way you can truly give it your best from the very beginning.
But what is a budget planner?
A budget planner or a budget organizer is a tool that typically houses all your financial information under one roof.
This makes tracking your money easy and you can easily see where all your money is going.
Using effective budgeting planners can really help you track your financials effortlessly.
Who needs a Budget Planner?
I have used all types of monthly budget templates to pay off debts in the past and I can honestly say, that people who take the time to budget, are usually the ones that are financially well off!
This will really keep you in check and avoid terrible situations such as spending money that you may or may not have.
A budget is the best way to manage your money with little fear of falling into debt.
Take control of your finances by using the best budget planner.
What makes a good budget planner?
If you are looking for the best budget organizer, look no further than this post.
We did the research and came up with something that you will totally love.
I kept getting asked this question from my readers: "what's the best budget planner?"
To answer that, a good budget planner will ensure you are able to record and track every cent of your money.
Here is what I typically look for:
A full budget planner

An Income Tracker

An expense sheet

Monthly calendars

Financial goals

A bill tracker

A Payoff Debt Planner
For example, here is a payoff debt planner I regularly use and recommend!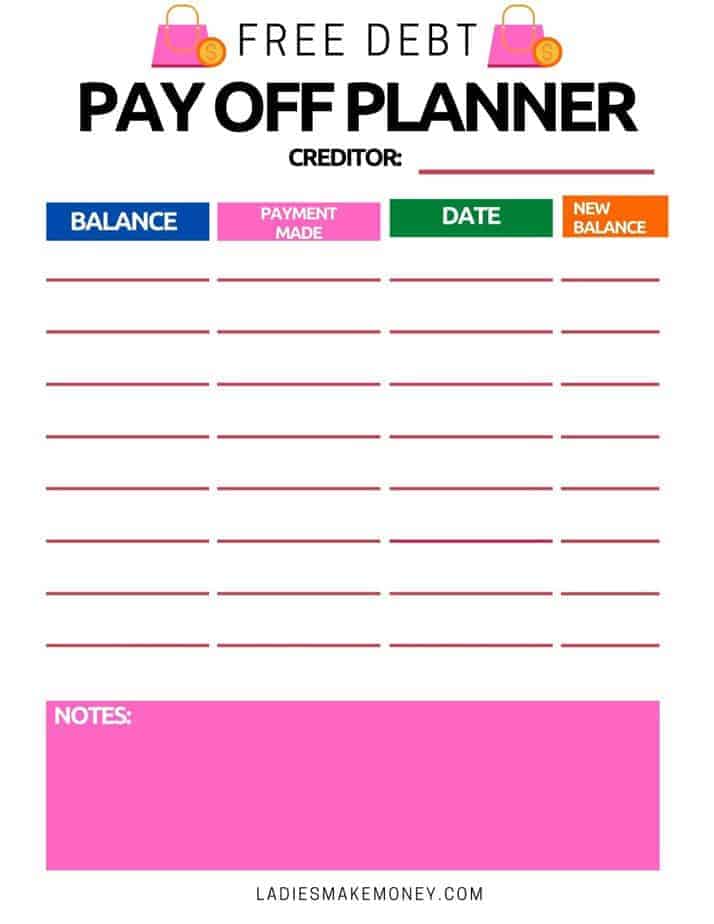 For those that are paying off debt, be sure to grab this today.
If you haven't already, I urge you to get your finances in order as it will make your life much more stress-free.
And if you keep reading, I will also show you how to use a budget planner book to get those finances in order.
Related:
Here is a list of the best budget planner:
If you are looking for the best budget planners to help you stay organized and to keep track of your money, check out the list below.
1. Limitless Mindset Budget Planner
If you are looking for a long-term goal planner that will really help you financially, then the Limitless Mindset Budget Planner is best for you!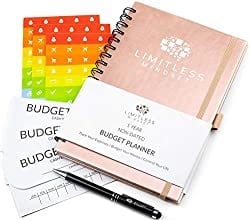 I consider it one of the best budget planner books out there.
It is a comprehensive planner and it is perfect for couples and families planning to get their money under control.
I also really love the durable faux leather cover it comes with. What you will find inside the planner:
Spending tracker

Income and Expense tracker

Debt payment plan

Bill tracker
It is an undated planner that can be used for 2 years! It is one of the best planners for budgeting.
2. GoGirl Budget Planner
We couldn't write this post without including this epic Budget Planner! I typically carry big purses with me, but when I am travelling, I like to have as little things on me as possible.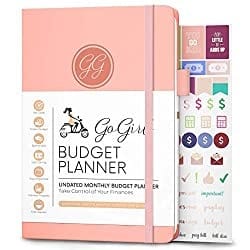 That's why this GoGirl Planner is perfect. It was ranked one of the top budget planners.
Many have considered the GoGirl collection the best planners for budgeting.
For those looking for a cute budget planner that also gives results in terms of proper budgeting, this one will work!
It is a compact planner that comes in at 5.3 inches by 7.7 inches which means you can carry it anywhere.
It is a yearly budget planner and it can be started at any time.
What is included in the GoGirl Budget Planner?
This small and lightweight planner includes:
A financial Goals and Strategy worksheet

A Debt Tracker

Savings Tracker

Monthly Budget

Expense Tracker

Month in review

And a Summary of the year
Not sure where to buy a budget planner like this? You can never go wrong with Amazon!
3. Erin Condren Petite Planner
If you enjoy the concept of physically writing out your budget and transactions to help keep you on track, this does exactly that.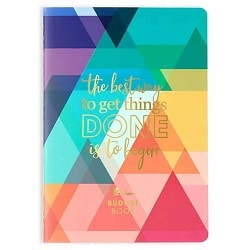 It is also the perfect size to carry in your purse!
It is a comprehensive budget planner that will help you reach your financial goals faster.
Erin Condren is well known and most of what they put out is really great.
So if you are looking for the best money planner, this one will do the job just perfectly!
What is included in this planner:
Bill-tracking spreads

Spending logs

Budget-savvy checklists

Saving goals
If you love Erin Condren, then you will love this petite budget planner!
Erin Condren is known for having the best budget tracker book out there.
4. Clever Fox Budget Planner
If you are ready to take an important step towards living a more productive, organized and fulfilling life, be sure to grab this Clever Fox Planner right now.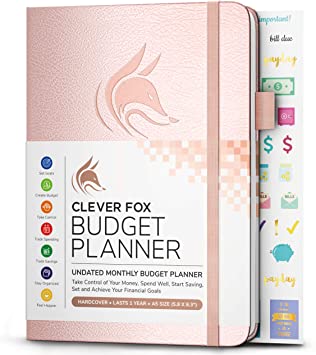 The Clever Fox Budget Planner will help you reach your financial goals much faster and more efficiently.
It will help you stay accountable and will keep you on track towards achieving your saving or debt payoff goals, and not get distracted when the temptation to get off track becomes unbearable.
This tool has the power to change your life if you commit to it!
Here is what to expect from this planner:
Take Control of Your Money

Set Short-term and Long-term Financial Goals

Create a Monthly Budget and Stick to it

Break Your Bad Spending Habits

Start Saving Money

Track Spending and Savings, and Monitor Your Progress

Stay Focused on Your Financial Goals

As a Result, Live a Happier and More Fulfilling Life
5. Boxclever Press Budget Planner
This personal financial planner will help you reach your budgeting goals.
Set your targets, track your progress and celebrate success with this undated 12-month Big Budget Book.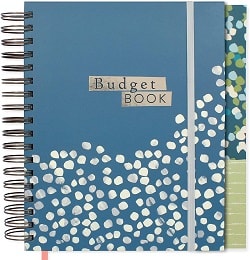 This comprehensive budgeting planner has space to record income, expenditure, savings, debt-tracking, bank accounts and more.
Set an annual budget and track your daily expenses to monitor your progress, then complete the monthly summary sections to ensure you're on track to reaching your goals.
The updated Big Budget Book has new month-to-view calendars, even more space to record day-to-day expenditure, and additional pages to summarize your year and reflect on your success.
If you are looking for the best budget planner book for beginners, try this one right here.
It will help you to create positive financial habits.
Summary of what is included:
Income Tracker

Expense Tracker

Bank information tracker

Budget Planner Worksheet

Month-to view Calendar
And so much more!
It's honestly the best planner for budgeting.
6. Monthly Budget Planner
The Monthly Budget Planner and Organizer provide a fantastic way to organize your bills and plan for your expenses.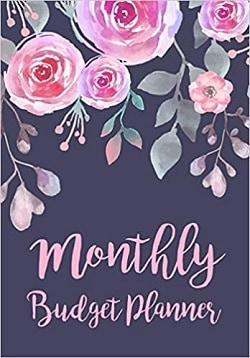 The journal comprises neatly organized spaces for the week and month that you wish to plan your expenses and account for your bills.
If you enjoy planning month by month, you will definitely fall in love with this planner.
Here is what you find in this financial planner:
Account tracker

Monthly Saving Tracker

Debt payment log

Monthly Budget Worksheet

Weekly and Daily Expense Tracker
7. Your Balanced Budget
Money makes the world go round, but it doesn't need to make you dizzy.
For those looking for the best financial planner organizer consider this one.
This budget workbook makes the task of keeping track of your expenses approachable, with easy-to-use charts, money-wise, and prompts to set goals for yourself.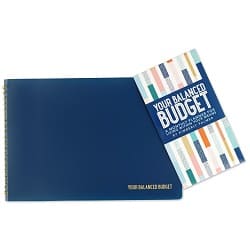 "Your Balanced Budget" makes the task of keeping track of your expenses simple and approachable
This budget workbook is packed with easy-to-use charts, money-wise, and prompts to help you set – and achieve – financial goals for yourself.
You can create your own expense categories

24 planning sheets

Fixed and other monthly expenses.
This financial planner notebook is one of the best budget planners for balancing your budget.
8.

Bill Paying Organizer
With this organizer, you can keep on track with budgets and it will help keep all your bills in one convenient place for easy reference.
This is the best planner for bills, to be honest.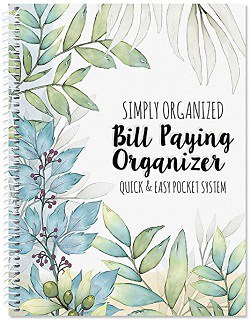 If you are in need of the best financial planner organizer, then this bill organizer is for you.
It includes pages to note monthly bills and personal finances, expenses, income and savings.
It also comes with 14 card pockets to store bills & bank statements plus 32 label stickers to help keep you organized.
This alone is great for tax references!
The goal of a bill payment organizer is to help you track and pay your bills on time each month.
I really love the look of this one and the easy pocket system is totally amazing. This alone makes this budget planner totally worth it.
If you have been looking for a bill planner, this one is considered the best bill planner as it does the job perfectly.
9. Mead OrganizHer Expense Tracker
The name alone had me sold on this Expense Tracker!
This is one of the best budget planners that will keep you organized as you will have a spot to record all your spending details.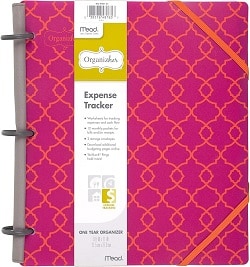 By using this planner, you can properly monitor all your expenses.
It includes worksheets to help you monitor expenses and cash flow; 12 monthly pockets hold bills and receipts; tuck other items into one of two clear folders that it comes with.
If you are a busy individual, this planner is for you.
The OrganizHer Expense Tracker is an undated planner that is perfect for people like me. I believe it is the best family budget planner out there.
Here is what is included:
A reusable planner that allows you to keep track of what's coming in and going out

A 12 monthly pocket holder

Tech Lock rings and folders for bills and receipts

Bank statements and other printouts
If you are looking for the best budget planner book to help track your monthly expenses, this is all you need.
And there you have it, a list of some of the best budget planners you can use to get your finances in order!
Which one of these will you get?
I personally love the beginner budget planner from The Clever Fox collection.
Budget planning for beginners requires a lot of commitment and discipline from you. When you find the best financial budget planner, budgeting becomes easier.
For those that are interested, we have a NO SPEND MONEY CHALLENGE that our readers are enjoying & participating in every month.
You can see more details below or you can click here: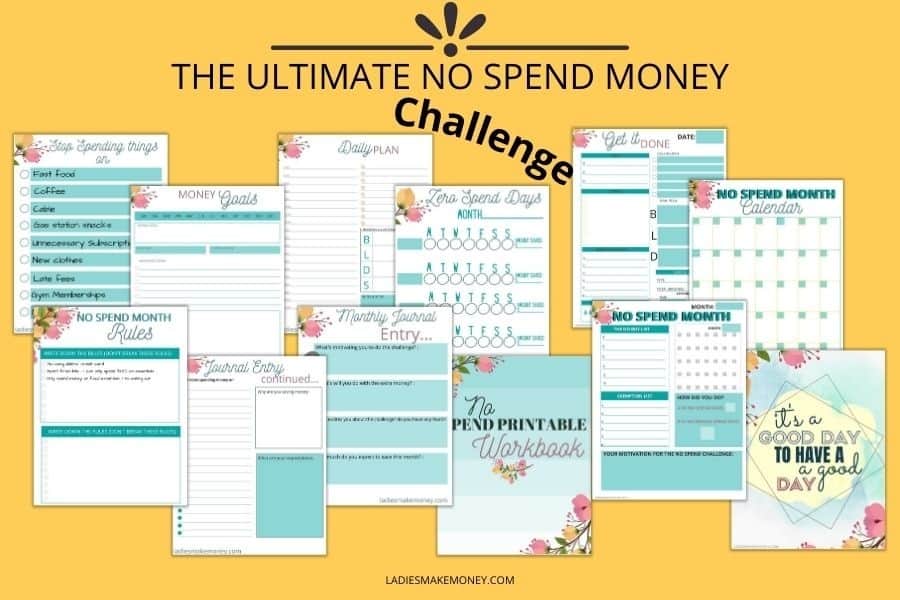 Read More about personal finance tips and how budgeting planners can help:
If you are looking for extra ways to make money, find them here!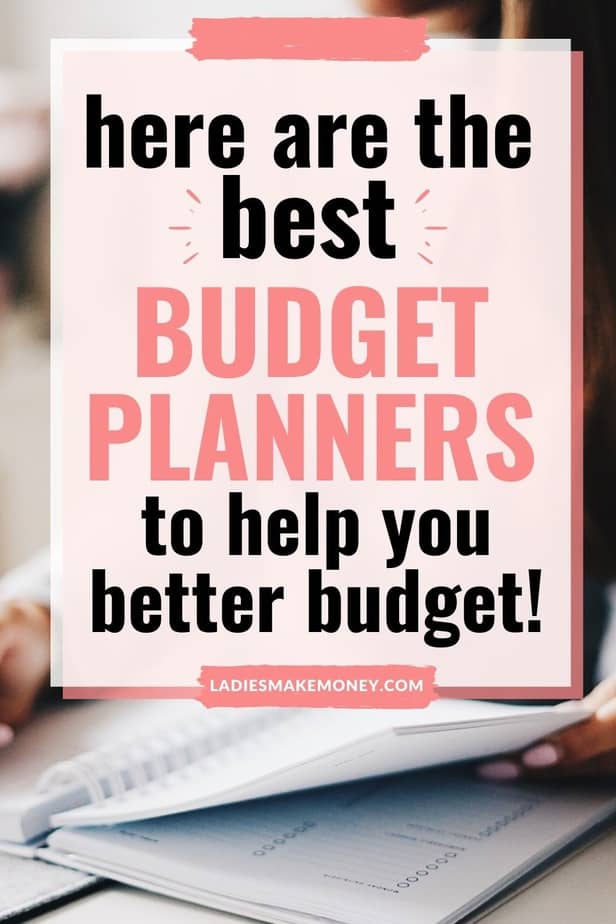 If you enjoyed our blog we would like to have you join our email list and receive weekly money-making tips, you can join now! Don't forget to like the Facebook page. The page is created to share your work, pitch your services and learn from other experienced bloggers!
---
***We would like to note that this post and most posts on our blog may contain affiliate links. This means that if you purchase something that has an affiliate link, we will get a commission from it. Not all items recommended on our site are affiliate links. We only recommend items that we have used and tried. These items have brought us much success and we highly recommend them to you in order to be successful. Thank you for your trust!
The Best Budget Planner For Beginners To Help You Budget