Last Updated on March 26, 2019 by NandiNN
Creating A Way for Women in Tech
The tech sector can be a difficult industry to both break into and to thrive in and that goes double for women. Here to help them are five career tips gleaned from women who have been there and done it!
If you look up women in tech stats, you will see that only 20% of tech jobs are held by women!
Before we get started on Career Tips for Women in Tech, we did want you to follow us on Facebook for more awesome ideas on saving or making more money. You can also follow us on Instagram for more tips.
We also wanted to take the opportunity to let you know that we use Affiliate links on some of our blog posts. This means that we could make a commission if you click on an affiliate link and purchase something. Read our full disclosure and blog policy for more information.
Show Don't Tell // 1
The great thing about working in the tech sector is that you are working with is man made – i.e. everything has been designed and built by a human being.
What does that mean?
It means that if there is a problem there also has to be a solution – and if there isn't an answer to the question, in this industry you can change the question!
This doesn't apply to many industries so you must make good use of it. Don't assume that anything is impossible and if you can see a solution then speak up.
Speaking of which…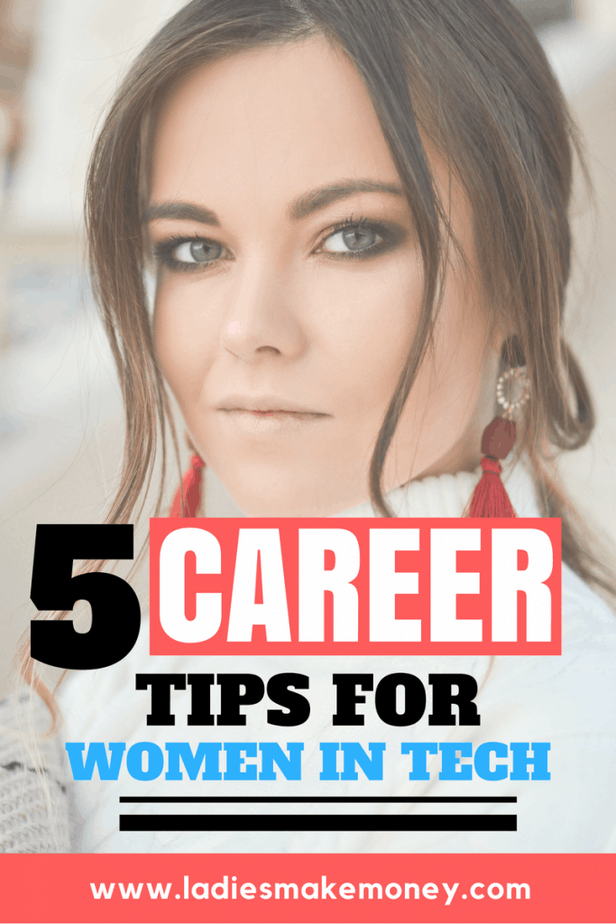 Speak Up! // 2
The tech industry can be dominated by powerful personalities.
It can also be home to a lot of people who spend more time staring at screens than talking to actual human beings – with the expected detrimental impact on their ability to interact with other humans!
If you are going to make your mark in this industry, then you need to be able to present your ideas forcefully where required. This doesn't mean shouting and screaming of course – no workplace should be encouraging employees to shout at each other.
But at the same time, you need to be ready – and able – to present your ideas clearly and concisely.
Find out more opportunities for working from home.
Look The Part // 3
It's a sad fact but even in this day and age, people are often judged on their appearance. This is especially true for women in tech!
Whilst anyone with half a brain knows, you shouldn't judge a book by its cover. Being realistic, however, it's still something that happens today and if you ignore this fact, you may endanger your chances of progressing in your career.
The tech industry can be a difficult area to navigate with regards appearance. Many tech companies do not enforce the rigid dress codes you may find in more traditional, more corporate companies.
The best advice is to observe the general dress style of your fellow employees and take inspiration from this. If everyone else dresses super casually, it's probably ok to slouch in wearing Ugg Boots and Power Rangers Pajamas.
Disrupt the Boy's Club // 4
Tech remains a male-dominated industry.
Whilst women are making incredible strides to at least approach parity in terms of numbers in the overall workforce, there is still an awful long way to go. This means that you may often find yourself as the only woman in a room with a group of men.
Now, this is not saying that a pack of men are as dangerous as a pack of lions! But at the same time, this is the literal manifestation of the boys club, and that can occasionally be intimidating.
Just be prepared for this and have a few strategies to help. For example, one of the women we spoke to told us how she often tried to get men on their own to talk about important issues – this helped her to direct the conversation whilst disrupting the influence of the boy's club.
Related:
Struggles, successes, and tips for women looking to make extra money
Powerful financial advice for women for improving your finances
3 Lessons we can learn from ambitious women in business
Be Yourself & Be Proud // 5
The most important rule is to be yourself. There is no reason that women cannot succeed in the tech industry but for historical prejudice against women and girls in STEM subjects and in Tech in general.
As time goes by, the gender disparity in the tech industry will lessen – it improves year on year as more women graduate with qualifications in key STEM subjects.
So never feel that you need to change to be accepted. Yes, sometimes you may have to adapt how you present yourself, how you interact with others and how you generally operate in this business sphere.
But there is big, but somewhat a subtle difference between changing who you are –and adapting to your environment even as it slowly adapts to you.
And finally just remember that you truly are a pioneer – and should be suitably proud of everything you achieve!
Lovely guest post by Clare sharing amazing career tips for women in tech. Clare Rhodes is part of the community team at Next Day PC. Clare enjoys staying on top of the latest tech trends and sharing how new tech can positively impact people's lives.
DON'T FORGET TO PIN THIS POST.
If you enjoyed our blog we would like to have you join our email list and receive weekly money-making tips, you can join now! Don't forget to like the Facebook page. The page is created to share your work, pitch your services and learn from other experienced bloggers!
---
***We would like to note that this post and most posts on our blog may contain affiliate links. This means that if you purchase something that has an affiliate link, we will get a commission from it. Not all items recommended on our site are affiliate links. We only recommend items that we have used and tried. These items have brought us much success and we highly recommend them to you in order to be successful. Thank you for your trust!
5 Career Tips for Women in Tech and How to be Successful