Last Updated on January 30, 2019 by NandiNN
Best Apps for Productivity
Finding the best productivity apps will definitely help you succeed with your day to day tasks in order to have a better day, a great business and so much.
There is a constant race to succeed and women are contributing to it just as equally as men are.
Strong and successful women like Julia Hartz, Abigail Johnson, and Oprah Winfrey are the perfect examples of the modern business world.
These extraordinary women had highly ambitious goals and did something astonishing in order to reach and achieve them.
Similarly, if you are constantly working towards your goals and want to make something out of yourself, you should consider making technology work for you.
But before we get started on the best productivity apps, we would love for you to join our growing Facebook group right here! Be sure to follow us on Instagram too!
We also wanted to take the opportunity to let you know that we use Affiliate links on some of our blog posts. This means that we could make a commission if you click on an affiliate link and purchase something. Please check out our full disclaimer and policy page here.
What are some productivity Apps to have?
In this technology-driven world, it is pretty easy to create a routine, schedule work plans or organize meetings. One thing that makes it all possible is the development of some amazing mobile apps.
Whether you are a working mom, a business woman or a freelancer, there are mobile apps that can help you organize and manage your work more easily and without consuming too much of your precious time.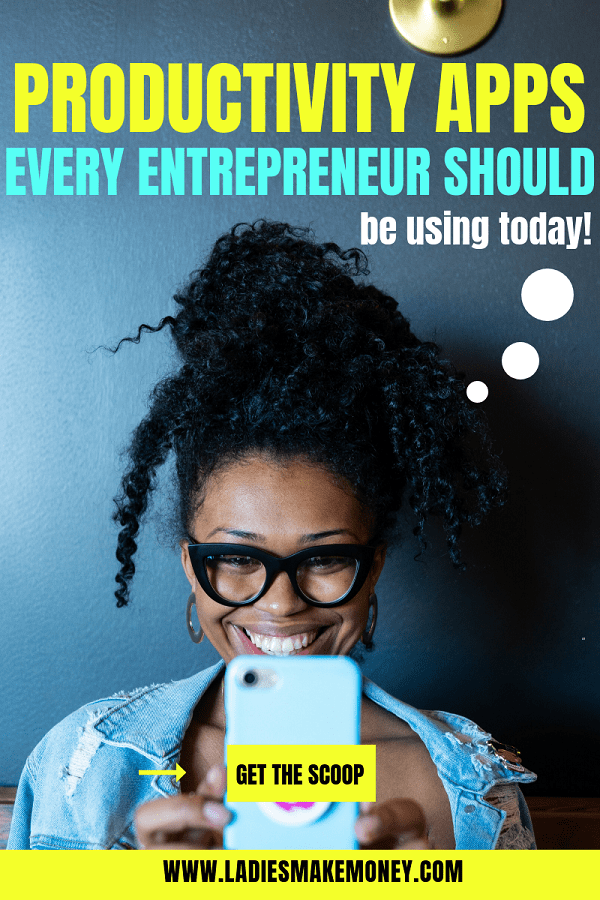 We decided to introduce you to some of the best productivity tips for bloggers and entrepreneurs, so follow along:
PDF to Word Converter with OCR
Majority of business women are dealing with many documents on a regular basis. Most of those documents are in PDF because they are lightweight and more secure that way.
It would be next to impossible to use the same document again since PDFs are really hard to edit. This is where PDF to Word Converter comes in really handy. With it, you can easily convert PDF to editable MS Word files for easy editing later.
Conversion quality is at its best and the app supports most popular cloud services like iCloud, Dropbox, Google Drive and more.
It even has a built-in document scanner so there is no need of having a separate scanner app.
Price: Free
Related:
7 Time Management Hacks Every Freelancer Should Know
Productivity Tips for Entrepreneurs – 3 Habits you need to kill
Expensify
If you travel for work a lot or have your own company, this app is a must. It is considered as one of the best productivity apps by many. It will dramatically save you time with receipt and mileage recordings.
It uses SmartScan technology which means that your smartphone camera is used for receipt scanning. Simply scan the receipt, assign it to the expense report of your choice and the app will do the rest.
It automatically retrieves information such as the amount, time and date from the receipt which eliminates the need for manual entry.
The app has an option to automatically import your credit cards as well.
Price: Free
Doodle
Scheduling meetings with different people from various workplaces can quickly become a nightmare to the ones who are doing it. That is why it is recommended to use the best productivity apps to get you through this.
Email chains can easily get out of control. Doodle is simple and easy to use app which lets you suggest a number of meeting times from which participants can then select their preferences.
Participants don't even have to install the app on their smartphones in order to participate, you can invite them via iMessage, WhatsApp, e-mail, Facebook messenger, SMS and they will be redirected to easy-to-use mobile or desktop website.
Price: Free
TripIt
Tripit developers say that their app is "automagical". When you think about it, it is self-explanatory.
The app represents automatic itineraries which are so easy to use that it looks and feels like magic. It is absolutely a must for frequent business travelers. You simply forward your email confirmations to the app and it will automatically create a complete trip itinerary for you.
The best thing is, the app will keep itself up to date meaning that you will be notified if your flight is delayed or canceled.
Price: Free
Related:
3 Lifestyle Changes to Boost your Work Productivity
Improving your Productivity as a Blogger
Basecamp
Collaborating with others can be very hard. You can easily be caught up with interpersonal relations and misunderstandings from other colleagues regarding tasks and goals that need to be fulfilled. Start by using the best apps for productivity to ensure your success with others.
Therefore, project management apps and tools that keep participants on the same page and store relevant information in one centralized place can come in really handy. Basecamp is one of the best apps for productivity available.
Your complete workplace can be online in the cloud and you and your colleges can review or manage deadlines, communicate and share files in order to get things done effectively and on time.
Besides its main features, the app includes a centralized schedule board and to-do list in order to divide workload among employees.
Price: Free
Today more than ever before, women have opportunities to really become successful in their field of work and with the right tools and apps installed on their phones, they will be able to maximize productivity and improve business performance.
These are only a few of the best apps for productivity that we found and love. But they are lots you can pick from. If we forgot to mention anything on this list, please share it below.

Check out more amazing blogging tips here.
This is a guest post by Sandra Rodgers of Cometdocs.com!
If you enjoyed our blog we would like to have you join our email list and receive weekly money-making tips, you can join now! Don't forget to join our Private Facebook page. The page is created to share your work, pitch your services and learn from other experienced bloggers!
---
***We would like to note that this post and most posts on our blog may contain affiliate links. This means that if you purchase something that has an affiliate link, we will get a commission from it. Not all items recommended on our site are affiliate links. We only recommend items that we have used and tried. These items have brought us much success and we highly recommend them to you in order to be successful. Thank you for your trust!
Best Productivity Apps for Business Women & Entrepreneurs