Last Updated on May 23, 2021 by NandiNN
Side Hustle Planner
If you plan on making money online side hustling, you absolutely need to grab my Side Hustle Planner which you can find right here.
This is the one planner you will need to keep all your side hustles organized and growing.
Whether you are a busy mom, a female entrepreneur or a passionate reader of ours interested in making money online on a more regular basis, you might find our planner extremely helpful.
We hear a lot about people having side hustles.
In fact, I think it is the new normal right now as more people are making extra money working online.
This blog is created for women that enjoy making money from home either through side hustling or purely starting a profitable online business.
More and more people are starting a side hustle for a second stream of income given today's uncertain economy.
And this is one of the many reasons, we ask you to grab a digital planner like this one to track your monthly goals, weekly plan and business activities.
You are absolutely going to enjoy working with our gorgeous side hustle planner today (get it here).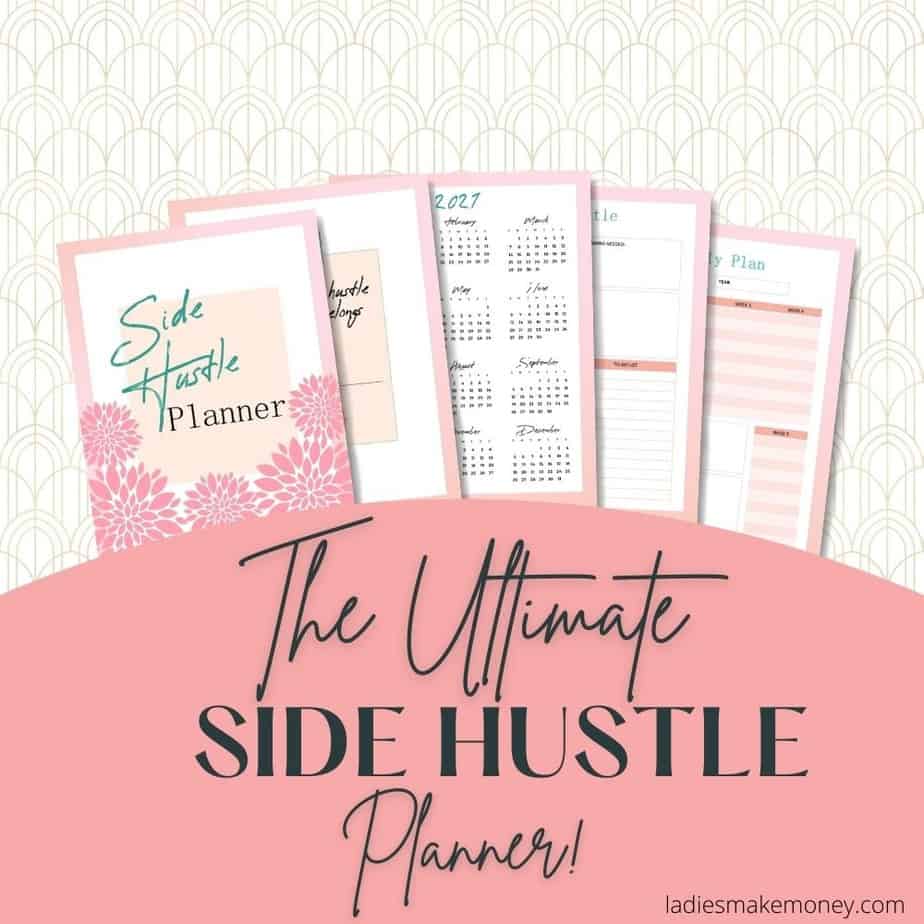 Before we get started on why you should be using our Side Hustle Planner, we would love for you to like our growing Facebook page right here! Be sure to follow us on Instagram here.
We also wanted to take the opportunity to let you know that we use Affiliate links on some of our blog posts. This means that we could make a commission if you click on an affiliate link and purchase something. Read our full disclosure and blog policy for more information.
What is a side hustle?
A side hustle is a job that you can work on the side while still holding your full-time job. A great side hustle is a flexible job that you do outside of your 9-5 to bring in additional income.
I always almost recommend that people find ways to make extra money so as not to rely heavily on one source of income.
Having multiple streams of income is the best thing you can for yourself in case your main income suddenly disappears for whatever reason.
As I mentioned, side hustles are one of the best ways to increase your income so you can pay off debt, save up for a big purchase, grow your retirement savings, or reduce your financial stress.
Financially successful people have an average of 7 income streams running simultaneously.
I don't know about you, but nobody likes living from paycheck to paycheck and only having all that money go to debt.
In life, becoming financially successful means having a good source of income that allows you to have the life you want.
And for some, having multiple side hustles will give them that life.
Finding creative ways to increase income, is usually always the right thing to do!
My Side Hustle Planner (which you can grab here) can help you stay organized and motivated to make more money every month.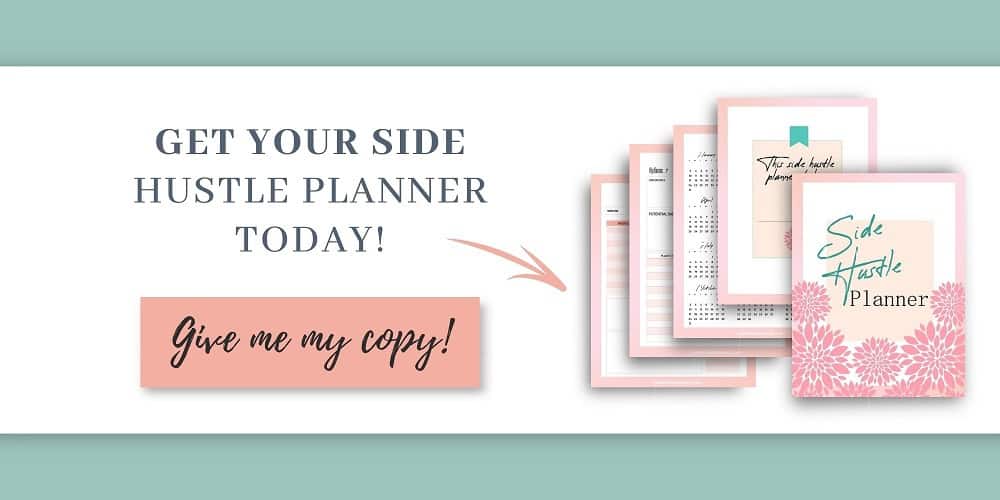 What is an example of a side hustle?
Whatever your reasons are for wanting a side hustle or a second job, putting some money aside for a rainy day, a little extra money can go a long way.
Your main full-time job is great for helping you pay for all the day-to-day living essentials.
But a great side hustle or two that you can do in your free time, will make a huge difference in your wallet while giving you the financial freedom we all deserve as women.
I have plenty of side hustle ideas and tips on the blog.
For example, I have this post where I share side hustles that will make you $1000.00 per month.
If you are looking for a great part-time job you can do on the side, check out this list.
So what are the best side hustle jobs?
I always get asked these two questions from my readers:
What is the most profitable side hustles? And how much does a side hustle make?
All of these will really depend on your experience and how much time you set aside for your side hustle.
Let's dive into the best side jobs that'll help you make more money while working from home:
(Click any of the links below to be taken to the side hustle job opportunity.)
I have given you over 20 side hustle ideas you can try out to make extra money on the side.
And these are all great money-making opportunities.
I would also suggest reading this to learn more about other freelance business ideas you can start today!
How to get started hustling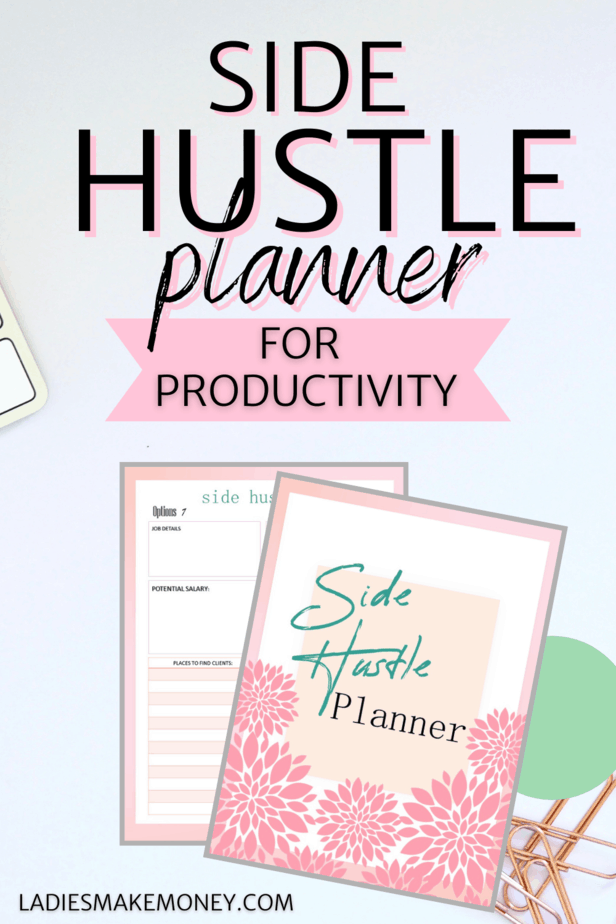 The first step is to go ahead and grab your ultimate planner for your side hustling right here.
And it's a great planner to have handy regardless of if you are doing side hustling as a hobby or you plan on taking it to the next big level.
It will help you stay organized, it will give you a structure and it is a tool that can be used to analyze and grow your business.
Record your monthly income and quickly scan what is working and what needs to be dropped.
Start by picking 1 to 3 side hustle jobs or even just writing down your side hustle ideas in the planner.
Then decide on which one you will first attempt.
Start slowly by focusing on one side hustle at a time, especially if you are already working full-time.
Master one side hustle before going onto the next.
Why you need a planner for side hustling
Having a side hustle planner like the one mentioned here is a great way to stay organized and motivated every day or weekly.
For those that hold a full-time job, this side hustle planner will help boost productivity which we all need as busy entrepreneurs.
It will also allow you to focus on things that are important and define a structure that will help grow your side hustle income.
You will also get a clear view of what is accomplished, what still needs to be done and how much you are making per side hustle.
This Side Hustle Planner is action-packed with:
PDF Side Hustle Weekly Productivity Planner Page

PDF Monthly Planner Printable

PDF Weekly Planner Printable

PDF Daily Planner Printable

PDF Your Week In Review

PDF Side Hustle Income and Expense Tracker

PDF Social Media Content Planner

Revenue Goal and Estimate Plan
And so much more.
Make good use of it by using it daily, weekly or monthly.
As long as you check in once in a while, you will be able to properly tracker your success which is what you need to do to make more money each month.
Grab your side hustle planner right now!
And there you have it, everything you need to know about the Side Hustle Planner and how to use it for success.
Are you ready to take your side money-making opportunity to the next level?
Go ahead and grab your Side Hustle Planner right here today!
Related: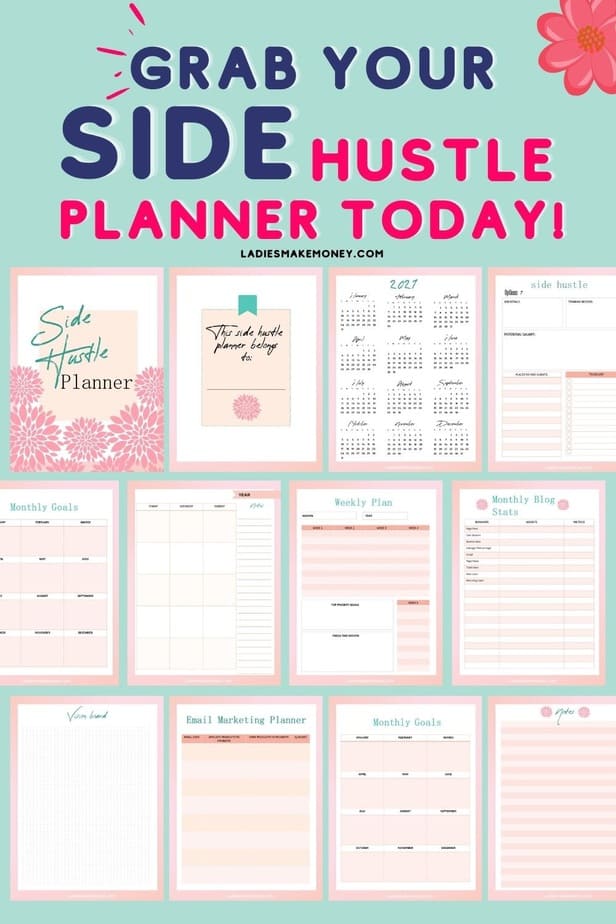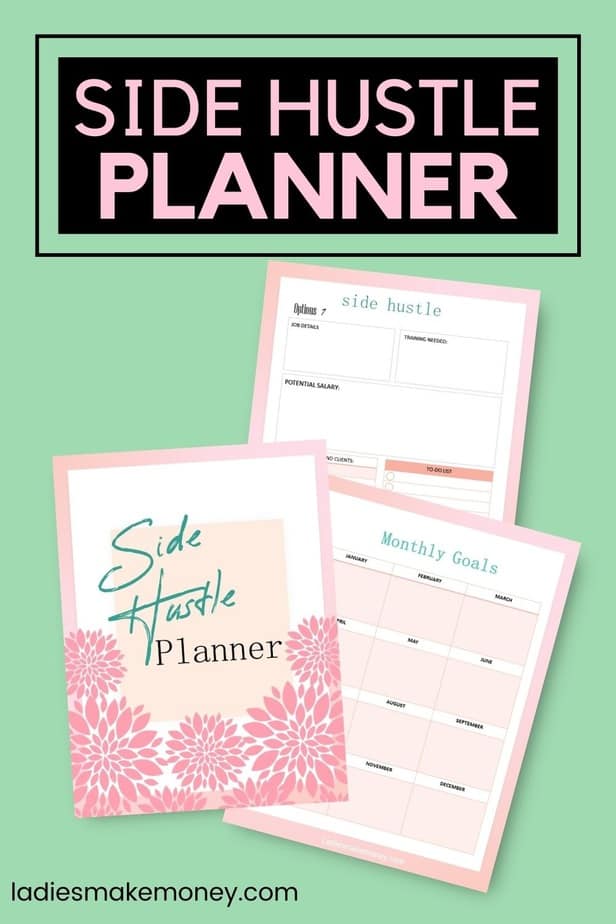 If you enjoyed our blog we would like to have you join our email list and receive weekly money-making tips, you can join now! Don't forget to like the Facebook page. The page is created to share your work, pitch your services and learn from other experienced bloggers!
---
***We would like to note that this post and most posts on our blog may contain affiliate links. This means that if you purchase something that has an affiliate link, we will get a commission from it. Not all items recommended on our site are affiliate links. We only recommend items that we have used and tried. These items have brought us much success and we highly recommend them to you be successful. Thank you for your trust!
The Best Side Hustle Planner For Those Wanting To Make Money Online