Last Updated on March 23, 2021 by NandiNN
Quitting Your Job While on Mat Leave
When I was pregnant with my now almost three-year-old baby girl, I believed resigning while on maternity leave was the best option for my family.
I had a few medical reasons which forced me into bed rest earlier on during the pregnancy, then I needed to go on medical leave, and then the maternity leave kicked in.
Because of all my complications at the time, I made the conscious choice and decision to quit my 9-5 day job while on mat leave as well as retire from my blooming wedding business.
Resigning during maternity leave was definitely the ideal situation for me and my family at the time.
If you are like me (not necessarily in the same position), but you are thinking about resigning while on maternity leave, they are a few things you need to consider.
Remember you are starting a family and with a lack of proper income, you might just add on to the financial stress of the family!
A resignation during maternity leave might make sense for some and not so much for everyone else.
With proper planning and by covering all your bases, you might just be okay.
The question you may have is "can you resign while on maternity leave?"
That is a really great question and we are hoping to answer this and many more.
Are you thinking of giving notice while on maternity leave?
Before we get started on how to go about resigning while on maternity leave, we did want you to follow us on Facebook for more awesome ideas on saving or making more money. You can also follow us on Instagram for more tips.
We also wanted to take the opportunity to let you know that we use Affiliate links on some of our blog posts. This means that we could make a commission if you click on an affiliate link and purchase something. Read our full disclosure and blog policy for more information.
A few Reasons for Quitting your Job While On Maternity leave
With the joy of having a new baby and wanting to stay home to look after your new baby, many new mothers especially first-time moms, choose to stay home rather than returning to the workforce.
Quitting work after maternity leave is a serious decision that may change the way you care for your family.
And a serious talk needs to happen.
This means weighing in on all your negative and positive of quitting your job during maternity.
Many women actually make the decision of resigning while on maternity leave as reality typically sets in at this time.
Another big reason why most couples choose to quit working while on mat leave is the cost of childcare.
I was completely thrown off my reality when I found out the cost of childcare in my area.
I was pretty much going to be working to pay for and cover the cost of daycare.
Quitting your job is not as easy as it sounds.
Remember that you will no longer be financially secure unless you have other options available such as a huge savings account. For most people, this is not always the case.
We really wanted to dig in and find out what happens if you had to resign on maternity leave and what other options you had.
And do you have to pay back maternity pay if you do resign?
We are excited to be sharing a few tips on maternity leave resignation as well as to answer the many questions you may have!
You are here today because you want to learn more about:
And we will be sharing all of that below.
Quitting a job while on maternity leave is a huge deal that should be discussed at length.
And is some cases, you might have to seek legal advice or look to your insurance for more help.
Once you have that all covered, it's just a matter of what you want to do.
If you are considering a resignation during maternity leave, keep reading for our best tips on how to go about it.
Follow these steps if you plan on resigning during maternity leave!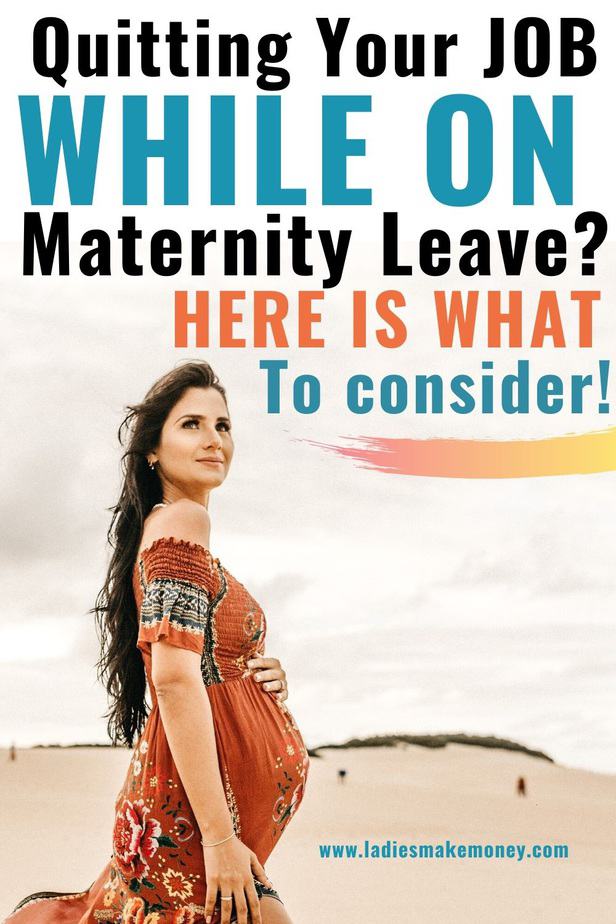 Deciding if you want to quit or not
Making the decision of quitting your job while on mat leave should not be taken lightly especially if you are bringing another human into the world.
But as I mentioned, circumstances typically do not allow us to continue to work.
Determine if your work can make suggestions before you decide on quitting.
For example, having the opportunity to work from home. Maybe they can change your work schedule (Work shorter hours, fewer days or shift work).
Try to find as many alternatives as possible before deciding if resigning while on maternity leave is the right option for you and your growing family.
You definitely want to give your employer as much time as possible if you choose to quit.
They will need to make arrangements and the more time you can give, the better it is for them.
Resigning on maternity leave doesn't mean that you just up and leave with that care. They are definitely a few things that you need to consider.
Things to Consider Before Quitting Your Job:
Now that you have decided that you absolutely need to quit your job as it makes financial sense in the long run, we want you to consider a few things.
The one thing I would recommend before resigning on maternity leave is to have a solid saving plan.
Grab this epic maternity leave savings plan or a money-saving challenge today to get a head start: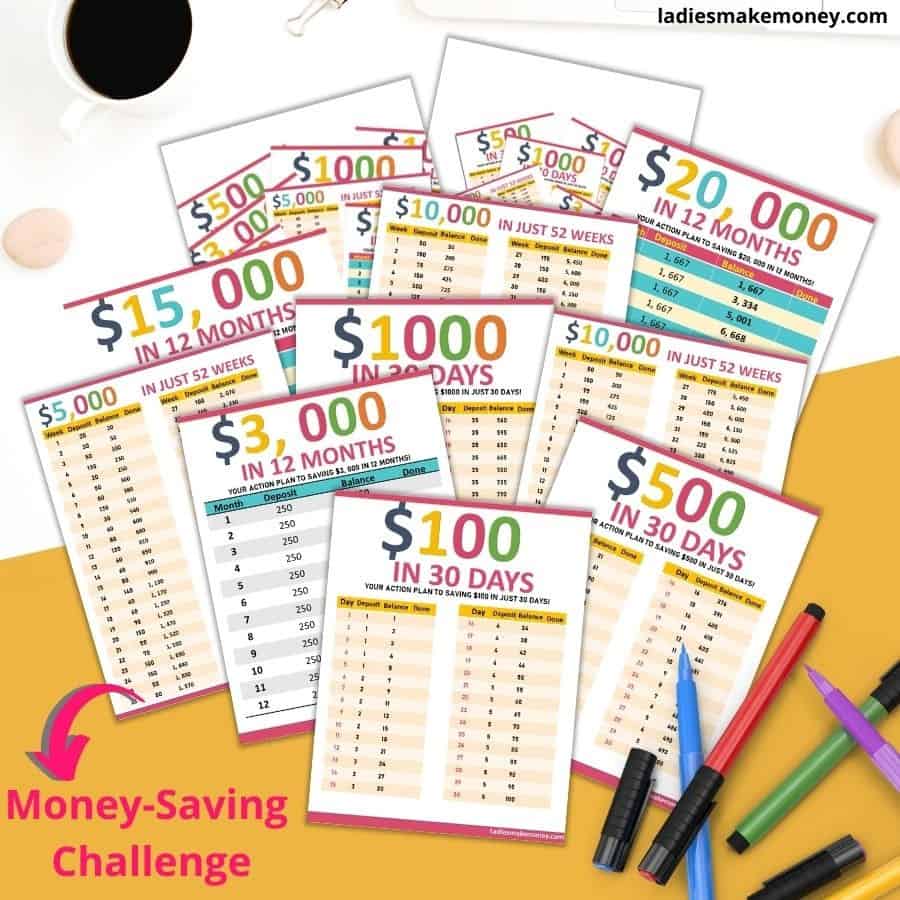 Resigning While On Maternity Leave
Resigning while on mat leave is not necessarily a bad thing especially if you are fully prepared.
Be sure to give your employers and co-workers enough notice to find a replacement or make alternative arrangements.
Also, look into how this may or could affect your mat income.
As soon as you know that you will not be returning to work after your maternity leave, give your notice.
Handing in notice while on maternity leave is not complicated.
Follow the exact steps as outlined in your contract.
For example, you might need to give in 2 weeks' notice in order to resign.
The process should be the same.
And if you are still not sure whether your decision will stand after you have the baby, make sure you have options of returning to work or finding alternative jobs.
The good thing about leaving with good standing with your current employer is that they may re-hire should the need arise or offer a letter of recommendation should you need one.
As long as you have a proper plan, you can resign during maternity leave.
Ensure you cover all your bases.
Remember quitting while on maternity leave is not bad, just plan it out as much as you possibly can!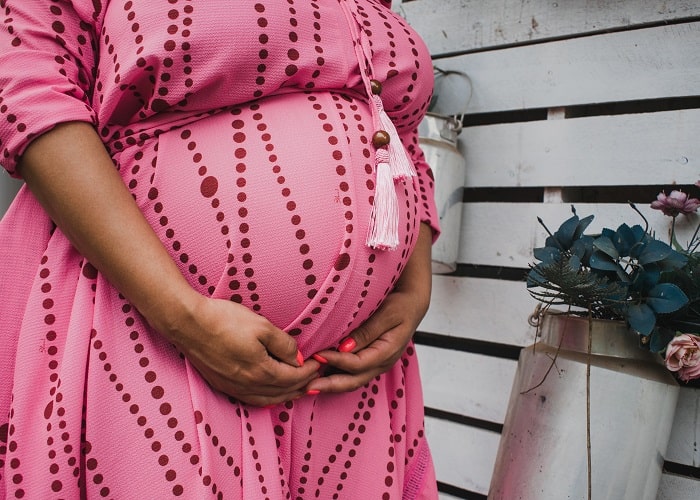 How to Resign during Mat Leave
Ideally, go into work and speak to your manager in person about your wishes of resigning.
The more personal you make it, the more chances of you staying on good terms with your employees increases.
You definitely want to keep that good rapport in case you ever change your mind in the future.
They are so many creative ways on how to quit your job while on maternity leave out there on the internet.
But the one thing you want to do is to be polite, professional, and leave with that open-door policy.
So go in person if you can.
If you can't go in person then the next step would be to resign over the phone.
If that is still not possible for whatever reason, then email your resignation letter.
But go with the first option if you can. At least make the most effort you can to go in person to resign and discuss your options.
Resignation Letter While On Maternity
If you are strongly thinking of resigning while on maternity leave and you have weighed all your options, the next step is to draft a resignation letter.
Giving notice during maternity leave has to be done as professionally as you can and should follow the steps outlined on your contract.
You want to ensure you have a formal resignation letter that can be presented to your employer and worst-case scenario, emailed.
They are plenty of resignation letter samples on the internet that you can absolutely use for submission.
These 2 Templates for a Resignation Letter After Maternity Leave found on Love to know will definitely help you when it comes to drafting your own resignation letter!
Is it a Good Idea to Resign While on Maternity Leave?
In my opinion, it will really depend on how your lifestyle is set up. Do you need the extra money you get while on Maternity leave? Does it make sense for you to quit and get a better-paying job right away?
What are your plans should you choose to resign while on maternity leave?
If you do not have an actionable plan about what you wish to do after you resign, we suggest putting your life goals into place first.
Remember, you now have a little one to care for.
How long after maternity leave can I resign?
This was another popular question.
The answer will totally depend on your unique situation.
You can quit at any as it would be in a case-by-case situation.
So if you are wondering how long after maternity leave can you quit, my answer would be at any time including during or immediately after maternity leave.
It will just depend on your circumstance.
But if you wish to be compensated at any point, you will definitely need to get some legal advice.
Resigning after maternity leave is also perfectly fine.
Other Options available after your Maternity Ends
If after your maternity leave you feeling the need to participate financially to the household income, you can find work from home jobs or even start a side small business.
Here are a few creative business ideas you can start from home with the minimal or little investment needed.
If you think you can freelance then you should look into writing.
Here are a few more ways you can find freelance writing jobs from home if you do choose on resigning during maternity leave.
Other things you can do if you choose to resign while on maternity leave.
If you are thinking of quitting while on maternity leave, consider these jobs below that are perfect for moms.
And should you wish to change and pivot your career, sign up for exclusive job and career opportunities to be sent straight to your email!
It's is completely free.
You can sign up right here.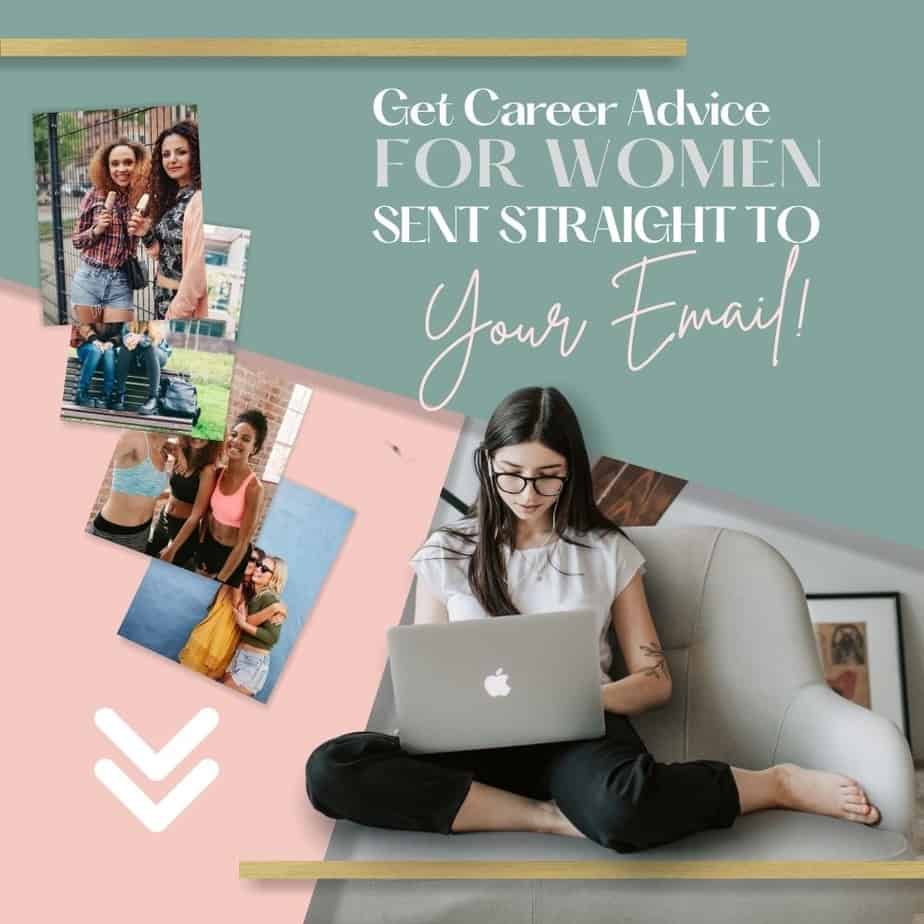 If you are really thinking about resigning while on maternity leave we hope this blog will help you take the necessary steps required.
You can also check out this mega list of over 25 work-at-home jobs for moms that pay well!
Will you be resigning when on maternity leave?
Tell us in the comments below!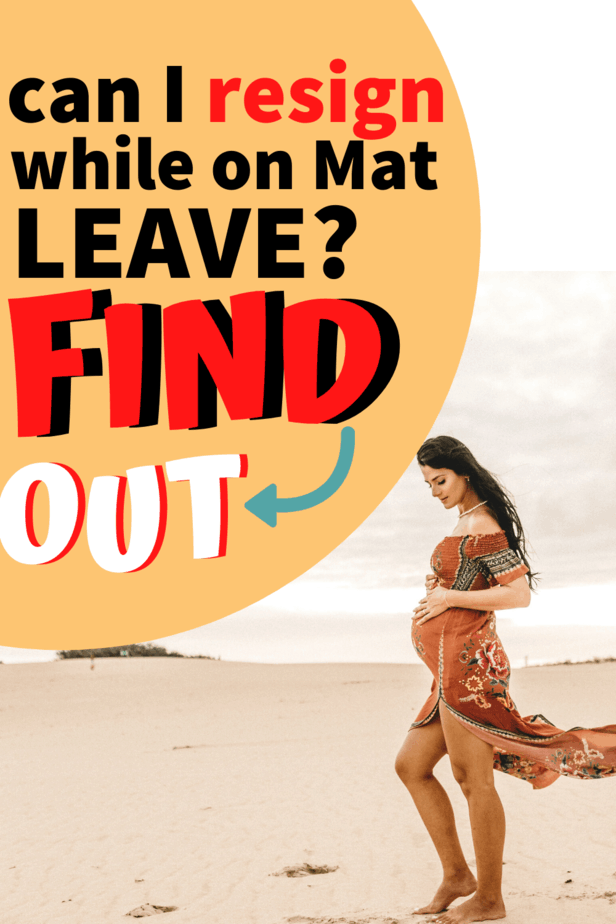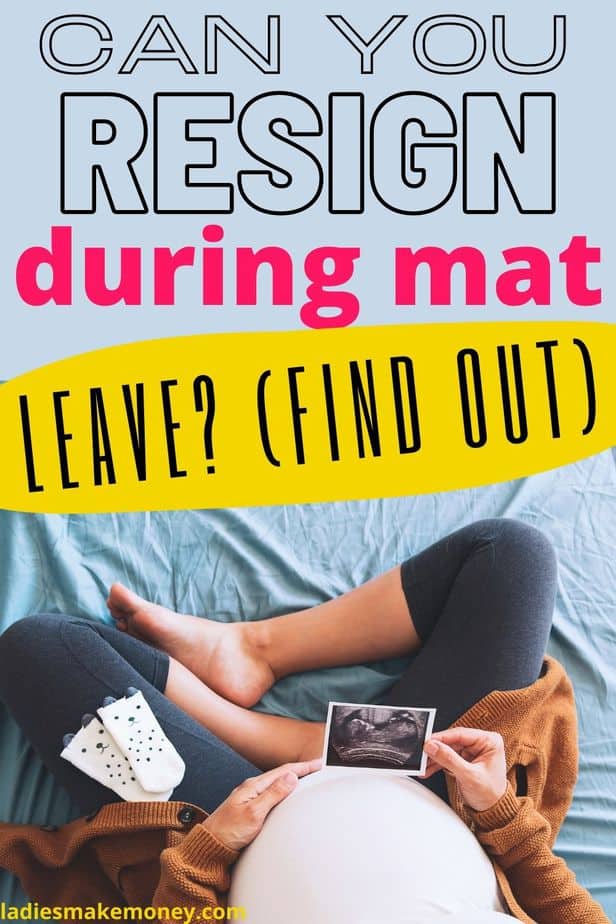 Wondering if self-employment is unhealthy for stay-at-home moms?
Read this next:
If you enjoyed our blog we would like to have you join our email list and receive weekly money-making tips, you can join now! Don't forget to join our Private Facebook page. The page is created to share your work, pitch your services and learn from other experienced bloggers!
---
***We would like to note that this post and most posts on our blog may contain affiliate links. This means that if you purchase something that has an affiliate link, we will get a commission from it. Not all items recommended on our site are affiliate links. We only recommend items that we have used and tried. These items have brought us much success and we highly recommend them to you in order to be successful. Thank you for your trust!
Resigning While On Maternity Leave – Steps to Consider