Ever wondered if blogging was something you wanted to start? We have 5 amazing reasons we think you should get away from your desk job and consider starting a blog. We started our blogging career (full time) back in November of 2016 and we have not looked back since. Here is why… 
Before we get started, we would love for you to join our growing Facebook group right here! You can also join our Pinterest group by scrolling to the bottom of this page! If you are looking for guest blogging opportunities or if you need a personal affordable coach to take you from A-Z, we can help you. Get all the juicy details right here! Have you seen our brand new shop! We also wanted to take the opportunity to let you know that we use Affiliate links on some of our blog posts. This means that we could make a commission if you click on an affiliate link and purchase something. 

Desk jobs have plenty of negative effects on our health. For starters, they force us to sit down for most of the day which could have some serious health effects. They also force us to stare at computer screens or documents for long periods of time and they can make our time at work incredibly boring and unproductive. For this reason, many people have decided to turn away from their desk jobs in favor of a blogging career.
You might also like: 7 Excellent tips for a successful launch of your first home business
Blogging might seem like a gamble, especially when you consider the ways you actually make money from blogging. It's all about building up your personal brand and this can be difficult for people who are used to working in large businesses with groups of people. To get you started or to convince you, here are a couple of ways to get away from your desk job in order to pick up blogging.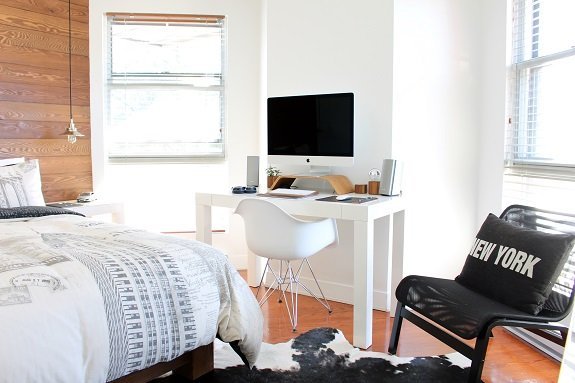 Work in your own time
One of the biggest advantages of blogging as a career is the ability to work in your own time. You can write posts whenever you want, you can travel and work wherever you like and you don't need to conform to a schedule. This can sometimes backfire because you might spend too much time doing things other than working. However, being able to set your own hours is liberating and incredibly useful if you use it correctly.
A job for those with poor health
If you can't work because you're not feeling great or because you've been diagnosed with a condition that prevents you from working at your regular workplace, then blogging might be the ticket you need to regain independence. When you work in an active workplace there are times where you might require workers comp insurance because you've been injured. Accidents are common in workplaces even if you don't operate heavy machinery and this can be problematic if you have poor health.

Use creativity to your advantage
Bloggers are creative individuals that use different ways to make money from their blog. If you find that you're better at creativity than monotonous tasks, then blogging could be what you need to turn your career choices around. Creativity is what spurs great blogs. With original ideas, you can create fantastic posts and quickly pick up on trends that you can write about and take advantage of. Unlike many desk jobs that restrict your creativity, blogging actively encourages it and can be the career of choice for those who are creative-minded.
Feel truly passionate about your work
When looking for something to blog about, nothing gives you more inspiration than your own interests. If you love gardening then start a blog about growing produce. If you have a thing for music production then write about it. Being a blogger means you can be intimately connected with the subjects you write about, and this can be all the inspiration and motivation you need to continue working hard. If you're not passionate about your work, then it will become incredibly hard to keep your morale up. 
You might also like: See how these 10 Entrepreneurs are making money with their blogs
Hopefully, this inspires you to start your own blog. We have a free course you can take today. We walk you through the tech stuff of starting and setting up your own blog
If you enjoyed our blog we would like to have you join our email list and receive weekly money-making tips, you can join now! Don't forget to join our Private Facebook page. The page is created to share your work, pitch your services and learn from other experienced bloggers!
---
***We would like to note that this post and most posts on our blog may contain affiliate links. This means that if you purchase something that has an affiliate link, we will get a commission from it. Not all items recommended on our site are affiliate links. We only recommend items that we have used and tried. These items have brought us much success and we highly recommend them to you in order to be successful. Thank you for your trust!