Last Updated on
How to Quit Your Day Job
Do you want to escape the 9-5 grind and follow your passion? Are you ready to quit your day job for a better lifestyle? 
Then you have come to the right place! We hear you and we totally understand!
We are going to show you how to quit your day job responsibly and start a business or a project that you are truly passionate about. 
Why work day in and day out in a place that you hate for little pay?
If you find yourself counting down the minutes to escape the 9-5 every single day, then you are due for a change! A change of lifestyle!
For me, my dream job was to work from home, start a successful business and blog in order to be financially free as well as to be my own boss! 
That is why we are sharing 5 amazing reasons why we think you should get away from your desk job and consider starting a blog or a side hustle that you are passionate about.
We started our blogging career (full time) back in November of 2016 and we have not looked back since. Here is why… 
Before we get started on our tried ways to escape the 9-5 grind, we would love for you to like our growing Facebook page right here!  Be sure to follow us on Instagram here.
We also wanted to take the opportunity to let you know that we use Affiliate links on some of our blog posts. This means that we could make a commission if you click on an affiliate link and purchase something. Read our full disclosure and blog policy for more information.

Escape the 9-5 with a Plan
We have often talked about how you can make $100 online, or how to make $500 online and even how to make $600 online using online side gigs. In fact, we have even covered a topic about making $1000 per month using good side jobs to make extra money from home! 
But these are all short-term goals. Something to get you by! What you need is a solid and longterm plan to escape the 9-5 desk job.
Desk jobs have plenty of negative effects on our health.
For starters, they force us to sit down for most of the day which could have some serious health effects.
They also force us to stare at computer screens or documents for long periods of time and they can make our time at work incredibly boring and unproductive.
The pay does not help either in some cases! 
For this reason, many people have decided to turn away from their desk jobs in favor of self-employment.
Related:
 7 Excellent tips for a successful launch of your first home business
Become a Virtual Assistant that Makes Good Money
When to Escape the 9-5
Planning to quit your day job is not a something you should take lightly!
Think about your financial security as well as your next steps. If however, you feel unfulfilled in your day job, and you simply have no passion, then it is time to move on. 
You might think about sticking it through in order to collect a paycheck which seems like it is a better choice. But do you really want to live from paycheck to paycheck?
How will you pay off debt or even afford to pay for those crazy pilling bills if your pay is just not enough!
Sure you can find and land another maybe well-paying job! But regardless, it is clearly time to escape the 9-5!
For me starting a blog was my passion and this is how I make a full-time income. 
Related: 
3 Popular Work from Home Home Side Job you can do for Fast Cash 
How to Start a $2,500/ Month Side Business in Blog Flipping
Quit your Day Job to Blog or Start a Business
Being able to escape your 9-5 in favor of starting a blog or a side business is a risk! 
Blogging might seem like a gamble, especially when you consider the ways you actually make money from blogging.
It's all about building up your personal brand and this can be difficult for people who are used to working in large businesses with groups of people.
If you are still not sure about quitting your day job, you might need a mindset shift in order to be successful! 
To get you started or to convince you, here are a couple of ways to get away from your desk job in order to start a blog or a side business.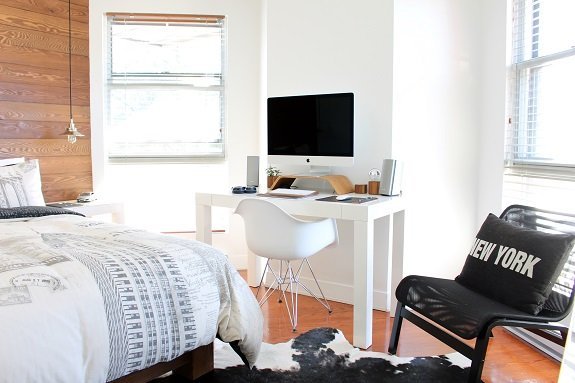 Freedom to Work in Your Own Time
One of the biggest advantages of blogging as a career or starting your own business is the ability to work in your own time.
With a blog, you can write posts whenever you want, you can travel and work wherever you like and you don't need to conform to a schedule.
This can sometimes backfire because you might spend too much time doing things other than working.
However, being able to set your own hours is liberating and incredibly useful if you use it correctly.
Advantages of Working From Home
They are a few amazing advantages of working from home and choosing to escape the 9-5! One of my favorite reasons for and benefit of working from home is the time I get to spend with my family.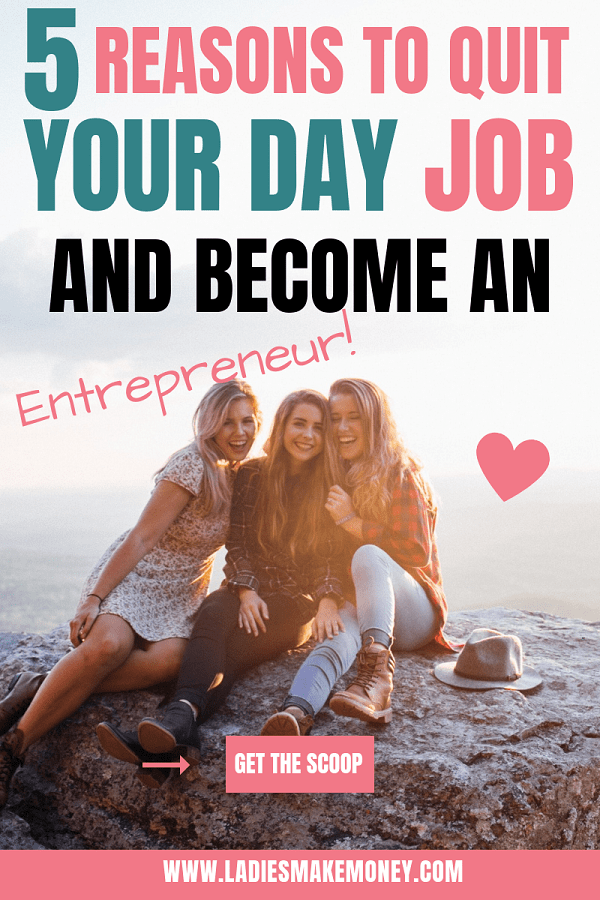 Family time is really important for me!
Working for someone verses working for yourself allows you to balance nice life-work responsibilities. No need to feel pressured if you need to take time for yourself or your family.
Like everything else, discipline is all you need.
Remember, you are working for yourself. You do need to put in the work in order to make money. 
I have worked really hard on my blog, that I am able to earn a nice passive income from it!
This makes quitting my day job the best thing I ever did as well as rewards me for the fact that I was able to escape the 9-5!
As you can see they are so many advantages of working from home and quitting your day job! As long as you are doing it for the right reasons, you can have a successful career as an Entrepreneur! 
Use Creativity to Your Advantage
Bloggers are creative individuals that use different ways to make money from their blog.
If you find that you're better at creativity than monotonous tasks, then blogging could be what you need to turn your career choices around.
Creativity is what spurs great blogs.
With original ideas, you can create fantastic posts and quickly pick up on trends that you can write about and take advantage of.
Unlike many desk jobs that restrict your creativity, blogging actively encourages it and can be the career of choice for those who are creative-minded.
You can also choose to be a freelancer to help other bloggers. We wrote a fantastic post on how to get paid to blog and write articles from home! Check it out!

Feel Truly Passionate About Your Work
When looking for something to blog about, nothing gives you more inspiration than your own interests.
If you love gardening then start a blog about growing produce.
If you have a thing for music production then write about it. Being a blogger means you can be intimately connected with the subjects you write about, and this can be all the inspiration and motivation you need to continue working hard.
If you're not passionate about your work, then it will become incredibly hard to keep your morale up.
This goes for anything you chose to do in life! 
Related:
See how these 10 Entrepreneurs are making money with their blogs
6 Top Women Entrepreneurs who Succeeded in Online Business
Hopefully, this inspires you to escape your 9-5 and start your own blog or business.
We have a free course you can take today. We walk you through the tech stuff of starting and setting up your own blog
Are you ready to escape the 9-5 and quit your day job? We would love to hear from you. If you have recently escaped the 9-5 day job, we want to hear from you too! 
NOW CHECK OUT – How to Start a Virtual Assistant Business! 
Find more lifestyle blog posts right here and do not forget to share this article! 
If you enjoyed our blog we would like to have you join our email list and receive weekly money-making tips, you can join now! Don't forget to like the Facebook page. The page is created to share your work, pitch your services and learn from other experienced bloggers!
---
***We would like to note that this post and most posts on our blog may contain affiliate links. This means that if you purchase something that has an affiliate link, we will get a commission from it. Not all items recommended on our site are affiliate links. We only recommend items that we have used and tried. These items have brought us much success and we highly recommend them to you in order to be successful. Thank you for your trust!
5 Reasons to Escape the 9-5 & Get Away From Your Desk Job