Last Updated on October 30, 2020 by NandiNN
Best Blogging Tools for Bloggers
Today we are happy to share the best blogging tools we highly recommend to new bloggers.
We're all looking for ways to accelerate our blog, whether it's to create more leads, increase our following or just bring attention to a particular portion of information.
That being said, sometimes, it can be a little bit difficult to get the results that you were really hoping for.
If you haven't already, it's time to start utilizing blogging tools to not only manage our blogs but grow them too. We have discussed a few blog tools in the past, but we wanted to share a few more blogging tools for beginners.
So What Are The Best Blogging Tools for beginners?
But before we get started on the best blogging tools, we would love for you to join our growing Facebook group right here! Be sure to give us a quick follow on Instagram as well!
We also wanted to take the opportunity to let you know that we use Affiliate links on some of our blog posts. This means that we could make a commission if you click on an affiliate link and purchase something. Please check out our full disclaimer and policy page here.
We've listed our top eight tools that have helped us craft, boost, grow our blog as well as manage our blogs. All the way from tools for SEO, organization, analytics and, really, just some useful time-saving ones too.
Let's dive right in.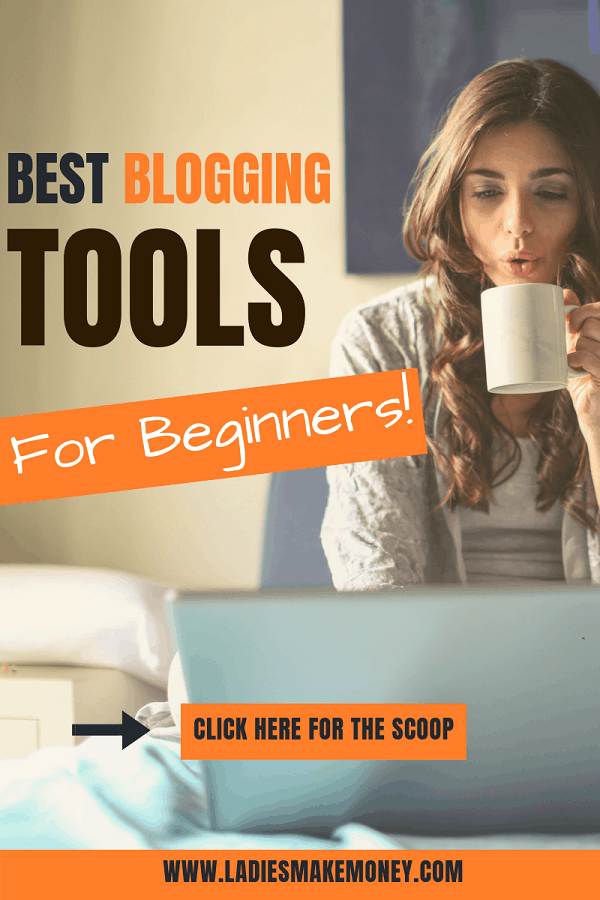 1. Sumo
Sumo was formerly Sumo Me, so, you might have heard of it before.
You can access a more advanced version of Sumo, for a price, but a free account is honestly incredible.
It's like the blogging expert friend that you always needed, adding social sharing buttons, analytics, and email capture forms to your blog. There's a lot of freedom and autonomy with Sumo, and it's truly effective.
There have been reports of blogs being able to increase their profits by 431% using Sumo. Maybe you could be one of their success stories?
2. Google Analytics
An obvious, but a critical one. Tracking your analytics is crucial for every blog to grow. Google Analytics provides you will all the statistics you need.
Knowing your audience, their likes, dislikes, and interests will ensure that you continue to post valuable, popular content on your blog. Overall, increasing engagement on your blog, generating more leads, and, quite possibly, generating new visitors to your site.
If you have a WordPress blog, it's super easy to install Google Analytics into your blog, and it is completely free. Amazing.
This is only one of the best blogging tools for bloggers and you should be using it before anything else.
3. ThirstyAffiliates
If you're using your blog to generate an income, you'll be totally aware of affiliate marketing, it's the primary source of income for countless bloggers.
However, adding an affiliate link can be a tedious task – which is where tools can jump in and save the day.
ThirstyAffiliates is a convenient affiliate link manager, which adds the links quickly, cloaks the long, ugly links into something a little more desirable, protects all your commissions from theft.
Our favourite feature is the auto-insert one, which adds an affiliate link for a keyword. It just makes the job much easier, which we're always thankful for.
4. Outreach Plus
Ah, email campaigns.
Effective but quite tricky to perfect. Outreach Plus makes it much more comfortable.
With this amazing blogging tool, you can send personalized emails to a wide range of people, generating more traffic and ultimately more sales.
It's a little bit different from your standard email marketing tool, too. It has higher deliverability, better open rates and gives you the opportunity to manage and track all the responses.
It also comes with really amazing features like action-based triggers, email insights, auto-personalization, and automated replies.
It's definitely one of the best blogging tools out there and so it's a must-have tool.
5. OptinMonster
Opt-in forms are a great way to gain more email subscribers, and subsequently more leads. Some websites have even been able to increase their email subscribers by 600%, using OptinMonster.
Now, that's impressive.
Importantly, the opt-in forms are actually quite beautiful too, which makes them much more likely to be clicked on, instead of crossed off. That's always a benefit.
Email lists are essential for bloggers that are looking to expand, using OptinMonster will be sure to help you create a bustling list of email of subscribers.
6. Buffer
You probably know how important it is to share your content on social media, but it can be easy to forget or lose track of time.
Buffer helps you with this. This is one of the best blogging tools used by many bloggers.
It provides you with a handy tool that allows you to share and schedule your content on social media, all from one dashboard. Even better, you can plan your tweet's statuses and updates all in one go – you'll never miss a day again.
This is more of a management tool than anything else, saving you time, allowing you to focus on other parts and giving peace of mind.
Also, you can analyze the performance of your posts which is really great too. We always love some great analytics.
7. Floating Social Bar
You might have heard it before, but some social media plugins can actually slow down your site's speed.
That's never a good thing.
Floating Social Bar is, basically, what it says on the tin. It only loads the social media buttons when they're needed, making your page run faster, and your posts to look a little tidier, too.
It could be the case too, that the floating social media bar catches your visitor's eyes a little bit better, ultimately maximizing your social media shares.
You could always give it a try and see how it works for you.
8. Yoast SEO
We're starting with the basics. Yoast is a classic, and actually quite essential to most blogs.
Keep me in mind although we are recommending some of the best blogging tools and plugins, plugins are known to slow things down.
This is bad for SEO in general.
You've more than likely heard about Search Engine Optimization (SEO) by now, especially if you're a blogger. It's one of the most important things to consider when you're trying to grow your blog.
Yoast SEO is a super simple tool that covers all the essential basics of SEO.
With their handy little traffic light system, you can ensure that your posts are optimized and ready to make hits.
There are now many agencies and writing services like Pick Writers that have incorporated this tool in their everyday workflow.
For beginners and advanced users alike, Yoast really is one of the best blogging tools out there.
It's also there to remind you to perform specific tasks like, say, creating alt attributes on your images and specifying a meta description – two things which are quite easy to forget.
Caution: Getting a green light doesn't mean that your post is fully optimized and will rank in Google. I use these two guides to help me rank on Google: Easy On Page SEO for Beginners and Easy Backlinks for SEO.
There you have it, the best blogging tools for beginners!
We hope that some of the best blogging tools help you grow, manage and just enjoy running your blog more.
There are all honorable mentions, all with their own amazing benefits and functions.
Running a successful blog can sometimes be a little bit difficult, but these tools can really make the whole experience so much easier while generating growth.
What could be better, really?
Related:
How to Earn $10K + A Month with Just 10, 000 Blogging Visitors
Best Productivity Apps For Business Women & Entrepreneurs
Kristin Savage nourishes, sparks and empowers using the magic of a word. She is practicing regularly while reviewing new translation services at Pick Writers and constantly contributing to other educational platforms. Along with pursuing her degree in Creative Writing, Kristin was gaining experience in the publishing industry, with expertise in marketing strategy for publishers and authors. You can find her on Facebook.
Find more amazing Blogging and Entrepreneurship tips here!
If you enjoyed our blog we would like to have you join our email list and receive weekly money-making tips, you can join now! Don't forget to join our Private Facebook page. The page is created to share your work, pitch your services and learn from other experienced bloggers!
---
***We would like to note that this post and most posts on our blog may contain affiliate links. This means that if you purchase something that has an affiliate link, we will get a commission from it. Not all items recommended on our site are affiliate links. We only recommend items that we have used and tried. These items have brought us much success and we highly recommend them to you in order to be successful. Thank you for your trust!
8 Best Blogging Tools For Beginners To Use For Blog Income