Last Updated on August 28, 2017 by NandiNN
Ever wondered if bloggers really make money online? I believe so. Any niche can make money online if they put in the work. Welcome to our July blog income report, where we document our successes & failures. Did I really make money this month? My blog was down for two weeks and I still made a decent income. If you are thinking of starting your own blog, or maybe you already have one-we created a detailed blog on how to create or turn your blog into a money making machine. Yes we did! You can get the full scope on starting your own profitable blog right here! 
Before we get started, we would love for you to join our growing Facebook group right here! You can also join our Pinterest group by scrolling to the bottom of this page! If you are looking for guest blogging opportunities or if you need a personal affordable coach to take you from A-Z, we can help you. Get the details right here! We also did want to mention that we use affiliate links on some of our posts. This means that if you click on an affiliate link, we make a commission from it. 

Our overall monthly income goal is to make approximately $5000 per month from our blog. We are slowly working towards that goal! If you want to know how we plan to make $5000 per month, read this blog.
Past Blog Income reports below:
June: Blog Income Report! 
January: Blog income Report!
November– Blog income Report!
December: Blog Income Report! 
If you are looking for ways to make money from your blog, we wrote this amazing blog on the 7 things you can do to boost your blog income and 25 Ways to Make Money Online and grow your monthly income.
DETAILED JULY BLOG INCOME REPORT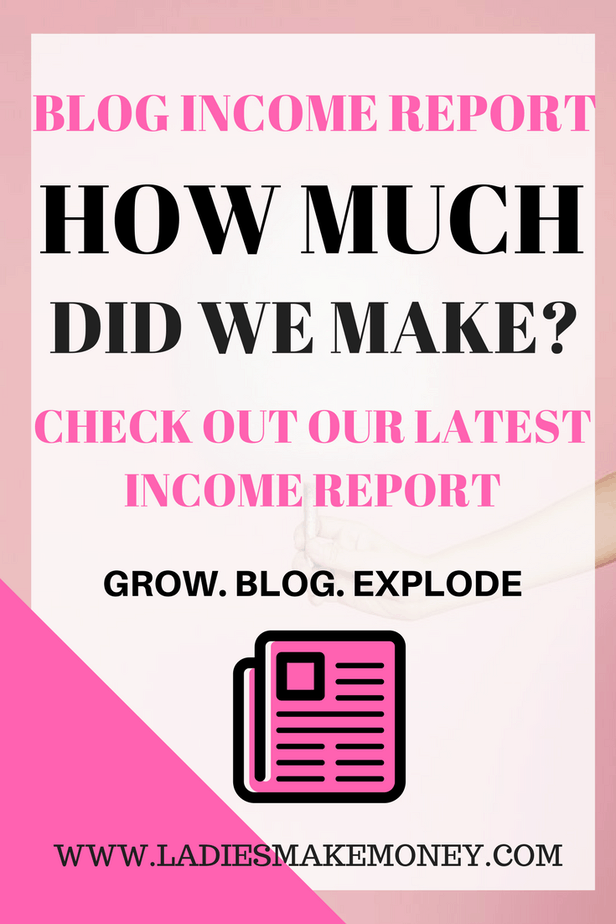 As always, we want to let our readers and followers know that blogging is not as easy as it looks. A lot of effort, planning, and learning goes into this. We are treating this blog as a business blog and this means we work full-time on it.  Lot's of planning, promoting, learning and mistakes make up for our blogging journey. We are determined to make it work and help you along the way because as much as many bloggers make money online, we want to ensure that you can do it as well. 

INCOME AND BLOG GOALS:
We typically set goals that we need to achieve monthly. This makes it easy to work towards something and it keeps us accountable. We are so happy to see how our blog traffic continuously increase thanks to this Pinterest strategy  and our Facebook Traffic Booster. 
So what did I achieve in July to be able to make money online:
SOCIAL MEDIA STATS FOR LADIES MAKE MONEY ONLINE
Instagram – 259 followers  – Last checking we had 255- Winnish 
Pinterest  – 4, 473 followers – Last checking we had 3698 followers–WIN
Twitter –  663 Followers – Last checking we had 400 followers –  WIN
Facebook Page – 834 Likes– Last checking we had 758 likes (WIN)
Facebook Group – 2304 members – Last checking we had 1999 amazing members! We are very picky about those that come in.  Don't forget to join us! 
I am really happy with my Pinterest followers. According to Carly who went from zero to 200 K page views per month, it's not about the followers, but the pinning strategies you use which makes up for a great Pinterest plan. This is the best investment I have made to date. I still want to have about 10, 000 followers by the end of this year!
My Facebook group is another big one! I am hoping to also get about 10,000 amazing women who are focusing on growing and helping each other. I did get rid of a lot of people that were purely self promoting! This means my account will take a little longer to grow as I am really pick about those that join. If you are not yet part of our- Facebook Group, don't forget to join us. It's a great community to share and grow your biz!
GUEST POSTING: 
Our goal was to get featured on two blogs per month. Because we are going in a different direction with our blog, we are putting this on hold. How ever, we are accepting guest posts on our site. If you would like to submit a post check out this page: Guest Posting!
–How to Increase Organic Traffic from Google – Without Tearing Your Hair Out
Blog Published this month:
–Become an Affiliate for the Ultimate Blogger Bundle
–Check out our June Blog Income Report- How we made money online
–Do Bloggers deserve to make money blogging as a side hustle
–8 Beautiful Feminine WordPress blog themes for Female Entrepreneurs
–A Girl's Guide to making your first $100 online with your blog
–5 Sites that will pay Bloggers to write for them

BLOGGERS MAKE MONEY ONLINE: BREAKDOWN OF JULY BLOG INCOME REPORT:
Income:
Products 
Affiliate sales
Ad Network
Services
Total Income: $1, 148.75
I really do believe that it is possible for bloggers to make money online. Are you monetizing your blog? If not find out how to do it with this post: 

Expenses:
Total Expenses – $219.00
Total Blog Income = $929.75
I am really impressed with our July Blog Income report for the simple fact that we still made money even though our site was offsite for almost half the month. A lot of this is thanks to Affiliate Marketing and I am so glad I purchased Michelle's course- Making Sense of Affiliate Marketing and How to make your first Affiliate Sale in 24 hours with House of Brazen! I truly believe in investing in myself to get good results. Otherwise I would still be struggling!
WHAT WORKED AND WHAT DIDN'T?
Let's first focus on what did not work:
So what worked for our blog
AUGUST BLOG GOALS:
Although I didn't meet my blog income goal, I am still happy with the results. I always suggest setting up realistic goals for your blog in order to be successful! 
What goals do you have set for your business?  Tell us in the comments below
WANT A LIST OF RESOURCES THAT HELP ME GROW MY BLOG EVERY DAY? CHECK OUT MY NEW SHOP HERE: ENTREPRENEURS SHOP 
If you enjoyed our blog we would like to have you join our email list and receive weekly money-making tips, you can join now! Don't forget to join our Private Facebook page. The page is created to share your work, pitch your services and learn from other experienced bloggers!
---
***We would like to note that this post and most posts on our blog may contain affiliate links. This means that if you purchase something that has an affiliate link, we will get a commission from it. Not all items recommended on our site are affiliate links. We only recommend items that we have used and tried. These items have brought us much success and we highly recommend them to you in order to be successful. Thank you for your trust!