Last Updated on March 16, 2020 by NandiNN
My income report for this month is a little late. I was focussing on creating batch blogs for the month of February that the income report took a little back seat. I wanted to continue the tradition of creating a monthly income report and here we are! We are reporting our month income report as a way to keep us accountable as well as to show our followers exactly what we are doing to monetize your blog! If you are thinking of starting your own blog and are not sure where to start, you can get the full tutorial here: (Start an amazing blog on WordPress). So how did we make money in our third month blogging?
Join our Facebook Group: Babes Making Money Online
Our overall monthly income goal is to make approximately $5000 per month from our blog. We are slowly working towards that goal! You can take a look at our past Blog Income reports below:
November– Blog income Report!
December: Blog Income Report!

If you are looking for ways to make money from your blog, we wrote this amazing blog on the 7 things you can do to boost your blog income. And how we are making over $50.00 per month and more by using this affiliate program!
How we made Money in our Third Month blogging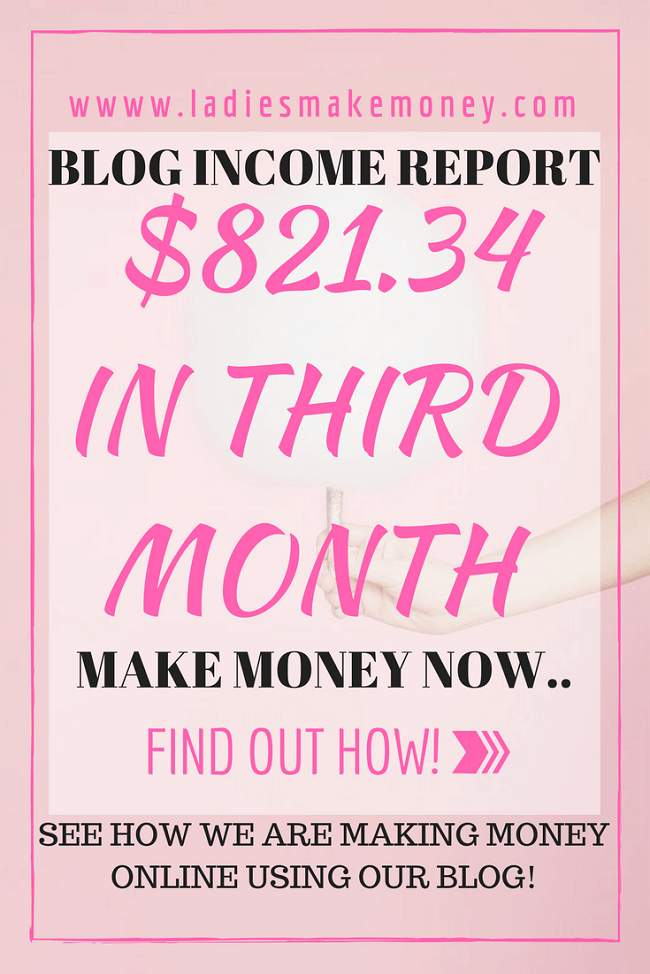 As always, we want to let our readers and followers know that blogging is not as easy as it looks. A lot of effort, planning, and learning goes into this. We are treating this blog as a business blog and this means we work full-time on it. I am now 7 months pregnant and getting tired, but still working as hard as ever! We did let certain things slide for now as we focussed on things that were much more important like creating great content, growing our tribe and working on blog traffic!
JANUARY INCOME AND BLOG GOALS:
At the end of December, I set out some goals to be met for January in order to feel accomplished. Let's see if I hit those targets. It's always a good idea to set some goals for your blog and online business. This is the best way to be held accountable especially if you are working for yourself! So here are the results:
Blog post goals – 13 blogs to be published (All my posts are longer than 1000 words). I was also focussing on publishing 3 blogs per week – I published 10 blog posts! – FAIL (Real close).
Email subscribers – Goal was to have 800 – 710 email subscribers- FAIL (Getting there)
Blog Pageviews- 12,000 – 9,517- FAIL
SOCIAL MEDIA STATS FOR LADIES MAKE MONEY ONLINE
Instagram – Goal was to get 500 followers – I got 257 followers – FAIL (I need to work on this)
Pinterest – Goal was to get 1500 followers – I got 1650 followers–WIN
Twitter – Goal was to get 500 followers – I got 400 followers – FAIL (I can do this)
Facebook Page – Goal was to get 75 likes – I got 150 likes (WIN)
Facebook Group – Goal was to get 500 members – We have 509 amazing members! Don't forget to join us!
As you can see, social media is barely making it for us. I am not really big on promoting Instagram and Twitter at the moment. But my main goals are to get Pinterest and my Private Facebook group going. Once these accounts kickoff, everything else will fall into place. If you are not yet part of our- Facebook Group, don't forget to join us. It's a great community to share and grow your biz!

GUEST POSTING:
Our goal was to get featured on two blogs per month. We only managed to get featured once for the month of January!
Are you guest blogging yourselves? Tell us about it! We were featured in a blog which is totally amazing and it was a great surprize for us!
BREAKDOWN OF BLOG INCOME REPORT:
Income:
(Affiliate sales from – How to make your first Affiliate sale in 24 hours with Pinterest and ShareASale)
Total Income: $861.34
Expenses:
Total Expenses – $40.00
Total Blog Income = $821.34
We came below what we did last month. But we are okay with this. The month of February is already proving to be a good month and we are hoping to make much more success moving forward!

WHAT WORKED AND WHAT DIDN'T?
Let's first focus on what did not work:
I did not manage to hit my blog traffic! I think I was really concentration on writing great content and not so much on promoting the content. I think I should focus on both creation and active promotion to ensure my blog succeeds.

I wanted to be more consistent which meant blogging frequently on the days that I suggested which were Monday, Wednesday, and Friday. I should really focus on this a lot more.

I am also getting too caught up with numbers which I should not do, instead just create what I am good at!
So what worked for our blog:
Definitely joining Tailwind! Pinterest is now beginning to surpass all my other promotional strategies when it comes to traffic! I will experiment with creating other blog images to see if it helps. I will let you know in a few months! The goal is to make Pinterest my number one source of traffic. Right now Facebook is the main source. But it takes a lot of work when it comes to promoting on Facebook!
I am still working on boosting my Affiliate sales and this book I purchased is doing wonders for me: e-Book on how to make your next affiliate sale within 24 hours. This helped boost a lot of my sales and I am already seeing amazing results for February. It helps you boost your sales by using Pinterest as your marketing tool. It is easy to implement but very strategic moves are involved. I will continue to use this to boost my income in the next several months or so.
I also joined this amazing affiliate program that is making me make money using social media. You can read more about it: How to monetize your blog using social media as a platform!

My tribe is finally growing. I am impressed by everyone joining my Facebook group! I would love to have 10,000

members

by the end of the year! We highly encourage you to join!

FEBRUARY GOALS:
I will continue to get guest blogging opportunities where I can with big bloggers.

Blog 3 times a week instead of 5 times a week – Monday, Wednesday, and Friday – I will continue with this until I hit my blog traffic goal of 100K.

Batch up all my blogs. Spend Monday and Tuesday writing out blogs. The goal is to have one month of blogs up and written out.

Promote more on my Facebook group – Twice a week! In the next few months, I will make opportunities for other bloggers to be seen more on my Facebook group! Stay tuned. This will help you with your blog traffic.

Pre-write all my newsletters at least one week in advance

Increase my Facebook group to 800 members, Pinterest to 2200, Twitter to 500, Instagram to 500, Facebook page to 200

Get my subscribers up to 900- email list

Get 12, 000 Pageviews by the end of February.

Income goal to be increased to $1500 – If you want to learn how to make your first $1000 in 45-60 days sign up here! Use promo code: "ebook10″.
My Most Popular posts for January included:

–10 Pinterest Tribes every online blogger should be a part of right NOW
–How to make money in affiliate marketing in 24 hours using Pinterest
–Top 10 Blog Tools that will help you get more blog traffic
–How I gained 1000 Pinterest Followers in less than 2 months
–How to make money from your blog from day one
Although I didn't make much money for the month of January, I am happy with what I made and what my blog made. I suggest setting realistic goals for your blog in order to be successful! I can't wait to see what the month February has in store for my small blog!
What goals do you have set for your business? Tell us in the comments below.
MAKE YOUR NEXT $1000 FROM YOUR BLOG WITH OUR NEW E-BOOK. USE PROMO "eBook10″ FOR LIMITED TIME AND GET IT FOR $10.00. BE WELL ON YOUR WAY TO MONETIZING YOUR BLOG TODAY!
WANT A LIST OF RESOURCES THAT HELP ME GROW MY BLOG EVERY DAY? SEE IT RIGHT HERE: RESOURCES AND TOOLS FOR BLOGGERS!
If you enjoyed our blog we would like to have you join our email list and receive weekly money-making tips, you can join now! Don't forget to join our Private Facebook page. The page is created to share your work, pitch your services and learn from other experienced bloggers!
---
***We would like to note that this post and most posts on our blog may contain affiliate links. This means that if you purchase something that has an affiliate link, we will get a commission from it. Not all items recommended on our site are affiliate links. We only recommend items that we have used and tried. These items have brought us much success and we highly recommend them to you in order to be successful. Thank you for your trust!