Last Updated on January 16, 2017 by NandiNN
We are well into 2017 and it's time for another blog income report. I can't believe that it is now 2017 and my hard work with blogging is slowly paying up. As always our goal with our income report is to help you make money with your blog and we are showing you the different ways you can achieve that. If you are thinking of starting your own blog and are not sure where to start, you can get the full tutorial here:  (Start an amazing blog on WordPress).
The end result of my overall goal is to eventually start making a minimum of $5000.00 per month. Today we will be taking a look at my journey so far and I will show you the breakdown of our December Blog Income Report. So the question is, did I succeeded (or failed)?
If you want to know how much we made in our first month blogging- Take a look at our November Blog Income Report! 
How I Made $1, 119.37 in my 2nd Month of Blogging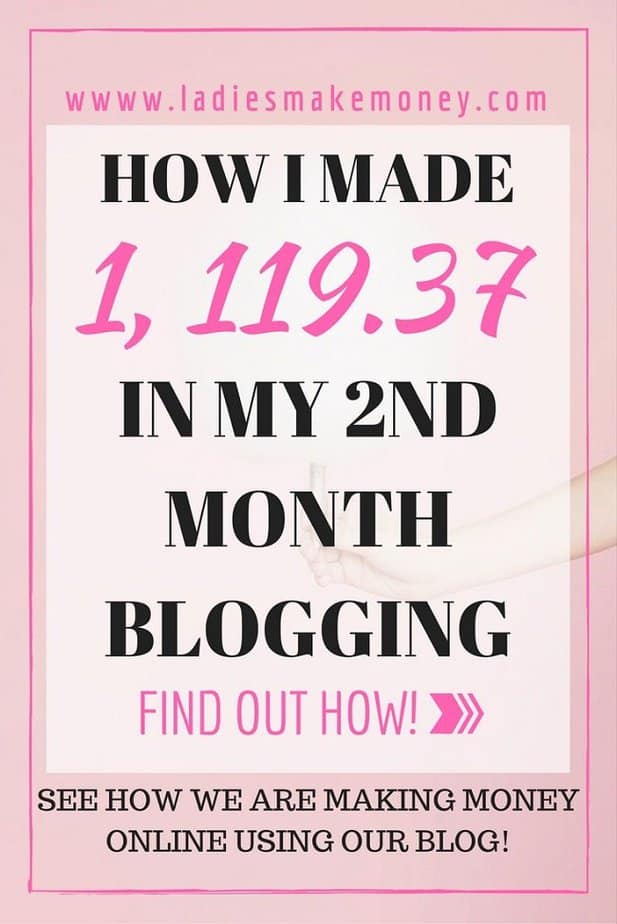 Before we look more into December, I wanted to tell you that I worked extremely hard. This meant blogging almost daily (except on weekends). I am currently 5 months pregnant, so I did not want to over stress my mind, but I still needed to put in the work. My blog is a business blog and I treat it as a full-time business. This means, getting up at 8 am, taking a lunch break and logging off at 5 pm. Now that we have established that, let's see what goals I set up for December and let's see what happened in December. 
DECEMBER INCOME AND BLOG GOALS:
The list below is what I originally planned out at the end of November. These were the goals I set for my blog to be achieved by December. It's always a good idea to set personal business goals even if you are not documenting it for the world. As I mentioned in my November blog income report, I thought December would be a bit slow due to the holidays. So let's see how it all worked out.  
Blog post goals – 25 blogs to be published (All my posts are longer than 1000 words.)  – I published 19 blog posts! – FAIL 
Email subscribers – 250 (it will be a slow month for pushing promos in December) –

320 email

subscribers- WIN
Blog Pageviews- 10,000 –

8, 266- FAIL 
SOCIAL MEDIA STATS FOR LADIES MAKE MONEY ONLINE
Instagram – I had 114 followers – Goal was to get 150 followers – I got 270 followers  – WIN
Pinterest  – I had 281 followers – Goal was to get 500 followers – I got 984 followers–WIN
Twitter –  I had 137  followers – Goal was to get 200 followers – I got 292 followers – WIN
Facebook Page – I just created a Facebook page in December just for promotion purposes and I have – 22 Likes 
Facebook Group – I had 17 amazing members –Goal was to get 25 members- We are now at 217 amazing members, please feel free to join us at any time. – WIN
My biggest achievement was to grow my Facebook group as it is a place we all get-together and promote each other's work, ask questions and help each other meet our goals. Another main goal was to grow my Pinterest account. I am not in the 10K follower realm, but I am hoping to get there by December if not sooner! If I can grow my Facebook group, I will be really happy. It's a great way to get traffic and get your work seen. Come share your work with us- Facebook Group! 
BREAKDOWN OF BLOG INCOME REPORT:
Income:
Total Income: $1, 159.37
Expenses:
Total Expenses – $40.00
Total Blog Income = $1, 119.37

WHAT WORKED AND WHAT DIDN'T?
First thing first is the blog traffic. I wanted to get to 10,000 page views but I was short. I only managed to get about 8, 266. I am looking at getting much higher traffic for January and I am well on track to getting that. The first strategy that I implemented was to join Tailwind. This tool is literally helping me increase my blog traffic every single day! 
You might also like: Why growing your blog traffic will help you grow your online business + How to do it
Another amazing investment I made was signing up for an e-Book on how to make your next affiliate sale within 24 hours. This helped boost a lot of my sales and I am already seeing results for January. It helps you boost your sales by using Pinterest as your marketing tool. It is easy to implement but very strategic moves are involved. I will continue to use this to boost my income in the next several months or so. 
What didn't work? Writing 25 blog post planned for December. December was a really busy month for most people as you can imagine. I just did not have the energy to blog that much. I also signed up with a ShareASale Affiliate program way too late. I would have made a lot more with affiliates sales, especially for December. I only managed to publish 19 blog posts. 
I created a new e-Book that I launched at the end of December. I am currently re-editing to add more things I have come across and it will be re-available January 15th. You can sign up for it right here!- How to make your next $1000 in the next 45-60 days
JANUARY GOALS:
Start guest blogging twice a month to blogs with much higher traffic

Blog 3 times a week instead of 5 times a week – Monday, Wednesday, and Friday 

Batch up all my blogs. Spend Monday and Tuesday writing out blogs. The goal is to have one month of blogs up and written out. 

Promote more on my Facebook group – Twice a week 

Pre-write all my newsletters at least once a week in advance 

Increase my Facebook group to 500 members, Pinterest to 1500, Twitter to 500, Instagram to 500, Facebook page to 75

Get my subscribers up to 800

Get 12, 000 Pageviews by the end of January

Income goal to be increased to $1500 – If you want to learn how to make your first $1000 in 45-60 days sign up here! 
My Most Popular posts for December included:
– How bloggers are earning a real income with ShareASale Affiliate Program
–When will you make money from your blog + Proof from bloggers?
–10 Easy Way to Make money from Home doing odd jobs
–A Girl's guide to Blog SEO- How to use SEO to grow your Blog
–How I increased blog traffic to 6,000 in less than 2 months of blogging
Overall, I am really pleased with my results. As you can see, my goals are not huge goals, especially for a new blog. I have some experience running other blogs and I am implementing a lot of the same strategies here. You need to create goals that are realistic so you can easily manage them. As I grow my blog, I am also growing my followers on social media and on my email list. My strategy was not to wait until I had a following or huge views or anything like that. I find that silly. Why wait when you get going from day one? That's just my opinion. 
What do you think? Fail or win for my second month? You can be honest. We are all here to help each other. I am still glad I got at least 19 posts as this helped me achieve what I did in terms of my blog income report. 

What do you think of my 2nd-month blog income report?
I am looking forward to the month of January. Hoping each one of you succeeds with your goals. What goals have you set for the month of January? We are doing monthly blog income report just to keep us in check and accountable. Tell us in the comments below.
IF YOU WOULD LIKE TO GRAB OUR E-BOOK-  HOW TO MAKE $1000.00 IN THE NEXT 30-45 DAYS, SIGN UP HERE:
WANT A LIST OF RESOURCES THAT HELP ME GROW MY BLOG EVERY DAY? SEE IT RIGHT HERE: RESOURCES AND TOOLS FOR BLOGGERS! 
ANTIf you enjoyed our blog we would like to have you join our email list and receive weekly money-making tips, you can join now! Don't forget to join our Private Facebook page. The page is created to share your work, pitch your services and learn from other experienced bloggers!
---
***We would like to note that this post and most posts on our blog may contain affiliate links. This means that if you purchase something that has an affiliate link, we will get a commission from it. Not all items recommended on our site are affiliate links. We only recommend items that we have used and tried. These items have brought us much success and we highly recommend them to you in order to be successful. Thank you for your trust!