Last Updated on
Successful Female Entrepreneurs
Despite the common belief that women entrepreneurs usually overcome more obstacles to achieve the same business goals as men, women often make greater successes.
According to Entrepreneur, investors, and venture, capitalists should take a closer look at startups run by women, as they have proven to achieve greater results using fewer means.
Here are 6 most notable online women entrepreneurs startups you might get your inspiration and start your own Online business.
Who knows, maybe the ideas of these companies will give you a nudge to launching your own successful project.
And don't worry if you cannot afford a starting capital – there is always a way to take advantage of funding for women entrepreneurs.
We do, however, want you to learn everything you can from these successful female entrepreneurs.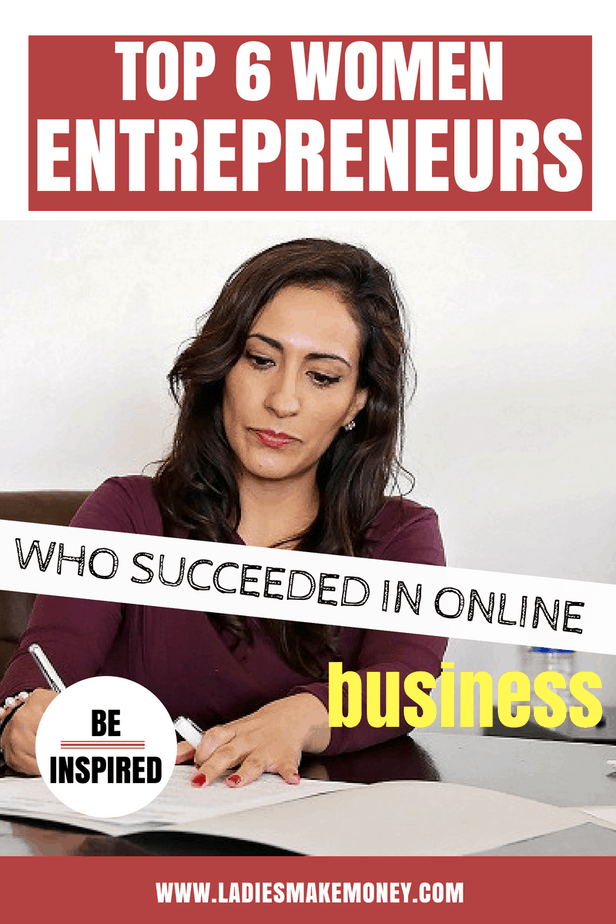 Before we get started on Top 6 Women Entrepreneurs who succeeded in online business, we would love for you to join our growing Facebook group right here! You can also join our Pinterest group by scrolling to the bottom of this page! If you are looking for guest blogging opportunities or if you need a personal affordable coach to take you from A-Z, we can help you. Get all the juicy details right here! Have you seen our brand new shop! 
We also wanted to take the opportunity to let you know that we use Affiliate links on some of our blog posts. This means that we could make a commission if you click on an affiliate link and purchase something. Please check out our full disclaimer and policy page here. 
How To Be A Successful Women Entrepreneur
In my own opinion, the only way to become a successful female entrepreneur is to work extremely hard for what you want.
This could mean, educating yourself, attending conferences, listening to inspirational podcasts for women and more.
Don't stop there!
Surround yourself with other successful women entrepreneurs and see what they are doing to be successful. Learn the ins and outs of being successful!
Most successful online entrepreneurs go as far as hiring mentors and coaches to help them further! With this in mind, here are 6 top female entrepreneurs you can learn from. 
Top Female Entrepreneurs:
Ashley Qualls – Online Design
Back when Ashley Calls was just a 17-year-old American teenager, she showed the world how anyone can become a millionaire with a help of Internet business in just 3 years!
Starting from 14 years, Ashley found herself in graphics and design. As soon as realized that she was no longer interested in drawing for fun, the girl created her own site Whateverlife.
At first, her uploaded works were rather meant to be an exhibition for a young designer rather than a commercial platform.
Her popularity among other girls romantic templates made her website super busy – almost a million visitors a day! Soon enough Ashley started making a real profit thanks to running advertising campaigns.
Only 3 years after, Colls built a real fortune out of her website with almost $ 1,000,000 in revenue per year.
As you can see, women entrepreneurs that work to educate themselves and then use the skills to build online businesses are the ones that tend to be the most successful!
The Skimm – Daniel Weisberg and Carly Zakin
Daniel Weisberg and Carly Zakin (two really amazing women entrepreneurs) decided to quit their jobs at NBC in favor of launching their daily newsletter project called TheSkimm.
In December 2015, the project was able to attract over $6.3 million in financing from 3 large companies – Greycroft Partners, Irving Azoff, and RRE Ventures.
TheSkimm was even approved by the Oprah Winfrey.
The latest company's official reports, the number of the site's subscribers reached over 1.5 million.
"Since then, the audience has even grown" noted Karli Zakin during her interview with BusinessInsider. Not only grew the audience, but also the website crew.
Now Daniel and Carly are working with 10 other full-time employees. These women entrepreneurs are definitely go-getters. Be sure to follow them and learn what you can! 
Way Up – Liz Wessel
WayUp – formerly known as Campus Job – is an online-based job search platform for students searching for internships or permanent employment.
Approximately 90% of all posted on WayUp job listings are paid.
The company hosts up to 10,000 new users per one week. The vacancies include all kinds of job offers, from freelance positions to bartenders and trade representatives at different companies.
The WayUp website was originally meant to become a student platform. Created by the former Google employee Liz Wessel and her university pal – (again two must-know successful female entrepreneurs) the service has become a good alternative to the university career center and similar site – Symplicity.
The project recently changed residence from Silicon Valley to New York and earned financing of $7.8 million.
Jane Lu – ShowPo
Her entrepreneurship career started in 2010, as Jane left her previous job in a corporate finance field and tried to start her own business.
Her first attempt to become one of the top female entrepreneurs failed, but she had no choice but to try again.
After launching her own clothing store ShowPo, she managed to reach more than $10 million in sales for 1 year with only 14 full-time employees working on the project.
And she is now considered one of the most successful women entrepreneurs in the world. 
Showpo never involved other sponsors.
The company worked with their own revenues from the very first day.
The lack of investment also means that Lu doesn't have to chase large numbers to satisfy someone else. "Business can start and develop slowly enough. We do not have to earn 50 million dollars by next year, only to impress our investors, "she notes. 
MyYearbook – Catherine Cook
In her 15 years, Catherine and her 17-years old brother David managed to start their own Internet business, which later turned them into millionaires.
Back in 2005, they created an interactive internet model of popular yearbooks and with a help of their older brother Jeff, both launched a popular Internet project called MyYearbook.com.
It was a prototype of the social network for youth that managed to engage more than 950 thousand users during the first year of the project.
For today, the website is worth 20 million dollars!
According to Catherine, you should never think about how to become rich but rather act.
The best age, in her opinion, to start reaching this goal is youth. Her brother and she proved that everyone can become a millionaire – it's just a matter of how much you wish.
Now she is considered one of the most successful women entrepreneurs and she is still going strong! 
Laurel & Wolf – Leura Fine – Top Women Entrepreneurs
A professional interior designer, Leua Fine decided to start her own business once she realized how inaccessible traditional interior design services can be for the average person.
"Traditional working methods of any professional designer are so ineffective.
Not only does it require a lot of time but is unreasonably expensive," shared Lora in her interview with Business Insider.
Now her company's venture capital is estimated at $25.5 million.
Laurel & Wolf is an online platform for designers to communicate with their clients online, regardless of where both are located.
Anyone who wants to order a new interior, can register on the site, take a small test to decide upon the future interior, upload the room's photos and specify its size.
On average, each client is offered three to five versions of the design project.
The system selects suitable projects based on the specified parameters and preferences. The client chooses the most suitable option and then communicates directly with the designer.
The cost of a full services package is still way cheaper than analogical services offered by a professional.
All the provided success stories prove that nothing is impossible if you love what you do and believe in your ideas.
So if you have something tempting on your mind, start working on your dream today. Perhaps, your name will be on the new list of successful women entrepreneurs!
Did you like our list of women entrepreneurs who have managed to be successful? Be sure to share it. 
Author Bio: Ann Moss is a freelance writer willing to share her ideas and inspiration. The author is interested in discovering various topics, including online business, finance management, entrepreneurship, etc.
You might also like:
Financial habits of successful women 
10 Celebrity quotes to inspire Female Entrepreneurs
If you enjoyed our blog we would like to have you join our email list and receive weekly money-making tips, you can join now! Don't forget to join our Private Facebook page. The page is created to share your work, pitch your services and learn from other experienced bloggers!
---
***We would like to note that this post and most posts on our blog may contain affiliate links. This means that if you purchase something that has an affiliate link, we will get a commission from it. Not all items recommended on our site are affiliate links. We only recommend items that we have used and tried. These items have brought us much success and we highly recommend them to you in order to be successful. Thank you for your trust!
6 Top Women Entrepreneurs Who Succeeded in Online Business