Last Updated on October 3, 2017 by NandiNN
We are excited to have Harshal Pedamkar who is an amazing writer. He has some useful tips on starting a business from home. Grab some paper & pen,  a cup of coffee or tea and take some notes.
Before we get started on our lovely post about starting a business from home, we would love for you to join our growing Facebook group right here! You can also join our Pinterest group by scrolling to the bottom of this page! If you are looking for guest blogging opportunities or if you need a personal affordable coach to take you from A-Z, we can help you. Get the details right here! We also did want to mention that we use affiliate links on some of our posts. This means that if you click on an affiliate link, we make a commission from it. 

Having a home business and working from home sounds very appealing, right? Starting a business from home is not complicated with the right strategy. 
Well, it has its fair share of perks like working whenever you want, wherever you want and however, you want!
Even though starting a business from home is quite flexible and make your life easy, it's needed to be treated professionally like any other business.
And if you are someone who has just entered the world of home business, these following tips are going to make this journey a lot smoother for you.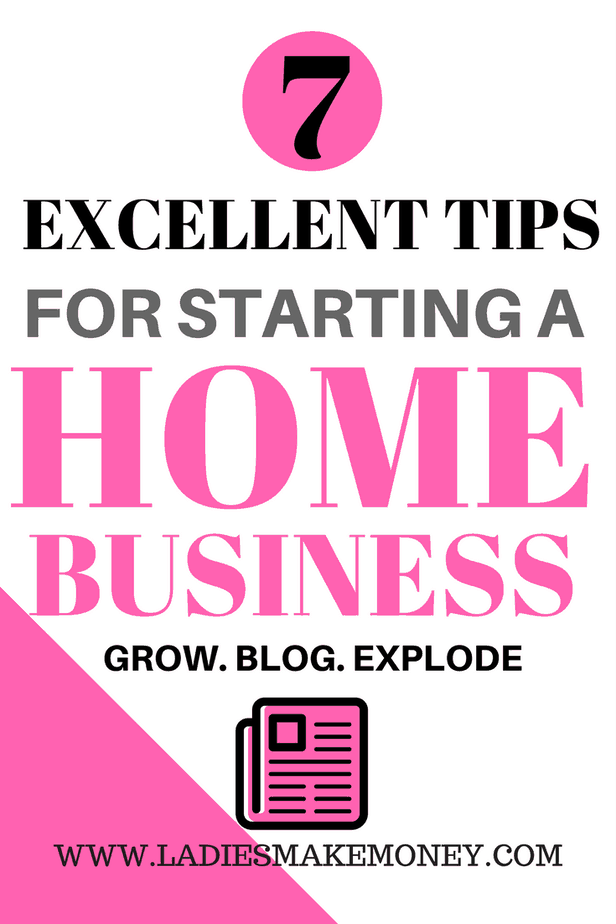 1. Create an office space
As a home-based entrepreneur, it's very important to have a contrast between work and office. You don't want your either lives to take over each other.
When home becomes work, work is constantly going to be in your mind. It's going to stress you out and you'll end up overworking.
Having a separation between your home life and work life will keep you consistent.
Your office space needs to be Neat, tidy and organized. You can store all your business related things there.
If you need a mental break from work, take it! You need to know when to stop. If you are stuck with something, go take a walk.
Often having a home business can make you slack off. But all you have got to do is be persistent. In fact, you can dedicate certain hours for work.
 Don't forget to live!
2. It's okay to not be a one-woman army
When it's a home based business you have to perform all the roles and tasks. You become a multi-tasker. In fact, you might feel that doing it all by yourself is not only going to be cheaper but will give you immense control.
But on the contrary, Tasks can be accomplished quickly if you let the experts take over. Having a team is going to help you work under pressure and get you through hard times.
It's smarter to take the help when needed!
3. Research is going to be your best friend
It's very important to do your homework before you launch a home business. This will keep you going for a long time.
Don't start any random business because you think that's where all the crowd is headed at. Find ideas that best suit you and is your true calling. Get into a niche because you like it and not because of any random reason.
You need to research regularly and come up with new ideas. Something that worked before or for others might not necessarily work for you. So you need to keep up with what's new in your field.
A thorough research will not only help you understand your space better but will also help you understand the consumer needs. After all, consumer satisfaction is the key to a successful business.
A good market research will also guide you through the ways you can reach your customers.
This will give you a deeper idea about the business basics of buying, distributing and selling.
4. Plan! Plan!!Plan!!!
Starting a business from home mean that you need to plan a lot more than any business out there. Your talents are going to make you money. But, having a game plan ahead of time is quite essential when it comes to a home-based business.
You need to set goals and chase them. It's that easy! However, your goals need to be achievable and realistic. Your goals should be measurable and timetabled to the perfection.
Be specific with the plans that you are setting as they need to generate results. Having an organized plan will help you minimize distractions and increase productivity
Your plans should include both long-term as well as your short-term vision.
You need to include effective strategies like detailed market analysis, making your financial budget, list of objectives and ways to achieve them.
5. Take baby steps
Starting a business from home means taking baby steps. Don't dive right into it all. First, the short-term goals should be set up to take you to your long-term objective.
When you are a noob, it's understandable that you want to explore all aspects of your business. But, take one step at a time.
Small investments will give you great rewards. So, you need to be careful and not invest everything thing you have.
You'll be tempted to go all in but don't. Especially when you have a new home-based business, you need to be very careful.
It's okay to have multiple trial and errors, but it's smarter to not lose what you already have!
 Don't shift your focus to multiple products or services. Do just one thing in the beginning, and do it to perfection.
Hey, slow and steady always wins the race!
6. Check out your competition
You need to check out the competitors that are against you in your niche.
But, this isn't so that you could find their weakness and then run them over. You can learn a lot from the mistake that they have already made and not repeat them. You can learn from their business structure since you aren't experienced.
There's a possibility that even after your thorough research, you might have missed a few market opportunities. In that case, see what your competition is up to.
When you do this, remember to not copy them. Be original and have that factor that can help you stand out.
Don't be afraid to check out your competition as it's only going to help you move forward, motivate and inspire you
7. Don't overlook the legal aspects of your business
When starting a business from home, you have got to make sure you know what the legal requirements are, what permits, you need. Check what kind of licenses or identities you need on a state and a local level. Research on both levels.
Then, find out what you have to do to get it.
Make this your priority!
Take the help of experts to ensure precision
However, it all depends on where you live.
You can get a DBA (Doing business As) which gives sole proprietorship, has an unlimited liability and single taxation. Or you can create a partnership but again you'll have an unlimited liability and single taxation.
Then there are LLCs available. Here filing fee is very expensive but it really limits your liability. Or you can try S-CORP, here the procedure is complicated and expensive but it limits the liability.
Utilize SBA govt and the local chamber of commerce. If possible stay local for sourcing and services because they perform on a higher level.
Laws are amended and changed regularly, so you need to be on top of that. Going to a legal professional eliminates all risks. Don't forget about insurance either while you are at it.
Your tax adviser can help you with these or your family attorney or our beloved internet!
You might also like: Side Hustles that will make you an extra $1000 from home
8. Go market, now!
Just because you are starting a business from home doesn't mean you ignore the power of effective marketing. What's the use of having a great product or service when it cannot even reach the target audience?
You don't have to spend a fortune on marketing either.
First, determine your niche and target audience.
You can turn to both online marketing and offline marketing for your business or a strong combination of both.
You might also like: 10 Places to promote your blog after you hit the publish button
Here are a few ways you can achieve that:
You can Set up referral marketing

Use social media platform for brand awareness

Use effective networking tactics. Attend industry events and conferences for networking

Issue press releases

Paid advertising is also a great option when you are just starting

Blog about your business

Start affiliate programming

Spread the word among friends and family

Email marketing is still around

Make business cards

Use locally available mediums to advertise

Use optimization strategies
Sometimes, it's possible that with time the productivity and motivation with a home business may wear off. But these above mentioned tips are going to ensure a successful launch of your home first home business.
Authors Bio: 
Harshal Pedamkar is a passionate writer by profession and a complete internet savvy. His content is mostly focused on Career, Blogging, Digital marketing, and E-commerce related topics. A writer by night and reader by day clearly defines his passion for sharing knowledge through his writings.
Follow on twitter – @harshal9870

If you enjoyed our blog we would like to have you join our email list and receive weekly money-making tips, you can join now! Don't forget to join our Private Facebook page. The page is created to share your work, pitch your services and learn from other experienced bloggers!
---
***We would like to note that this post and most posts on our blog may contain affiliate links. This means that if you purchase something that has an affiliate link, we will get a commission from it. Not all items recommended on our site are affiliate links. We only recommend items that we have used and tried. These items have brought us much success and we highly recommend them to you in order to be successful. Thank you for your trust!