Last Updated on April 28, 2021 by NandiNN
How many of you are thinking of monetizing your blog to start earning a monthly income from it? Is your blog brand new? Not sure how to get started with making money from your blog? Let's get your questions answered today. You do need to wait to get a following in order to start making money from your blog. You can start as early as from day one.
WANT TO MAKE YOUR NEXT 1K FROM YOUR BLOG IN THE NEXT 45-60 DAYS? THEN GET ALL THE DETAILS HERE!
I asked this question the other and almost instantly most of the responses I got was that they did not have much of a following to start monetizing their blog yet. The question is, should you wait to monetize your blog? If you are going into business to make money, then your goal should be to make money. The sooner you get the profit the better it is for you.
Read this blog: How long it took these bloggers to make money from their blog.
And if you want to start your new blog: How to start a profitable blog
How to make money from your blog from day one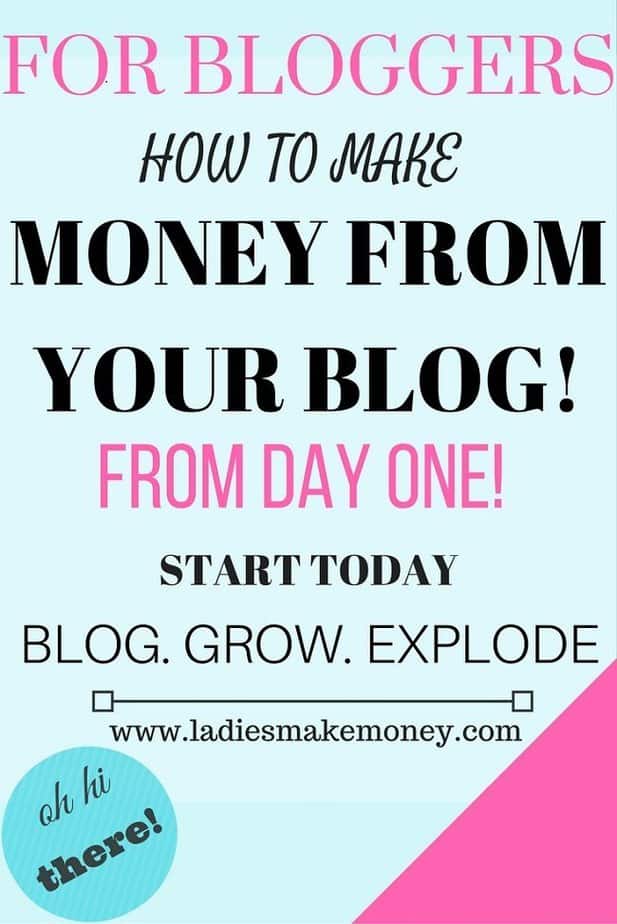 SET A GOAL FOR MAKING MONEY FROM YOUR BLOG
Like any other business you might have, you need to have a solid business plan in place. Did you create your blog as a hobby or for you to make money from it? If your goal is to make money from your blog, then you need to establish clear goals on how you plan to achieve this. What is your blog about? How will you promote it, how much money are you planning to make per month and what tools and strategies will you use to start making money from your blog?
Use our blog planner to plan your goals and strategies:

MONEY MAKING TOOLS AND PLANS FOR YOUR BLOG
Now that you have established that you want to make money from your blog, you need to get the tools in place to make that income. Are you going use Affiliate Marketing to monetize your blog? Are you planning on using ads or selling your own products? How will you go about growing your blog and reaching your audience? Remember, you do not need a huge audience to make money from your blog, you just need a targeted audience. For example, if you are looking to target moms, then you need to find out where the mom's hang out. You will also need to establish what tools you will use to monetize your blog.
Here are a few links to get you started:
GROW YOUR TRIBE AND COMMUNITY TO START MAKING MONEY FROM YOUR BLOG
In order to start making money from your blog, you will need a community to sell too. This is also known as your customers. This is where building your email list is extremely important. Even before you start your blog, you can create a lead magnet to start collecting email addresses. This is when you create something for free that you give away for an exchange of an email address. The goal is to collect a minimum of 1000 email addresses. This is a great number to have if your want to start making money from your blog. Your email list is gold and should be your top priority when comes to making plans to monetizing your blog. This is what will really help you make money from your online business.
Want to jump start your email building strategy, grab our e-guide here!
PLAN OUT YOUR BLOG AND MARKETING CONTENT
Now that we have a solid goal, we need to plan out a strategy on how people will learn and receive your product. This includes planning out your exact content that will attract clients to your blog. This is where you will offer free information to your readers so they get to know more about you and how you can help them. Don't just blog about anything, you need a great strategy. If you blog about fashion, some of your blogs may include: "How to dress professionally for work", "5 places to purchase affordable work blouses", "Why orange is a wrong color to wear for spring".
What do we mean when we say we want your content to be strategic? I typically blog 8-10 blogs per month. Out of the 10 blogs, 6 blogs include helping my readers and offering free information. Every blog I create has the end of goal of collecting emails. The other 4 blogs will be aimed at getting my clients to purchase something. This way I am still bringing in income for my blog. But where I plan out 80% of my sales, is mostly through my email list. My email list guarantees that my audience actually sees what I am selling. A blog or even a social media post might not get my product seen.
GET EDUCATED BY TAKING COURSES TO HELP YOU
If you are not sure how to get started but definitely want to make money from your blog, consider taking some online courses. I have invested in a few courses that are helping me achieve my goals on a monthly basis. My end results is only to grow more every single month. You do not need to spend a fortune on courses especially if you are starting out. Here is a list of affordable courses you may consider investing in: Online courses and books for new bloggers to help with grow! Don't spend hours and money trying to figure it all out for yourself!
WANT TO MAKE YOUR NEXT 1K FROM YOUR BLOG IN THE NEXT 45-60 DAYS? THEN GET ALL THE DETAILS HERE!
What are your plans for your blog? Are planning on making money from your blog? If so how do you plan on monetizing your blog? Tell us below.
Here are other ways you can make money from home:
If you enjoyed our blog, we would love to have you join our email list and receive weekly money-making tips, you can join now! Don't forget to join our Private Facebook page. The page is created to share your work, pitch your services and learn from other experienced bloggers!
---
***We would like to note that this post and most posts on our blog may contain affiliate links. This means that if you purchase something that has an affiliate link, we will get a commission from it. Not all items recommended on our site are affiliate links. We only recommend items that we have used and tried. These items have brought us much success and we highly recommend them to you in order to be successful. Thank you for your trust!