Last Updated on September 11, 2020 by NandiNN
Holiday Income for Bloggers
The holiday season is soon approaching and we definitely need to look more into ways to increase sales during the holiday season.
Quarter 4 for bloggers is really important as this is the time that most bloggers tend to make money.
We are already almost in December and most of us are actively shopping and trying to get things wrapped up before it the crazy really starts!
I have not even started shopping yet (yes, last-minute shopper here!).
But I wanted to write a detailed post on how you as a blogger, can increase sales during the holiday season.
Did you know that almost 60% of people shop during Cyber Monday and Black Friday? And that more and more people are shopping online?
And they will continue to shop throughout the holiday season.
So, with this in mind, how can you as a small business or small blog capitalize on this?
By now you should have had a good plan in place such as having your holiday content all written up, if not, it could be too late.
So how can you increase your blog income during the holiday season?
Before we get started on our best tips on how to increase sales during the holiday season, we did want you to follow us on Facebook for more awesome ideas on saving or making more money. You can also follow us on Instagram for more tips.
We also wanted to take the opportunity to let you know that we use Affiliate links on some of our blog posts. This means that we could make a commission if you click on an affiliate link and purchase something. Read our full disclosure and blog policy for more information.
When is a good time to focus on holiday content?
This is will totally depend on when the holiday days are.
Ideally, I write up any holiday content at least 45-60 days prior to the actual holiday.
This will allow it to do well on Google and it will also give Pinterest a chance to understand what my blog and pin are all about.
People are starting to shop early every year, so be sure to plan things out as far ahead as you can.
If you are not sure what content to blog about for maximum content, we created this free content calendar planner that you can use to get a head start.

Now that you are all signed up and your freebie is on its way, let's get back to how you can increase sales during the holiday season.
We came up with a few amazing strategies you can use to increase your sales this holiday season.
Over $45 billion dollars are spent in online sales during the holiday season.
This means there's plenty of profits to go around.
The major holidays that can boost your sales include; Thanksgiving, Black Friday, Cyber Monday, Christmas, New Year's Eve, and more.
You just have to plan it if you really want to boost income over this holiday season.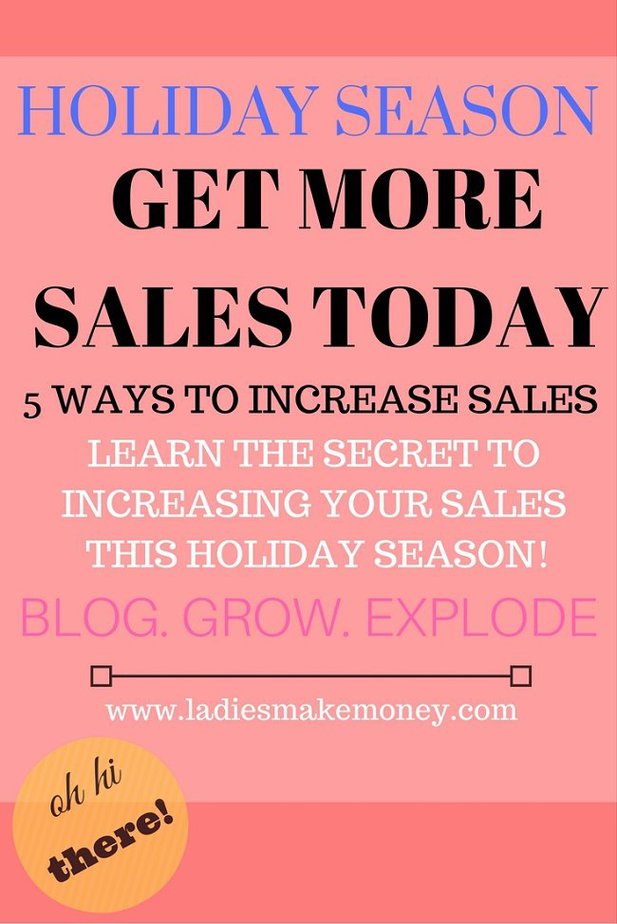 Creative Ways to Increase Sales During The Holiday Season
1. Create more holiday Content
The best way to make even more money over the holiday season is to create more holiday content to attract your readers.
Every year, I create about 4-5 well-researched holiday posts to share with my readers.
In total, I currently have about 30-holiday posts that I circulate during Christmas every year. But don't forget other holidays such as New Year's, Valentine's Day, and everything else.
Almost every niche can come up with holiday content, you just have to think about it.
Each holiday season provides an opportunity for bloggers to make money, so I recommend planning for it.
Roundups

Gift guides in your niche

Holiday Tips
These all do well with readers.
Be sure to grab this free content calendar planner, to get a head start.
2. Update Old Content
Every year just before the holiday season I update my old content to ensure it is ready for my holiday readers.
This is the best way to increase sales during the holiday season.
Remember, your posts can go stale, they might not be relevant anymore and some links may stop working. Be sure to do a full audit on your update post to make more money.
Things you can do to update your posts to increase sales during the holiday:
Add new graphics

Create new pins (at least 2/3)

Ensure all your links are working

Update your affiliate links

Create new opt-in freebies to increase your email list

Add more keywords to boost traffic

Link old posts to new posts were applicable
Both your content and email list can bring you a tone of money.
Be sure to read this Holiday Guide eBook to see how one blogger was able to make over $35,000 in affiliate income in both November and December alone.
Whether this is your first holiday season or you've stumbled your way through many in the past, you'll learn new ways to get more clicks and increase your income!

3. Focus on your email marketing
Did you know that you can send your affiliate links directly to your email subscribers?
This is one of the fastest ways to make money as your readers are directly sent to your affiliate links. This is how I make money every week when I email my subscribers.
I am so big on growing my list as I can make potential sales every time someone signs up.
The best way of growing your email list is to offer your clients free things to sign up for.
I signed up for Kate Doster's free course where I learned a lot of amazing ways to grow my email list as well as how to make money right away.
The holiday season is the perfect time to really use that list and maximize your efforts to make money.
Kate Doster helped me understand the following when it comes to email marketing:
Know Exactly the Type of Freebie + Topic that will Explode My List Growth
How to Craft a Squeal Inducing Name for My Freebie
5 MUST-Have Design Elements if I ever want to turn Subscribers Into Buyers
She helped me Map out a Spam-Proof Promotion Plan that gets in New Subscribers by the 100's (Without Spending a Dime)
I love free and I definitely love a system that really works.
So if you want to prep for the holidays and create an email list that you can promote your products and affiliate links too, I suggest signing up for this FREEBIE!
Email is one of the most effective and direct ways for letting your clients know about your holiday sales and promotions.
It is not too late to start collecting emails if you have not yet started.
Sign up for a great email marketing provider.
I use MailerLite (it's free for the first 1000 people)!
4. Promote Your Holiday Specials on Social Media
If you really want to increase sales during the holiday season, you need to push it on social media.
Create a holiday promotional campaign on Canva that you can use to promote on your social media platforms.
Make sure you have a couple of posts created that you can use to promote during the holidays that highlight your specials and most recommended items.
Use holiday themes on your images, blogs, and promo materials in order to blend in with the season and entice shoppers.
Shoppers really love a good deal on products and services, make sure you are offering bundles and deals whenever you can.
Boost your Facebook ads, Pinterest ads, and Instagram to reach more people.
Keep in mind that you will get more results with your email list but do not neglect social media.
Not sure how to create epic posts to share on social media, grab this!
5. Update Your Social Media
It's the holiday season, so your storefront and social media need to reflect this.
And not only this, but you also want to ensure you have updated bios and links on social media!
Just like your mailing list can grow cold, your followers can forget about your brand if you haven't been regularly engaging with them.
I am so guilty of this as I currently only focus on Pinterest.
Be sure to take the time to check out your social media profiles. Are your banners and profile pictures up to date? What about your biography and hours?
If they are a no go, then go ahead and update them in time for the holiday season.
Then focus on your content.
Have you been posting valuable links, useful tips, and other content that your followers will find helpful?
If not, go ahead and schedule a few updates to go out in the next week. This content will get you back on track and remind your fans why they are following you.
Preparing for your holiday sales is a smart business move. You'll see bigger profits and enjoy your own holiday season more when you have a holiday profits plan in place.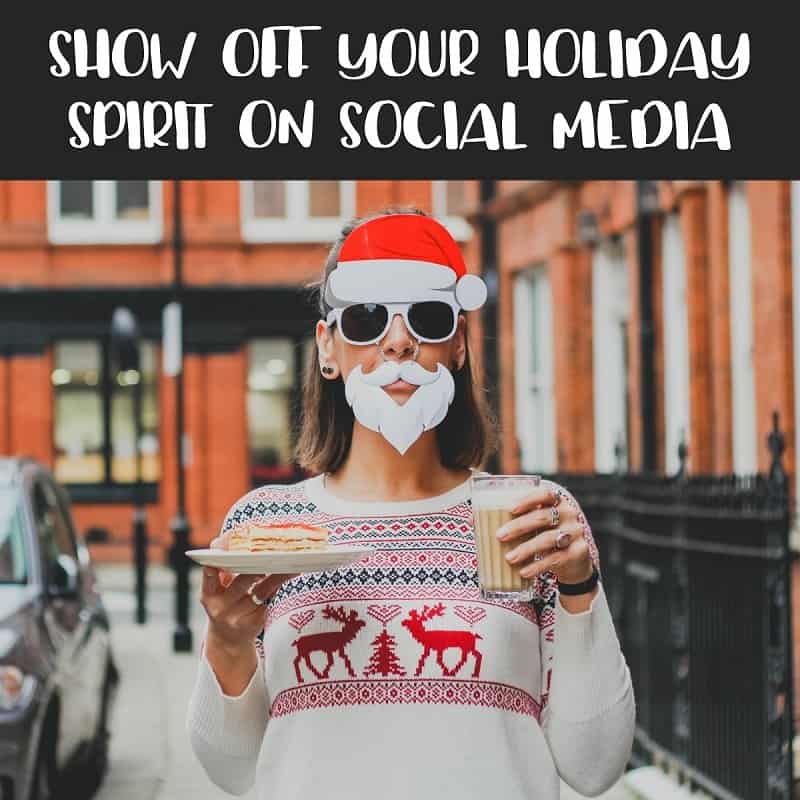 6. Create Digital Products
Creating your own digital products is the best way to make more money over the holiday season.
These so many amazing products you can create as products to sell to your readers.
Planners do extremely well in terms of people buying and online.
For example, you can offer:
Holiday Budget planners

Holiday Saving Planners

Holiday Travel Planners
Creating your own digital product is the best way to increase your sales during the holiday season.
Be sure to grab my free 8-Page Holiday Profit Workbook to plan out your holiday blog income!
7. Mobilize Your Website
The majority of online holiday sales come from desktop users.
However, many of these customers will first visit your website while they're on a mobile device like a tablet or smartphone.
They do this so they can learn more about your products, research your prices, and seek out coupons.
When they are ready to make the final purchase, they'll use their desktop computer.
This means your site needs to be optimized for both desktop and smartphone devices.
You should know this already, but they are still a few bloggers out there that do not have mobile-friendly websites.
Almost 30% of online shoppers use their phones to browse and shop.
If your website is not optimized for mobile responses, you are loosing out my friend!
Fix this as soon as possible.
If you really want to increase sales during the holiday season, get your website mobile-friendly as soon as possible.
If you're using a WordPress website, see if your theme is marked "responsive". If it is, your website will automatically adjust for the device a visitor is using.
8.

Offer discounted shipping during this season
Do you offer physical products to your clients?
Then you should consider offering free or discounted shipping to increase sales during the holiday season.
This could increase your bottom line tremendously.
Email or call your shipping providers and ask if they can do something for you in terms of rates.
Worst case scenario, try to include shipping as part of your bundle. If you are able to get FREE shipping, be sure to mention this and highlight it.
Doing this alone can help drive sales to your store over the holiday season.
9. Offer Bundle Deals to Increase Sales During the Holiday
We already mentioned this, but consider partnering up with fellow vendors and offer bundle deals and specials to your clients.
How can this benefit you?
Let's say I decide to partner with 3 awesome female entrepreneurs (ideally in your niche but not competitive), and we each have one product we would like to add to the combo, then the total value of that combo package ends up as $500.00!
We can then decide to give it a 50% percent discount.
I would then go ahead and create promotional material for this combo that each of the 3 partners will promote on their social media platforms and email their subscribers.
This alone will ensure that I reach other clients that I did not already have.
If not, you can decide to bundle all your products or some and offer this at a very discounted one-time holiday offer.
There you have it, an epic list of creative ways to increase sales during the Holiday Season!
Read this next:
If you enjoyed our blog we would like to have you join our email list and receive weekly money-making tips, you can join now! Don't forget to like the Facebook page. The page is created to share your work, pitch your services, and learn from other experienced bloggers!
---
***We would like to note that this post and most posts on our blog may contain affiliate links. This means that if you purchase something that has an affiliate link, we will get a commission from it. Not all items recommended on our site are affiliate links. We only recommend items that we have used and tried. These items have brought us much success and we highly recommend them to you in order to be successful. Thank you for your trust!
9 Ways To Increase Your Blog Income During The Holiday Season