Last Updated on April 20, 2021 by NandiNN
Practical blogging gifts for female entrepreneurs
If you are looking for creative gifts for bloggers, entrepreneurs and podcasters, this list is packed with awesome ideas.
It's hard to believe that the holiday season is right around the corner and that means it's gifting time.
I love the holiday season!
As a blogger and a business, I tend to spend a lot of money running and keeping up to date with the day-to-day business operations.
In fact, last month, I spent over $1000 purchasing blogging courses and books to grow my business.
I believe in investing and putting back into my business.
This has helped me grow year after year.
Knowledge is definitely power.
So when my friends and family asked me what I wanted for Christmas last year, I knew that something that would help with my growing business would be ideal.
But what are the best gifts for bloggers?
Honestly, the possibilities are endless.
I needed to figure out personally what I wanted.
The real question was what should I get my blog for Christmas?
Coming up with the best gifts for bloggers so I could share them with my friends and family was something I needed to do.
I have used the same list for my birthday and sometimes when I personally just wanted something new.
Get ready as I will be sharing my top finds – here is a breakdown of what i will be covering:
A list of practical gifts for bloggers worth getting

Best gifts for bloggers for 2021 (you know things keep changing)

A list of what every blogger needs
If you are looking for the perfect gift for bloggers because you have friends or maybe a family member that blogs, I can guarantee you that they will love any of these below.
The idea was to make it practical so they can use them effectively to grow their blogging business.
With so many people to shop for, it's hard to know exactly what to get for everyone.
Luckily for you, these are the best gift for bloggers so you can rest assured you will find something great on the list.
Get reading to find the best gifts for female entrepreneurs!
We are so glad that you are here today and before I get started on the best gifts for bloggers, we would love for you to join our growing Facebook group right here! Be sure to give us a quick follow on Instagram as well!
We also wanted to take the opportunity to let you know that we use Affiliate links on some of our blog posts. This means that we could make a commission if you click on an affiliate link and purchase something. Please check out our full disclaimer and policy page here.
And if you are looking at starting your own profitable (money-making) blog, we have a step-by-step guide below.
It will take you through the steps of registering for a new domain name, setting it all up and then creating epic content your followers will come to love.
I will also share my best tips for making a full-time income blogging and how long it will take you.

Gift ideas for bloggers
I feel like we have all made some really good friends over the years.
Starting and launching our online business was one of the best things I have ever done.
I consider a lot of other bloggers my friends, co-workers, teams, and sometimes I do occasionally buy some of the blogging gifts for them.
It's the perfect way to thank them.
So, where you are looking for the best gifts for food bloggers, best gifts for Instagrammers or simply just some gift ideas for bloggers, you will find something on this list.
Blogger Gift Guide For The Blogger In Your Life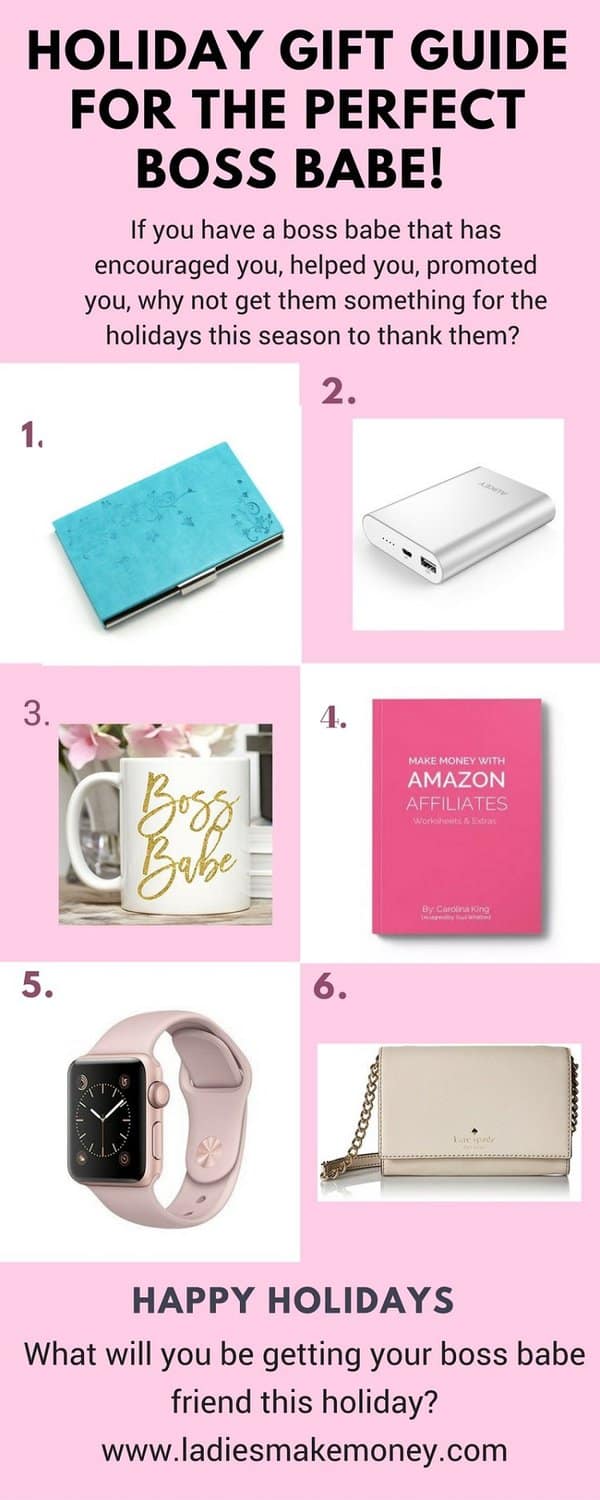 Breaking down the list of great gifts for bloggers:
1. Pretty Planners and Organizers
As a blogger, you need to organized and have a solid blogging plan if you wish to succeed.
Keeping track of your daily blogging to-do's, a content calendar and sticking to a solid blogging schedule can be hard.
And that's why most bloggers give up.
There is just so much to do.
But with a great planner for bloggers, they will soon be organized and making extra money in no time.
If you have a tally you are keeping of the perfect gifts for bloggers, blog planners should be on your list.
You can definitely find digital blogging planners like these or you can opt to get physical ones.
I will leave that up to you.
For digital blogging planners, I personally love these ones:
And if you want to grab a blogging organizer that bloggers can physically write on, you can also do that.
There are bloggers that still love a good paper and pen idea.
For this I recommend the following blog planners: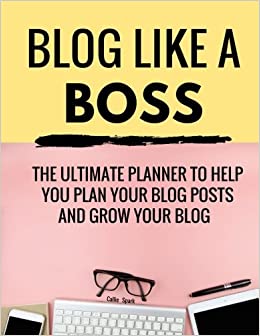 Planners are definitely some of the best gifts for bloggers but don't forget to include accessories such as good pens, stickers and elastic bands.
I also do not mind getting a cute hardcover notebook to make notes as I go along.
For pens, these coloured ones are so cute.
Blogging stickers like these honestly make for the best gifts for bloggers.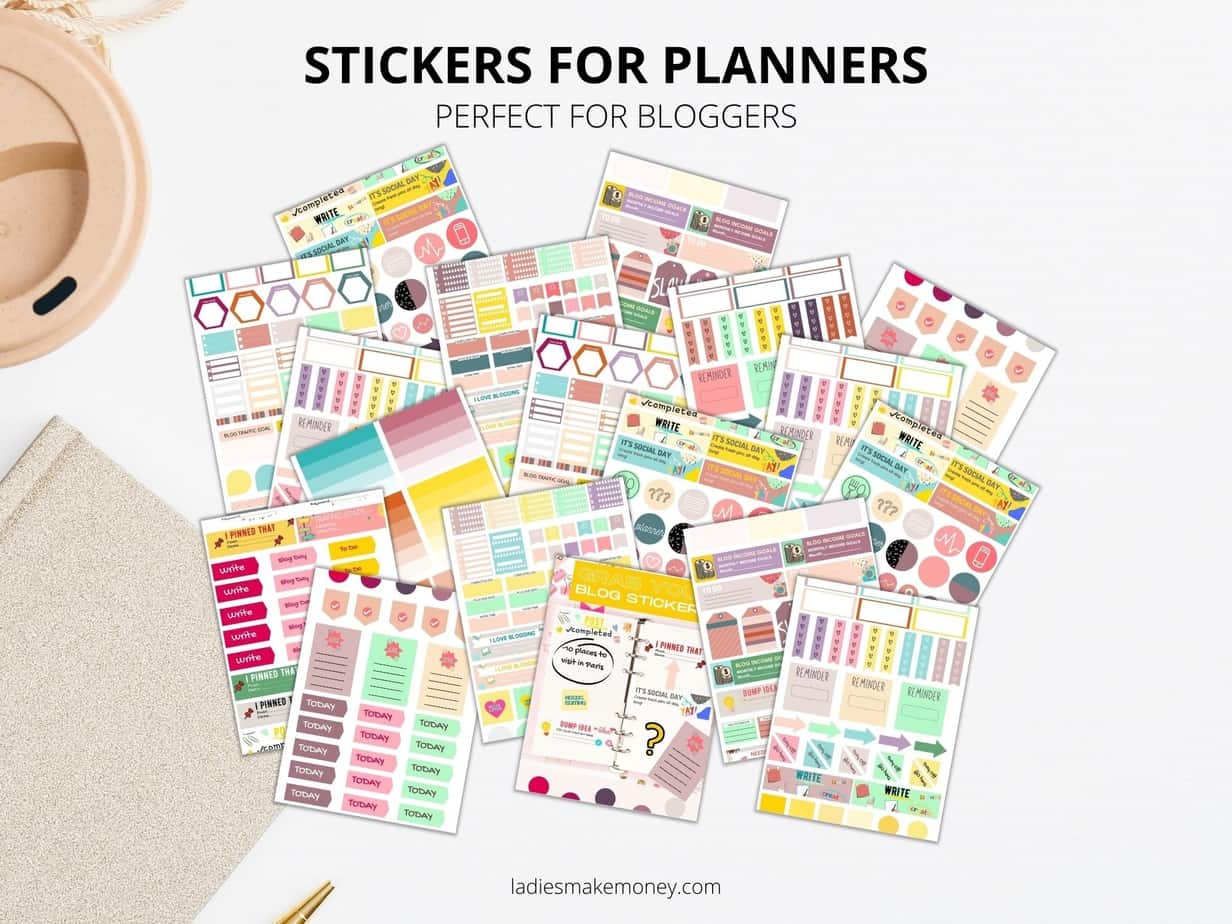 2. The Blog Post Inspiration Deck
This is the perfect practical blog gift for bloggers that need daily inspiration.
Coming up with blog post ideas can be difficult.
That's why I personally love The Blog Post Inspiration Deck!
Never run out of ideas and inspiration for your blog, email newsletter, social media, or vlog with The Blog Post Inspiration Deck.
It's a set of 60 cards plus Guidebook, plus in-depth Inspiration eBook, designed to give any blogger a fun, creative way to answer the question, "What should I write (or talk) about today?"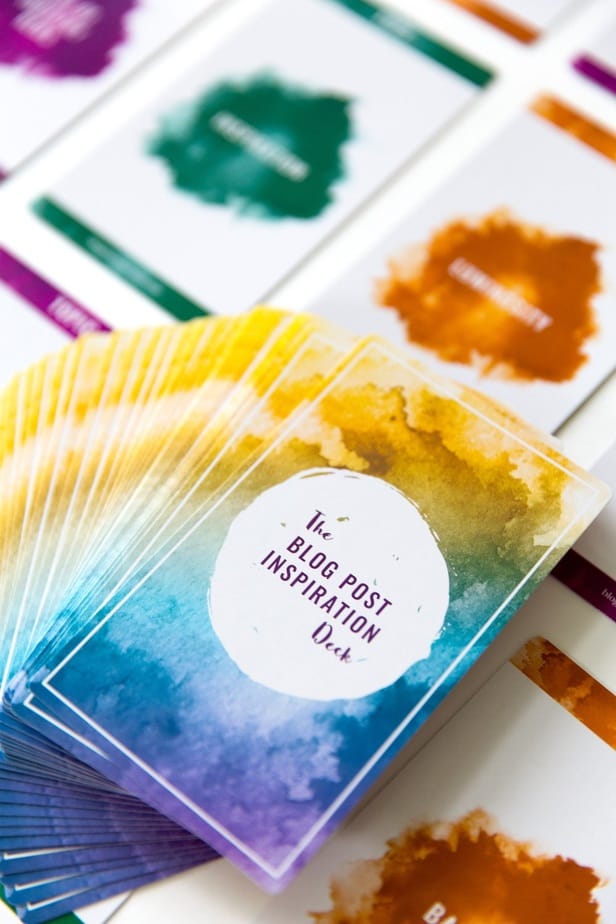 3. Books Gift Ideas For Bloggers
If you are looking for the perfect blogging gifts, you can never go wrong with books.
Bloggers are always learning, applying and expanding.
In fact, I read approximately 2-3 books per week to grow my business on a daily business.
I can list several blogging books you can get for yourself or blogging friends, but you can never go wrong with these:
These are my go-to blogging books.
And if you are looking for more books about blogging – go here.
4. Cameras for Bloggers
We all know as bloggers we have to take pretty pictures and videos to ensure our content is top-notch.
That's why a great camera will make the perfect gift for bloggers.
If you don't have those gorgeous photos, I am afraid you just won't stand out. It's important to create an amazing aesthetic for your brand and business from the very beginning.
Even when I was a wedding planner, it was important that I used a professional camera to take gorgeous photos for my portfolio.
These are the portfolios that helped me book more weddings year after year.
I prepare using a DSLR camera to take photos of my content if possible.
A good camera for bloggers has to:
Be light and easy to carry around

Be extremely user friendly

Be able to take stunning photos

Shoot well in areas with bad lighting

Be able to auto-focus when needed
So what are the best camera gift for bloggers?
I really love my Panasonic Lumix GX850 4K, it is so easy to carry around especially if I am shooting for my travel blog.
The Canon Powershot g7x mark ii is not bad either.
I also know that a lot of bloggers and YouTubers love the go-pro cameras.
For that, I would recommend this one.
5. Cute T-Shirt For Bloggers
I love these personalized t-shirts which are absolutely perfect for bloggers.
I love that some of the t-shirts which can be found here have blogging quotes and blogging humour, making them the perfect gift idea for your blogging bestie.
You can even grab one for yourself to show support.
Because we all know how much bloggers rely on support :)!
These are not only one of the best gifts for female entrepreneurs, but they are extremely cute.
I know I would want one for sure.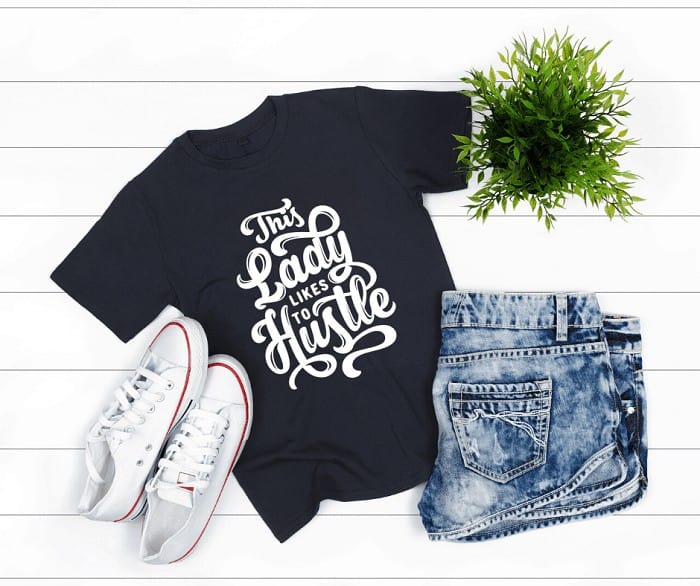 6. Blogging Business Cards for Bloggers
I know that some might feel that you don't need a business card especially if you can just follow each other on Instagram.
But business cards are still a good thing to have as a blogger.
Especially for travel bloggers.
When you are at a hotel and you wish to partner with a brand, simply hand over one of your business cards so you can both stay in touch.
For that, you are going to need a cute business card holder to keep all your business cards handy.
Get this stunning "Fashion Wood Grain Leather & Stainless steel Business Name Card" holder and wallet credit card holder in a lovely blue!
It's a perfect size and will not take up to much space.
It's honestly one of the cutest gifts for female entrepreneurs and I definitely want one for myself!
So go ahead and grab this amazing business card holder today as a gift for your blogging buddy!
The blue is definitely very gorgeous and extremely chic!
The perfect way to look professional at your networking events when collaborating with others. This amazing number had to be featured in our holiday perfect gift guide for her special because it's cute!
This makes for the best gift for bloggers!
7. Desk Accessory Kit
I love my workstations.
It's where I create some of my best work and so I ensure it always looks good and inspiring.
In order to ensure that it's always looking cute and motivating, I got myself these desk accessory organization kits from Amazon.
There are so cute that I thought they would absolutely make for the best gifts for bloggers!
Especially for female entrepreneurs.
This pack comes with a pretty stapler, 1 Sheet of a mouse pad, tape dispenser, 2 packs of crystal pens and more accessories.
Grab these desk accessory organization kits right here.
You can also grab these supply accessory essentials as well.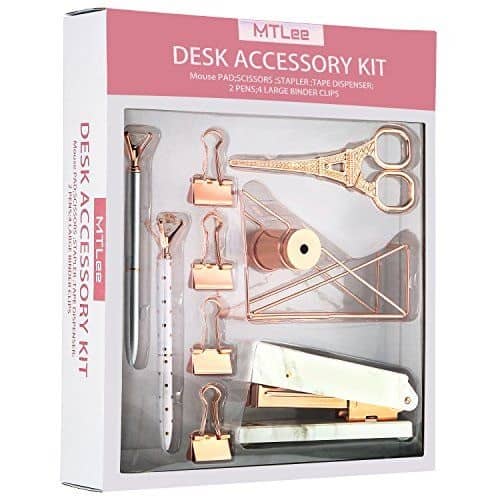 8. Portable iPhone Charger Gift for Bloggers
Who doesn't need an external battery charger for those days when you are on the run?
I surely do.
This amazing portable charger is amazing for iPhone, Samsung and more (NOT Compatible with Motorola Cell Phones).
Get one for yourself and that busy boss babe friend of yours!
Your phone will always be charged.
I know I used it a lot when I was a wedding planner and as a blogger, when I filming content or taking photos on road trips, I know they always come in handy.
9. Mugs For Coffee Lovers
I am a coffee lover.
I have made this known in several of my posts.
In fact, I know I should have started with this.
Coffee is one thing that gets me running and motivated first thing in the morning.
If you know a female entrepreneur who just loves coffee, then this section is for you.
Get ready to help fuel their love for caffeine by first getting them cute mugs and coffee accessories.
A fresh cup of coffee before getting their day started is always a great idea.
I totally love this cute pillow with coffee sayings on it.
It's perfect for those looking for unique gift ideas for female entrepreneurs!
Here all the coffee gift potential ideas you can go with:
10. Apple Watch
If you feel like splurging, why not get the Apple Watch Series 4 with Rose Gold Aluminum Case and Pink Sand Sports Band?
Or even better, get one for yourself.
Great for iPhone users, you can get updates and notifications right on your watch! This amazing product made its way into our gift guide for her based on the look and functionality.
When I was a wedding planner and on the move constantly, it was great to get notifications from vendors and my team right on the watch.
Provided I didn't really walk around with my phone on site.
Depending on what work is required, a lucky blogger or entrepreneur might find this gift totally useful.
I hope you enjoyed our list of gift ideas for bloggers!

Related:
Holidays are definitely the perfect time for gifting. These holiday gift ideas are perfect for all year round gifting. Picture a little smile on your friend's face when she receives a gift from you.
Female bosses are known for hustling all year round, especially if you are in the business of blogging. Take some time this season to gift someone with something special.
A little thank you goes a long way.
What gift are you considering getting from the list for that special friend or for yourself?
If you got something else, please let us know in the comment.
Here are a few more things you can read.
Don't forget to pin this post here to your holiday board.
And there you have it, the ultimate list of gifts for female entrepreneurs!
Which of these will you end up getting for your blogger friend or friends?
Any of these gifts for bloggers will work for anyone in the industry.
Hope you now have some great ideas for your list.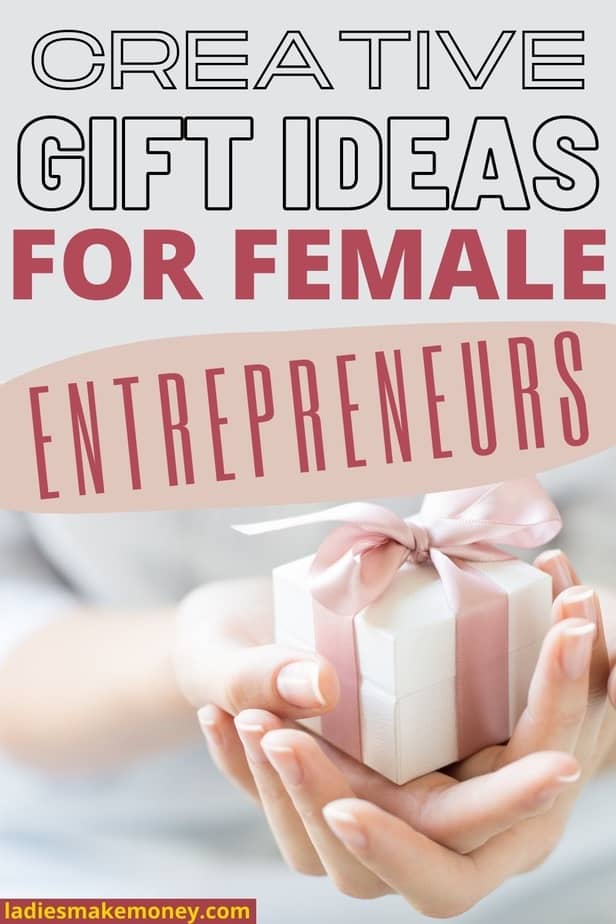 If you enjoyed our blog we would like to have you join our email list and receive weekly money-making tips, you can join now! Don't forget to join our Private Facebook group for bloggers. The page is created to share your work, pitch your services and learn from other experienced bloggers!
---
***We would like to note that this post and most posts on our blog may contain affiliate links. This means that if you purchase something that has an affiliate link, we will get a commission from it. Not all items recommended on our site are affiliate links. We only recommend items that we have used and tried. These items have brought us much success and we highly recommend them to you in order to be successful. Thank you for your trust!
10 + Amazing Gifts for Bloggers, Entrepreneurs and Podcasters – Check it out!