Last Updated on November 11, 2017 by NandiNN
Auctions are the in thing right now. In fact, my first car was a Chrysler that I purchased at an auction when I was only 22 years old. I was really proud of myself for purchasing it at a totally affordable price for a 22-year-old. The car lasted me 4 years until I decided to upgrade. So why go to an auction and how can you save money at an auction? 
Before we get started, we did want you to follow us on Facebook for more awesome ideas on saving or making more money. We use affiliate links on our posts which means we can make a small commission if you use a link from our site to buy something.  This is a sponsored post and all opinions are mine. 
BPI Auctions has amazing items and deals that have people flocking to their auctions year after year. With the amount of money you can save and the items, you can purchase, going the auction route only seems like a great plan. 
What exactly can you get at auctions to make it worthwhile? BPI Auctions offers a wide variety of items to its clients ranging from gardening tools, construction equipment, classic vehicles to powerboats. 
Here are 5 ways you save money at an Auction
Going to an auction for the first time can feel overwhelming. Trust me, I have been there. But with these tips, you can come out with amazing goods without breaking the bank. Once you get the hang of how to shop at an auction, you can find really amazing deals at amazing prices. 
You might also like: Stop Letting Finances rule you!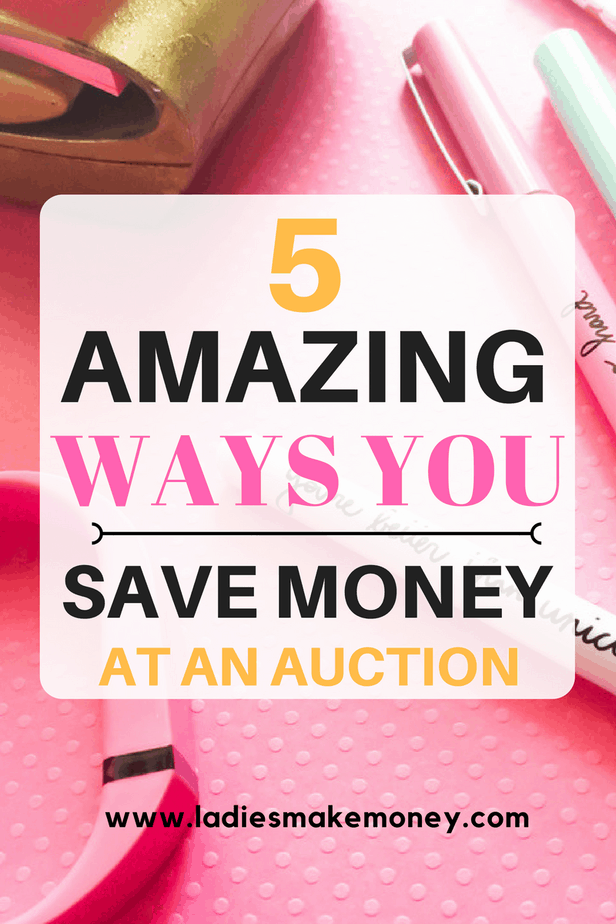 Step one on how to save money at an Auction
Getting to see the items in advance is the best way to ensure you come out with an amazing bargain for the price. Most Auction companies offer you the opportunity to check out the auction items in advance. This way you can take a look at the condition of the item as well as the quality before bidding on them. Some auctions offer preview options online so definitely take advantage of this if you can not go ahead of time to see the item. 
Step two on how to save money at an Auction
Do your homework before purchasing an item. If you are able to look at some items in advance (either by going a few days ahead of time, online or by looking at a catalog), be sure to check out its worth. Find out how much an item costs new to ensure the reused value is not overpriced. 
Read: 10 Ways to save money each and cut off debt
Step three on how to save money at an Auction
Know your limit. When I bought my car, I only had about $5000.00. I knew I didn't want to go over that amount. When I previewed a few cars, I had 3 options that were within budget and style that I liked. 
Prices can go up pretty fast, so really set a limit. Be strict with yourself and only spend what you think the item is really worth. If you can go way less for the price, then that would be an awesome steal for you. I bought my car for about $3500 and I had a mechanic with me that confirmed the value. Remember, you won't be able to return items.


Step 4 on how to save extra money on an Auction
Lots of people attend Auction sales and it can become extremely distracting. You want to ensure that you are paying attention otherwise you will miss out on items that you might have wanted to bid on. You want to ensure you are carefully listening to the auctioneer. 
Step 5 on how to save extra money on an Auction
Walk away if the price goes way above what you set up to spend on an item. The very first car on my auction list was a beautiful car that started out at $1500. No matter how much we bid, lots of other bidders were extremely interested in the same item. It sold for $8000. Way above my budget limit. 
Want to attend an Auction? Visit BPI Auctions. BPI Auctions are a market leader in online asset disposal and have been so successful at what they do. BPI Auctions is one of the leading online auctioneers and buyers of all types of stock and equipment. They host over 400 auctions a year and also offer live auction solutions. 
A few reasons for why they are the best: 
The have consignment sales 

They offer collective auctions 

You can buy or sell your items on the BPI Marketplace (great way to get rid of items you don't want and make extra money)

They have over 100 years of experience 
If you enjoyed our blog we would like to have you join our email list and receive weekly money-making tips, you can join now! Don't forget to join our Private Facebook page. The page is created to share your work, pitch your services and learn from other experienced bloggers!
---
We would like to note that this post and most posts on our blog may contain affiliate links. This means that if you purchase something that has an affiliate link, we will get a commission from it. Not all items recommended on our site are affiliate links. We only recommend items that we have used and tried. These items have brought us much success and we highly recommend them to you in order to be successful. Thank you for your trust!