Last Updated on February 24, 2017 by NandiNN
Are you a blogger and are you looking for other awesome ways to monetize your blog? Then consider joining the WP Engine Affiliate Program. WP Engine is another form of web hosting that offers a lot to those that are part of it. WP Engine is secure, fast and a reliable web host if you are planning to start a blog. I have used Blue Host for a lot of my blogs, but WP Engine is something I am eyeing. So how can you make money with the WP Engine Affiliate Program? 
If you are not part of our Facebook group, please join it right now! We are excited to have you! 
We would like to mention that we love WordPress, and WP Engine is part of WordPress. But today we wanted to share with you and focus on the different ways yo can make money with WP Engine Affiliate Program and why we believe you must join it today! Before considering joining them, you have to be part of ShareASale. We love this affiliate program as they work with so many reputable companies.  You can read our review about ShareASale right here! 

SO WHY JOIN THE WP ENGINE AFFILIATE PROGRAM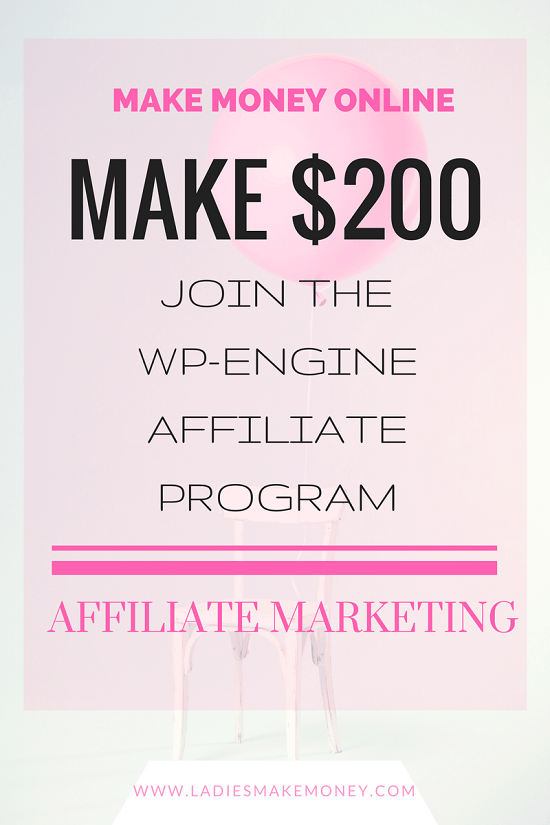 WP Engine has so many amazing benefits for bloggers. With the WP Engine, they offer their affiliate associates so much more benefits for promoting their products, you would be amazed. The commissions are amazing, the promotional banners are easy and it is really easy to get approved for the program! So what sort of benefits do they include for you? 
You will get a $200 commission per sale for everyone you recommend. Seriously $200.00! That's amazing for anyone. Imagine recommending at least 10 people? That is $2000.00. 

They have a great tracking cookie system to ensure you get paid 

The commissions are paid out monthly via ShareASale. 

If you make multiple sales, you get amazing bonuses on top of your affiliate commission. 

You can get paid if you bring them new affiliate associates. That is why I love them so much! You get $50.00 for every affiliate associate you recommend. Yes, please! 
Does this make you want to sign up? Sign up today and start monetizing your blog! Honestly, you can be making thousands of dollars per month. This is your opportunity to become a full-time blogger with a high pay out affiliate. If you want more reasons, read more right here! 
You might like: 7 Ways to Boost your Online blog INCOME and make Money
HOW EASY IS IT TO SIGN UP? 
It is extremely easy to join the WP Engine Affiliate program. We want you to make money with your blog and that's why we want you to get started with this. To sign up to make money with WP Engine Affiliate program, go to their site and simply sign up.
If you are already part of the ShareASale program, it is one less step. If not, you will be prompted to sign up. If you are already part of the ShareASale program, then just follow this link to sign up. It will take a few days to get approved I believe (I think it took me 2 or 3 days). I was told that if you are in the USA, you would get approved immediately! Once you are approved, grab the links and banners and start promoting!

HOW CAN YOU MAKE MONEY WITH WP ENGINE AFFILIATE PROGRAM?
If you want to succeed with Affiliate marketing, you need to promote your work. Where have we had the most success with affiliate marketing? 
You might also like- 15 Affiliate programs to boost your monthly income!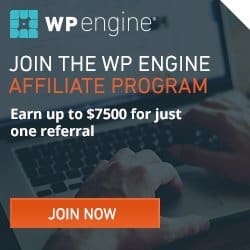 Focus on why you love the product you are promoting, the benefits and how the product will help your readers and clients. Once people know the benefits of the product, they are more likely to purchase. 
DON'T DO THE FOLLOWING ITEMS! 
Don't spam your affiliate links, you will turn your readers off. Just promote it in a non-salesy way to get your clients attention. It takes time for sales to come in, but it will come. Work on your blog SEO to help your work get found, use appropriate long-tail keywords and have fun with marketing. 
Lastly, we believe you can make a lot of money with the WP Engine Affiliate program. If you have a blog, then consider promoting this. It's easy to promote and you can make lots of money. I totally love the two tier affiliate program where you can earn $50.00 per recommendation. 
CAN YOU MAKE MONEY WITH THE WP ENGINE AFFILIATE PROGRAM? 

Absolutely! And you will love the bonus section. If you refer 5 clients to WP Engine, you get an additional $100.00 on top of your referral bonus. If you refer 10, you get an additional $250 and so on! This is amazing! The best way of making money for your blog is by using Affiliate Marketing. Join the WP Engine. 
Tell us if you will be joining this program below. We would love to help you promote your product. 

If you enjoyed our blog we would like to have you join our email list and receive weekly money-making tips, you can join now! Don't forget to join our Private Facebook page. The page is created to share your work, pitch your services and learn from other experienced bloggers!
---
***We would like to note that this post and most posts on our blog may contain affiliate links. This means that if you purchase something that has an affiliate link, we will get a commission from it. Not all items recommended on our site are affiliate links. We only recommend items that we have used and tried. These items have brought us much success and we highly recommend them to you in order to be successful. Thank you for your trust!