Last Updated on December 23, 2016 by NandiNN
On our previous post, we talked about the different ways you can make money from your blog. So we know that blogging can bring you a steady income or part time income if done correctly. We are here to tell you that you too can start making money using your blog and become a stay at home business owner. We are going to show you how to start a WordPress Blog on Bluehost. 
We know you do not have a lot of money to spare, especially on something that you are not sure will work for you. That is why we are offering you a discounted price with Bluehost so that you can also start your new blog and begin monetizing it. We also going to offer you a free domain to get started. 
Are you ready to start making money blogging? If that is a yes, click here to start a WordPress Blog with Bluehost, then go ahead and follow our easy tutorial below with step by step instructions. 
A lot of female entrepreneurs are not sure if investing so much much into blogging is worth their efforts. We are here to tell you that choosing Bluehost for your hosting needs may just be the right fit for you as it is extremely affordable. 
With a blog, you are able to work from home once you start making a full-time income. You can start by doing it as a side hustle until you match your work income. This will eventually give you the freedom you will need to do the things you love, like traveling. A lot of other entrepreneurs have reported making over $50K a month just by blogging. These entrepreneurs include Melyssa Griffin,  Michelle Shroeder-Gardner, Mariah Coz and so many other amazing bloggers. So what are you waiting for? Start your blog now! 
You may also like: How to earn money as a blogger.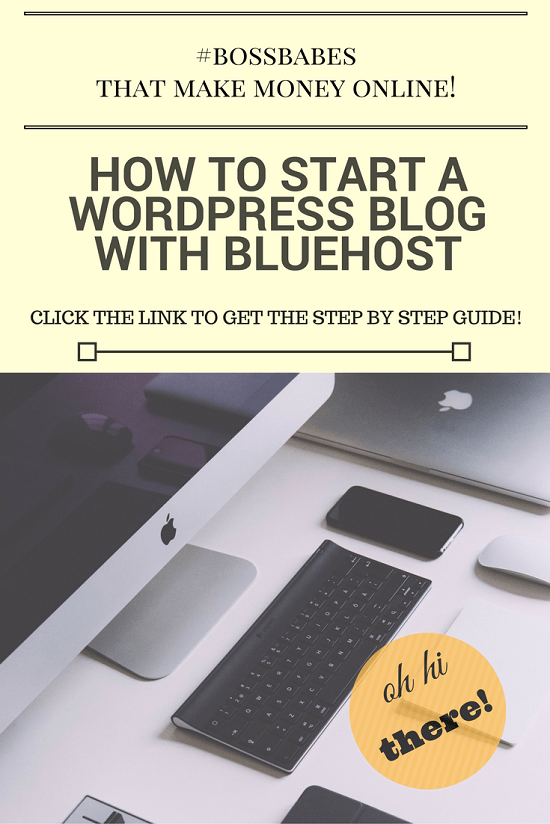 Did you know that Bluehost was one of the top web hosting companies recommended in 2016 and you could start your own blog for as low as 3.95 a month? Or $2.75 if you sign up for 1 year. This price is only available through my special link. Our deal with Bluehost also includes a free domain for you. Now this is an amazing deal. Remember, if you sign up for 12 months, the rate drops to $2.75 per month and you get that free domain as part of the deal. This is affordable (it is as little as buying 1 coffee per month, I am sure you can manage that 😉 ). There is no contract and you can get a refund back at any time. So what's there to lose?
Some bloggers try to start blogging for as little as zero dollars, which you can do. But guess what? Your blog won't be secure. You host can choose to lock you out and you will have little control over your blog. If you are serious about making money like we are, then go ahead and start a WordPress Blog on BlueHost.They are so many amazing benefits for using Bluehost such as you can advertise on your own blog that you own, you can add affiliate links which you can not do with a FREE blog and you can offer direct ads. With a FREE blog, you can not do any of these things. Which means you will not be able to monetize your blog.
Want to know why we chose Bluehost over any other hosting company?
If you are not techy like we are, then you can definitely use WordPress. Our tutorial below will assist you. Youtube also helps :). 

If you are still stuck and not getting it, Bluehost has an amazing tech team on standby for support. 

Did we mention that they are affordable? For 12 month you can get it for $2.75 per month or monthly at $3.95! 

With our link, you are able to get a FREE domain. That should be reason enough. 

Did we already mention that WordPress is FREE! Another great reason! 

With WordPress, you will be self-hosted, meaning you will have full control over your blog. No one will take it down or you won't have any unnecessary issues. Imagine losing hundreds of posts just one day? I can't even picture this! If you are looking to monetize your blog, you definitely want to be self-hosted! 

Your readers will take you more seriously as you will appear to be more professional! Definitely use WordPress for all your blogging needs. 

Most bloggers have

self-hosted

their blogs with WordPress and have all said the same thing, it is easier to start a WordPress blog on

Bluehost

as they are not a lot of techy things to go through! 
Want to know How to start a WordPress blog on Bluehost?
If the answer is yes, let's get started. Click here to start! 
Definitely, go with the basic package to start. I have not heard from my blogger friends needing more than just the basic package. So go ahead and select the first option. 
How to start a WordPress blog on Bluehost:
Register your domain name

Start by getting your domain registered and then create the blog. Before you register your domain name, decide on a name. Get your domain for FREE for the first year as long you register for the 12 month plan with the web host. Think really hard about the name.Ideally, you should make it memorable.

Purchase the Hosting for your blog

As we mentioned, get the 12-month package in order to save. Once you are on Bluehost, click get started now. Click on the package you are interested in. You will be prompted to enter your domain name you registered earlier in stage one. Or sign up for a new one. Enter your personal information including payment information. Next, you will need to enter a password.

Connect your domain and your hosting in order for it to work

If you bought your domain directly through Bluehost, skip this section. If you used Go Daddy like some people tend to use then follow these steps-  setting nameservers for your domain names. Basically, you need to sign into your Go Daddy account. Go to Account Manager, select Manage Domains from the domain names drop-down menu or manage your account list.  

Then select the domain name you wish to modify. Click on Set Name Servers. Enter your update name server information under the blue Name Servers heading on the right and click save changes. Now add the domain name as an add-on domain to your Bluehost web hosting. When you log back into your Bluehost web, click on Domains, and then click on assign. Follow the steps.

It's now time to install WordPress

This is our last step, I promise. You should receive an email from Bluehost about your new account. Click on the link "One Click Install" and this should take you to your cPanel. Click on the WordPress Icon on the page located under blogs. Then click start. This will prompt the installation to begin. Decide which domain you will want to install WordPress on. Click the drop-down menu to find your domain. Under Advanced Options, you will choose your username and password. Click Install Now. 
You are now done! Are you proud of yourself? The next step would be choosing your design and creating blog posts. Now that you are all set, it's time to sign into your blog platform. 
You will get an email from WordPress about your new account and the link to sign into your blog. Enter the username and password you created to log in. 

Next, you want an actual design for your post. I recommend Coded Creative. They have an amazing theme if you are looking for something responsive and elegant. 

If you want to start a new post, click on posts on the left-hand side when you log in. 

Adding images is easy, click on Media. 

Want widget on you side bars and footers? Go to "Appearance". 

Are you looking for a great system to send, collect and store your emails? We highly recommend AWeber. We will be talking about the importance of starting a mailing list soon. This will be your main way of making money. Try AWeber for free! 
If you want to start monetizing your blog right away, then read our other post on how to make money online with your blog. Consider joining the Making Sense of Affiliate Program to start making money within 30-60 days! Don't wait to get into Affiliate Marketing. 
And there you have it. a full tutorial on How to Start a WordPress Blog on Bluehost! Will you be starting your own blog soon? Tell us below and we wish you all the best. It's never too late to start your own online business. If you work hard and follow our tips, you will soon be making money online like so many other online independent female entrepreneurs. 
We hope you found our blog "How to start a WordPress blog on Bluehost" extremely useful! So many other amazing entrepreneurs are already blogging and seeing a difference! We would love to hear from you below. 
---
If you would like to join our private Facebook of professionals on Facebook, do that here! We encourage you to join us in order to get more help in your 5K journey with us.
Please note: This blog contains affiliate links. This means if you purchase anything from the links, we get a small commission of this!