Last Updated on July 20, 2021 by NandiNN
Positive financial affirmations
If you know me, then you know I love affirmations and especially financial affirmation that can help boost positive thoughts about money into my life.
Affirmations for success and money are always a plus in my books.
I am so excited to share some of the best affirmations for money and financial success that you can also use if you wish to attach money to your life.
Affirmations are perfect for boosting self-esteem when it comes to attracting money.
I have used affirmations in the past to help me get through a bad time.
When I lost my job and I literally had less than $200 in my bank account, I cried for a week.
Then I slowly started to think more positively and this inspired me to get up and organize my finances!
And within a week or two, I did everything I could to start making money.
I used positive money affirmations that work fast to really get a move on things.
But what are financial affirmations?
Financial affirmations are things you tell yourself about money in the hopes that it motivates and attracts money into your life.
Financial affirmations are also known as money mantras, financial abundance affirmations, and even the law of attraction.
The goal of these affirmations is to encourage you while you are on your financial journey.
Whether you are starting from the bottom and working yourself up, or you have been working hard on your finances all year, money mantras can help you stay motivated and on track to reach your financial goals.
I need you to understand that financial affirmations should always have a positive tone for them to work.
Negativity whether in life or when working with your finances should be avoided at all times.
Keep them as positive as you can to help you stay content with your money choices.
A negative mantra could backfire into poor money decisions.
And we wouldn't want that.
I took the time to round up some of my personal favourite money mantras, that you can use to attract financial wealth into your life today.
So if you are looking for money affirmations that work instantly, keep reading.
If you have a goal of becoming financially free and would like to learn more about how to successfully make sense of your income, join our 30 Money Challenge where we will share actionable tips you can use to succeed with money.
Go ahead and sign up right here.

If you are excited as I am about these financial affirmations, I can tell you won't regret this.
I will be sharing the following affirmations today:
The best positive affirmations for finances

How to use affirmation for financial prosperity

Why financial affirmations are important

And where to find more financial abundance affirmations to use
Before we get started on the best financial affirmations, we did want you to follow us on Facebook for more awesome ideas on saving or making more money. You can also follow us on Instagram for more tips.
We also wanted to take the opportunity to let you know that we use Affiliate links on some of our blog posts. This means that we could make a commission if you click on an affiliate link and purchase something.
The importance of using affirmations for financial freedom
In order to use these powerful money mantras, you definitely need to understand the importance of financial affirmations.
Having a positive mindset with anything you do in life is really the reason why some people succeed and others do not.
And because affirmations are all about believing and affirming what you want in life, you definitely need to have a positive outlook on life.
This means working on your money mindset daily if you want your financial life to succeed.
You can use all the powerful financial affirmations in the world to attract money and wealth, but if you do not have a positive mindset about money, it will not work.
A negative outlook surrounding your personal finances will not help you move forward.
If you are serious about taking your finances to the next level, sign up for our 30-day financial Bootcamp.
You will get 30 emails over the next 30 days with actionable tips to help you become financially savvy.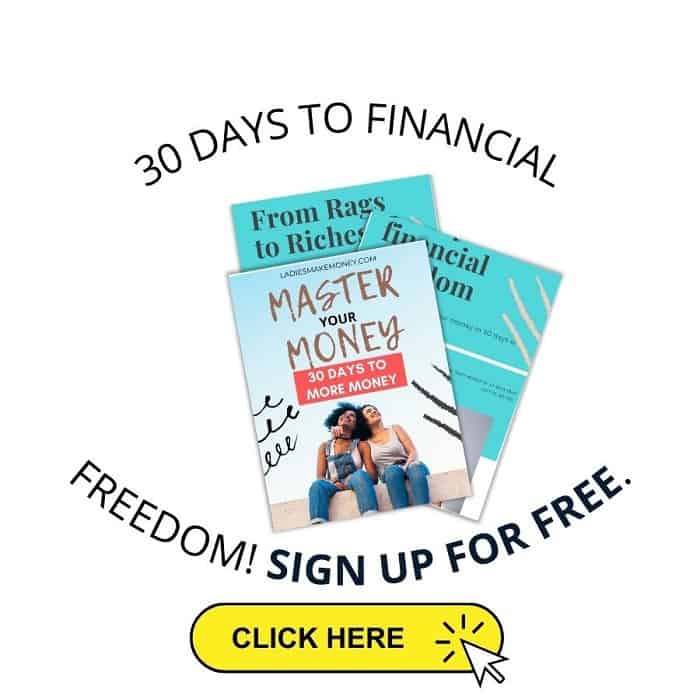 Financial affirmations will help you get over the next stage by affirming what you believe in, and our 30-day financial tips will help you shift how you manage your money so you can finally have extra money each month.
Here is part of what we will cover:
How to budget your money so you can become financially free

A copy of a "free" spending planner so you can manage your money

How to re-organize, reduce, and eliminate your unnecessary expenses

How to become financially empowered

And what do if you are in a financial crunch
And obviously so much more.
Using affirmations to attract what you want and putting a plan into action is a recipe for full financial success.
Here is a list of financial affirmations to start your day
Grab a pen and paper, my friends, you are about to get a great list of epic powerful money affirmations you can use starting right now to attract wealth in your life.
We encourage you to use them daily to help with your money mindset.
You will be surprised to learn just how positive money mantras can really help you attract more money and wealth in your life.
Get ready to attract wealth and success with prosperity affirmations using our recommendations below.
Using affirmations for finances will do wonders for your wealth, trust me.
Here is my list of powerful money mantras:
Go ahead and use these affirmations for money and success!
Not will you feel empowered, but motivated to work on your finances.
Manifesting money is easy because I'm ready to put in the work

My finances are in order and in place for success

I am ready to make my financial goals and dreams a reality

My finances don't scare me because I have a plan

There is money all around me; I just have to grab it

I will use the money to create a better life

Investing in my ideas will be rewarding later

I have a wealthy mindset

My income is constantly increasing

Money is energy and it flows into my life constantly

The money I make will expand opportunities in my life

I will not spend money on things that are not necessary

I have a positive relationship with money

I am grateful for everything I have

I will never be broke again. I know what needs to be done and how to do it

Negative emotions about money don't serve my financial goals

I have the power to attract wealth and money into my life

I will become financially free

I can handle the success that comes my way

I am wealthy in more ways than one

I attract opportunities that create more money

I am working to create the future I want

My wealth comes from being honest and true in everything I do

I can leverage my skills to bring in more money at any time

These financial affirmations are manifesting money for me

If others can have a lot of money, I know I can do it as well

Financial freedom is not just a dream, it will be my reality

I can achieve anything financially if I put my mind to

I am financially prospering every day

It's easy for me to make money every day

I will receive unexpected financial blessings in the next 24 hours

Every day in every way, I am becoming richer and richer

Every dollar I spend comes back to me multiplied

I am a master at attracting money in my life

I am open and ready to make millions of dollars

If you are reading this, you are attracting your first 1 Million Dollar

I see myself living a life of financial security

I constantly attract opportunities that create more money

Every financial need I have is met

I am getting new opportunities to increase my income

I deserve to be paid a fair wage for my skills and time

My hard work will bring me money

It is within my power to create a successful financial future

I move from poverty thinking to abundance thinking

Manifesting more money comes naturally

Success, money, and happiness comes easily to me

I have a healthy wallet

I have enough money to freely enjoy my day to day life

There is no limit to the amount of money I am capable of making

My mind is becoming totally focused on making money

Financial abundance is within my reach

The universe is conspiring to make me wealthy

My actions create constant prosperity

These financial affirmations are manifesting money for me

I am worthy of a wealthy life

I have more than enough money to do all the things I want to do

My actions create constant prosperity

My financial affirmations have started working for me
These are the financial affirmations I use daily to motivate me to work harder and grow my income.
I hope you resonate with them and use them daily to grow your financial wealth.
Positive financial affirmations work wonders as they can really be motivating especially if you are constantly stressing about money.
I don't believe in stress.
Stay calm and work through your situation one step at a time.
And this is where these positive affirmations for financial abundance come in.
You can use them to help you feel more positive when things don't seem right.
Affirmations are great for building that perfect foundation for money success, but you still have to do all the work!
I suggest you also grab this money and abundance workbook to grow your money worth today!
Positive Money Mindset Affirmations Workbook: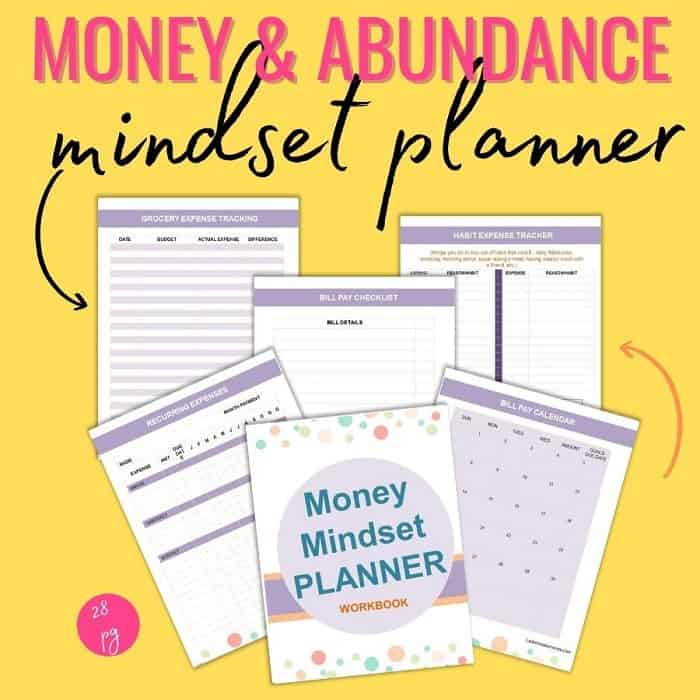 If you are looking for great power affirmations for manifesting wealth and abundance, then this planner is for you!
As I mentioned earlier, affirmations for finances will help you put you in a mindset that you need to be in order to get your financial life in place.
It includes over 28 worksheets to help you get your finances in order and keep everything neat and organized!
Whether your goal is to save more, get out of debt, or simply managing your money better, this workbook will help you get there effortlessly.
A peek inside the 2021 Money Mindset Planner:
Income Tracker Organizer

Monthly budget planner (blank + pre-filled versions)

Weekly Budget

Yearly Financial Evaluation

Financial Goals and Plan to Reach It

Financial Goal Tracker

Debt Organizer

Debt Reduction Goal Tracker

And much more…
Grab this money and abundance workbook to grow your money today as so many have.
How to use affirmation for wealth and abundance
If this is your first time using positive affirmations to change your mindset, I suggest you write down a few of the affirmations listed here ideally on a sticky note and stick it somewhere you can see every day.
A good place is on your computer, in the bathroom mirror, or in a notebook you use every day.
Then read out these positive money mantras every morning, ideally loudly while believing what you are saying.
Otherwise, you can repeat the affirmations to yourself, in your heart or your head.
You just want to ensure that you feel what you are saying and you are believing what you are saying.
What can you do to increase your income?
Using affirmations is great, taking action should be the next step.
There are a few things you can do to make money each month.
We hope these legitimate ideas to make money truly help you get started on your journey to financial freedom.
Don't forget to document your progress here with this free income tracker!
I hope you enjoyed this list of positive affirmations for financial abundance!
By using powerful wealth affirmations daily, you will attract money effortlessly.
Leave us a comment below.
Read more: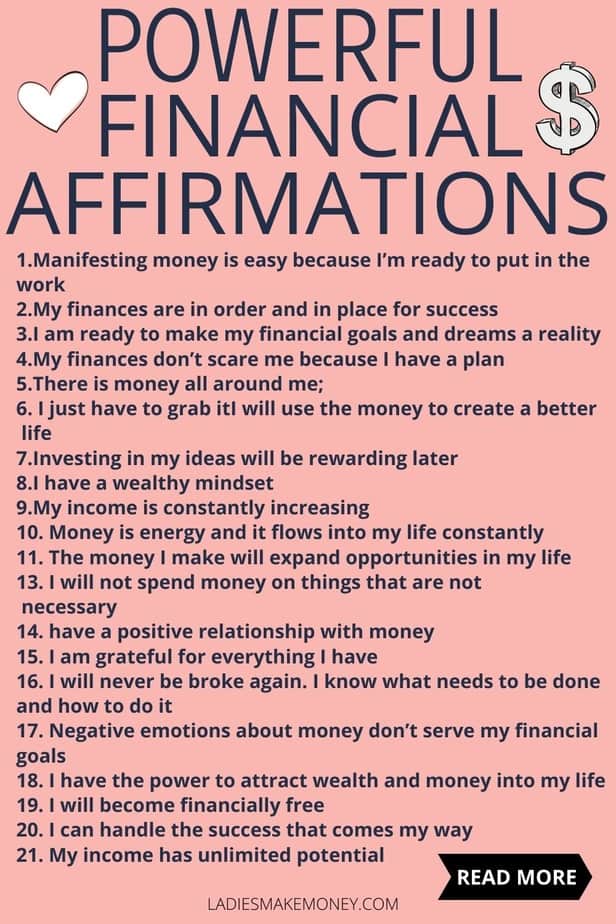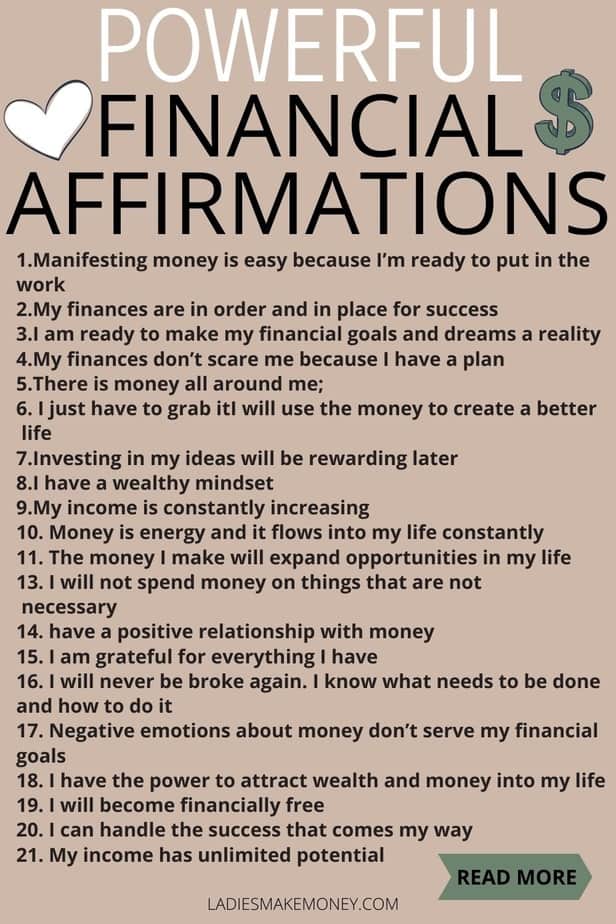 If you enjoyed our blog we would like to have you join our email list and receive weekly money-making tips, you can join now! Don't forget to join our Private Facebook page. The page is created to share your work, pitch your services, and learn from other experienced bloggers!
---
***We would like to note that this post and most posts on our blog may contain affiliate links. This means that if you purchase something that has an affiliate link, we will get a commission from it. Not all items recommended on our site are affiliate links. We only recommend items that we have used and tried. These items have brought us much success and we highly recommend them to you in order to be successful. Thank you for your trust!
60 Powerful Financial Affirmations To Attract Money & Wealth Monthly