Last Updated on March 21, 2019 by NandiNN
How to Organize Your Finances
Being an entrepreneur means you get to know more about investing, organizing and saving funds for your business, which will help in the long run. In other words, learn how to manage your personal finances.
Whatever business you run, it is important that you stay on top of your finances and be in control of your own money, to aid the survival of your business.
While it is easy to think entrepreneurs have the upper hand in handling finances effectively, it could also be the other way round, and some tend to lose out.
A lot of entrepreneurs make the mistake of tying their personal finances closely with their business return or running both in a terrible way that eventually affects their financial life.
There needs to be a balance to avoid running into a debt that could have been avoided.
One of the significant differences between successful women entrepreneurs and unsuccessful ones are in how they manage their finances.
But before we get started on the best tips on how to manage your personal finances, we would love for you to join our growing Facebook group right here! Be sure to follow us on Instagram too!
We also wanted to take the opportunity to let you know that we use Affiliate links on some of our blog posts. This means that we could make a commission if you click on an affiliate link and purchase something. Please check out our full disclaimer and policy page here.
What Are Good Money Management Skills?
Financial specialists suggest that you save money regularly which is good practice when it comes to finding a way to manage your personal finance.
But despite the constant recommendations and news on saving and investing, a lot of people still find it difficult to have a successful financial record.
As an entrepreneur this is, in fact, necessary if you do not want to continue living from paycheck to paycheck and on consolidating debt.
Why is Money Management Skills Important?
As someone that runs a business or is an entrepreneur, it is crucial that you understand how to manage your money and income. This alone can cause so much stress if something goes wrong.
By having a budget that allows you to live comfortably and also having consistent cash flow in your business, means you will be set up for success much sooner than you think.
We are going to share basic money management skills you need as an entrepreneur to succeed.
Tips for Managing your Money
If you are looking for great tips for managing your money, this guide should help you. We have rounded up six amazing tips below that will help you to start to manage your personal finances as an entrepreneur.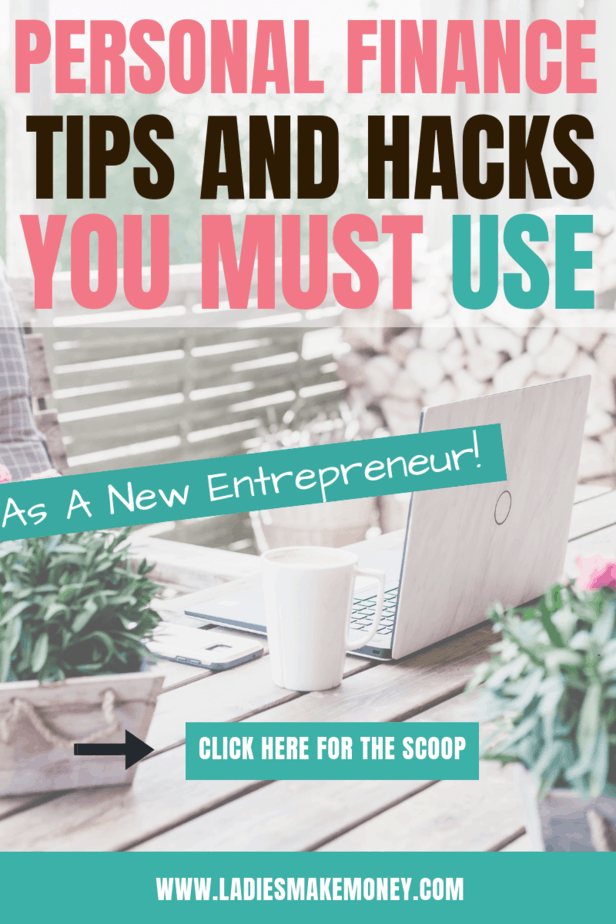 1// Keep your expenses below your income
A lot of people believe that with more income, there will be more room to save and expenses will automatically stay below their income.
On the contrary, this is not always true, as there are cases where people get financially tight just a few months after they got a raise.
This is simply because expenses are bound to rise as your income does. You have to intentionally learn to keep your costs below your income no matter what.
If you keep a budget for your business, then your finances should also not be left out. Make it a conscious effort to work around a budget, so you can always have some spare money left that can be saved or put into proper use.
2// Protect your most valuable asset
The most valuable asset of an entrepreneur is the ability to make money and increase your income, but how well do they protect it?
A lot of people wave the idea of insurance off because they feel no form of danger can come their way.
Of course, no one ever wishes for that, but think about what will happen if you, by chance, lose your source of income.
Is your most valuable asset protected? You should look into disability insurance that will provide income when you are, by any chance, unable to perform your work.
3// Diversify your income
Having different income streams is one of the best advice you can explore as an entrepreneur.
It doesn't matter if you have great clients or if your business seems to be booming. Diversity will give you options, and if for some reason, one of your options slow down, another will pick you back up.
You might want to take a look at these 17 passive income ideas to increase your income and make extra cash.
Entrepreneurship isn't always a bed of roses, and you have a higher risk of failure than of success.
That is the bitter truth no one wants to talk about but will have to deal with.
How about you try hands on one or two side business, to help even out your income. Ideally you want them to bringing at least a minimal amount of cash flow.
They will eventually become something to fall back on in downtime.
Also, consider alternative investments like Lending Club and taking your savings seriously. No one prays for a business to fail but you need to have a backup plan prepared.
4// Paying off existing debt
If you truly want to be financially successful, you need to work on paying off existing debt.
It is, of course, not interesting when you have to spend recently hard-earned money on past expenses, but you have to. As you work towards managing your income, make sure you do not leave the debts untouched, especially if you are looking to obtain even more valuable possessions.
You surely won't want to live with deft forever.
You can make use of https://debtreviews.com/ to manage your debts or seek out the services of an expert debt counselor if it seems to be getting out of hand.
5// Considering cost effectiveness
Cost effectiveness is one of the major things entrepreneurs consider in their business, but how many of them apply this in their personal finance lives?
While managing your personal finances, ensure you constantly look at how cost effective your expenses are.
Look at the benefits and see how spending on these things will help you and not just burn out your money, without making much impact.
Call quits on projects and purchases with fewer benefits than costs and go for more beneficial ones.
Looking and considering cost effectiveness is one of the best things you can for yourself and your business.
6// Seek out professional tax advice
If you like to take your personal finances seriously, then you may need to consider seeking out professional tax advice.
It is important that you are fully aware of how tax payments work and how it affects your income and expenses. This will help you avoid getting into trouble or looking completely clueless.
Get a professional who is familiar with small businesses and entrepreneurs, to get the best experience.
Grab your Blog Budget Spreadsheet
Are you losing money or making money with your blog? This blog budget should help you determine that.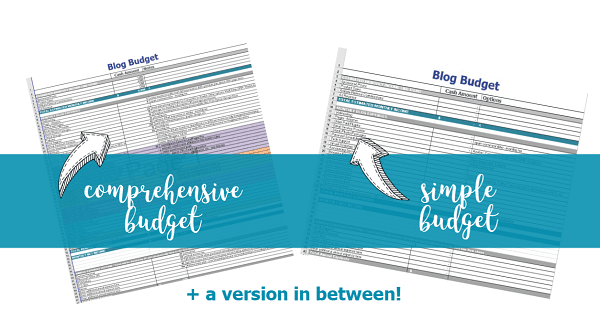 Conclusion
To be a successful entrepreneur, you need to strike a balance between your personal finances and your business finances.
These tips explained above will help you look into your personal finance and work your way around it, to ensure that there is a balance and that you do not run into unending debts.
Be smart about your finances, know where to invest, set aside your savings, and work towards financial freedom.
Do you have more tips on how to manage your personal finances as an entrepreneur? Please share them below.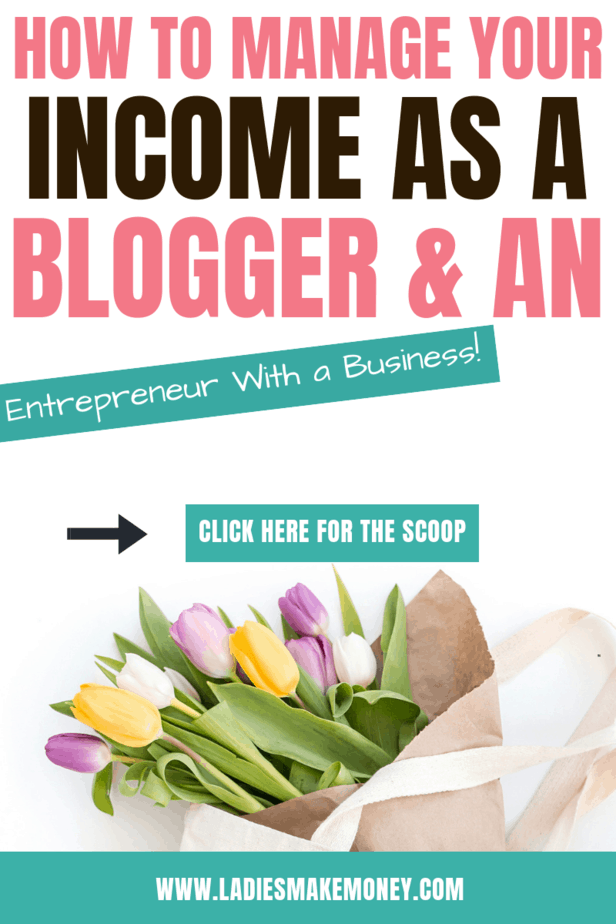 Author bio:
With over 10 years in the financial vertical, focusing mainly on debt, Kevin Tomlinson is an experienced
writer with the best tips and tricks for dealing with the debt of any sort. Kevin works best with debt
settlement, Debt Consolidation, Tax Debt Relief and Student Loan Debt.
If you are looking for extra ways to make money, find them here!
If you enjoyed our blog we would like to have you join our email list and receive weekly money-making tips, you can join now! Don't forget to like the Facebook page. The page is created to share your work, pitch your services and learn from other experienced bloggers!
---
***We would like to note that this post and most posts on our blog may contain affiliate links. This means that if you purchase something that has an affiliate link, we will get a commission from it. Not all items recommended on our site are affiliate links. We only recommend items that we have used and tried. These items have brought us much success and we highly recommend them to you in order to be successful. Thank you for your trust!
How to Manage Your Personal Finances as an Entrepreneur