Last Updated on April 25, 2021 by NandiNN
Printables by number
Printables By Number is a creative course offered by Suzi Whitford of Start a Mom Blog focusing on creating your own Printables to grow your email list and income.
Ever since seeing the power of monetizing content with Printables, I was inspired to get down in the trenches and learn everything there was about making and selling printables online.
I have personally started two online printable stores after building my confidence in creating pretty printables.
Suzi Whitford who is the creative director behind Start a Mom Blog is the owner of this amazing course.
As a person, she is totally amazing and relatable.
As an instructor, she is the best.
If you lack creativity or you just want to improve your Printable making skills so you can create a profitable business, then you definitely want to take a look at this course.
Selling printables online for profit is going to be extremely hard if you do not have gorgeous-looking printables and a super creative marketing process.
Creating printables and selling them for a profit can be a really easy profitable side hustle because you just need to create them once, and you can sell them over and over again.
This is known as passive income and passive income is always the best type of income.
I started with zero graphic design skills and didn't know how to create printables when I first started.
It's something I have had to learn and Suzi made the learning process extremely easy.
After taking the course, not only did I open two printable stores that are now successful, but I also learned from Suzi:
Exactly how much money you can make selling printables realistically?

How to sell printables for profit?

Where to sell my printables for the best results

How to start selling Printables

And how to market the printables to make money
If you are here today because you are curious about the Printables By Number course by the lovely Suzi Whitford, then do not worry.
I will share exactly what I loved, what was meh and how you can improve your chances of making a full-time income selling printables from home.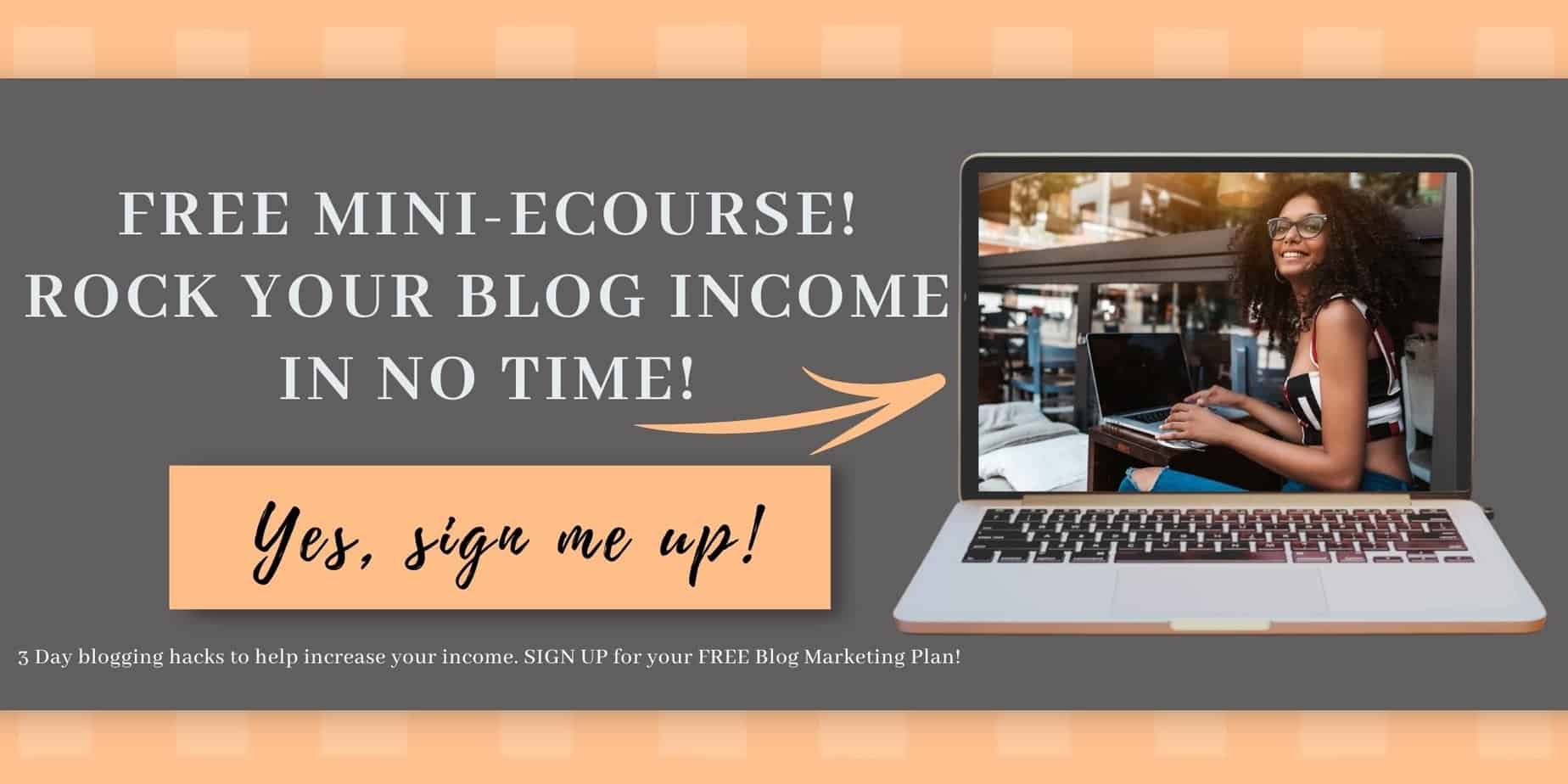 Here is My Over Due Printables By Number Review By Suzi Whitford
For now, before we get started on the Printables By Number Review, we would love for you to like our growing Facebook page right here! Be sure to follow us on Instagram here.
We also wanted to take this opportunity to let you know that we use Affiliate links on some of our blog posts. This means that we could make a commission if you click on an affiliate link and purchase something. Please check out our full disclaimer and policy page here.
What exactly is a printable?
Before you can get into selling printables, we need to first look into what they are and are they as profitable as most people claim them to be?
Basically, printables are digital products that customers can download and print at home.
Examples of printables you can sell for profit:
Checklist

Planners

Calendars

Wall art

eBooks

Worksheets

Colouring books
And more.
The possibilities are endless.
But what if you do not know how to create printables?
This is where Printables by Number comes in.
What is the Printables by Number course?
The Printables by Number course is an in-depth, step-by-step method that goes into so much detail in showing you EXACTLY how to create beautiful high converting printables to sell or grow your email list!
If a blogger or an entrepreneur is looking for different ways to make extra money, selling printables is the way to go.
Creating your own small digital product, such as printable, will allow you to start building your portfolio of products online that you can offer your readers.
I have created over 25 small products that are sprinkled all over my blog, pinned on Pinterest and marketed to my email list.
Printables by number walked me through the full process of creating printables, marketing printables and actually making money.
Here is are 5 reasons why should take the Printable by Numbers Course by Suzi!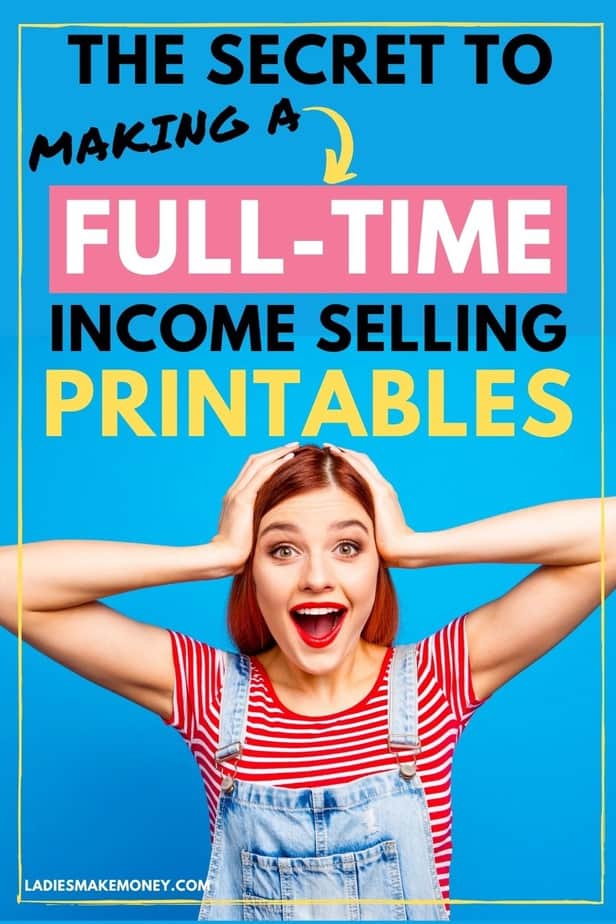 1. Click by click process of creating Printables to make and sell
Suzi is a very kind and relatable person that goes out of her way to help you succeed.
If you want an over-the-shoulder process of creating beautiful printables that will actually make you money in the long run, then you need to take the Printables By Number course.
I have followed Suzi for years and I actually have a couple of her other courses which are all amazing.
This made my decision of purchasing the Printables by Number Course fairly easy.
I loved her teaching style, she was approachable and I even emailed her a couple of questions which she answered honestly.
In the course, Suzi basically records herself going through creating Printables from scratch.
She gives several examples, ideas, benefits of doing something a certain way versus not.
If your printables are not converting well, she goes into detail about exactly why they may not be converting well.
She also gives as a bonus:
100 Printable Ideas You Can Create

Resource Library by Number Course

Premium eBook Template
It's honestly a detailed step-by-step guide with actionable steps and no fluff that you can easily follow along, rewind, try it and implement as you go along.
I loved this.
She also provides all the students with access to all the printable templates that she used in the video process, so you can easily download and customize them to sell as your own printables.
This makes it easy so that you do not need to start from scratch.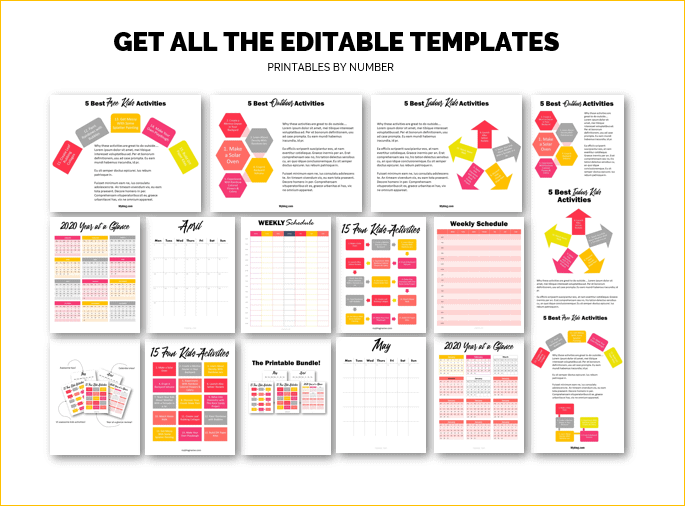 2. Examples of Printables Suzi Creates In The Course
Obviously, I wanted to learn how to make every printable under the sun.
But that would take an eternity.
Suzi absolutely gives you all the skills you need to create any Printable you want and if you can't just email her and she would probably do a walk-through tutorial.
She walks you through video-by-video showing you exactly how to create the various types of printables step by step from scratch.
By the time she's done, I am sure you will be comfortable enough to build your own printable pack even from scratch.
Here are just a few of the ones she teaches:
Kids Activity Printables

Nursery Art

Budget Planner

Project planner

Reflections Bible planner

Calendars

Meal planning printables
3. Programs used in Pintables by Number
I love the fact that Suzi teaches you how to create pretty printables using multiple different programs – so you can choose the right one that works best for you!
She goes through video-by-video creating printables in:
Any of the programs will work as Suzi shares exactly how you can create printables with confidence so that they convert into money or building that quality email list!
4. Steps for making money selling printables
You will find mind-blowing golden nuggets in the Printables by Number that will increase your profit in no time.
If you want to get started creating printables for your business, this is the one course you absolutely need!
Suzi shares how to start making your first $100 selling printables and from here it will be easy-peasy.
In the course she will go through the:
Elements of High Converting Printables that sell

How to present your Printables so that they sell like hotcakes

How to create a 3D lay flat overlay image (boost conversions) (PowerPoint)

How to get traffic to your Sales or Landing Page to increase
My favourite part of the income process is the printable funnel that she shares with us.
This funnel is designed to help you make money passively.
5. Tips for promoting your printables
As I already mentioned, Suzi really wants all her students to succeed and she honestly shares all these epic ways you can promote your printables to get more subscribers and boost your income.
For example, she will share with you how to create epic landing pages that you can use to make more money on autopilot.
She also includes an amazing sales process that she put together that you can follow to make it all work and come together so you can start selling printables and actually make a profit.
I think this is the part I like best.
There are plenty of options she has available for you to choose from in terms of what platform you can use to sell your Printables.
Personally, I am using PayHip, Shopify and Gumroad.
Suzi also shares other ways and systems you can use to create an online store and sell your printables from your own website step by step.
And if you are interested to know more about how to Sell Printables on Teachable, she has a tutorial for that too.
A few of my other Printables are sold using beautiful landing pages such as this one, and they make me the most money.
And my other printables are on a storefront such as Shopify.
If you are struggling to make sales selling Printables, you absolutely need the Printables By Number course right now.
Even if it's for the selling strategy that she shares.
How to make money selling printables
Not only did she go through the process of creating these printables to grow your email list, but the list is also the perfect way to market your printables to double, triple or 10x your blog income.
The printables you learn to create inside the Printables by Number course are so gorgeous that if you use them to attract clients to grow your list, you will have plenty of customers to sell to.
Don't worry, Suzi goes through the how and what is required to build this never-ending funnel that will make you money passively.
Obviously, the best part of the course is the funnel she uses and teaches you to set up to boost your printable profitability!
Anywhere in this funnel, you can either sell a standalone amazing printable or a pack of printables.
And she takes you step-by-step through this process.
If you're ready to grow your blog and sell beautiful, easy-to-make, printables, you can enroll in the Printables by Number course.
Learn how to make your first $100 selling printables with the Printables by Number course.
Is taking Printables By Number Worth it?
I love a few things about the Printables by Number courses.
First, as you know, I love how approachable Suzi is in her teaching style.
I also like the fact that she does a lot of live interviews with successful students that have taken the course and implemented the steps but they also have found other ways to make money selling printables.
These tips are shared during the recordings.
I like that Printables by Number doesn't restrict you to only selling on one platform but it gives you all the steps needed so you can pick one that works best for you.
Same with the creating platforms.
She shares different programs that work and I have tried them all.
Personally, I love the Canva option first then the PowerPoint.
She updates it with value as we move along which is great.
You will also see examples of why some printables fall flat and fail, and why others take off and turn into little money-making machines.
Overview of The Printables By Number Course:
I hope you enjoyed my Printables by number course review and you will consider taking it.
It is frequently updated and is totally worth it.
In Printables by Number you'll get:
Over 9 Hours of Step by Step videos (Valued at $197)

10+ Done for You Templates (Valued at $97)

Canva and PowerPoint detailed tutorials (Valued at $97)

Resource Library by Number (Valued at $47)

The Blog Shop Course (Valued at $197)

Two Premium Checkout Templates (Valued at $197)

Learn how to set up a Sales Funnel or Shop (Valued at $197)

100 Printable Ideas to grow your list and income (Valued at $47)

8 Drag and Drop Mockups (Valued at $47)

How to sell on Etsy – Expert Masterclass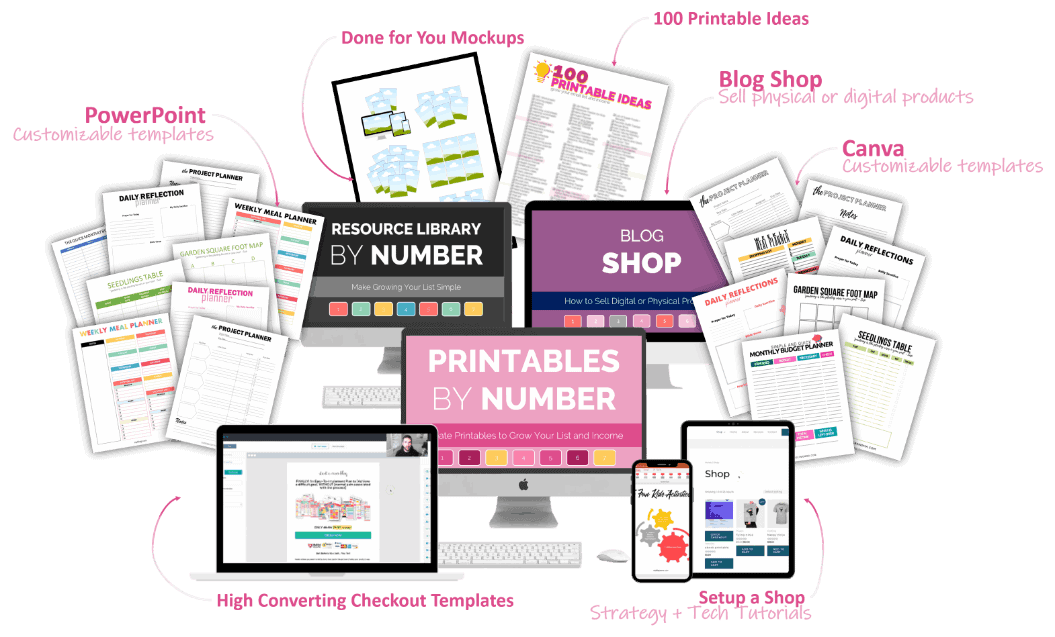 And there you have it, my honest review of Printables By Number!
Will you get the course?
Tell us in the comments below.
Bonus courses you can get that compliments the course perfectly:
Little Product Kit – Everything you need to research, create, and sell your very first successful digital product in record time!
100+ Product Mockup Templates – Perfect for displaying your printables, it will boost sales!
Printable Power Pack (70+ Pages of Customizable Printables + reselling rights) – Get the best pack of high-converting printables that you can use right now to sell or grow your list!
If you get started with the Printables by Number course, let me know below.
And if you have more questions, we can discuss them in the comment section below.
Related: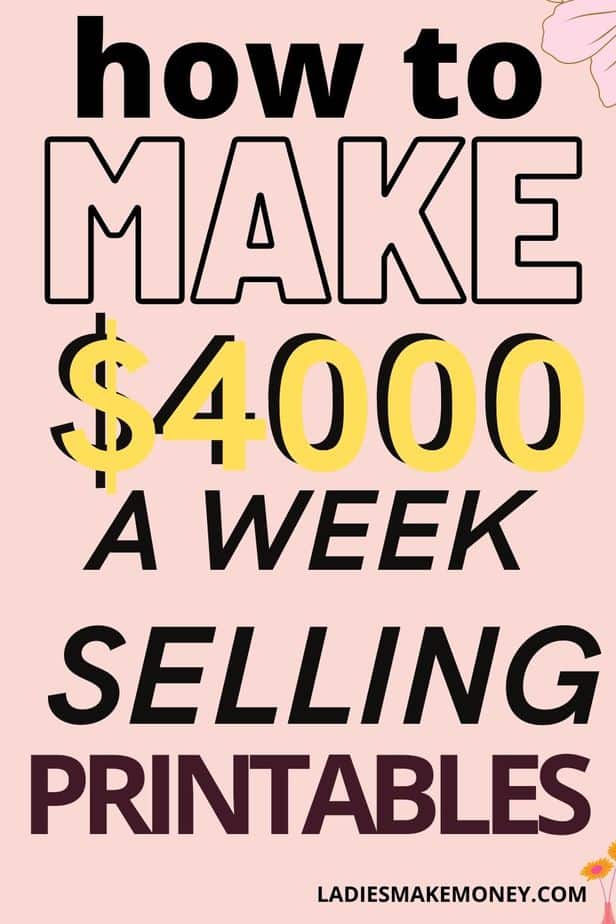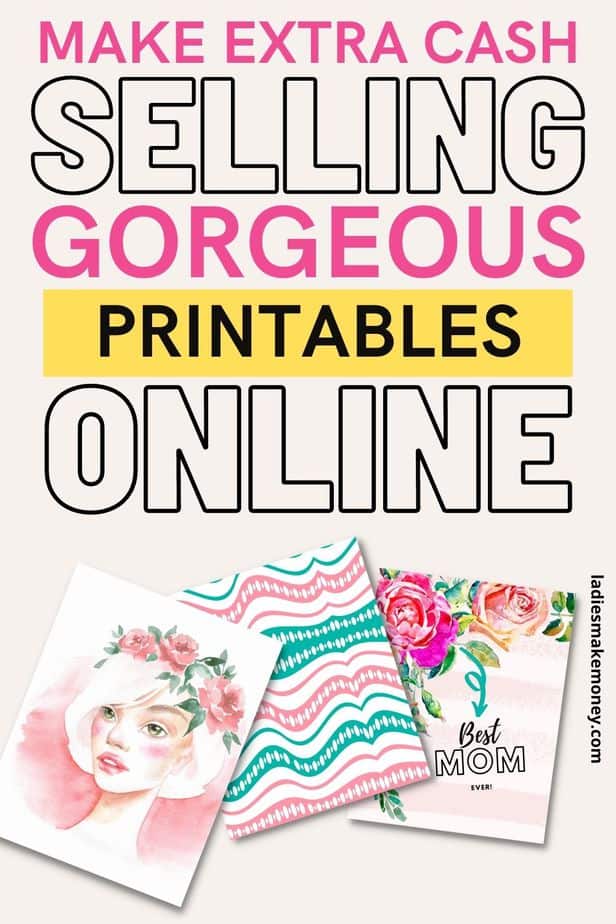 If you enjoyed our blog we would like to have you join our email list and receive weekly money-making tips, you can join now! Don't forget to like the Facebook group for bloggers. The page is created to share your work, pitch your services, and learn from other experienced bloggers!
---
***We would like to note that this post and most posts on our blog may contain affiliate links. This means that if you purchase something that has an affiliate link, we will get a commission from it. Not all items recommended on our site are affiliate links. We only recommend items that we have used and tried. These items have brought us much success and we highly recommend them to you in order to be successful. Thank you for your trust!
My Honest Review of Printables By Number – A Printable Course By Suzi