Last Updated on September 25, 2019 by NandiNN
Get Paid for using Social Media
Are you one of the many people who addicted to social media? Well these paid social media jobs is just what you need.
Many people are addicted to using social media which is probably why Facebook has 1 billion accounts active monthly while WhatsApp has more than 1.5 billion monthly users.
This is proof that many people have become so addicted to social media that they can't really do without it. Don't worry, I am one of them.
As a result, it would be really sad if all these billions of users who use averagely two hours (and more) on social media cannot make a dime from something they spend so much time on.
This is why we think it's important that you learn about some well-paid jobs you can do if you're addicted to social media.
But before we get in on how to find paid social media jobs, we would love for you to follow our growing Facebook page right here! Be sure to give us a quick follow on Instagram as well!
We also wanted to take the opportunity to let you know that we use Affiliate links on some of our blog posts. This means that we could make a commission if you click on an affiliate link and purchase something. Please check out our full disclaimer and policy page here.
How Much Does A Social Media Worker Make
This will really depend on your experience and how you are looking at monetizing your services.
They are big social media influencers that making an easy $10, 000 per month using referral links to invite friends to use products they love and it is also known as affiliate marketing links.
And then you have celebrities that are ranking in millions and get paid to promote on social media right from home.
If you have a huge following on social media, and they are engaging, you bet that you will make a lot of money on social media. If you are just starting out and you are looking to work with brands, be sure to build your following.
With 63 percent of Facebook users, 57 percent of Instagram users and 46 percent of Twitter users checking their accounts at least once a day, according to a Pew research, many companies and businesses have to leverage the use of social media for the promotion of their businesses.
This is evidence of the important role that social media now plays in many lives and the numerous jobs that can be found in the social media industry or through the social media industry.
Therefore, we will be discussing well-paid social media jobs you can get just for using social media platforms.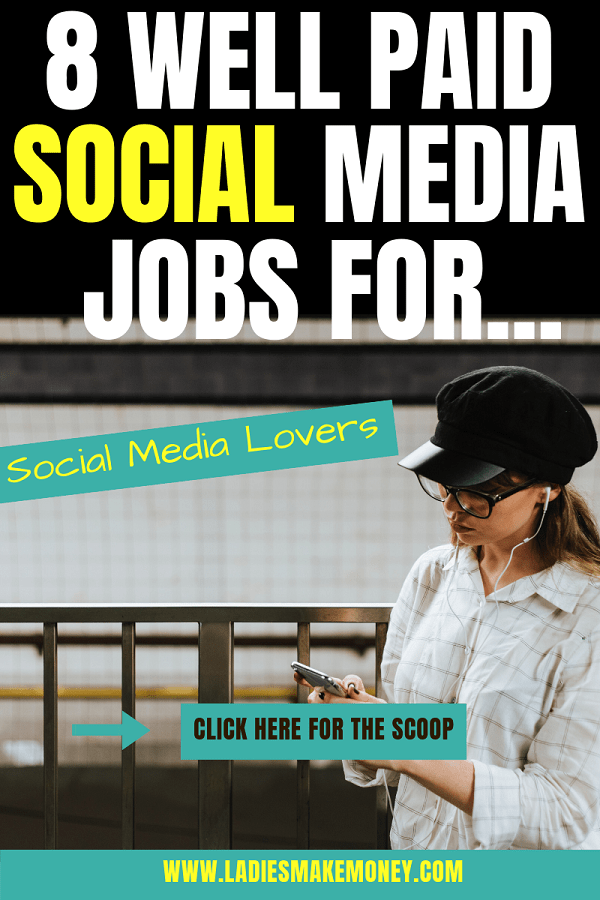 1// Social Media Manager
Companies are recruiting and paying social media marketing managers up to $100,000- $130,000 every year.
Apart from companies that recruit social media marketing managers to manage their social media accounts, there are also agencies who recruit social media managers to work for companies that pay them (the agencies) for managing their social media accounts.
As a social media manager, you will be responsible for a few things.
This may include choosing the right social media platform that fits the company's brand, goods and services.
Managing their social media accounts, such as posting relevant content on the social media accounts at the right time and trying to get leads and conversions for companies like College-Paper through social media.
Looking for well paid Social Media jobs? Look into becoming a social media manager.
Social media marketing managers can also be referred to as social media strategists, marketing coordinator, social media coordinator or simply as social media managers.
Related Paid Social Media jobs:
9 Effective ways to make money on Pinterest
Become a Pinterest Virtual Assistant that Actually Make Good Money
2// Copy writer
Many social media users have had to learn to create compelling copy like Brillassignment.co.uk does in order to grow their influence or market their products and services via social media.
As such, companies have to employ individuals who can create compelling copy to promote the company's products and services and drive awareness to the brand.
Most copywriters usually have an undergraduate degree in English, marketing or mass communications.
Although, it is not difficult to find a self-study copywriter on the internet.
An average copywriter earns between $50,000-$100,000 every year.
You can find great paid social media jobs by looking up copy writers.
3// Graphic designer
Beautiful ads, posters and flyers are usually made by graphic designers.
These are mainly used for the promotion of a company's products and services and to give a brand a unique identity.
In our modern world where individuals are easily influenced by visual content, many companies need skilled graphic designers to create the visual content for their social media accounts.
A graphic designer would be expected to create images and contents such as social media posts and cover photos for different social media platforms.
Individuals with Bachelor's degree in graphic design or art courses as well as special certifications from graphic design courses or training schools are usually employed for this job.
Yearly earnings range from $45,000 to $100,000 a year depending on the deal they strike with the companies.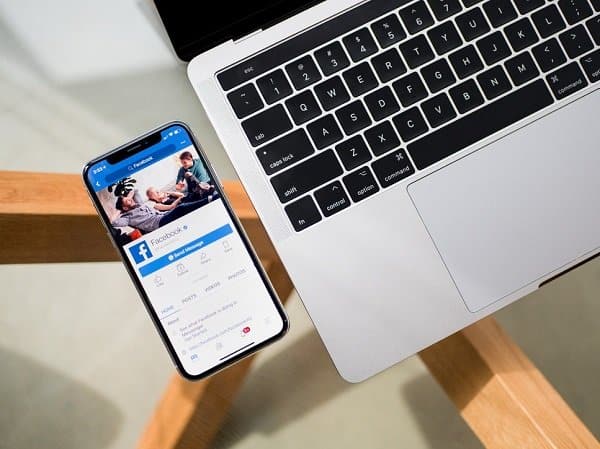 4// Promotions manager
A promotions manager is responsible for creating social media promotion strategies or purchasing incentives to drive awareness to a company's brand or increase the sales of their goods and services.
They usually come up with sweepstakes, coupons and contests that are sure to drive brand awareness and increase sales.
People with minimum of bachelor's degrees in marketing and business are usually employed for this job with a yearly payment ranging from $100,000 to $130,000.
5// Market research analyst
How do you create products for a target market without knowing what that target market wants?
The world we live in today is entirely consumer-oriented, meaning that the consumer call the shots.
Therefore, every manufacturing company needs to create products with a good product-market fit.
To do this, they need to know the opinion of the target market for which they're creating products.
This is where a market research analyst comes in.
A market research analyst does a number of things from competitor analysis to market evaluation.
In recent years, market research analysts have also taken to using social media to know what target buyers want, know the target buyers/customers themselves and how to choose the right product.
A marketing research analyst would normally have minimum of a bachelor's degree in marketing, accounting or business and get paid $60,000-$80,000 every year.
6// Film and video editor
With stats like this:
45% of people watch more than one hour of Facebook or YouTube video per week.

500 million hours of videos are watched on YouTube every day.

YouTube has one-third of internet users in the world.
There is no need for questions like; why 87% of digital marketers use video content for their marketing?
Therefore, companies need efficient and capable Film or video editors.
We consider this as one of the best well paid social media jobs because you definitely do a lot.
They are needed to create and edit their short social media videos for maximum impact with the right colors and text combination.
This is needed to make the company's videos attractive and exciting to customers and potential customers as well as call-to-actions to convert them to customers.
People employed for film or video editing jobs usually have bachelor's degrees in films, broadcast journalism or marketing, earning a yearly income of $55,000-$70,000.
7// Public Relations specialist
Public relations specialists have the responsibility of presenting a great public image for brands and important people.
They need to monitor social media brand perceptions, search for how to improve it and share press releases on social media.
A PR specialist should usually possess a bachelor's degree with specialization in the fields of journalism, mass communication, English or writing.
They're usually paid $55,000- $70,000 per year.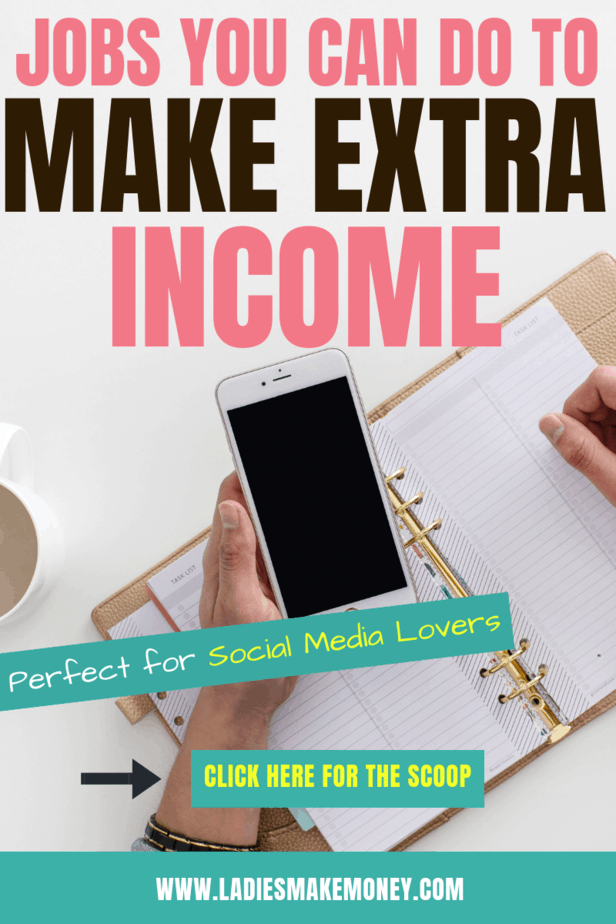 8// Customer support representative
Many companies use their social media accounts to interact with their customers as well as receive feedback and complaints about their goods and services.
In other words, because of the large number of people on social media, many companies have taken to using their social media profiles as a kind of customer relationship management platform for attending to customers.
Therefore, social media customer support representatives of companies such as Assignment Masters which provide assignment help respond to complaints.
They are also in charge of comments and feedback in the form of social media messages in order to resolve issues for customers on social media and increase customer satisfaction.
Companies have been known to use Facebook groups or pages as well as Twitter as their customer support platform.
Pro Tip: If you are hoping to land well paid social media jobs, ensure you are good at social media.
Let your personal social media reflect your skills.
For example: Your portfolio might include how many Instagram followers you have. You can then offer services on how to get real Instagram followers.
You can also read more about how this person was able to 103 Instagram followers in just 60 days!
If Pinterest is your jam, learn how to get Pinterest followers in a few easy steps.
Conclusion
The social media industry has become a platform for companies to drive awareness to their services and products as well as easily and quickly attain customer feedback and opinions.
As such, its impact upon the consumer-oriented world we live in cannot be underestimated especially when the number of worldwide social media network users are supposed to move from 2.46 billion in 2017 to 3.02 billion by 2021.
This means that the impact of social media is expected to continue to grow and you should make the best out of it by applying for paid social media jobs.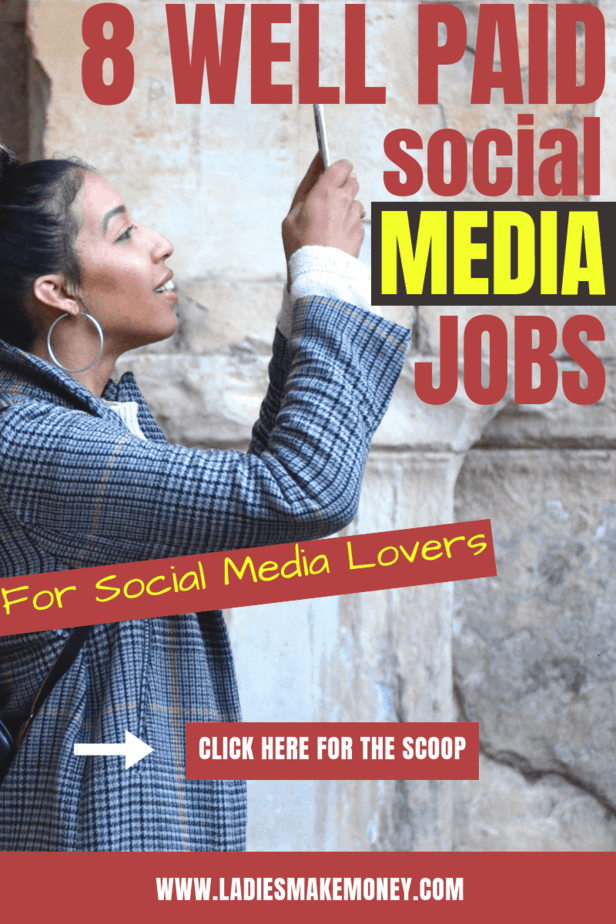 Related post for paid social media jobs:
How to Monetize your Blog Using Social Media
How to Land $10, 000 of Paid Sponsored Blog Posts working with Brands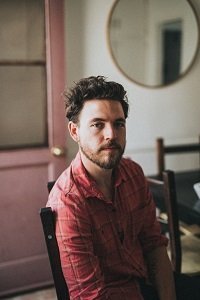 Author Bio
Scott Mathews is an essay and research paper writer at Essay Writing Land. He also writes term, thesis and dissertation papers, while working one-on-one with clients to provide the best quality custom papers at Superior Papers. He plays guitar during his leisure time and regularly takes part in different career growth conferences.
Find more amazing Blogging and Entrepreneurship tips here!
If you enjoyed our blog we would like to have you join our email list and receive weekly money-making tips, you can join now! Don't forget to join our Private Facebook page. The page is created to share your work, pitch your services and learn from other experienced bloggers!
---
***We would like to note that this post and most posts on our blog may contain affiliate links. This means that if you purchase something that has an affiliate link, we will get a commission from it. Not all items recommended on our site are affiliate links. We only recommend items that we have used and tried. These items have brought us much success and we highly recommend them to you in order to be successful. Thank you for your trust!
8 Well Paid Social Media Jobs for Social Media Lovers