Last Updated on March 22, 2019 by NandiNN
Be More Productive
Do you want to work smarter and get a lot more done without working too hard?
Working all day doesn't guarantee success.
And just because you work longer hours, doesn't mean you're getting more.
That's why in every case, you'll need to work smarter, not harder. How many of us have worked 24/7 but don't feel fulfilled? How do we then break this chain? Good news is, it doesn't always have to be.
On average, we are given less than 40 hours by employers for work during business days.
And certainly, there is an impact with overtime hours on employee productivity. What we are pointing here is, avoid burnout at all cost. Other than it does no help, it'll negatively affect your performance in all aspect.
Thus, may even result in poor quality results.
But before we get started on you can work smarter, we would love for you to join our growing Facebook page right here! Be sure to follow us on Instagram too!
We also wanted to take the opportunity to let you know that we use Affiliate links on some of our blog posts. This means that we could make a commission if you click on an affiliate link and purchase something. Please check out our full disclaimer and policy page here.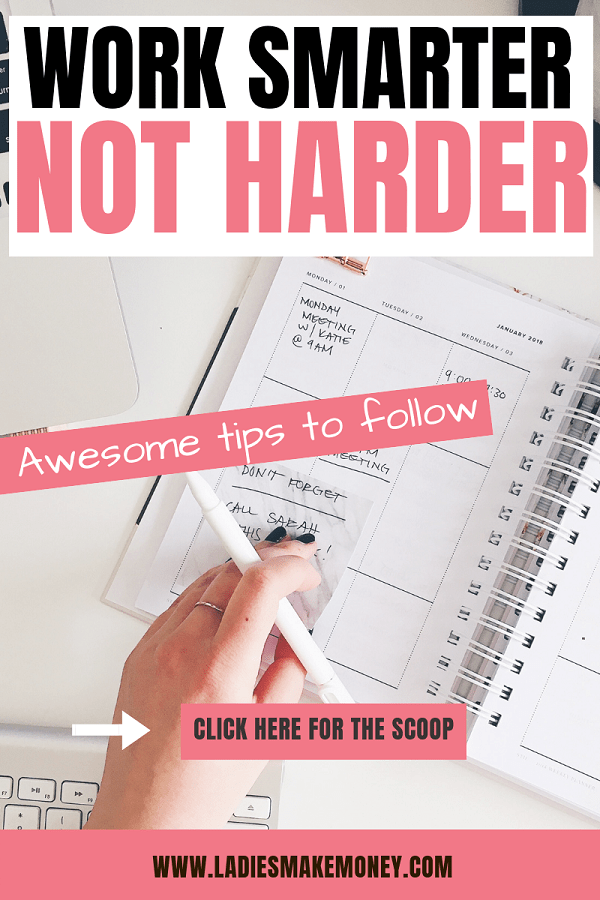 How to Work Smarter not Harder
Working smarter not harder should be your goal.
I am all about getting better results by going the shortest ways possible but maximizing the results I get. If you can find a way of doing this, you will have better chances of succeeding.
By using great time management hacks to complete your tasks, you will save yourself lot's of hard work later.
Worry not, there are 5 ultra-effective ways to work the smart way! Read on below for the five simple yet effective tips.
1) Multitasking, is it worth it?
As humans, it's almost natural to multitask.
Besides, we have the capability to do many things at once. And the more we have tasks to do all at once, the more can be done right? Well, it is certainly not the case.
There is nothing we can get from multitasking other than shifting our attention from one particular task to another rapidly.
In fact, our brain struggles while multitasking.
Shifting creates an illusion that we are getting things done. But in contrary, it is affecting our quality and performance of work.
So, focus on one thing the next time you'll need to get multiple tasks done. And yes, one at a time. Take some breathing and relax in between. Once done, you can head on to the next.
2) Communicate clearly
There are circumstances where you've worked overnight for a particular task only to realize it's not exactly what your client or boss wanted.
All because you and your employer had a misunderstanding in the first place!
How do we avoid this? Communicate clearly.
Eliminate other unnecessary revisions by asking your client the exact outcome he or she is expecting.
Whether you're an employee, freelancer, entrepreneur, it is essential to clarify to your client about the work expected.
It's also important to stay on one topic when communicating.
Keep it straight to the point, and understand the email or message for you and your client's perspective.
3) Even writing increases productivity
Most of the tasks that involve our work in companies is writing.
And from writing in itself, would cost the company thousands of dollars if done wrong. How to cost saving? Simply improve business writing whether it's email, requirement summaries, presentations or briefings.
Improved business writing skill increases employee productivity.
How? A poor quality business writing would lead to various revisions, editing, and may lead to wasted hours and effort.
As we know, the time spent for these cases could have been for profit-making activities.
Even so, improved writing also induces confidence to employees which then increases their productivity, let alone avoid stress.
This doesn't just apply to employees in the workplace, but to you and your personal activities as well.
Good news is, if you're someone who wants to learn and improve business writing or know an employee that needs one, there are custom writing courses and services to choose from that can guide to improving business writings.
4) Release stress
Stress can cause emotional, physical and behavioral problems.
Another way to simply work smarter is to give yourself some time to relax and let your mind rest.
Take a step back and perhaps do what you love doing such as listening to music, spend time with family and friends, going outside for a walk, meditating, and even getting a massage! After all, life is not always about work.
5) It's all about the results, not time
At the end of the day, what matters most is the result.
It's not about how long you have been working or how many cups of coffee you've had. When you focus on the desired outcome of your work rather than the time to render, the more you'll find ways on how to get those results.
Writing a 1000-word article post for four hours about a simple topic will leave you mentally exhausted.
Why? Because rather than breaking down the article into five 200-word paragraphs, you'd rather write the blog continuously and not think about the deliverance at all.
When broken down, however, you're able to focus on the smaller parts.
Point out your intention of the article step-by-step and formatted it properly by adding subheadings. This way, you would have completed and delivered clearly within a shorter time frame.
In addition, having to-do lists best affects productivity.
One of the ways on measuring results for the day is having to check what have you've already done and haven't.
With this, keep a list beside you to make things more coordinated and organized.
What's in it for us? Work smarter! And do not stress yourself working in an extended period than it should be. It's always best to think and feel productive in all aspect especially in the workplace. If you work smarter, good quality follows; in a shorter time frame, that's for sure!
Related:
Best Productivity Apps for Business Women & Entrepreneurs
Productivity Tips for Entrepreneurs – 3 Habits you need to kill
About the writer: Carol Duke is very keen on teaching students new, effective ways of learning. When not freelancing and blogging on marketing-related matters, Carol enjoys traveling, taking immense pleasure from visiting new countries.
Check out more amazing lifestyle tips.
If you enjoyed our blog we would like to have you join our email list and receive weekly money-making tips, you can join now! Don't forget to join our Private Facebook page. The page is created to share your work, pitch your services and learn from other experienced bloggers!
---
***We would like to note that this post and most posts on our blog may contain affiliate links. This means that if you purchase something that has an affiliate link, we will get a commission from it. Not all items recommended on our site are affiliate links. We only recommend items that we have used and tried. These items have brought us much success and we highly recommend them to you in order to be successful. Thank you for your trust!
5 Ultra-Effective Ways to Work Smarter, Not Harder