Last Updated on March 16, 2020 by NandiNN
Before you ever sit in front of your computer, laptop, tablet or iPhone to write out your blog content, you need to have a solid blog strategy plan in place. What are you trying to achieve with the blog you about to spend hours typing out? More email subscribers? An Affiliate Sale? Or is it a content marketing effort you are trying to achieve. Anyone can blog or write, but not everyone will read what you have to say if you are all over the map?
Before you ever write another article, you need to come up with a solid blog strategy plan that works. Are you blogging for money, traffic, for fun, or simply using your blog as an outlet for personal use- which is totally fine.
Whatever option you decide, you need to have a strategy for it in order to be successful. If it's for fun, don't expect massive traffic if you have no idea what your readers want, or if you have no idea how to optimize for blog traffic. Without a solid content strategy, you will be doomed.
Before we get started on the tips you require to create a solid blog strategy plan, we would love for you to join our growing Facebook group right here! You can also join our Pinterest group by scrolling to the bottom of this page! And join us on Instagram! If you are looking for guest blogging opportunities or if you need a personal affordable coach to take you from A-Z, we can help you. Get all the juicy details right here! Have you seen our brand new shop!
Smart Blogger has a really amazing article on how to accelerate your blog's growth with a simple content strategy that I love. And I love their point about the fact that you should begin with the end in mind when crafting your blog. Why are you blogging? What is your goal or vision?
Once you have this in place you can then create a blog strategy plan that will help you reach that goal.
Download our free blogging planner to keep you on track month to month and to help you plan out your next move in terms of having a strong blog strategy plan!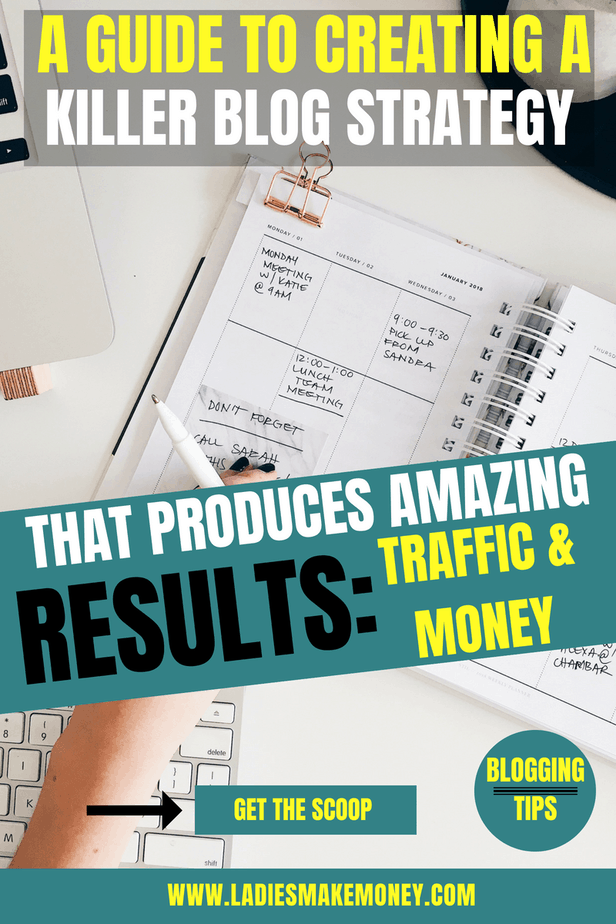 Creating a Blog Strategy Plan for Maximum Impact
Every blogger is different and everyone has different goals. We all want different things and results at the end of the day. The blog strategy plan we are going to share below is one that works perfectly for our blog. These are the strategies that have helped us increase blog traffic, and will help us monetize the business in the long run.
Until you know what your goals are, do not create random content that will not reap results. Once you have that figured out, use the tips below to create a blog strategy plan that will give you great results.
Related:
8 Reasons why your blog is not making money
The Strategy you need to grow your blog with Pinterest!
PLAN YOUR BLOG CONTENT
Before crafting a new blog, we typically already have a list of potential blog post ideas planned out in our planner for the month. This is a detailed schedule of what we plan on blogging about during the week, month and year! We also have a date in place for when the post should be released and what our readers should expect from us.
This will save you so much time and frustration in the long run. You don't want to be brainstorming, planning and researching your blog ideas all on the day you plan to blog.
Doing that is setting yourself up for failure as you would want to give up as soon as you start. Creating a solid blog strategy plan ahead of time will ensure a less stressful time and your business will thank you. Our recommendation to you is to plan out every blog content going out for the month and how it relates to one another for success.
For example:
If I planned on releasing a new e-book or a course in the month of August, I would write about 2 or 3 blogs in relation to this new product that I am planning on launching. This way when you launch the product, you would have already marketed the product using your blog content.
This is a great blog strategy plan when it comes to increasing awareness and sales for your products.
Blog Month plan:
Have a monthly goal written out to determine what you want to achieve that month
Brainstorm some blog topics and add it to your blog planner
Find ideas by sending surveys to your readers and looking for ideas in Facebook groups,
Take a look at your popular pins and blogs and write more of those posts. Use Google Analytics to see what is popular.
Know what is trending around you to find ideas in what to blog about
Keep the time of year and season in mind when creating your blog strategy plan
My blog friend, Arfa from Epife has an amazing post on 25 ways to find new blog posts topics that absolutely matter. And if you want a clear blog strategy on when you should be posting holiday content, then Sarah Titus is your go-to person. Her blog post on how to how to get holiday traffic throughout the year will amaze you.
THE CONSISTENCY OF YOUR BLOG SCHEDULE
Now that you have a blog strategy plan in place, you will need to determine how often you will post on your blog and social media. In one of our last blog post where we focused on Blog SEO, we told our readers that we were currently blogging 5x a week.
This blogging strategy was put in place to build up how much content we had for promotional purposes when we first started blogging. Once we had enough built up (i.e 50 blogs), we dropped this to 3x a week for the remainder of the year. Now we post once weekly.
Most bloggers like to stick to one post or even two posts per week. As long as you are producing high-quality content and creating long and valuable blog content, then you are good to go.
Pick a day that you will publish your blog posts and stick to this. Google and your readers will love you for this. Everyone loves consistency. How often you post a blog will be determined by your blog and niche.
When it comes to creating a blog strategy plan that works, I crave for consistency. Google loves fresh content which also includes how often to update older blog posts. All this should be part of your blog strategy plan.
Neil Patel, the marketing guru that I follow, shares 5 amazing steps that will help you determine how often you need to blog for growth. You need to read it to get a better understanding of how to plan your blog strategy.
Go ahead and plan your blog content for the month!
RESEARCH YOUR BLOG TOPICS
No one ever wrote a university paper without putting in major research. I remember spending hours and hours of research back in university just to get all the information I needed for a paper I was going to write. This same strategy should apply to your blog strategy plan if you want to succeed.
What's involved with blog research?
Finding out what your readers want
Researching keywords to rank for each post
Adding facts and quotes from other experienced bloggers
There are a few bloggers that I tend to reference in my posts and they range from Melyssa Griffin, Michelle from Making Sense of Cents and a few others. I tend to reference them a lot and you will get to see that throughout my blogs!
PUTTING YOUR THOUGHTS INTO WRITING
Now that we have established somehow of a good blog strategy plan we can start to write. Focus on the content, style, and voice of your blog. What is your current blog structure?
Headline
Your opening statement or intro with optimized keywords
subheading
Your blog content
Call to action somewhere in between
Another Subheading to break it up
More content
Another call to action
Conclusion
Add graphics and photos to make your blog friendly and inviting to the readers. Use great fonts, some color and simply make it easy for the readers. Keep it longer than 1000 words or more if you can. Google loves long blog posts that full of amazing content.
These are the main things we focus on to ensure we have an amazing blog strategy plan for long-term success.
PROMOTE, PROMOTE, PROMOTE
Your blog strategy plan shouldn't end once you publish your new blog. You should promote it and promote it frequently. It doesn't matter how special you are, no one will read your blog if they don't know you just wrote it. A great blog strategy plan will depend on how well you promote your content after all your awesome planning.
Use social media sharing buttons, automated platforms such as Tailwind, and real-time promotion to ensure your success. I use the Tailwind tool to help with any grammar and spelling errors on my blog.
We wrote an amazing post on the 10 different places you should promote your post once you hit publish.
Copy Blogger also has an interesting article on how to effectively promote your content. You must read it!
DON'T FORGET TO DOWNLOAD YOUR FREE BLOG PLANNER TO HELP CREATE AN AMAZING BLOG STRATEGY TODAY!

You might also like:
4 Reasons your blog strategy sucks and is not working
Tell us your blog strategy plan below. One strategy I would like to add in the next coming year is batch blogging. This is when you write a couple of blogs in advance (maybe two months worth) and then just schedule them out to be published on the dates you have set.
I will need to add this to my blog strategy plan in order for it to work! Anyone else doing this?
Lena Gott has an amazing course where she videos and shows bloggers how to get keywords, how to add them to posts and how she gets her top blog posts featured on Google. It's pretty amazing.
FIND MORE AMAZING BLOGGING TIPS HERE. PLEASE PIN THIS POST AND SPREAD THE LOVE.
If you enjoyed our blog we would like to have you join our email list and receive weekly money-making tips, you can join now! Don't forget to join our Private Facebook page. The page is created to share your work, pitch your services and learn from other experienced bloggers!
---
***We would like to note that this post and most posts on our blog may contain affiliate links. This means that if you purchase something that has an affiliate link, we will get a commission from it. Not all items recommended on our site are affiliate links. We only recommend items that we have used and tried. These items have brought us much success and we highly recommend them to you in order to be successful. Thank you for your trust!