Last Updated on March 16, 2020 by NandiNN
My entire blogging career, I have always used WordPress and that's what I am used to. If you are a new blogger and are thinking of starting your own money-making blog, then visit this blog post, where we detail a step by step instruction on how to set up your WordPress blog with BlueHost. I love my plugins for the simple fact that they have simplified my life. We are going to share with you the WordPress plugins for bloggers to use to rock your online biz!
6 Awesome WordPress Plugins to rock your blog business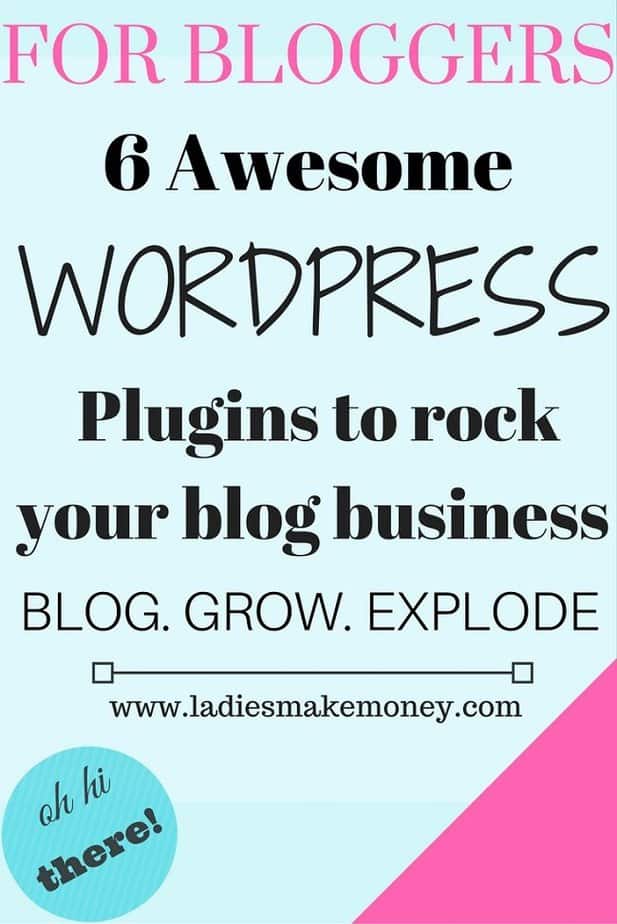 YOAST SEO
This is my favorite tool when it comes to simplifying my blogging system. Among all the WordPress plugins for bloggers available, Yoast should be on your list. It will make your Blog SEO planning so much easier and it will help you rank some of those awesome posts you have. Don't ignore SEO if you want to succeed with this business. Not sure where to put all your keywords? Yoast SEO will help you with that.
The plugin will help you narrow down your keywords and it will also give you a checklist to follow along as you blog to ensure you have all the right information for rocking a great blog post.
You might want to read this blog: A Girl's guide to Blog SEO- How to use SEO to grow your Blog
Go ahead and download this plugin which will help you along the way.
RELATED POST FOR WORDPRESS
A highly recommended WordPress plugins for Bloggers would have to be the related post for WordPress by Zemanta. It makes the related post at the end of each of my blog post look so much prettier. I am big on things looking good and this plugin does the right job for me.
Every blog should be able to provide your readers with additional options to read more related articles. If someone landed on your blog, make it easier for them to look for other posts that are similar and interesting. This way, they are staying on your website a tad longer (Yay for more page views).
PRETTY LINK
I learned more about this plugin and other amazing things from Michelle of Making Sense of Affiliate marketing. When I took her course, she made it known that we should have a plugin that we can use to customize our affiliate links. Instead of having a link that is long and not memorable, you can customize the link to your affiliate and make it easier for people to remember.
For example: https://www.ladiesmakemoney.com/makingsenseofaffiliatemarketing – This is my affiliate link with Making Sense of Affiliate Marketing. With this plugin, if a link gets broken down the line (due to the fact that they may have discontinued a product or even changed the link), you can easily delete or update using the pretty link and it will update every link you may have had on your post or on social media.
The plugin also allows you to see how many people have clicked on that particular link. It's an awesome plugin! We highly recommend this and all the other WordPress Plugins for Bloggers to help with streamlining your business.
REVIVE OLD POSTS
Another all time fav of ours is the "revive old posts plugin". This system will automatically publish your old and new posts to twitter or any other social media outlet you choose. We only use it for Twitter at the moment. We set it up so that it can automatically publish our older blogs to twitter on an hourly basis. So for 24 hours, it goes through our blog achieves and pushes out our work.
It's a great system for reviving old posts that you may have forgotten about. It's also a fantastic way to continuously push traffic to your blogs. This is the number one WordPress plugins for bloggers that we highly recommend and encourage you to get!
JETPACK FOR WORDPRESS
This is a tool I use alongside Google Analytics to track my blog traffic. This WordPress plugin is available right on your site and you can see how each blog is doing on a particular day. Don't rely on it a 100%. Definitely use Google Analytics especially if you want to know your most popular blog post and things like that! I check it every morning just to see how each of my blogs is doing, and which ones are doing better than the other for that day! This way I can really optimize the post and make it go viral if I can.
You might also like this post: What Affiliate Programs should you join to make Money?
TinyMCE ADVANCED
This is a plugin I use that provides me with a visual editor toolbar. I can change my font, the colors, and make a lot of editing options as though I was typing using Word document or pages. It's amazing and I won't blog on any other platform without this tool. What do you use to edit your work on WordPress? Tell us in the comment section below! These are the WordPress Plugins for Bloggers we highly recommend and use every day!
WORDPRESS PLUGINS FOR BLOGGERS
Tell us below what other WordPress plugins for bloggers you would highly recommend. Remember, don't use too many as this can actually slow down your website. Some of these plugins are absolutely necessary for the growth of your business. We want to hear from you!
WANT A COPY OF OUR BLOG PLANNER TO KEEP TRACK OF YOUR ONLINE BUSINESS? GET IT BELOW:

If you enjoyed our blog, we would like to have you join our email list and receive weekly money-making tips, you can join now! Don't forget to join our Private Facebook page. The page is created to share your work, pitch your services and learn from other experienced bloggers!
---
***We would like to note that this post and most posts on our blog may contain affiliate links. This means that if you purchase something that has an affiliate link, we will get a commission from it. Not all items recommended on our site are affiliate links. We only recommend items that we have used and tried. These items have brought us much success and we highly recommend them to you in order to be successful. Thank you for your trust!