Last Updated on January 9, 2020 by NandiNN
Top Finance Podcasts
How obsessed am I with Podcasts? Specifically money podcasts?
I love them, they are a time saver and you should totally make time to find some podcasts to listen to on a daily basis.
Today we are sharing the best Money Podcasts for those that want to make more money or even save some money.
Why do I choose Podcasts?
As much as I love reading good blog posts, when driving back and forth, spending hours on the road, podcasts have become my good too.
If you have been following me for a while now, you should know that I am now seriously practicing self-care and part of this is to listen to podcasts to help me stay informed and learn more.
I truly believe that the mind has to stay nourished!
A few podcasts we have talked about on the blog include 11 Inspirational Podcasts for bloggers and women entrepreneurs and the best of The The Jenna Kutcher Podcasts.
Today we wanted to share with you the best money podcasts to help you get started on making extra money from home or to save money.
So what are the best Personal Finance Podcasts?
With hours and hours of amazing financial tips to listen to, we analyzed what we believed were some of the best financial podcasts out there!
It wasn't easy, but we got a good list going that we think you will enjoy.
If you are ready to get your money right this year, I think out list of financial podcasts will blow your mind.
Before we get started on the best money podcasts available, we would love for you to like our growing Facebook page right here! Be sure to follow us on Instagram here.
We also wanted to take the opportunity to let you know that we use Affiliate links on some of our blog posts. This means that we could make a commission if you click on an affiliate link and purchase something. Read our full disclosure and blog policy for more information.
Ready for the best finance podcasts?
As I mentioned earlier, podcasts are a fast growing thing with people preferring to listen instead of reading money management tips.
However, if reading is still your thing, there is still a lot of amazing information out there you can use both on money saving blogs or on YouTube.
Find what works for you is key.
Money Podcasts to Listen to:
We hope this list of money podcasts inspire you to take action.
Most of what we will be sharing today will help you find ways to make money or even how to save the money you already have.
We are going to be sharing the best podcasts on finance that appeal to millennials, women, and entrepreneurs.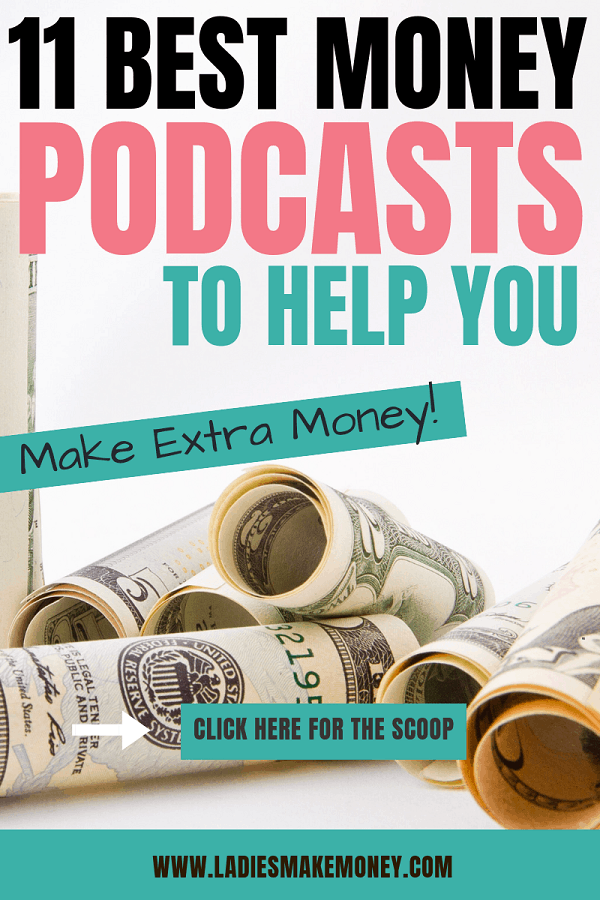 1// Like A Mother Podcast
This amazing money podcast is hosted by Emma Johnson a single mom. She is a blogger over at Wealthy Single Mommy where she helps you build a full and awesome life as a single mom.
She has helped millions of moms with starting careers, money issues, business questions, parenting and more.
Emma has featured celebrities like Arianna Huffington, Patti Stanger from Millionaire Matchmaker and more on her amazing podcast.
If you want to know more about Career, money, business and more, follow her personal finance podcast today!
2// Entrepreneur on Fire
We love to inspire women and especially women entrepreneurs.
Entrepreneur on Fire delivers just that, an inspiration for entrepreneurs that need some motivation.
John Lee Dumas delivered amazing tips on the podcast seven days a week.
This money podcast features entrepreneurs who share they are amazing tips on things to avoid and what to do in order to succeed.
We are calling all our women entrepreneurs to give this one a try.
If you are looking for money podcasts to help fuel your creativity, then Entrepreneur on Fire is for you.
3// The Money Nerds Podcast
If you want to know more about all things money, then the Money Nerds Podcast is a great start.
This amazing podcast shares weekly stories from people kicking butt with money on their way to financial freedom.
Want to learn more about paying off debt, saving money or starting a business?
Then be sure to listen to Whitney Hansen. She interviews people with weird, unique and amazing money stories so you can learn more.
If you are looking for financial tips that actually really work, be sure to sign up now.
4// The Fairer Cents
Kara and Tanja are the masterminds behind one of the most amazing money podcasts out there.
They offer amazing information in regards to money issues that are unique to women.
The Fairer Cents is a business and career podcast all about the different economic realities facing women, people of color and other groups.
These ladies do an amazing job tackling financial issues such as wage and wealth gap, the economics of motherhood, women's ambition and more.
5// The Millennial Money Podcast
This money podcast is hosted by Shannah Compton.
They dish out amazing life-changing money and lifestyle tips to jump-start your finances, ignite your savings and empower you to reach all of your money goals.
Learn more about how to pay off your student loans, credit card debt and prepare to buy your first home by listening to the Millennial Money Podcast today!
In my opinion, I believe that the Millennial Money Podcast is one of the best finance podcasts for beginners as they really dive dip into lifestyle tips that we can all relate to!
Be sure to give them a listen if you want to get your money under control!
6// HerMoney Podcast
Anyone who tells you women don't need financial advice specifically for them is wrong! And by listening to HerMoney Podcast, you will learn that quickly.
Whether they are caretakers, the breadwinner or both, women face unique sets of financial challenges. This is where Her Money Podcast can help.
The podcast takes you through the steps you need to take today to live comfortably (and worry-free) tomorrow by offering the latest research tips, expert and personal advice.
7// Mo' Money Podcast
We are trying to feature as many women entrepreneurs in our money podcasts series in order to highlight them more.
The Mo' Money Podcast was started in June of 2015 by Jessica Moorhouse.
She is a millennial money expert and an accredited financial counselor in Canada.
Her Podcast has grown to become one of the top personal finance podcasts around and she interviews Celebrities, experts, entrepreneurs and many more.
They focus on financial independence, early retirement, budgeting best practices, debt and credit, entrepreneurship, side hustling and more.
8// Afford Anything Podcast
Did you know that you could afford anything, but not everything?
Host Paula Pant interviews a diverse array of entrepreneurs, early retirees, millionaires, investors and many more exploring the tough work of living a truly excellent life.
A few topics they go through:
They answer a question from a New York-based father of two who's trying to choose a health insurance plan.

They also talk to a woman who wants to roll her six-figure SEP-IRA balance into a Roth IRA Account.
They really go deep into helping you get your money right.
And this is the one reason we needed to add this podcast on our list of the best money podcasts out there.
Want to learn more about the Afford Anything Podcast? Sign up here.
Related:
6 Top Women Entrepreneurs Who Succeeded in Online Business
7 Most Inspiring Women who Are Winning in Life & More
9// So Money Podcast
The host of So Money Podcast, Farnoosh Torabi is an award-winning financial strategist, TV Host, and Bestselling Author.
So Money Podcast brings inspiring money strategies and stories straight from today's top business minds, authors and influencers.
What was their financial journey and how do they master their money today?
She is also known for interviewing celebrities on her podcast so money in order to help inspire individuals.
Learn about their financial philosophies, wins, failures and habits.
Be sure to tune in with Farnoosh to learn all things money!
10// Money Girl Podcast
Laura Adams is a personal finance expert and award-winning author of multiple amazing books.
Millions of loyal listeners and readers benefit from her practical advice.
Her mission is to help over 100 million students and consumers live richer lives through her podcasting, speaking, spokesperson, teaching and advocacy work.
Money Girl provides short and friendly personal finance, real estate and investing tips to help you live a richer life.
Whether you are just starting out, or are already a savvy investor, Money Girl Podcast advice will point you in the right direction.
11// The Wander Wealthy Podcast
Wander Wealthy is a weekly show designed for you to learn more about personal finance, money mindset, and conquering the financial realities of adulthood.
Episodes will include interviews with female financial experts, stories of non-experts taking control of their finances, and short episodes with the show's host.
Topics will also include insurance, taxes, investing, retirement, saving, spending, real estate and all other themes in the world of money.
Be sure to subscribe to the Wander Wealthy Podcast to receive all these amazing money tips.
And there you have it, the best money podcasts for women and women entrepreneurs.
Which of these money podcasts will you subscribe to?
If you have any other personal finance podcasts you suggest do not hesitate to let us know below.
In fact, since writing this post I found a few more podcasts that you might be interested in.
Bonus personal finance podcast:
Find more amazing Lifestyle tips here!
If you enjoyed our blog we would like to have you join our email list and receive weekly money-making tips, you can join now! Don't forget to join our Private Facebook page. The page is created to share your work, pitch your services and learn from other experienced bloggers!
---
***We would like to note that this post and most posts on our blog may contain affiliate links. This means that if you purchase something that has an affiliate link, we will get a commission from it. Not all items recommended on our site are affiliate links. We only recommend items that we have used and tried. These items have brought us much success and we highly recommend them to you in order to be successful. Thank you for your trust!
11 Best Money Podcasts For Those That Want To Make Extra Money