Last Updated on December 25, 2016 by NandiNN
Ladies making money is all about helping you monetize your online hustle. If you are thinking of ways to start making money online, then welcome to the world of blogging. We share tips and tricks that will help you get financial freedom by using your blog. Today we will be focussing on the one thing we all love to do. SHOP! I love to shop, you love to shop, we all love shopping. Why not get paid to shop? This is where Ebates comes in! Get paid to shop with Ebates. 
Before we get started we wanted you to know that they are so many ways for you to make money online. We rounded up a list of 10 amazing female entrepreneurs that are all making over $5,000 per month using their blog and other online platforms. With this in mind, we believe anyone can start a successful online business and can easily monetize it. We are not saying that you need to start making $30,000 a month, but you can start with $1,000. This amazing lady is making over a $1,000 in amazon affiliate sales per month!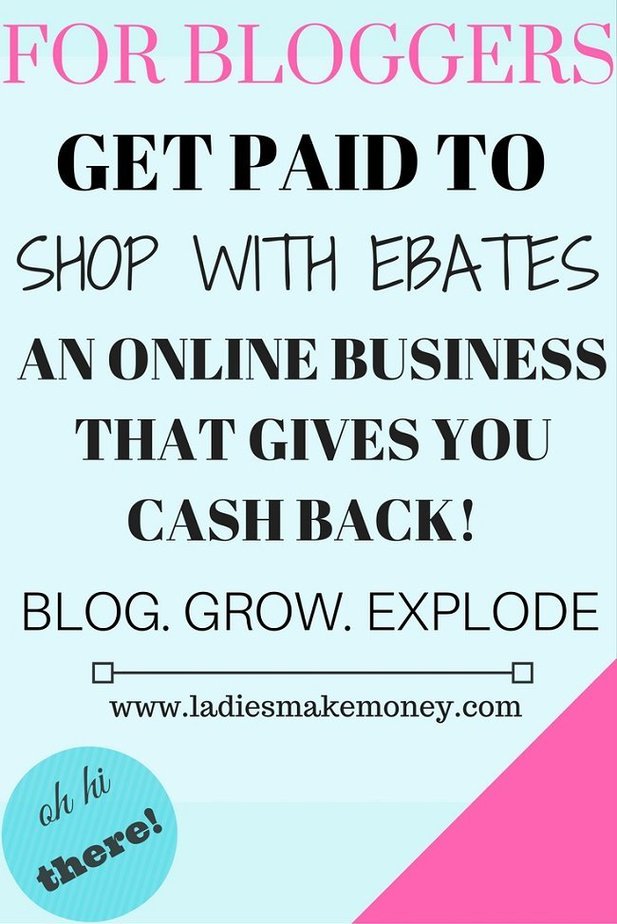 WHAT IS EBATES?
Ebates is my favorite thing right. How many companies do you know, can pay you just for shopping? Get paid to shop with Ebates! They give you money back just for shopping online. So what is Ebates? Here is a great definition take right from their website. 
"Ebates is the pioneer and leader of online cash back shopping. Ebates pays members cash back every time they shop online as well as provide them with the best coupons and deals online. Founded in 1998, Ebates Inc.'s websites have paid over $250 million in cash to its members."'
HOW EBATES WORKS

In order to start earning cash back from Ebates stores, you have to log into your Ebates account and click on the brand or store you want to shop with. They are over 2,000 amazing stores you can choose from and earn cash back on. Some of my favorite stores include (Nordstrom, Sephora, Staples, Amazon, Hudson'S Bay and much more). Get Paid to shop with Ebates is such an amazing program for those that love to shop online! 
Shop the way you would normally do on an online site and you will earn cash back! It is that simple. No hidden agenda and that is what I love about Ebates. You are literally getting paid to shop online.
Ebates is totally FREE to join. They are no fees, forms or anything you need to do in order to join. I joined with one simple click. In fact, I used my Facebook account to join the program! Go ahead and start earning money back with Ebates! 
HOW DO YOU GET PAID
Currently, Ebates offers their clients 3 easy ways to get Cash Back! You can opt to receive your Cash Back by Cheque, have payments sent directly to your Paypal account, or you can even send your Cash Back payments to a Charity/Organization/Family member or your choice!
Pretty awesome right? 
QUICK VIDEO FOR YOU FROM EBATES
WORRIED ABOUT GETTING SCAMMED? 
Ebates is not a scam! I have already made a couple of $$$ using this service just from shopping online. Ebates makes money from being affiliates of other big name brands. And they share their profits with you. Every time you shop through their links, they make a profit. 
I bought something from Nordstrom the other day. When I purchased using the Ebates site, they made a commission from that sale. They are thanking me for using their site by giving me a percentage of that commission. This is a win/win situation for everyone. Honestly, you should consider getting paid to shop with Ebates as a way to make money back if you already shop online. 

HOW TO GET MORE CASH BACK WITH EBATES
As we mentioned earlier, if you are already big on online shopping, join Ebates to get cash back on every purchase. If you really want to maximize the amount of money you get back, then combine coupon codes with cash back. Ebates will notify you if they have any coupons you can use with a particular store. If you combine your coupon and cash back you will save a lot of money. 
If you are shopping online and using a credit card, why not use your reward card to increase your cash back with Ebates? That is a great way to get more out of your shopping experience. Get paid to shop with Ebates and start earning today.  
GET PAID TO SHOP WITH EBATES
Ready to get paid to shop with Ebates? Sign up today to get started. When you use my referral link to sign up,  and spend $25 online, you will earn $10 as a welcome bonus! It is completely free to join and you can start earning cash back as soon as today!
WANT TO MAKE YOUR NEXT 1K FROM YOUR BLOG IN THE NEXT 45-60 DAYS? THEN GET ALL THE DETAILS HERE! 
Looking for other ways to make money online?: 
What are the different ways you are currently using to make money online? Tell us in the comments below. We would love to hear back from you. Don't forget to Pin, Tweet and share this blog! 
If you enjoyed our blog we would like to have you join our email list and receive weekly money-making tips, you can join now! Don't forget to join our Private Facebook page. The page is created to share your work, pitch your services and learn from other experienced bloggers!
---
***We would like to note that this post and most posts on our blog may contain affiliate links. This means that if you purchase something that has an affiliate link, we will get a commission from it. Not all items recommended on our site are affiliate links. We only recommend items that we have used and tried. These items have brought us much success and we highly recommend them to you in order to be successful. Thank you for your trust!