Last Updated on June 17, 2020 by NandiNN
What Can I Use A Personal Loan for
Finding ways to use a personal loan for good is the best thing you can ever do for your finances.
Getting a personal loan is not necessarily a bad thing. A lot of financial adviser actually caution against the use of personal loans or borrowing money as this adds to your debt.
However, as long as you can find ways to use them effectively there is no harm.
Do not go overboard and apply for multiple cash loans or small personal loans just because you can. Rest assured that loans can be really helpful with the right mentality.
We decided to share a few great ways to use a personal loan more effectively so you can get all the benefit. You will soon come to learn that borrowing money is not a bad thing and it can actually help you a lot!
Before we get started on the best ways to use a personal loan, we did want you to follow us on Facebook for more awesome ideas on saving or making more money. You can also follow us on Instagram for more tips.
We also wanted to take the opportunity to let you know that we use Affiliate links on some of our blog posts. This means that we could make a commission if you click on an affiliate link and purchase something. Read our full disclosure and blog policy for more information.
Where to Apply for Personal Loans
You definitely want to know the different ways to use a personal loan but knowing where to apply for them is just as important.
You can apply for a personal loan at most financial institutions, banks and even online. Yes, it is now safe to apply for personal loans online.
They are completely safe, flexible and quick.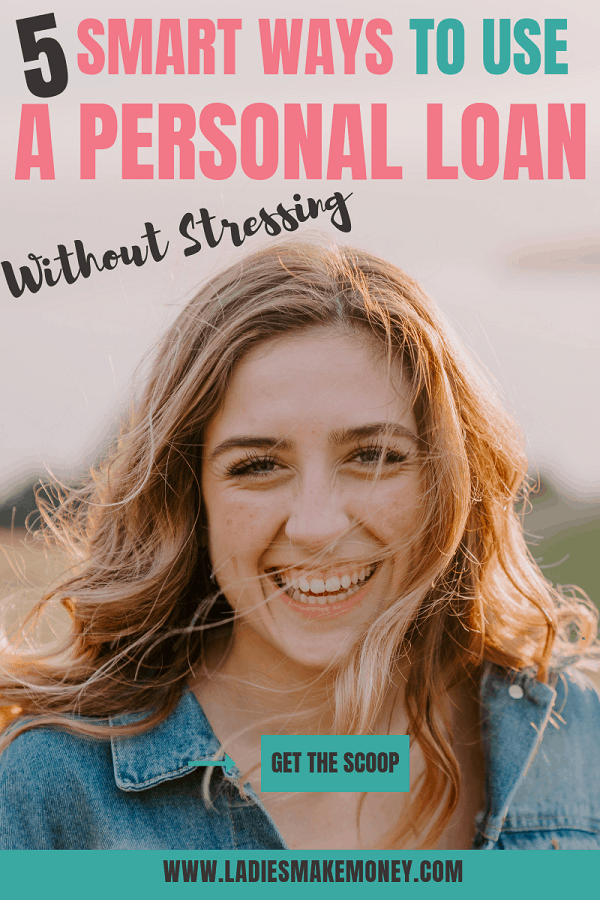 Here are a few great ways to use a Personal Loan without stressing:
1// Reduce Credit Card Debt and Personal Debt
If you have multiple credit card debts or even personal debts such as a huge purchase, then this is a great way to pay them off or pay it down. The trick is to get a personal loan that has a much lower interest rate than your current credit cards or personal loans.
This is where shopping around is extremely beneficial to ensure you get to work with only the best loan companies out there.
It is so easy to spend a lot of money on credit cards, and then forget about them until you get a massive bill that you cannot seem to handle. Next thing you know, you are living paycheck to paycheck trying to catch up.
This is where finding effective ways to use a Personal Loan comes into play. Once you are approved for the loan, pay off your debt immediately and concentrate on making one payment to that specific loan.
However, too much credit card debt will not be solved by using a personal loan.
Related:
4 Reasons why starting a budget right now is a good idea
Brilliant Hacks on Becoming Debt Free Without Filing for Bankruptcy
2// Improve your Credit Score
We love the idea that you can creatively use personal loans to improve your credit score. A small personal loan can easily be used to improve the overall health of your credit score, which will give you the financial security that you need.
By building a better credit score, you will be able to apply for more credit or loans in the future to make investments such as purchasing a home, paying for a wedding, buying a new car and so much more.
Having credit cards alone in your history is not always a good thing. You need to have a mix of things such as mortgages, other personal loans and the usual payments you make each month.
Another amazing way a personal loan can help your credit, is if you use it to reduce your debt to income usage ratio.
You should not take out too many personal loans as this adds to your debt and be wise about using them effectively.
3// Use Personal Loans to meet Monthly Shortfalls
Personal loans can really help you meet monthly shortfalls.
It happens to the best of us. When your paycheck is late or you overspent the previous month and you have no income to cover your bills that are due, a loan can help. You can also be hit with unexpected repair expenses, car breakdowns and many other things.
Remember, its life and things do happen.
This is where using a reputable company is really important. By using a great company to get a personal loan will really help you with your immediate problem by covering the unexpected expense that you might not have budgeted for.
Not all loans are bad.
4// Use a Personal Loan to Save Money
If you are highly considering taking out a personal loan, be sure to get one with a lower interest rate. The lower you can get the interest rate, the better for you.
This is the only way you will end up saving money in the end.
For example, I had a credit card with an interest rate of 19.99%. This was extremely high in my opinion– However, I was young and without knowledge. Once I wised up, I discovered you could get credit cards with lower interest rates.
With the help of a personal loan, which had a lower interest rate, I was able to pay off my credit card and save massive amount of money while doing so.
The sooner you can pay off something, the more money you can save.
5// Using your loan to Invest in Profitable Projects
If you have an opportunity to invest in something that will be beneficial to you in the end, do not let money stop you.
Investments such as a home, a new business, or personal investments is a great way to build yourself a stable lifestyle.
I frequently blog about all the different ways to make extra money and investing or even starting a business! This is a great way to spend money from a loan.
We hope our tips on smart to ways to use a Personal Loan has inspired you to try it out. Using loans is not as scary as most people make it sound if you find a way to use them for the better.
Be aware that taking a personal loan does require you to pay it back. This is still money owed but it is a great way to consolidate debt and major expenses.
If you are looking for extra ways to save money, find them here!
Please note that is a sponsored post by http://www.24cash.ca! All opinions are ours.
If you enjoyed our blog we would like to have you join our email list and receive weekly money-making tips, you can join now! Don't forget to like the Facebook page. The page is created to share your work, pitch your services and learn from other experienced bloggers!
---
***We would like to note that this post and most posts on our blog may contain affiliate links. This means that if you purchase something that has an affiliate link, we will get a commission from it. Not all items recommended on our site are affiliate links. We only recommend items that we have used and tried. These items have brought us much success and we highly recommend them to you in order to be successful. Thank you for your trust!
5 Smart to Ways to use a Personal Loan