Last Updated on March 21, 2019 by NandiNN
How to Manage Time Wisely
Are you an entrepreneur looking for time management hacks?
There are many myths surrounding freelancing work, all of which makes freelancing seem like the perfect job since you're your own boss and you work your own hours.
All these notions do not acknowledge the fact that most freelancers find themselves juggling more than one job at a time from different clients with different deadlines. And learning how to manage time wisely becomes more important at this stage.
With multiple clients, the need to be available all the time, the importance of meeting deadlines, most freelancers hardly have the time to grab a cup of coffee or even to sleep before getting up to work again.
In order to work more without losing their social lives, freelancers have to learn how to manage their time effectively and increase their productivity.
Time Management Techniques
Time management techniques is a strategy you use to effectively manage your time to get the best possible results. And finding effective time management strategies is all about simplifying how you work, getting tasks done a lot faster and doing it better.
By using time management hacks that work, you will have more time to do other things you enjoy, practice self-love and see more of an investment on what you are doing.
We also have amazing money managing tips you can follow but we wanted to focus on time management tips today.
Below, we will list a few of our favorite time management techniques to help you achieve better results.
But before we get started on our favorite time management hacks, we would love for you to join our growing Facebook group right here! And don't forget to follow us on Instagram as well!
We also wanted to take the opportunity to let you know that we use Affiliate links on some of our blog posts. This means that we could make a commission if you click on an affiliate link and purchase something. Please check out our full disclaimer and policy page here.
Effective Time Management Skills
Learning how to manage time wisely is a skill you are going to have to learn as well as to master if you want to be a successful female entrepreneur.
Having effective time management skills is a lot more than just time blocking and staying on schedule. It's about self-discipline and great management skills to achieve your goals in the time period you set.
And using a few time management hacks will help you tremendously.
Time Management Hacks To Use Today: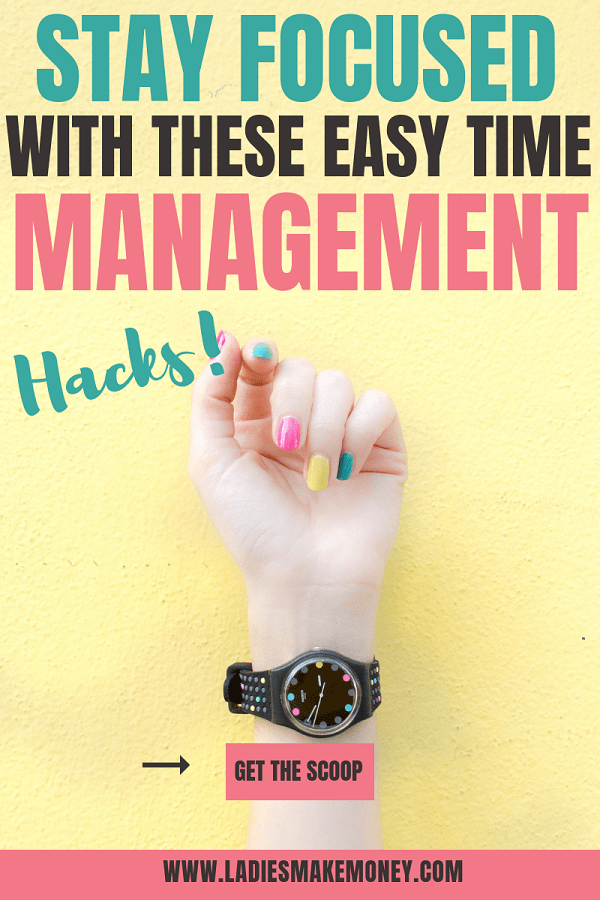 1//Use a to-do list
Let's take it back to time management basics.
When you have a lot of things to do, the best way to organize your tasks is to create a to-do list.
A to-do list is a perfect way to plan your entire day and make sure you do all the things you need to do without being overwhelmed.
A to-do list helps you to organize your tasks into a clear outline so that you'll enjoy a sense of accomplishment when you're done with each task.
The list also helps you to clarify your goals and push you to achieve them. However, not just any to-do list will work, you need to create an effective to-do list.
Here are few tips on how to create a perfect to-do list:
Break large tasks into small tasks. This is one of the most common time management hacks and tips that are given by well-established bloggers.

Every item on the list must be a specific goal.

Use to-do list applications like Asana, Wunderlist, and Trello to remind you of tasks you need to do.

Make soft and hard deadlines for tasks on your lists and ensure they are met.
By using these time management hacks, you will be much more accomplished by the end of the day.
2//Take Care of Yourself
Eat well, sleep well and exercise.
Don't just overwork yourself or you'll get sick. Sleep is a very important productivity tool that most people don't take note of.
To produce the best possible results, you need to be well-rested. The tasks you do when you're exhausted are usually low quality if compared to the ones you do when you've slept well.
You also need to eat healthily.
Avoid skipping meals no matter how busy you are. And don't depend on junk food. As a freelancer, you need to ensure that you take care of your emotional, mental and physical health so your work doesn't suffer for your negligence.
Related
10 Amazing Ways to get in Shape for Women if you Work from home
Crazy thoughts people have about those working from home
3//

Use Time Management Tools
You can use technology not just to track the time you spend on different tasks or to remind yourself of tasks you need to do but to do many other things as well.
This rule is also applicable to some other advanced writing and research service providers such as EssayOnTime.
These writers have embraced the use of time management tools to facilitate their service delivery. Who says you can't do the same?
You can use certain apps to restrict your access to social media until you've completed the tasks on your to-do list.
You can also use time management tools for automation such as Tailwind. All these time management hacks are helpful in making your life much easier.
There are many other time management tools a freelancer can use to manage tasks including social media accounts and the best way to do that is to use automation tools like CRM automation tools, Buffer or Hootsuite for social scheduling, email templates, automated emails, etc.
4//Avoid Distractions
There's always something you want to take five minutes to break to do while you're working on a task like watch a new YouTube video, responding to emails or text messages, visit your social media accounts and other distractions.
These distractions, especially when they're close to you while you're working can cause you to be very unproductive. In fact, you may find yourself procrastinating on things that need to be done for unimportant things.
To avoid distractions, you can utilize restrictive programs to restrict your web browsing capabilities or you can simply allocate some time every day for managing your social media, emails and other leisure you need to attend to.
Multitasking itself is a counterproductive method of distracting yourself so concentrate on completing the task at hand.
Time management hacks such as time blocking can also be effective. You can also use Bullet Journals to manage time more effectively.
Here are 17 stunning bullet journal ideas for beginners to help inspire you.
5//Take Small Breaks
Take breaks from your work.
Don't sit at your desk for long hours. Take five minutes breaks to stretch and take a sip of water and take food breaks as well.
It makes you more productive and gives you time to recharge while doing a task. It also prevents you from burning out before all your tasks are completed.
6//Outsource
You can't do everything by yourself and turning customers away is not good for your reputation and business. That is why we hope these time management hacks will help you reach your goals.
Instead of turning business away or doing it all alone, why not find another freelancer with more time on his/her hands and give out freelance projects or tasks.
This way, you won't be overwhelmed and you'll still provide quality work.
However, you have to be careful to choose only freelancers who are experts so you don't submit low quality work to your clients and lose them.
Related:
10 Ways a Virtual Assistant can Help you Make More Money
7//

Know when it's time to say no
There comes a time when although, a client is offering you good money, you just have to turn him/her aside, not because you can't perform his/her task but because you have no time to actually perform the task.
You're just really too busy and you either don't want to outsource or the freelancer you trusted enough to outsource jobs to is also busy.
If you don't learn to say no when needed, you'll find yourself being overwhelmed, missing deadlines, losing your clients and gaining a bad reputation.
Conclusion,
There are many time management hacks and tips on the internet but not all of them will work for you, therefore, you need to experiment so you can decide which tips work for you so you can stay focused on working hard to achieve your goals and dreams, which is the purpose of freelancing in the first place.
Do you have any time management hacks that you use that work well? We would love to hear from you. Tell us in the comments below.

Serena Dorf is an enthusiastic content writer. She is passionate about writing, personal development, psychology, and productivity. In her free time, she is reading classic American literature and learning Swedish. We are testing out these time management hacks and are loving it. Feel free to connect with her onTwitter.
Find more amazing Blogging and Entrepreneurship tips here!
If you enjoyed our blog we would like to have you join our email list and receive weekly money-making tips, you can join now! Don't forget to join our Private Facebook page. The page is created to share your work, pitch your services and learn from other experienced bloggers!
---
***We would like to note that this post and most posts on our blog may contain affiliate links. This means that if you purchase something that has an affiliate link, we will get a commission from it. Not all items recommended on our site are affiliate links. We only recommend items that we have used and tried. These items have brought us much success and we highly recommend them to you in order to be successful. Thank you for your trust!
7 Time Management Hacks Every Freelancer Should Know