Last Updated on December 11, 2020 by NandiNN
Catchy Blog Titles
You have your blog post crafted and written to perfection, but do you have a catchy blog title to go with it?
Let me say this, one of the most important parts of your perfect blog post is your blog title.
Some might say, without a catchy blog title, nothing matters at all!
Why is that?
A great title will definitely ensure that people see it in search engines and if it's catchy enough, they will click through and read your post.
A catchy blog title will also:
Get you more social sharing and clicks

It will quickly grab people's attention

It will spark curiosity

It will naturally connect with your readers

It will increase blog traffi

c
Do you see why we say a catchy blog title is a must?
It doesn't matter how awesome your blog post is, how well-researched your content is, or how many gorgeous images you use on the post itself.
All of that will matter if your readers do not click through to your post to read.
You are here today because you have the following questions:
What is a catchy headline?

Examples of catchy titles?

How do you write a good title?

Where to Find The Best Blog Title Ideas
Over the next 30 days, I invite you to join me in a blogging challenge to boost your blog growth.
You can get the full details below:

So how do you craft great blog post titles?
Before we get started on how come with a catchy blog title, we would love for you to join our growing Facebook group right here! Be sure to give us a quick follow on Instagram as well!
We also wanted to take the opportunity to let you know that we use Affiliate links on some of our blog posts. This means that we could make a commission if you click on an affiliate link and purchase something. Please check out our full disclaimer and policy page here.
How to write a catchy headline
Now that you know that the most important thing when it comes to catching your readers' attention is with your blog post title, how can you craft your best blog title?
This is also one of the most important on-page factors when it comes to SEO.
So if want to get a lot of free traffic from Google and all your favorite social media sites, you need to get good at crafting great blog post titles.
Professional bloggers spend at least an hour coming up with the best blog titles.
Don't rush it, instead find the time to come up with a great title for your blog post.
Even when creating my Pins, I spend a great amount of time coming up with Pinterest titles.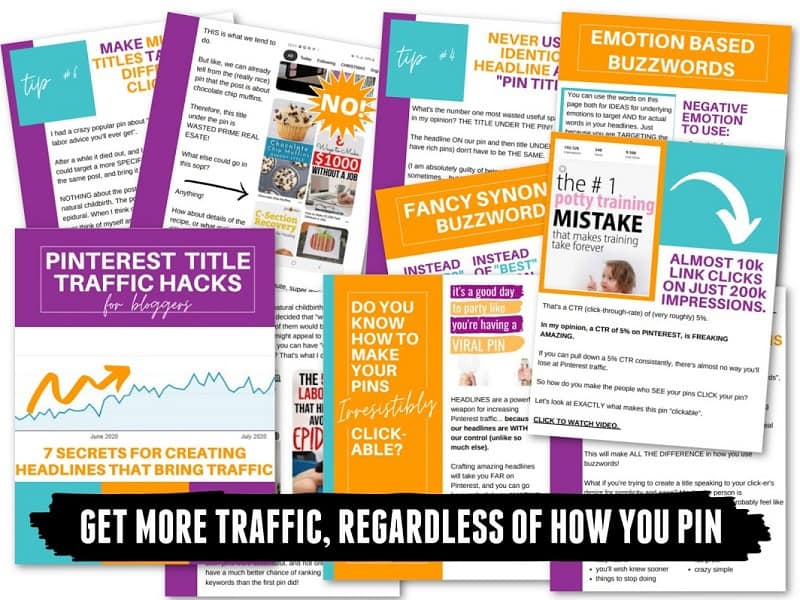 This goes to show that titles are just really important and not spending enough time crafting the best titles could break or make your post.
A great title can also contribute to you potentially having a viral post in your hands.
Viral posts or piece of content is one that has been liked, shared, commented on all over social media.
It can be a meme, an article, video, infographic, or quiz!
Most of these get shared due to their title and the curiosity it evokes.
Learning how to write a catchy headline can really break or make your post.
That is why it is really important to learn the steps needed to write a headline that will attract your ideal readers over and over.
This will ensure that you get consistent blog traffic to your new post over time.
We have plenty of blog title ideas you can steal below!
How do you write a catchy headline?
1. Start With Your Keyword
The key to a great blog post title is to find balance.
You want to come up with a title the search engines will absolutely love and one that your readers will find extremely interesting and engaging enough to make them want to click on it.
To ensure it all balances perfectly, I like to start with a keyword or key phrase that I want to rank for on Google.
Open up your favorite keyword research tool – like the KeySearch tool for all my keyword research for example – and I play around with it until you come up with the perfect keyword or key phrase I want to rank for.
Use (KSDISC for 20% off) if you are interested in the same keyword search tool as I use.
For the sake of showing you an example, let's say our keyword example is "best blog hosts" and the post will be a review of five of the best hosting companies for WordPress blogs.
"Best blog hosts" is the keyword we want to rank for in this example.
2. Make It Interesting
Now that we have our potential keyword picked out, it's time to make it interesting for our readers.
There are plenty of different ways to turn our example keyword into an interesting blog post title.
Here are just a few blog title ideas I quickly came up with:
The Three Best Blog Hosts Reviewed – Read This Before You Sign Up

Looking For a New Home for Your Blog? The Best Blog Hosts Reviewed

My Top 5 Best Blog Hosts Revealed – Here's Who I Recommend

Wondering Who The Best Blog Hosts Are?

Is Your Host One The Best of The Best Blog Hosts List?
Do you see how this works?
You definitely want to start with the keyword you have in mind and then try to think about why your readers would be looking for this information.
Focus on what's in it for them by sharing content that will help them out.
Take your time and come up with a good title.
It is really important that you not skip this step.
3. Stay Authentic and Stick With Your Style
Another way to come up with a catchy blog title is to stay authentic and stick with your own style.
This is particularly important if you are an established blogger.
Don't just copy and paste the blog post titles we listed above.
First, they are just examples and not truly researched, but they may also not reflect the style and tone of voice of your blog posts.
In other words, they may not be you and your readers may sense this.
That's why when I get guest posts, I tweak them to reflect my tone and a tone that my readers are used to.
It's important to balance the need for pleasing search engines to easily find what you're content is about, the need to keep things interesting for your readers, as well as using your own voice to bring it all together.
You may find it helpful to first write down a few different blog post titles and then chose the one that resonates most with you (and hopefully with your readers).
4. Pay attention to blog titles you love
Think about the different blog posts that you engage with.
Why do you love them?
Are the titles catch, funny and relatable to you?
Don't just look at blogs, think magazines, YouTube videos, Newspapers, and emails you see and receive.
The more you attempt to come up with great title headlines, the better you will get at it.
Make note of any blog post titles that you love and also note why you felt drawn to them.
5. Avoid using

Clickbait

Titles
Using clickbait to entice people is just so shady.
Please avoid this especially if you can not deliver what your title says.
I get completely irritated when I click on a post that was obviously clickbait and it offered little to no information in regards to its blog title.
Click baiting basically means the intentional act of over-promising or a misrepresentation — in a headline, on social media, in an image, or some combination!
It's just wrong and I suggest you stay away from using such tactics.
6. Practice Writing Catchy Blog Titles
I already told you that the more you write, the better you will get at it.
This is true for most things you want to get better at.
I came across this epic post where Justin Blackman challenged himself to write over 10,000 headlines over 100 days.
He definitely wrote more quality headlines the more he wrote.
You absolutely do not need to do that much.
For every post, you write, try to write 4 to 5 different variations and run it through a headline generator to grade it.
Ultimately, you can switch your blog title later on if it seems that it is not resonating with your readers.
Do not however update your URL if you do choose to switch up your blog title at a later time.
7. Use a headline generator to create blog titles
I find that when I tweak my titles after getting no clicks, I typically see an improvement.
Making your post title better and more actionable, can really improve your clicks.
For that, I use a headline generator to improve my chances.
Here are my top headline generators:
CoSchedule headline analyzer

Tweakyourbiz title generator

Thrive headline optimizer
You only have less than 3 seconds to capture your reader's attention, so make your blog titles worthwhile.
We hope you can now come up with creative blog titles!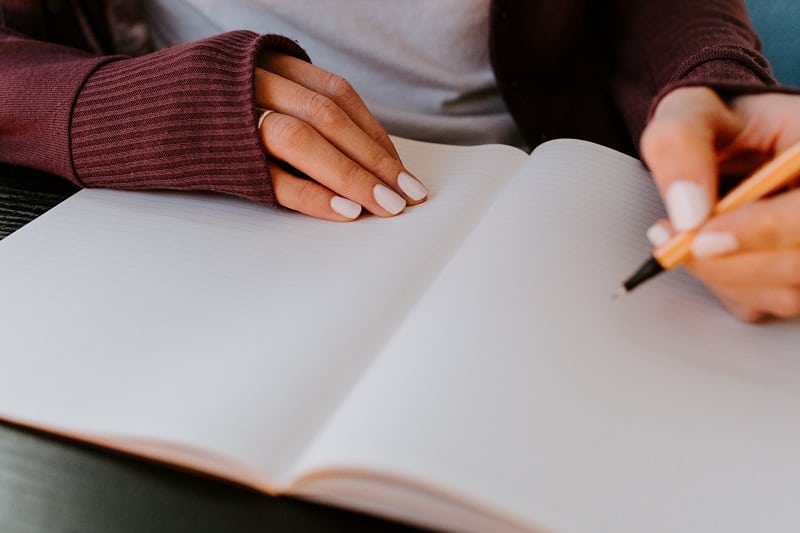 List of catchy titles for articles
I wanted to let you know that this is part of a 30-day blog challenge we are doing to increase traffic, sales, and email subscribers.
How to Create the Perfect _____ (Vision Board, Outfit for Christmas, Instagram Bio)

Get Rid Of _____ Once and For All! (Belly Fat, Dark Circles, Flies)

How To Own Your Next _____(Home, Car, Business)

[#] Ways To Master _____ (Self-discipline, Leadership Skills, Sales)

How to Double Your ____________ (Income without Leaving the House, money in a month,

[#] Lies You Can Avoid Telling Yourself_____________ (about money, about your health, about life)

Forget _____, Try This _____ (Forget these blogging tips, try this instead)
[#] _____ Guaranteed To Make Your _____ Easier (10 Quick Chicken Recipes Guaranteed to make your dinner time easier)
[#] Actionable Ways To _____ (10 Actionable ways to lose weight fast)
[#] Rookie Mistakes _____ Make (15 Rookie Mistakes New Bloggers Make, 8 Rookie Mistakes Instagram Models Make)
I bolded potential keywords you might work with.
I hope this list of catchy titles for articles, inspires you to come up with your own creative catchy blog titles.
Don't forget to use a good keyword research tool – like the KeySearch tool for all your keyword research!
If you have any comments on our list of catchy titles for articles, leave them below!
We want to hear from you.
We are here to help.
To join the series, you can learn more about it here:

If you enjoyed our blog we would like to have you join our email list and receive weekly money-making tips, you can join now! Don't forget to join our Private Facebook page. The page is created to share your work, pitch your services, and learn from other experienced bloggers!
---
***We would like to note that this post and most posts on our blog may contain affiliate links. This means that if you purchase something that has an affiliate link, we will get a commission from it. Not all items recommended on our site are affiliate links. We only recommend items that we have used and tried. These items have brought us much success and we highly recommend them to you in order to be successful. Thank you for your trust!
How Do You Come Up With A Catchy Blog Title? +10 Blog Titles Ideas