Make Money from Home in Canada
Looking for work-from-home jobs in Canada? Due to popular demand from my Canadian friends (PS this is a Canadian site), we wanted to show you the different ways on how to make extra money from home in Canada.
At the end of the day, working from home requires you to get creative and seek out opportunities. Now sit back while I sip my medium double-double and show you how to seek out work-from-home jobs in Canada. 
Before we get started on legit work-from-home jobs in Canada, we would love for you to like our growing Facebook page right here!  Be sure to follow us on Instagram here.
We also wanted to take the opportunity to let you know that we use Affiliate links on some of our blog posts. This means that we could make a commission if you click on an affiliate link and purchase something. Read our full disclosure and blog policy for more information. 
'
Finding opportunities for Work-from-home jobs in Canada
If you are looking to start a side hustle to earn extra money from home and you live in Canada, you need to seek out work opportunities.
People will pay for your services, but you need to go out and seek them, put yourself out there more and you can make great money working from home. 
As you know, the internet is full of different ways to make money from home, and we are going to show you a few ways you can make money from home if you live in Canada. 
Ready to make money from home in Canada? Here are a few legit online jobs in Canada that are worth your time. 
Also be sure to check out this list of different ways to make money on the side today! 
Teaching English from home
Wondering how to make money in Canada while working from home? Teach English online!
This popular job is an excellent way to earn a full-time income if you are looking for a stay at home job that pays well. We highly recommend this online job as a way to make extra money from home in Canada. 
You can make a good $12-$14 per hour all from the comfort of your home using this side job opportunity. We highly recommend finding your teaching opportunity via VIPKID.  VIPKID is a Canadian company that operates out of Toronto. 
You can learn more about teaching English online right here.
You might also like:
5 Reasons to get away from your desk job and start blogging
Mindset shifts every Solopreneurs needs to make to become successful 
Become a Virtual Assistant 
As a blogger, I use two Virtual Assistants to help run and manage my three blogs. I pay each one of them about a $150 each per month which is actually a negotiated rate. Most VAs charge $250 going up depending on projects. 
Virtual Assistant is the most recommended work-from-home jobs in Canada for those that are looking for flexibility and ways to make money on the side.
You can learn more about how to become a Virtual Assistant here. 
Related:
Learn How to start a Virtual Assistant Job from home 
Make extra money by renting out your home
If making extra money is just something you want to do, why not rent out part of your home, if you own a house? 
Airbnb is definitely the way to go and it is much safer than other sites. You can make as much as $1000 per month renting out the whole house for a few days. Or even an extra $300 by renting out a basement or a room for a weekend. 
You can find out how much you can potentially make right here. 
Work-from-home jobs in Canada – Lyft Driver?
If you have a car and some spare time, why not become a Lyft Driver. I am not sure where you are but they seem to have a shortfall of drivers in the Gatineau area.
The point is, you can turn your car into a money-making machine with Lyft. 
Don't be afraid to give it a try and see how it goes. As an independent contractor with Lyft, you've got freedom and flexibility to drive whenever you have time.
In fact, you can earn a $300 bonus after your first $100 rides!
Earn Money with Cash Backs 
Did you know that you can earn cash back and get paid via PayPal? A few companies in Canada that allow cash backs are OhmConnect (check out how this mom made $1200 with OhmConnect), you can also earn cash back with Ebates. 
Like I mentioned finding Work-From-Home Jobs in Canada doesn't necessarily mean working a day job, but finding jobs and opportunities to make extra money. 
Earn money by referring friends and Family
Earn money by referring friends and Family to your favorite stores and products is one of the best work-from-home jobs in Canada to have.
It is so easy to do and you can make so much money from this especially if you have a huge crowd. 
I have a whole post on referring friends here. If you are looking to refer Canadian companies and products, here are a few that come to mind (Groupon – earn $10.00 to refer a friend – refer 100 and make $1000.00. Ebates – make-up to $50.00 for referring two friends. Airbnb – get credit towards your next stay)
Get Paid for watching Videos Online
Still looking for work-from-home jobs in Canada that are easy to do on the side? Why not get paid to watch videos? 
It's so easy to get started with this side hustle. Select videos to watch on your computer, tablet, and even mobile phone with the Swagbucks TV app!
Related:
6 Stay at home jobs every Entrepreneur can start
12 Quick ways to make extra cash 
Get paid to shape up
This is the last of our work-from-home jobs in Canada suggestion in this series. Don't worry, we will come up with a few more guides, so be sure to keep checking back. 
If you one of those individuals looking to shape up, why not get paid to do so. The most recommended site that will pay you to lose weight is HealthyWage. The site allows you to place a wager on yourself and earn cash if you actually lose the weight. 
Up for a challenge? Sign up here.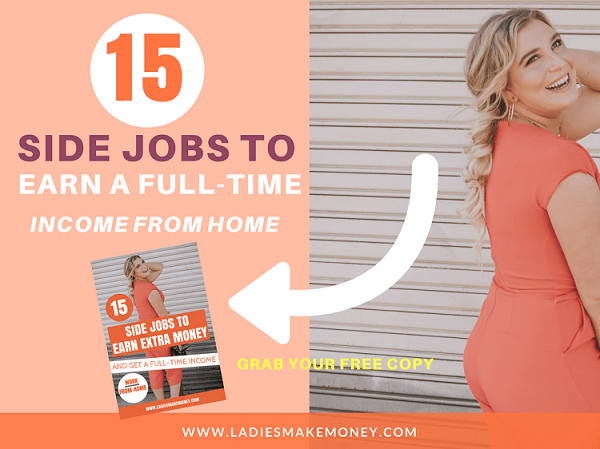 Now that we have given you an amazing list of work-from-jobs in Canada that can earn you extra money on the side, be sure to track it. You can now check your credit score for free through Borrowell. 
As you can see, with a little effort and findings, you can make money from home in Canada. Tell us a few different ways you make extra money from home. 
Don't forget to pin this post here to your work from home job board. 
If you enjoyed our blog we would like to have you join our email list and receive weekly money-making tips, you can join now! Don't forget to join our Private Facebook page. The page is created to share your work, pitch your services and learn from other experienced bloggers!
---
***We would like to note that this post and most posts on our blog may contain affiliate links. This means that if you purchase something that has an affiliate link, we will get a commission from it. Not all items recommended on our site are affiliate links. We only recommend items that we have used and tried. These items have brought us much success and we highly recommend them to you in order to be successful. Thank you for your trust!
8 Legitimate Places you can find Work-From-Home Jobs in Canada