Last Updated on November 7, 2017 by NandiNN
The colder months are approaching, which means that we now look out of the window and dread the commute ahead. There's nothing less fun than heading out into the rain to work for someone else for eight hours a day, so it's for that reason that you should get your creative hat on and start thinking of ways you can make some money for yourself from the warmth and comfort of home. The real question? What can you do from home that will make you some cash, be legitimate and mean that you can have some freedom with your time?
Before we get started, we would love for you to join our growing Facebook group right here! You can also join our Pinterest group by scrolling to the bottom of this page! If you are looking for guest blogging opportunities or if you need a personal affordable coach to take you from A-Z, we can help you. Get all the juicy details right here! Have you seen our brand new shop! 
We also wanted to take the opportunity to let you know that we use Affiliate links on some of our blog posts. This means that we could make a commission if you click on an affiliate link and purchase something. 
A lot of workplaces are moving toward a more remote way of working; it's the nature of the technological influences around us. We now have ways of communicating without the need to be sat together in the same meeting at the same time. No matter where you are around the globe, you can be reached by your employer. We all love the idea of working from home, but there's a choice as to whether you work for yourself by going freelance, you arrange flexi-working with your employer or whether you go the whole hog and start your own business. The choice is truly up to you, after all, you need to be the one to decide what to do with your time.
Earning money from the comfort of your own home isn't all putting your feet up with a hot coffee and working in your pajamas! It's hard work to stay motivated and stay on track when you're surrounded by your own things, but don't worry – you could learn to stay motivated when it comes to earning money from your own business idea. Starting with your own online business is always a good place, but it's going to take a lot of time, effort and sometimes money on your part to get it off the ground. You need to have a sound knowledge of the online world, social media marketing (hey, it's free!) and ecommerce if you plan to sell anything. We've got 5 creative ways you can get out there and start working for yourself, helping you to say goodbye to those long, cold commutes and starting on your way to financial freedom.
Become An Affiliate
You've heard of Amazon, right? Amazon is one of the biggest affiliate websites out there. Affiliate stores exist on the web so that people can purchase their items on a site, but through a third party – like Amazon. They sell products on behalf of other companies, and the popularity has absolutely soared. There are over one thousand affiliate programs that you can choose from, and you can work in your own time, build up more than one website and you can focus on the products you actually like.

Not sure how to rock affiliate marketing? Here is how to make sense of Affiliate Marketing.
You might also like: 
How to make money in affiliate marketing in 24 hours using Pinterest
How to earn a Full-time income with Affiliate Marketing
How to succeed as an Affiliate Marketer
Rent Out Property
If you are lucky enough to own or have the funds to invest in an overseas property or duplex, you could make this your income. You can rent out the property you own throughout the holiday season online and you could bring a management company on with you to manage the property while you are at home. This way, you could sort, clean and manage tenants without doing much. As you build up savings in the form of holiday rental, you could purchase another property and build an overseas property empire. Much better than the morning commute!
You can also check out Air BnB as one of the ways you can make money from home.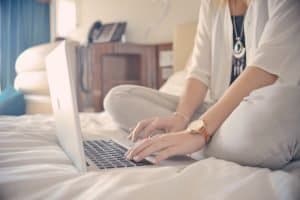 Start a Blogging as one of the ways you can make money from home
You don't have to be stuck on a subject, but if you have a voice and an opinion, you can write a blog. There are many easy platforms to get started with, and all you need is hosting and a web address. If you want to make some money from your blog, you can use AdSense, sell banner advertising, affiliate to other sites like Amazon and run special offers and even offer premium services. It's not hard to start a blog, but it can be difficult to keep yourself motivated to keep going with it! Don't let it fall by the wayside, though, as there is so much you can do with it.
eBay It!
If you have a passion for a particular product, you could start your own store on eBay. Selling isn't easy and there are a lot of rules and regulations that you will have as a seller. However, you can find your niche, purchase wholesale products and sell from there. The more you sell, the better your reviews and the more customers you get flying your way. You can import products for massive profit margins and if you stick to products that aren't branded at all, you can really get going with your new business.
See how this #bossbabe makes over $1000 from Amazon. Just a few more ways you can make money from home.
Mentor Others
Let's face it, if you've got the brain to get yourself up and running with a new business, then you've got something to offer to other people. There are hundreds of skills that you can learn for free over the internet, but you could teach a language, offer training in different marketing techniques, offer to help other bloggers learn where they could earn money once you're successful. There is so much you can do with the talent you have within you, and if you can impart that wisdom to others, you can go far with it.
You might also like: 
Working from home has both advantages and disadvantages, as with anything, but working for yourself gives you a freedom to explore who you could be without all the trappings of earning for someone else. We wouldn't suggest you quit your day job and start any of these straight away – it makes sense to start up on the side of what you do and carefully cultivate your own business until it becomes enough for you to live off. Once you've done that, you can tell your boss it's time to go, because you can make a success of yourself without the job you've been working in. Be smart and strong about your decision to work from home and believe in yourself.
If you enjoyed our blog we would like to have you join our email list and receive weekly money-making tips, you can join now! Don't forget to join our Private Facebook group. The page is created to share your work, pitch your services and learn from other experienced bloggers!
---
***We would like to note that this post and most posts on our blog may contain affiliate links. This means that if you purchase something that has an affiliate link, we will get a commission from it. Not all items recommended on our site are affiliate links. We only recommend items that we have used and tried. These items have brought us much success and we highly recommend them to you in order to be successful. Thank you for your trust!