Last Updated on July 21, 2019 by NandiNN
How To Make Money As A Student
Are you in college? Then you definitely need more money and we are to show you the different ways to make money as a student.
With loans, rents and other expenses beating at the door, the ability to make a little extra cash gives you a breath of fresh air. There are excellent opportunities for you to earn some cash without damaging your studies.
The following ideas don't require you to work more than 15 hours a week as opposed to part-time jobs.
A flexible schedule will allow you to stay focused on your studies and ensure you still get good grades.
You will also understand budgeting as you walk you through the process of tracking your income and spending. This is a great way to also adjust yourself and learn more about living on a tight budget.
Before we get started on ways to make money as a student, we did want you to follow us on Facebook for more awesome ideas on saving or making more money. You can also follow us on Instagram for more tips.
We also wanted to take the opportunity to let you know that we use Affiliate links on some of our blog posts. This means that we could make a commission if you click on an affiliate link and purchase something. Please check out our full disclaimer and policy page here.
How Can A Student Make Passive Income
One of the best ways to make money as a student is through passive income. If you are not sure what passive income is, you are going to love it.
Passive income is when you earn money passively with little effort required on your part.
In other words, you set it and forget it. It's almost like earning interest from investments you have made.
We wrote a whole post on the different ways to make money this way and if you are interested, you can steal all our passive income ideas right here.
How To Make Money In College Without A Job:
If you are looking for creative ways to make money while you are still in college, these 10 tips should help you a lot.
Do keep in mind you are going to college to get an education and making money as a student should not be your priority.
I understand you might need extra cash for miscellaneous items so this list can help you.
Read on to learn ten helpful ways to earn extra money.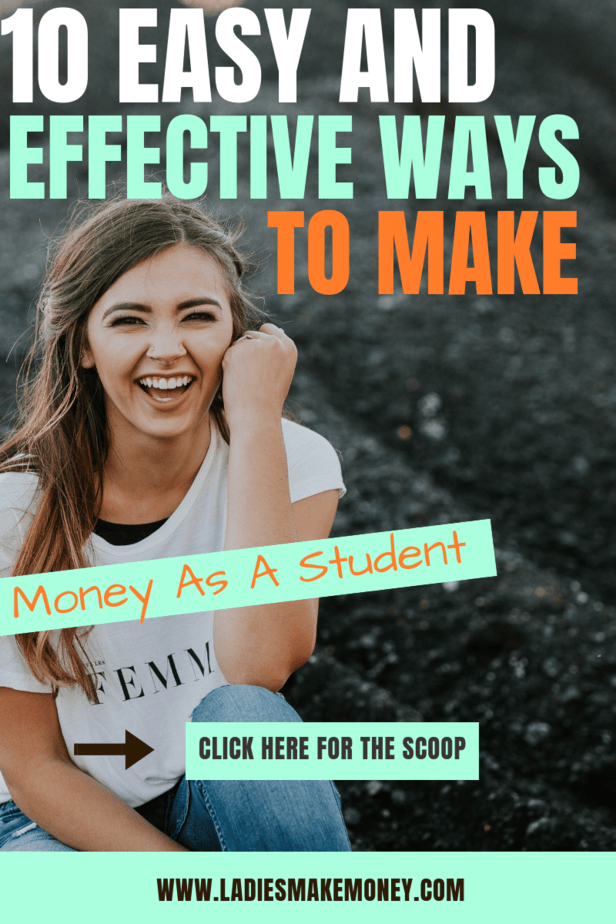 Ways to Make Money as a Student
Here are ten creative ways to make money as a student.
1// Selling Last Semester's Books
Do you have some old textbooks that you do not need for the coming year? Why not sell them for extra cash?
Your college bookstore is not the best place for that!
The cash redemption will be the lowest.
Instead, consider sites like Books Counter, WeBuyBooks.co.uk, Book Scouter, or sale sites like eBay and Amazon.
If you have some fiction books on your bookshelves, you can also turn them into dollars.
2// Freelance Writing
Does your professor praise you for the writing assignments?
Maybe it is time to get something more than good grades for your academic papers.
Essay writing service is a nice place to start.
Try to work as a writer or an editor.
Other areas where you can monetize your writing skills are blogs, websites, newspapers, and magazines. Just find your field of expertise.
Use these guides below to find more freelance writing jobs:
How to Paid to Blog and Write from Home
Sure-fire ways to Finding Freelance Writing Gigs that Pay Well
3// Starting a Blog
If you like the previous idea of freelance writing, think about blogging.
You will quickly create a portfolio for the prospective clients to see. In addition, it will give you a possibility to earn passive income from affiliate marketing.
Here is a short explanation of the latter.
A blogger adds an affiliate link to a product, visitors click on the link and go to the site where they may make a purchase. If they buy the product, the blogger gets a percentage.
The advantage of affiliate links is that they keep bringing you income as long as readers visit your site and follow the links.
If you want to know more about how you can turn your side hustle blog into a full-time successful business, this post won't disappoint.
4// Starting a YouTube Channel
They are so many ways college students can make money online. If writing is not your cup of tea, a Vlog is an alternative way to make online income.
Videos are more pervasive when it comes to marketing.
People can watch you play a video game, trying out a Face mask, or wearing your latest fashion.
Both the written blog and video blog should have many subscribers to bring in a steady income.
The most followed YouTubers make money by collaborating with brands to design unique products.
This has financial benefits for both bloggers and the business.
You can learn more about how to land $10, 000 worth of sponsored blog posts with brands here.
Related:
4 Kick-Ass Strategies to Make Money on YouTube
8 Well Paid Social Media Jobs for Social Media Lovers
5// Giving Campus Tours
Make money as a student by getting involved with the college. Many colleges offer guided campus tours.
Prospective students come to get an idea of campus life in a particular school.
Other visitors want to see the historic buildings or sites situated on the college's grounds.
Being your college tour guide is an easy way to make some extra money without a huge time commitment.
6// Selling Unnecessary Clothing
Don't want to wear that Zara leather Jacket you bought last fall anymore?
Or your late-night snacking causing your skinny jeans to lay in your wardrobe for months?
Find a new owner for them! List your clothing items for sale on eBay.
ThredUp can help you to get rid of the garments you are tired of.
They accept good brands that are slightly worn.
So, filter your closet.
7// Becoming a Handyman
Have you ever mowed lawns, fixed leaky faucets or painted bedrooms?
This experience may come in handy to you now. Visit TaskRabbit.
People use this site to find someone who can help them with moving, home repair, yard work, and other tasks. There's always someone in the local community who needs a pair of extra hands.
It can be a one-time chore that can help you pay for your Saturday night out.
8// Tutoring
If you're in college and you are looking for ways to make money as a student, the chances are that you have good knowledge of certain subjects.
You can help a high-school student to learn Chemistry catch up in Maths, Biology, or Foreign Language. Use tutoring websites to advertise your services online.
Payment starts at $10 per hour.
If you show academic strength in your college subject, then offer help to your peers. Explain lecture materials. Help in paper writing or other homework.
9// Taking Care of Pets
If you adore dogs, then pet-sitting or dog walking is the right job for you.
As a pet sitter, you will care for the animals while their owners are away, either for one day or for more extended periods.
It involves playing with dogs, feeding and brushing them, and driving them to vets and grooming appointments. People can also ask you to clean up, water plants, or bring in newspapers and mail.
These additional tasks just mean additional money for you.
Dog walkers take doggies out, either individually or in small groups.
If there're any pups in your neighborhood that need to be walked, you could gather them together at the same time. Apps like DogVacay and BarknBorrow can connect with those who might want your services.
Make money fast today by becoming a dog walker!
10// Becoming a Graphic Designer
The big part of the graphic design business is developing website graphics and logos.
There's a high demand for such services. As well as the competition. But it's also possible to earn a good income by designing business cards, eBook covers, wall art, personalized gifts, t-shirts, and product packaging.
Use 99 Designs and Café Press to find individual clients and companies looking for a skilled designer.
It can become a full-time job in the future. If you start now, you'll have an impressive portfolio after graduation.
These ideas don't take a significant amount of time, effort, resources, or money investments.
But they can give you more than some extra bucks.
It's the opportunity to assess your abilities in a particular sphere and your entrepreneur potential. Each of these options can be developed into a successful start-up.
You can end up having a textbook store, providing city tours with local guides, or running a cleaning service.
Be sure to check out our other post where we share 15 online jobs for college students that make good money.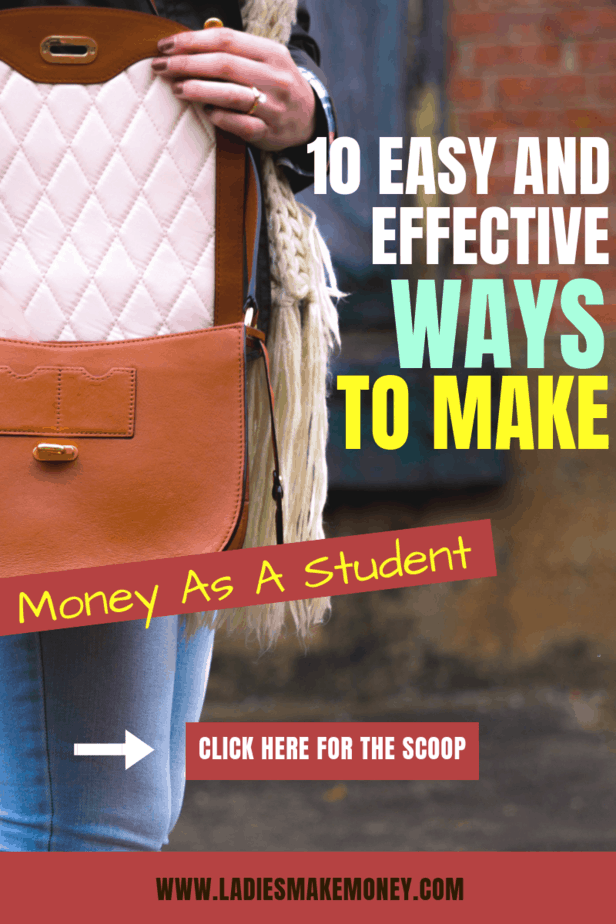 Find more ways to make money as a student right here!
If you enjoyed our blog we would like to have you join our email list and receive weekly money-making tips, you can join now! Don't forget to like the Facebook page. The page is created to share your work, pitch your services and learn from other experienced bloggers!
---
***We would like to note that this post and most posts on our blog may contain affiliate links. This means that if you purchase something that has an affiliate link, we will get a commission from it. Not all items recommended on our site are affiliate links. We only recommend items that we have used and tried. These items have brought us much success and we highly recommend them to you in order to be successful. Thank you for your trust!
10 Easy and Effective Ways to Make Money as a Student