Last Updated on April 24, 2019 by NandiNN
Steps For Buying Your First Home
Calling all first time home buyers!
If you're getting ready to buy a first home, congratulations! You are officially a first time home buyer!
The right choices can save you money, so get the information you need to be financially savvy on this journey. A house will probably be your biggest purchase, so why not take every opportunity?
Real estate investing is probably the best investing option you will ever do in your life and if you have outweighed your option on renting vs owning then this post is for you.
We highly encourage all first time home buyers to do as much research as possible before making that jump and purchase.
What Qualifies You As A First Time Home Buyer?
As the title suggest, a first time home buyer is any person or people that have never owned a home before. Some states and or countries have a limit as what would qualify you as first time home buyer.
For example, if you or your partner have not lived in a qualifying property owned by you for at least for years.
This means you will be considered as first time home buyers and you will get all the perks that come with it. Before you go out and make your big purchase, be aware of certain things.
So what exactly should you know as first time home buyers?
Before we get started on best tips for first time home buyers, we did want you to follow us on Facebook for more awesome ideas on saving or making more money. You can also follow us on Instagram for more tips.
We also wanted to take the opportunity to let you know that we use Affiliate links on some of our blog posts. This means that we could make a commission if you click on an affiliate link and purchase something. Read our full disclosure and blog policy for more information.
Tips for First Time Home Buyers
If you are considering buying a home for investment purposes or just because you want to be a home owner, they are few highly suggested things you must do to prepare yourself.
Buying a home should be the most exciting thing in your life and understanding exactly what is involved will save you a lot of silly and costly mistakes later.
To help you as a first time home buyer, we have listed a few tips that you can follow that will lead you in the right track of purchasing your dream home.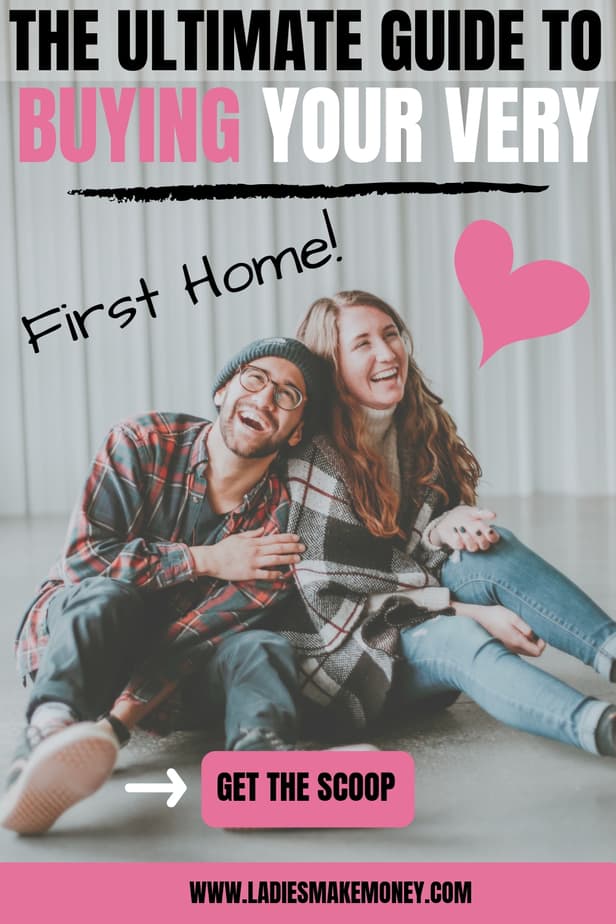 1// Review Your Credit Score And Credit Report
Before you think about purchasing a new home, as a first time home home buyer, I suggest that you look into your credit score and repair anything that is out of date.
This will give you more changes of getting pre approved once you start shopping around. Definitely use a service platform like Credit Karma or Credit Sesame to see what need to fix as well as update. If you are in Canada, you can use a company like Borrowell!
There is nothing worse than looking for new homes or applying if you have bad credit.
If your credit is bad, try to fix by doing simple things like, reducing your debt, paying off debt that you are carrying as fast as you can is always a good idea and keep low debt to income ratio.
What credit score do you need to buy a house for the first time?
There is no set number, but the higher and the better your credit score the better. Most places require you have a credit score of at least more than 500. 700 is definitely better, but the more the better.
Ultimately as first time home buyers, they will be looking at:
Your payment history

Length of credit history

Number of accounts you have

Ratio of your debt to income

The number of creditors you have

Absolutely avoid taking out new loans
2// Smart Things to Know Before You Look for a House
There's research to do as a first time home buyer that will help you feel confident in your decisions and process.
Study the local real estate market where you're looking. Learn what houses comparable to ones you might want have sold for recently. That's important context to have when you start home shopping.
Know for sure what is financially realistic for you. Who wants to fall in love with a house they later find they can't afford? Get pre-approved for a mortgage, and shop around different lenders. Consult with several to see who offers you the best number.
Find out what type of mortgage is best for you. Are you eligible for VA, USDA, or other government-subsidized loans with lower rates?
If you are using a traditional lender instead, is a 15-year or a 30-year mortgage the better choice to save money in the long-run? Don't be afraid to ask questions.
3// Keep Your Monthly Income In Mind
Base your mortgage decisions on your income now, not what you project it will be. Otherwise, you run the risk of too-high payments that lead you into costly debt. Your house should require no more than 30% of your monthly income.
If you wind up getting that promotion and can pay more on your mortgage, you're ahead!
Find out all the costs of buying and moving in advance for first time home buyers. For example, know what to expect at closing.
You will need to pay for a home inspection, 1-8% of the purchase price in closing costs, for movers, and perhaps new HOA fees. No one likes unpleasant surprises.
4// Smart Things to Do to Save Money
Increase your credit score as much as possible beforehand by paying down card balances and not taking on any new debt. The better your credit, the better your pre-approval numbers.
Have, even if it takes time and planning, at least 20% for the down payment. It will save substantial money on mortgage payments/interest over the years. Go with no-risk savings options: as tempting as high-risk, high-yield investments may look, this is not money you can lose.
It has to be available when you need it.
Look for ways to cut spending, even if you are living on a tight budget. Little things like meals out and lattes do add up, so try to put this money toward your savings instead.
Consider postponing things like vacations or splurges to get you to your home goals faster.
Earn some extra money to save; you're investing in your future. Take on another job, or explore ways to make money online by working at home, answering marketing surveys, or selling things you don't want to pack on eBay or other sites.
The bottom line is that the more funds you have at the ready for your new home, the more money you will save long-term.
You may even have some to invest in home improvements, so you can someday sell for more. Know what you need to know to make the smartest decisions for you!
Open a savings account where you automate your savings. Use a great app like Trim to help you with your savings!
5// Work With A Local Real Estate Agent
As a first time home buyer, we suggest that you work with a successful local real estate agent. They have a reliable source of knowledge and good advice.
They have the experience to see savings where you might not, and the negotiating expertise to get you that better deal. Check out the top realtors in your area.
Real Estate agents will recommend places that have great value based on what you are approved on and what you have on your first home wish list.
Ensure your agent knows your ideal budget and he is able to work with that. As first time home buyers, you may be tempted to buy every shiny object you see, but it is crucial you stay within your budget.
6// How Much do You Need For A Down Payment
Please note if you are buying a home for the first time, you need to make a down payment. This is all part of the process!
A Down payment is the amount of money that you put towards the purchase of a home.
When I bought my first home a couple of years ago with my mom, we were told to put 20% down towards the down payment of our home. 20% is a common amount they require from you.
If you can put more than the 20% towards your down payment, kudos for you and I would absolutely recommend that you do.
Depending on where you are, you can get away with a much lower down payment for your home. But if there is one personal finance tip that you must use, it is to pay up front as much as you can!
If you can find ways to come up with the money, do it. We have a few suggestions below.
7// Increase Your Income with Side Jobs
Even though you may be pre-approved or even may have secured a loan, it is always a good idea to have a good chunk of change that you can give as a down payment.
As first time home buyers, having low debt even though the debt is good in terms of investing, try to not have to much.
They are number of ways you can make extra money to put towards your down payment and or towards your mortgage. Here are favorite ways:
8// Get A Pre-Approved loan for your purchase
Now that you have taken all the steps we have suggested such a fixing your credit score, saving money, paying off debt and everything else on this list, it's time to get pre-approved for a loan.
By taking all the necessary steps required for purchasing a new home, your pre-approval process should go fairly well.
Don't confuse pre-qualification with pre-approval. Sometimes filling in a form online will give you an estimate of what you could qualify for if you decide to buy a home.
Pre- approval is more of a form process where you actually submitting documents such as:
Your proof of income

Employment letters and recommendations

Proof of ID

Your social insurance numbers
This is when a credit check will also be done to view your credit and see if you are eligible for a loan.
Read this: 5 Smart ways to use a personal loan without stressing
9// Choose the Right Home
As first time home buyers, buying a home can be stressful. Be sure the home you choose works for you. Think about long term perspective.
Go to a few open houses, look online and do a bit of research all with the help of you agent off course.
Decide on the type of home you would like, such a Condo, town house, detached house etc! What type of home would work for you?
Apart from this, ensure you have a checklist of what you want in a home.
For example ensure the neighborhood you are buying your new home is a great neighborhood and that the value of homes are in great shape. This is just to ensure you can re-sale if you circumstances change in the future.
If you do not already have kids, make sure they are good schools around.
10// Make An Offer On your New Home
Now that you have found the perfect home, why not make an offer? Definitely use an agent to help with this process especially if they are multiple people look at the same house.
They are better negotiators and can help you secure the home. The offer part of buying a home is the toughest one especially if you have your heart set on a house. I highly suggest you have a few houses in mind before settling on one.
Once the process goes through, all the legal items are taken care off, you close the deal, you now have a home to move in to as well as to call your own!
If you are first time home buyers that are thinking to buy your a new home, we would love to hear from you. And if you have already purchased a home, we want to here your process below!
You might also like:
10 Ways to save money each month and cut off debt
How to save (or make) an extra $500 per month
Saving for an Investment Property – 9 Actionable tips
Find more amazing Lifestyle Stories here!
If you enjoyed our blog we would like to have you join our email list and receive weekly money-making tips, you can join now! Don't forget to join our Private Facebook page. The page is created to share your work, pitch your services and learn from other experienced bloggers!
---
***We would like to note that this post and most posts on our blog may contain affiliate links. This means that if you purchase something that has an affiliate link, we will get a commission from it. Not all items recommended on our site are affiliate links. We only recommend items that we have used and tried. These items have brought us much success and we highly recommend them to you in order to be successful. Thank you for your trust!
First Time Home Buyers – Tips On Saving Money For Your First Home