Last Updated on August 26, 2021 by NandiNN
Positive affirmations for entrepreneurs
The real key to my success is believing, hard work and using affirmations for female entrepreneurs to help motivate me daily.
I also really enjoy motivating and inspiring other female entrepreneurs in my life.
You are more than welcome to read my last blog post to find out exactly how I motivate women daily.
And every once in a while, I too need a little motivation to keep pushing through.
By using affirmations for female entrepreneurs, I can instantly boost my energy and get back on track doing what is important for me.
I am a total believer in affirmations and I use them frequently in my life both personally and professionally.
Affirmations are basically the action or process of affirming something you believe in until it comes to pass.
You can use positive affirmations to get a job or simply use affirmations for confidence.
You really just need to believe in what you are affirming for it to come to life.
These are a few affirmations for success I have personally used over the years:
As you can see, I truly believe in affirmations.
And that is because they truly work.
And with that in mind, I will be sharing a few affirmations for female entrepreneurs that you can personally use to up-level your own business and personal life.
Whether you are a new entrepreneur on the scene or you have been running your online business for years, these affirmations for success in business will motivate you further.
The more confident you are, the more successful you will become.
I created a great list of affirmations for businesswomen that you can use below.
And read this to learn more about how to make affirmations work faster!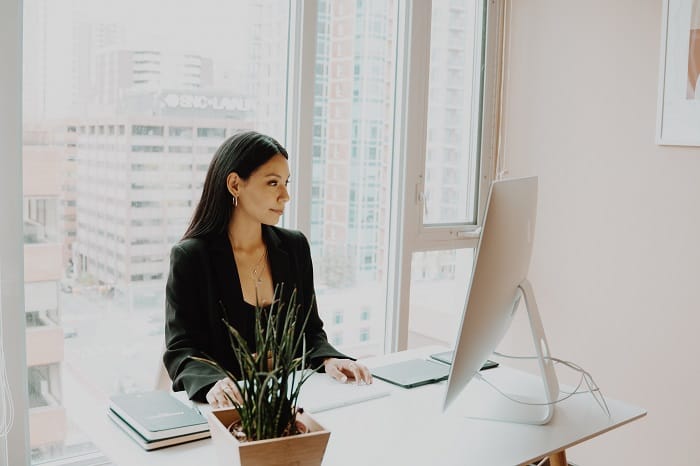 So what are the top affirmations for business success?
Before we get started on the list of affirmations for female entrepreneurs, we would love for you to like our growing Facebook page right here! Be sure to give us a quick follow on Instagram as well!
We also wanted to take the opportunity to let you know that we use Affiliate links on some of our blog posts. This means that we could make a commission if you click on an affiliate link and purchase something. Please check out our full disclaimer and policy page here.
Wealth and success affirmations
You might be here for a few different reasons.
Maybe you need to feel motivated as things might not have been going well for you.
Or maybe you just need new ideas to grow your business as you have tried everything else.
Either way, today I will be sharing:
A list of affirmations for entrepreneurs to use to grow their own business

Motivational affirmations for female entrepreneurs worth saying out loud

Powerful affirmations for success that work
If you are ready to grow your business using affirmations, then let's get started.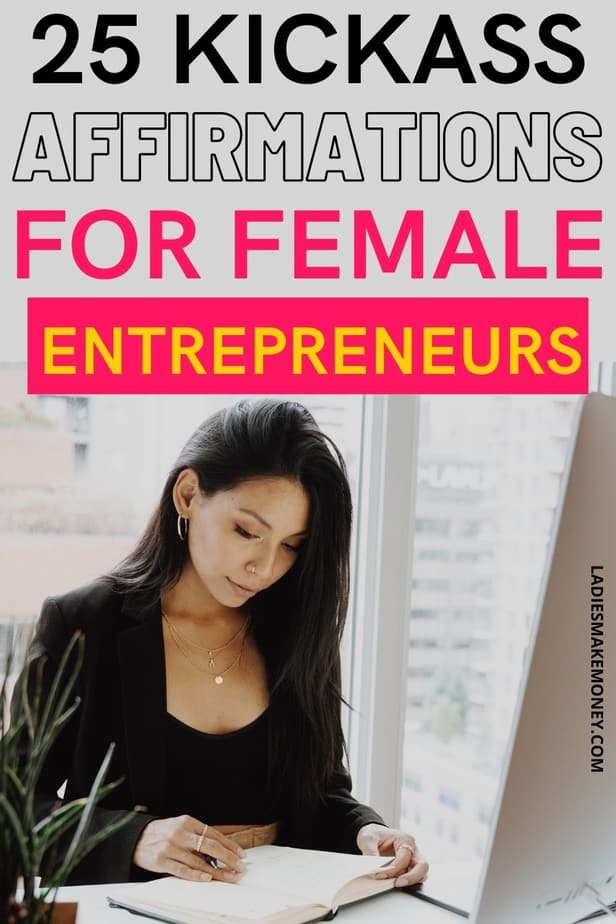 Daily affirmations for entrepreneurs
I use these positive affirmations for entrepreneurs daily to manifest my dream life.
I was born to be an entrepreneur and doing everything I can to become successful is something I dream and work hard on every single day.
I have personally used these affirmations for entrepreneurs and my Dream Business Plan to land what I now call, my dream job.
Success and achievement naturally come to me

I get to create my own definition of success

Being my

own boss is a responsibility that I handle with care

There's no need to do it all

I do not worry about the things I cannot control

My income grows daily by me doing the things I love and enjoy doing

I enjoy multiple streams of income

I celebrate every dollar that comes into my life and business

My dream clients always show up easily and effortlessly

A successful businesswoman lives within me, and today that woman is running my business

I will make tomorrow better because of what I learned today

Every day I am a step closer to reaching my goal

I feel strong, excited, and powerful

New opportunities come easily to me

I am living my life in a way that will help me achieve my goals

My business dreams align with my core values

I don't wait for opportunities to come to me, I create opportunities

My business is set up for massive success and growth

I am confident in my ability to learn new skills.

I invest in myself and in my business every day

If Plan A doesn't work, there are 25 more letters in the alphabet

When I fail at one thing, I am one step closer to success

I am clear about my goals, and I know I will accomplish them

I feel empowered by other entrepreneurs who show me what is possible for me

I make a positive impact in what I do
And there you have it, a list of affirmations for female entrepreneurs to use on a daily basis.
I hope you use them daily to help you become the best entrepreneur YOU can be.
Positive affirmations for success and wealth are the main key to my own personal success.
And if you haven't signed up for exclusive job and career opportunities to be sent straight to your email, do so right now.
It's is completely free.
You can sign up right here.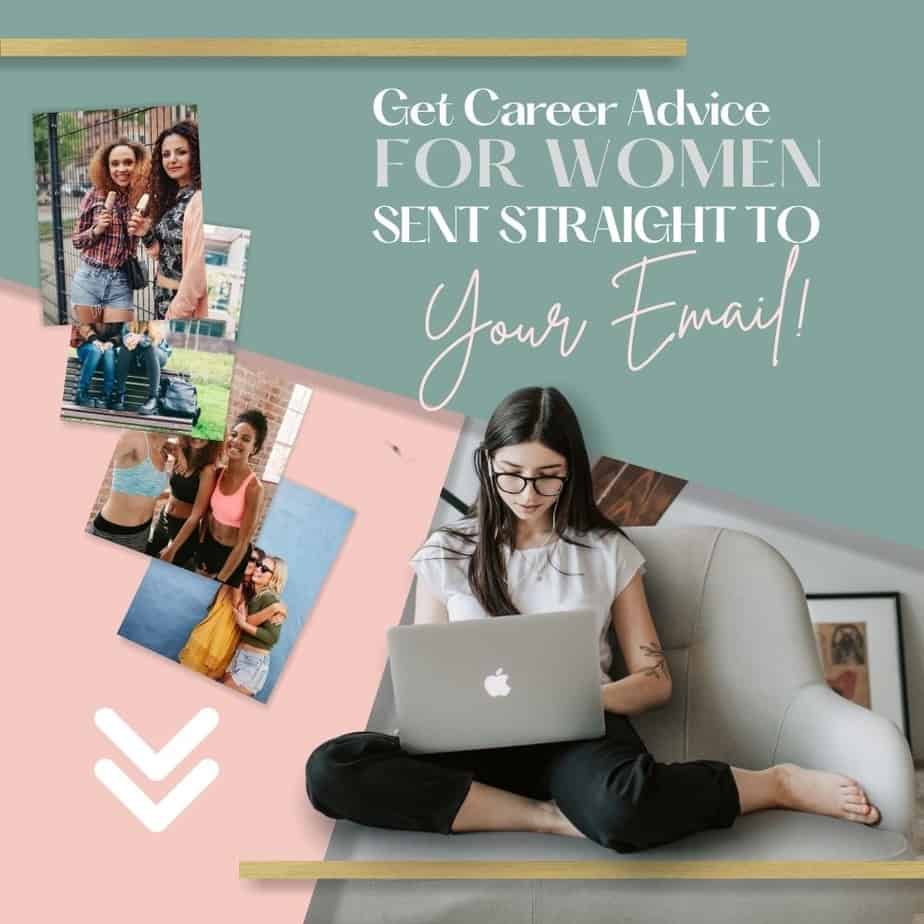 How to Use These Clever Affirmations for Female Entrepreneurs
If you have never manifested before, all you need to do is to write, speak, sing, or shout out the affirmations that you relate to the most.
You can even do them all (let's say one a day).
Whatever works for you.
I suggest working with one affirmation at a time by saying it, writing or whatever method you chose.
When you affirm something, receive and believe in your words.
I usually do this in the shower, first thing in the morning to ensure I get started on the right foot.
You can also have these written on a sticky note and put beside your workstation.
The more you say it, the more you believe, the harder you work and it will definitely come to pass.
And simply repeat these affirmations for business growth every single day until you become successful.
What if you don't have a business?
I suggest working on a plan for finding that dream career and work on it.
I have personally used this exact business plan multiple times to land my dream career and business not once but twice.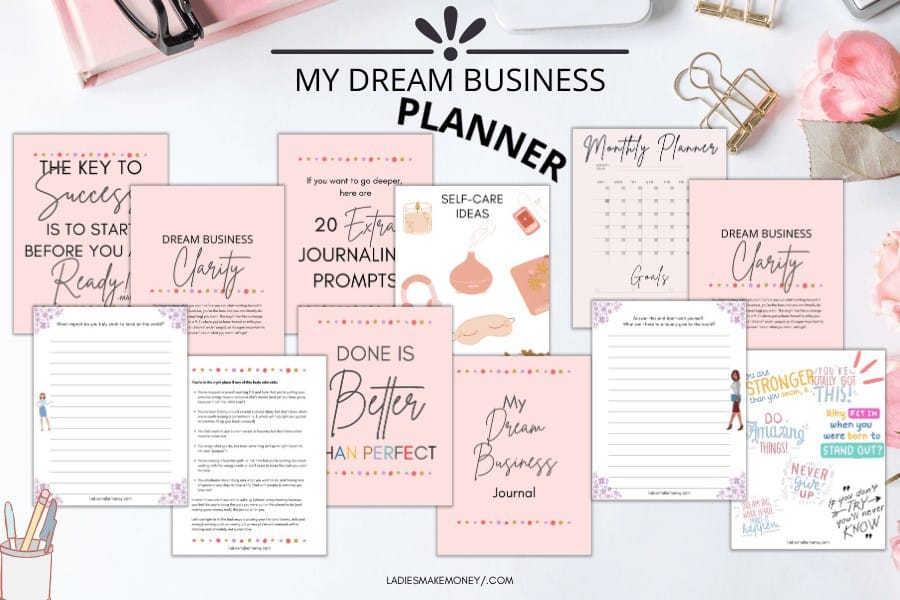 I hope you enjoyed reading my list of positive affirmations for entrepreneurs!
I encourage you to make positive affirmations part of your daily routine.
This will help frame your mindset to become more positive and you will generally feel better about what you do.
Positive affirmations for business success have helped me be successful in all I do business-wise.
Which of these positive affirmations for success and wealth did you resonate with the most?
Tell us in the comment section below.
Find more amazing Finance and Career Tips Here!
Read next: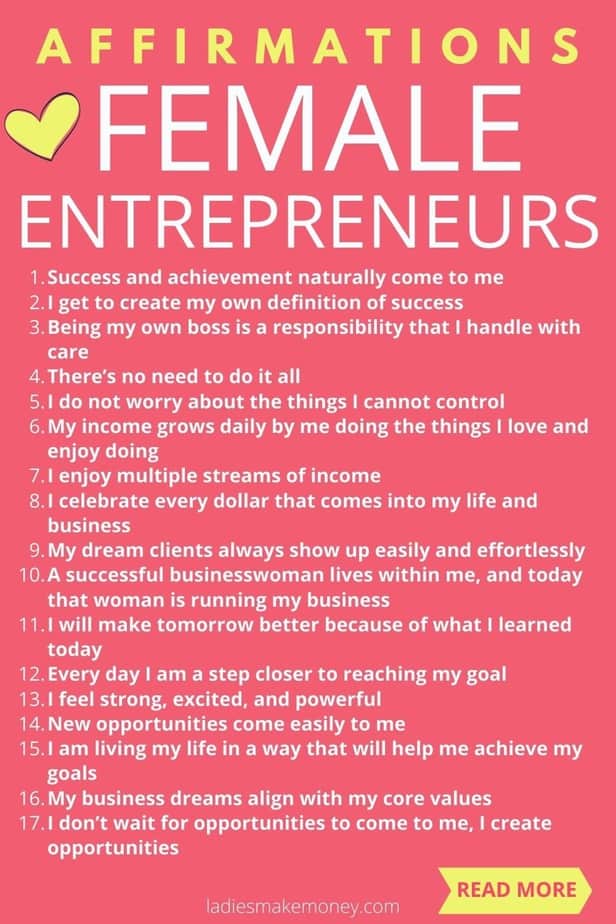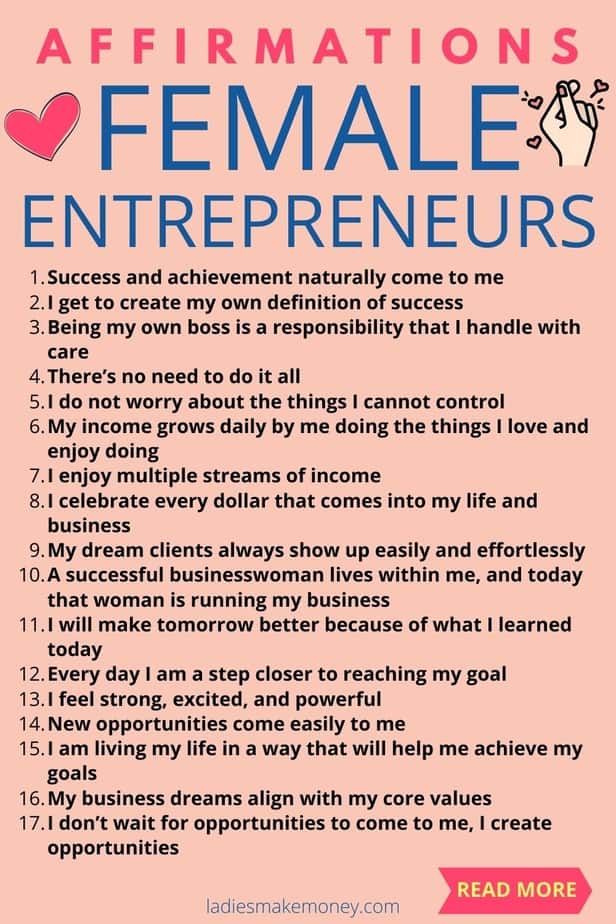 If you enjoyed our blog we would like to have you join our email list and receive weekly money-making tips, you can join now! Don't forget to join our Private Facebook page. The page is created to share your work, pitch your services, and learn from other experienced bloggers!
---
***We would like to note that this post and most posts on our blog may contain affiliate links. This means that if you purchase something that has an affiliate link, we will get a commission from it. Not all items recommended on our site are affiliate links. We only recommend items that we have used and tried. These items have brought us much success and we highly recommend them to you in order to be successful. Thank you for your trust!
25 Affirmations For Female Entrepreneurs To Help Motivate You