Sharing is caring!
Last Updated on March 8, 2021 by NandiNN
Bullet Journal Habit Tracker Ideas
If you are looking for a great habit tracker bullet journal for yourself, you are just going to love this post.
I fell in love with bullet journals a few years ago and at the end of last year, I got into habit trackers and I have not looked back.
I specifically fell in love with the simple fact that it got me into a much better routine to run my business day-to-day.
With so much to remember and do, I knew a habit tracker would be perfect for first getting me into the habit of doing things and second, I would be able to track how much I had accomplished.
But finding the perfect bullet journal tracker was a bit hard.
I remember going through thousands and upon thousands of bullet journal trackers to finally land on three that I loved.
Today I am going to share a few bullet journal tracker ideas I came across!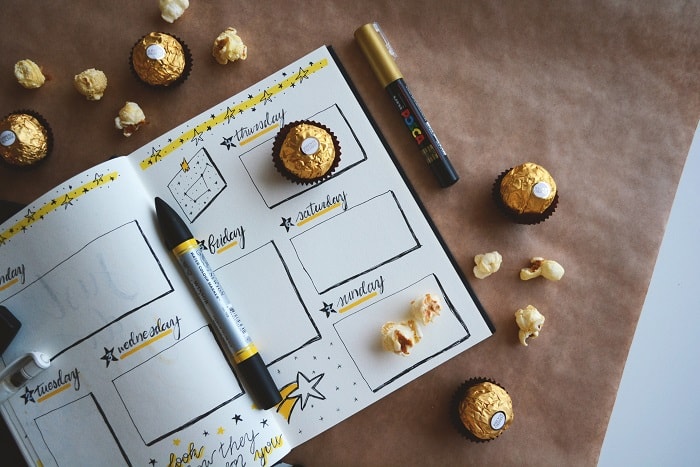 Having a habit tracker bullet journal has completely changed my life.
Especially now that I use it more, I make it habit to check my journal before I do anything, and I no longer feel like I am all over the place trying to get everything done.
It was a big habit to adjust, but it has done me wonders.
Today we will be looking and focusing on the following things:
What should I put in my habit tracker?
How do you create a habit Journal?
What is a Bullet Journal habit tracker?
By the time we finish today, you will be asking yourself the same questions I did when I discovered a bujo habit tracker:
Where was this my whole life?
To be perfectly honest, I knew about habit trackers before, I just did not make the effort required to either use one or to even use one properly.
But once I got into the routine, there was no going back and no one is taking that away from me 🙂
I honestly just wanted to find the best habit journal for my needs.
Ready to learn more about bullet journal habit trackers?
Before we get started on the best habit tracker bullet journal ideas, we did want you to follow us on Facebook for more awesome ideas on saving or making more money. You can also follow us on Instagram for more tips.
We also wanted to take the opportunity to let you know that we use Affiliate links on some of our blog posts. This means that we could make a commission if you click on an affiliate link and purchase something. Please check out our full disclaimer and policy page here.
So what is a bullet journal habit tracker?
For me, a bujo habit tracker is a journal, or a tool if you will, or a customized printable you can use to write down everything you want to do with deadlines so you can better manage your to-do list.
It will help you track and manage your habits, see where your time is being spent and what you need to adjust to get things to do more efficiently.
It helps me be more accountable by knowing everything I need to do in terms of big milestones or deadlines.
They are so many ways you can keep track of your habits or tasks.
For example, you can consider how you want your habit tracker to be laid out.
A habit tracker layout:
You can lay it out in such a way that you keep track of your habit, for example, what you eat daily or many physical activities you did in a day/month

You can have it track your daily habits so you know where you are wasting time

I use it to track my business activities to keep me accountable
You should also consider the different types of ways to track habits. For example:
You can use a monthly habit tracker

You can also use a weekly habit tracker

You can even use a daily habit tracker
I use a monthly habit tracker as this works perfectly for me. But you might find that a daily habit tracker is more beneficial to you than a monthly one.
I did a lot of research, I even tried out a few habit bujos and finally landed on a few monthly trackers that I could work with properly.
If you are eager to find the best habit journal.
What do you track in a habit tracker bullet journal?
If you are thinking of starting your bujo habit tracker, but you are not sure what you will use it for, no need to stress.
Honestly, a tracker is one of the best things to grab for anyone that is trying to improve productivity!
Keep in mind that you can track anything you want.
Here are over 15 of the best habit tracker ideas for you:
Exercise (Get paid to lose weight)

Blood pressure (in my case – yes I am young, but I suffer from it)

Calorie intake

Project tracking (e.g. home renovations, room renovations)

Bill tracker

Business tracker – For it's my blog (Start your blog today using these tips)
Tracking Money Affirmations/ Daily affirmations

No money spent tracking

Steps (I religiously count my steps)

Medication / Birth control

Ovulating (I see you – all those trying to make babies, I am right there with you)

Household chose

Meal Planning

Decluttering projects

Sleeping habits
And there you have it, a list of great habit tracker ideas you can use to start your very own habit tracker bullet journal.
Of course, they are so many other habit trackers you can do, but this is a great start for those that are just beginning.
The Best Habit Tracker Bullet Journal Ideas:
Here are a few of our favourite habit trackers.
Be sure to click over, download and use any of the free habit trackers below.
We recommend trackers from the best bloggers, and I can tell you, they have done an amazing job in putting them together.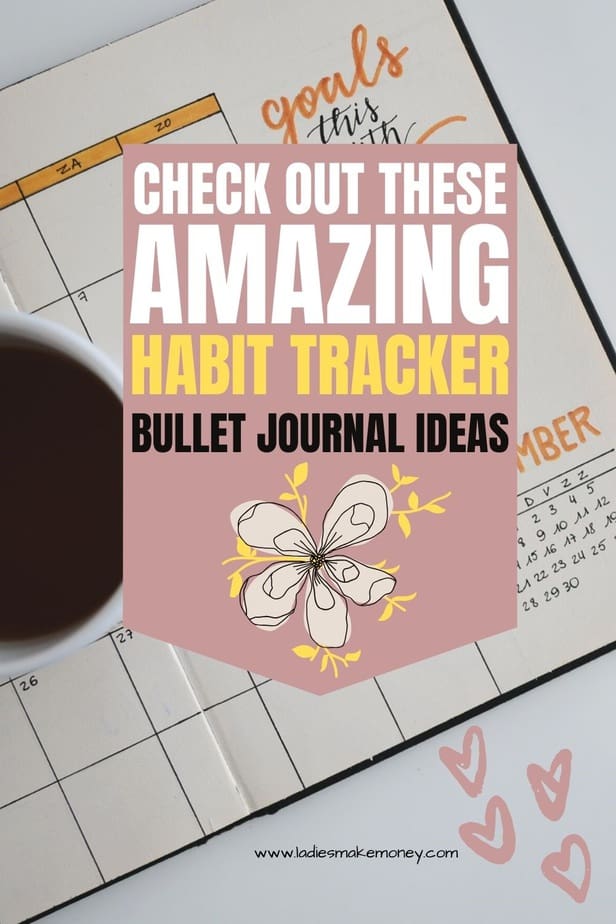 1. Health Habit Tracker
If you are looking for a healthy habit tracker to keep track of your eating habits, then this one is perfect for you.
This journal is perfect for tracking habits that you may not have been aware of.
As you can see, bullet journaling can be great.
This one is from @sublimereflection.coaching!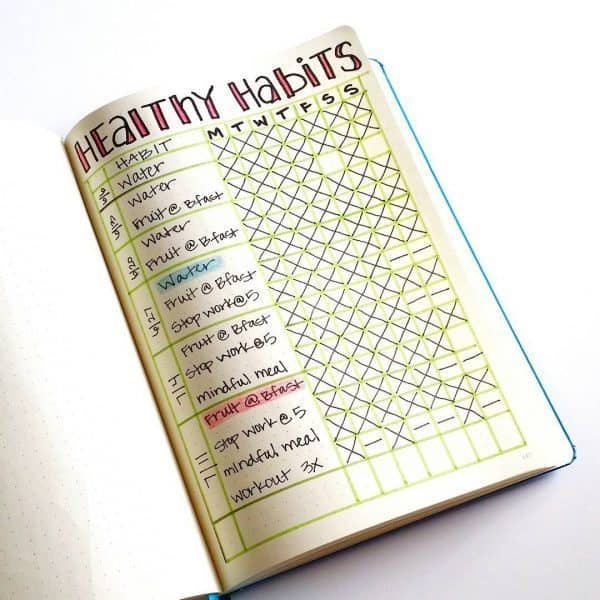 2. Sleep Habit Tracker
If you have difficulties sleeping or you just need to track your sleep habits, this bullet journal tracker is perfect for you.
I think it is so fun and creative! It's also great for tracking new habits when it comes to your sleep patterns.
For example, you may choose to sleep half an hour early each day which can do wonders for your body.
Designed by Study Susan!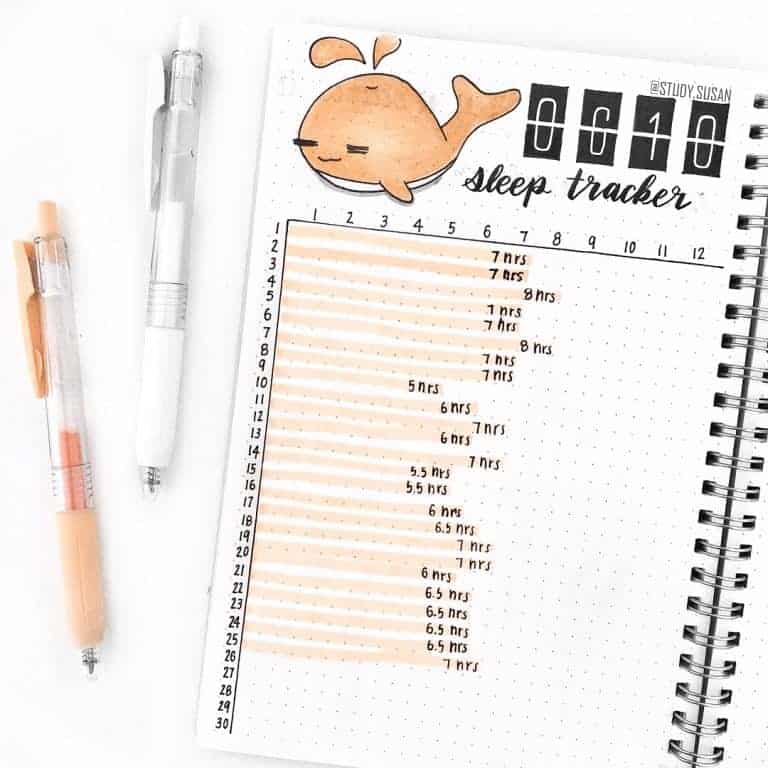 3. Spend Log Bullet Journal
I love this spend log from Life's Carousel!
It is so easy to use and you can log in and jot down everything you spend daily.
This will give you a clear view of what you spend your hard-earned cash on! It's perfect for those trying to save money.
Check it out on Life's Carousel!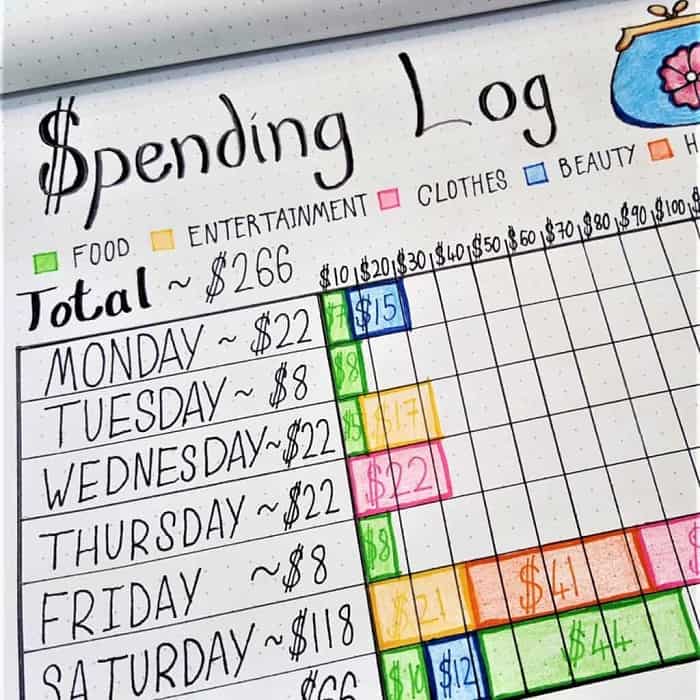 4. Monthly Bill Payment Tracker
If you have bills to pay and you want to better keep track of that, then this monthly bill payment tracker is exactly what you need.
I really enjoy using a good bullet journal bill tracker as it is extremely visual for the most part.
It gives you the option to fill in the due date, description of your bill, and the amount due.
Grab this monthly bill tracker today to avoid missing payments.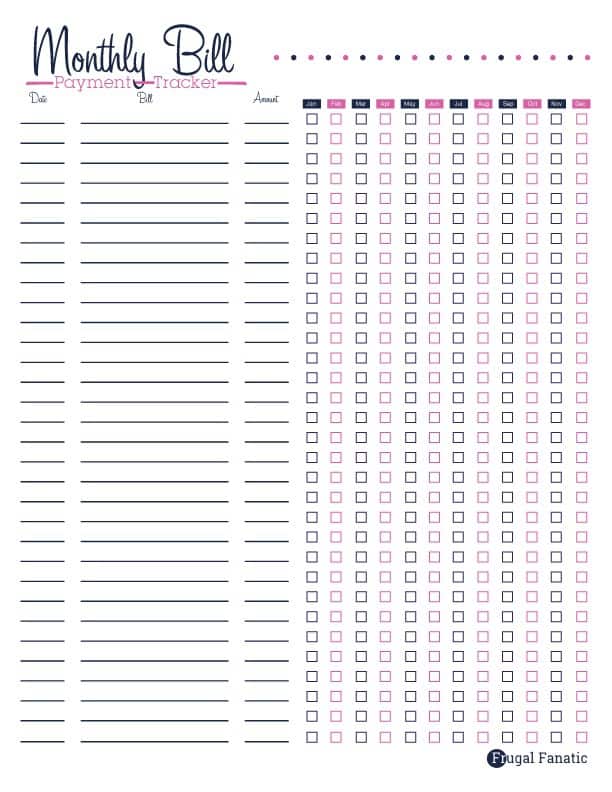 5. Pay Off Debt Bullet Tracker
Do you have a debt or two that you just need to pay off?
This bullet journal habit tracker will help you pay off your debt in no time. Be sure to grab a copy for yourself.
Reach your personal finance goals today with this debt tracker!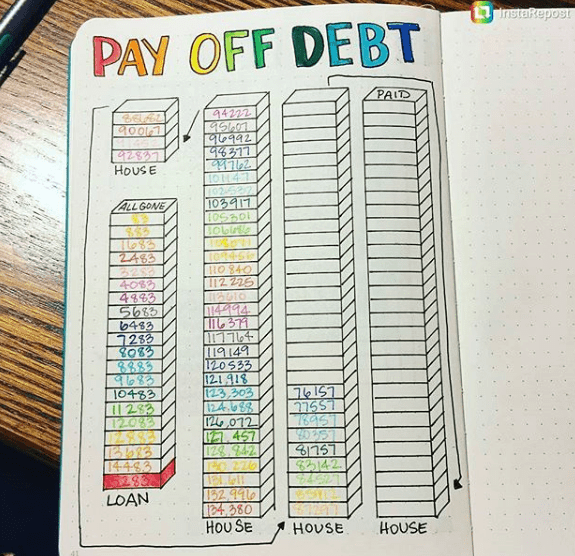 6. Abs Challenge Tracker
Trying to find ways to motivate yourself when it comes to working out?
Why not try this abs challenge?
Healthy habits only take dedication from those that are willing.
This fitness habit tracker is the best way to stay accountable as well as to monitor your progress in reaching your overall goal!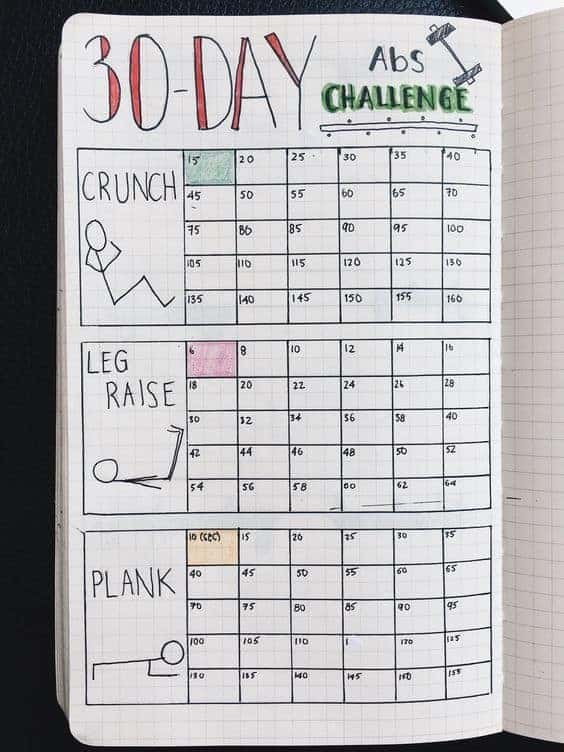 7. Healthy Habits
Ready to start living a healthy lifestyle?
If want to be healthy, there is no better way to start than to track your healthy habits in a bullet journal.
You can see how well you are doing and change habits that are no longer working accordingly!
Check out this healthy habit tracker right here.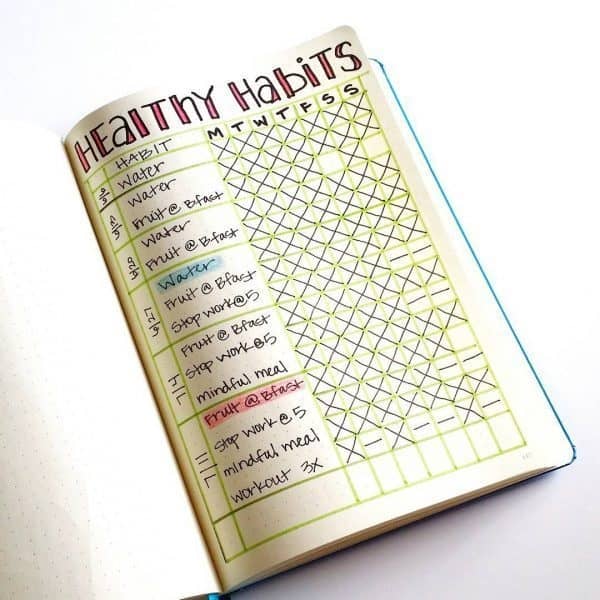 8. Bullet Journal Finance Tracker
I love this saving planner from @ printable_for_planners!
It is so visual that it makes saving money easy and fun. You can accomplish your saving goals by actually seeing your hard work pay off.
If you interested in this habit tracker bullet journal, be sure to grab it from @printable_for_planners today!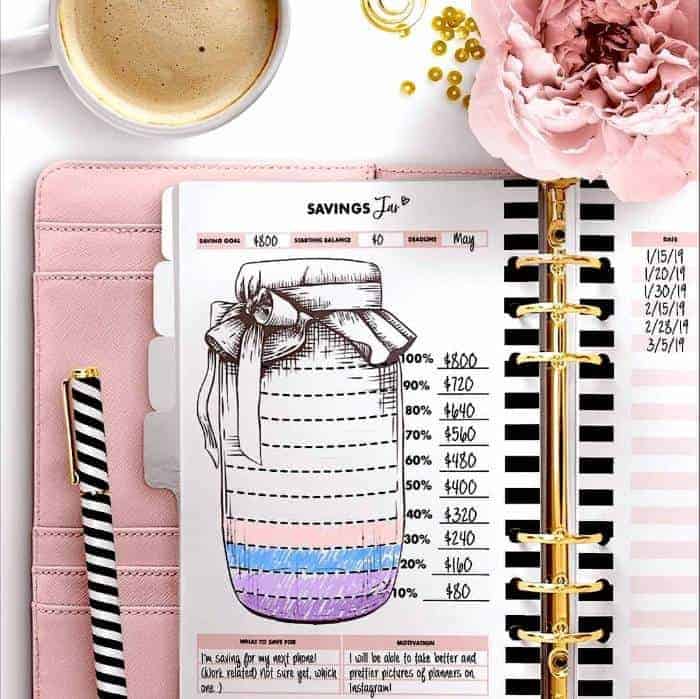 9. Bullet Journal Diet Tracker
I love this diet tracker which is just a diet plan if you look at it closely.
You can use it as a weekly diet plan or meal planning option.
If you are dieting and you want to ensure you stick to your diet easily and effortlessly, then be sure to grab yourself a bullet journal habit tracker printable from Notey!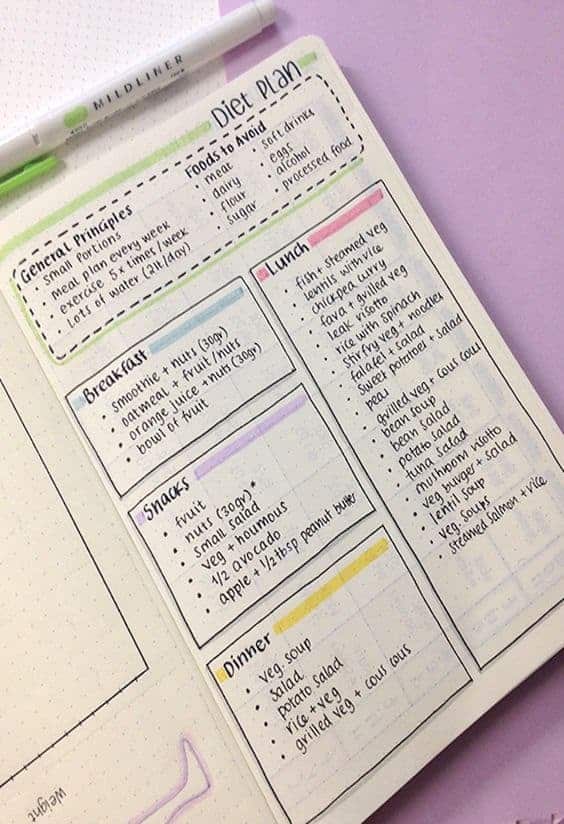 10. Weight loss Habit Tracker
If you are on a diet and looking for a weight loss habit tracker, this one might just be for you.
I like the fact that it has an end goal and you can track your weight loss as you progress.
Check out this habit tracker bullet journal over at @my_blue_sky_design on Instagram!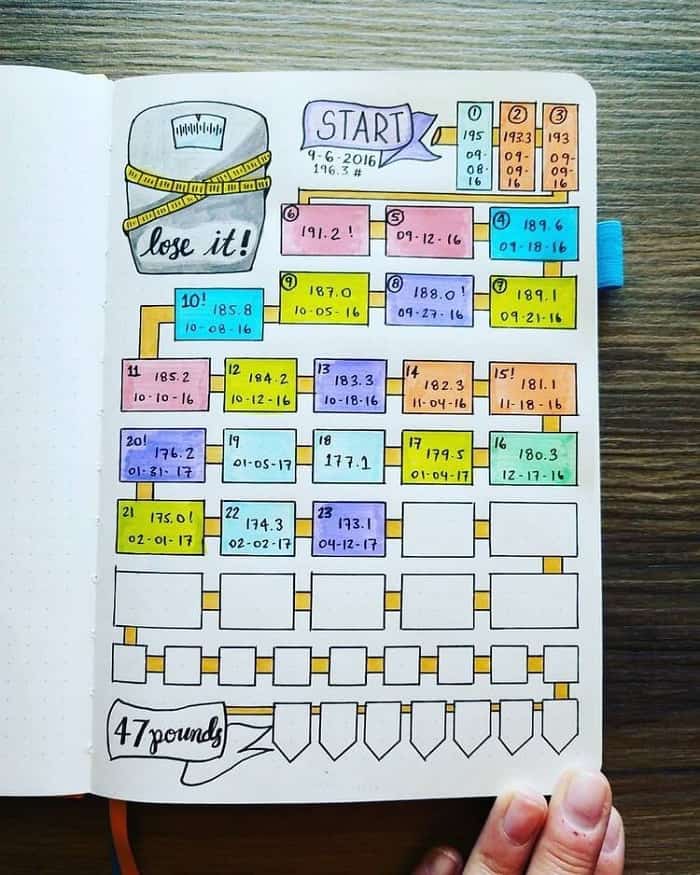 11. Mood Tracker Bullet Journal
I think it is extremely important to keep track of your mood.
This can tell you at a glance about how you are feeling and or doing.
If you find you are constantly tired, then you might need more rest incorporated into your day-to-day.
And if you are constantly stressed, you can dig around to see what is stressful so you can alleviate this stress which is not good for you.
Check out this habit tracker bullet journal over at @lularoekimberlyseibert!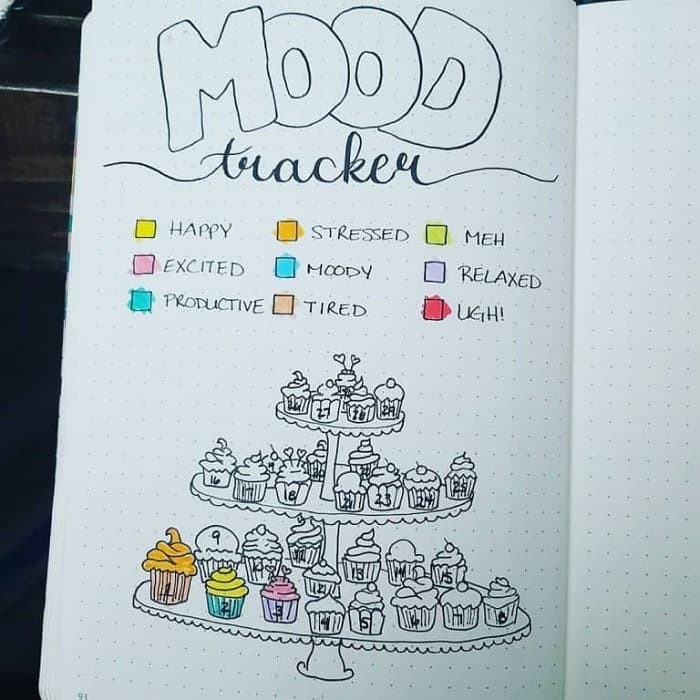 12. Track your bucket list
Do you have a bucket list or goal you want to reach by a certain time?
You can create a bucket list journal!
Check out this bullet journal habit tracker printable over here on Pinterest!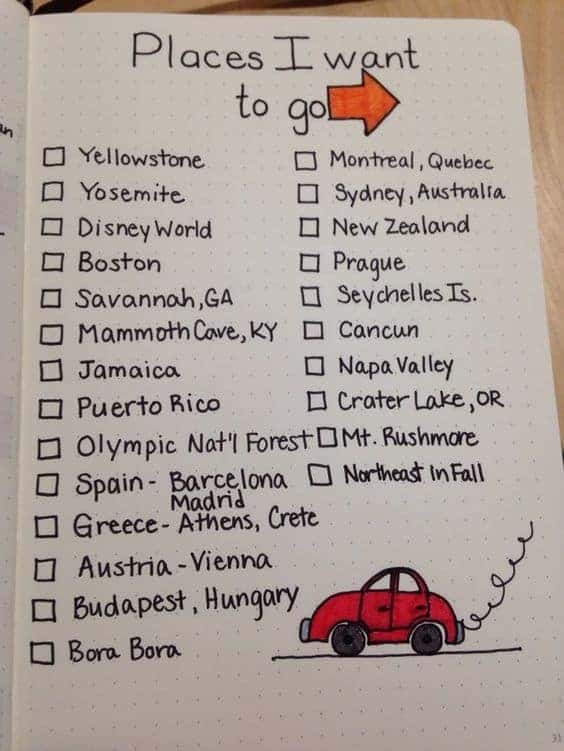 13. Sleep Tracker Bullet Journal
This is an extremely amazing cactus-inspired sleep tracker.
The colours make the tracker bujo stand out, but not too much that it becomes a distraction.
With this amazing sleep tracker journal, all you have to do is highlight what time you slept and when you woke up.
You will instantly see where you need improvement if any.
Check out this bullet journal habit tracker printable on Sharona's Instagram!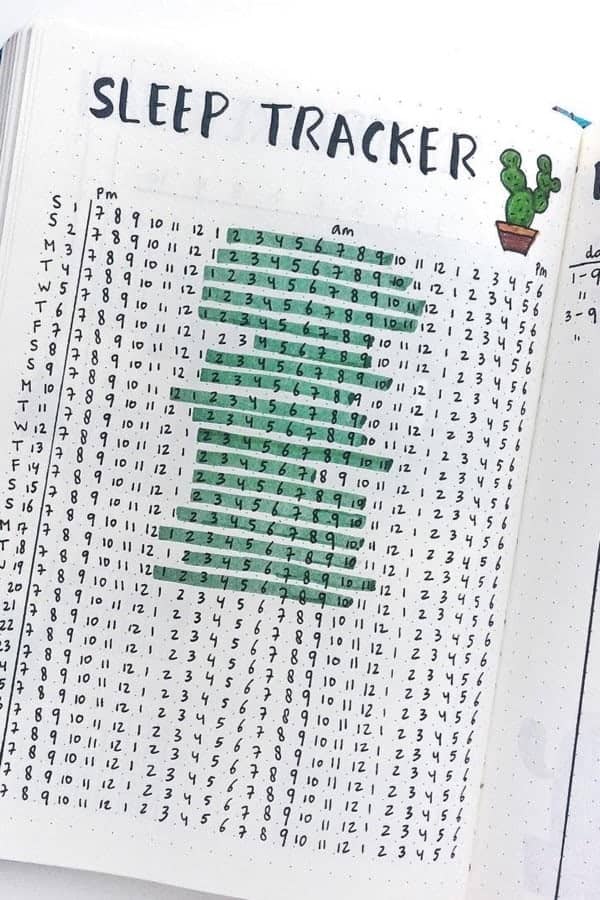 14. Money Saving Habit Tracker
I enjoyed this money-saving tracker that I needed to add.
This is for anyone that is looking for a good savings tracker bullet journal!
If you have a goal of saving money for something big, this habit tracker can help you meet your goals sooner than later.
Be sure to check it out and it's by Lifes Carousel!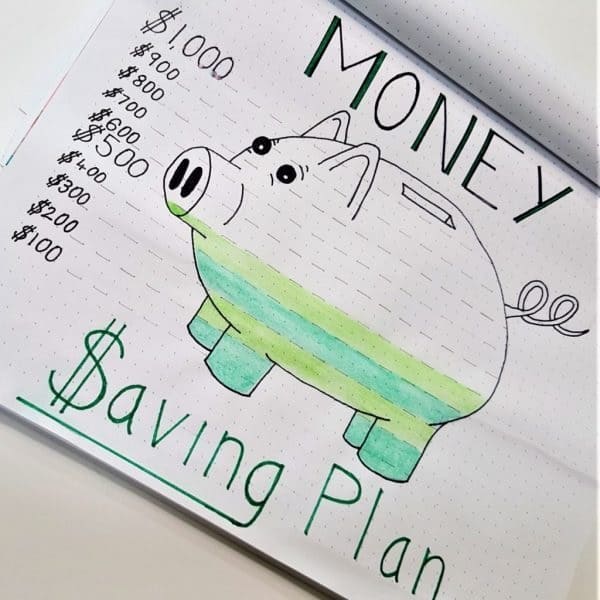 15. Period Tracker Bullet Journal
When it comes to a period tracker, especially when it is a bullet journal, people are extremely creative.
I couldn't decide which one I wanted to share with you, so I picked two that I would use.
I love this period tracker bullet journal from @andreasartgarden!

Or you can check out this amazing monthly period tracker bullet journal idea from @faithlovecreate!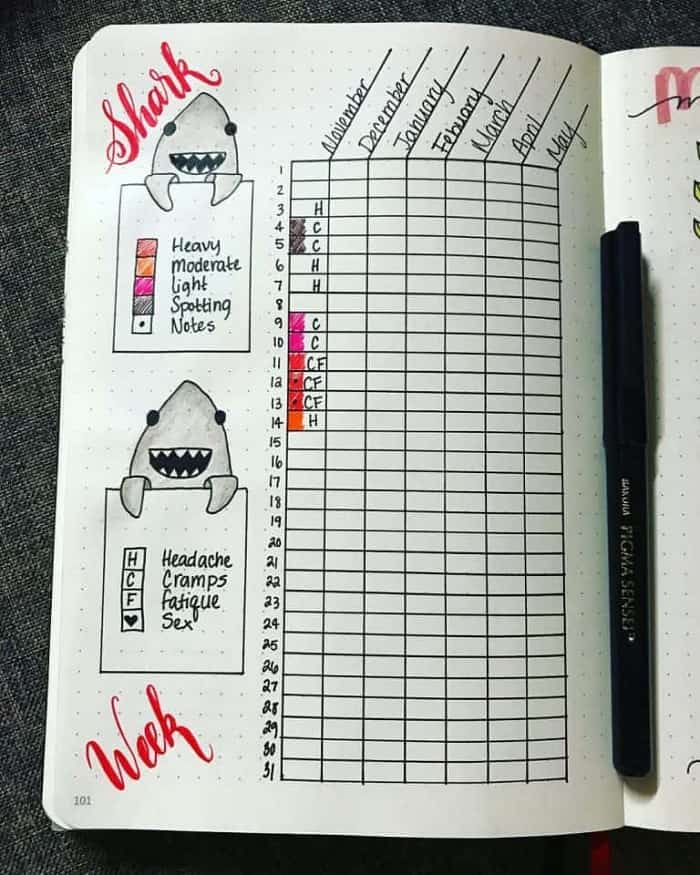 And there you have it, a list of amazing habit tracker bullet journal ideas you can use!
Which of these bullet journal spreads are more interested in trying out first?
If you are not sure of which habit tracker bullet journal you are interested in using or trying, we have more additional tips for you below.
Keep reading for our suggestions.
How to Use A Habit Tracker Bullet Journal
If you have habits to track, then you absolutely need a habit tracker bullet journal.
And most people are tracking something one way or the other.
Depending on what you want to track, they are so many ways you can use a habit tracker to track what you want.
The best way to choose the perfect bullet journal tracker is to determine first what you wish to track.
For example, when I am budgeting or doing my finances, I really on a good bullet journal debt tracker to help me through.
Don't get overly complicated, and remember, you can print more bullet journal habit tracker printables later as your needs change.
1. Step one is to determine what sort of habits you wish to track!
For example, I might want to track how many steps I take in a day until I get to 10, 000 steps a day, I might also want to avoid junk food and maybe drink more water.
2. Step two is to determine what

bullet journal habit tracker layout you want
They are so many bullet journal habit tracker layout ideas that you can choose from.
Are you thinking you want to use a weekly habit tracker, daily habit tracker or something that is more monthly?
3.Decide on a bullet journal habit tracker layout. Once you have that figured, get a bullet journal style that is appropriate for your needs.
4. Take the journal with you everywhere you go. Mine is like my little planner and it's always in my purse as I also use to jot down creative ideas instead of using my phone.
5. Look at it every day even if you do not use it. It's all about creating habits so this forces you to use and keep track.
The moment you drop the ball, that's it.
6. Stay Motivated by spending time with your habit tracker regularly. You can add cute motivational quotes to stay inspired by it.
I love these celebrity quotes!
Are you ready to start a habit tracker bullet journal?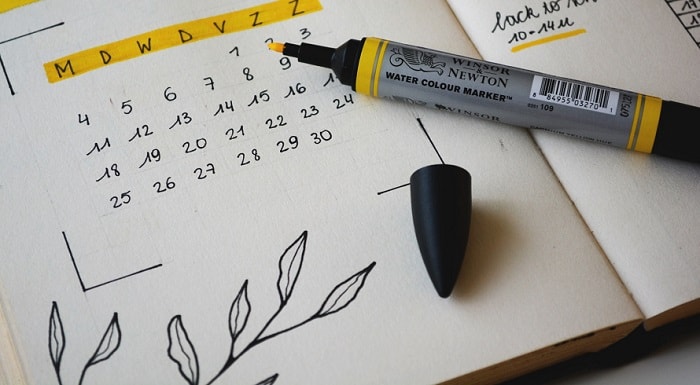 If you want more ideas, you can also use a bullet journal habit tracker printable!
This means you can find a habit tracker printable that you love, download it, and DIY a binder to keep all your printables together.
Here is an example of a free habit tracker printable: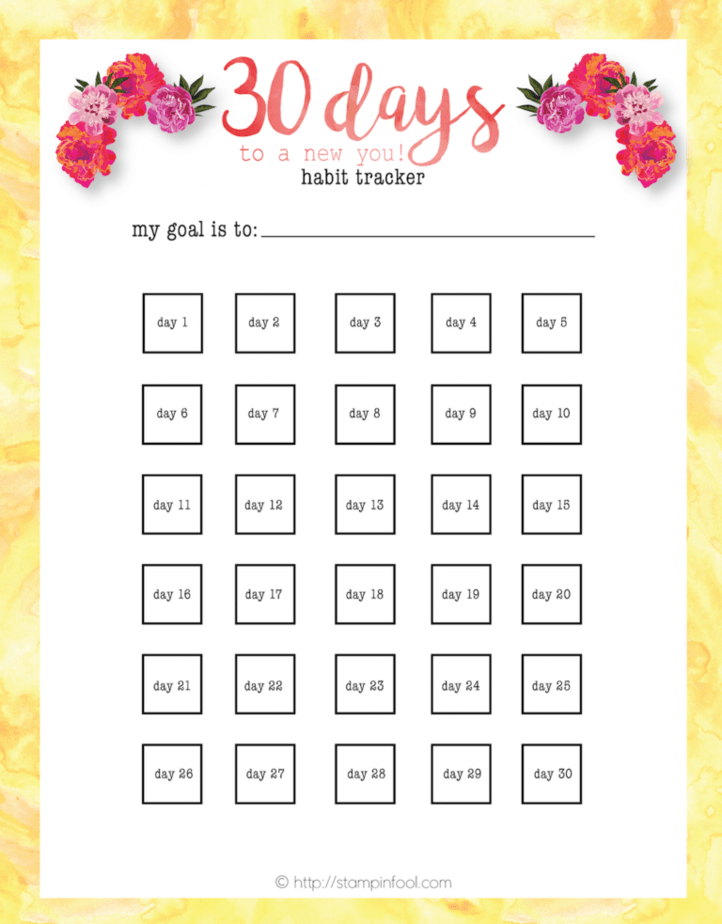 One Habit: Habit Tracker by Stampin Fool!
However, if you want the real thing, check out the bullet journal habit tracker supplies below to get everything you need to start your habit tracker bujo you truly love!
Bullet Journal Habit Tracker Supplies
If you plan on starting your habit tracker bujo today, you will need a few supplies to get started.
I suggest grabbing this Leuchtturm1917 Classic Hardcover dotted Medium Notebook in Pink or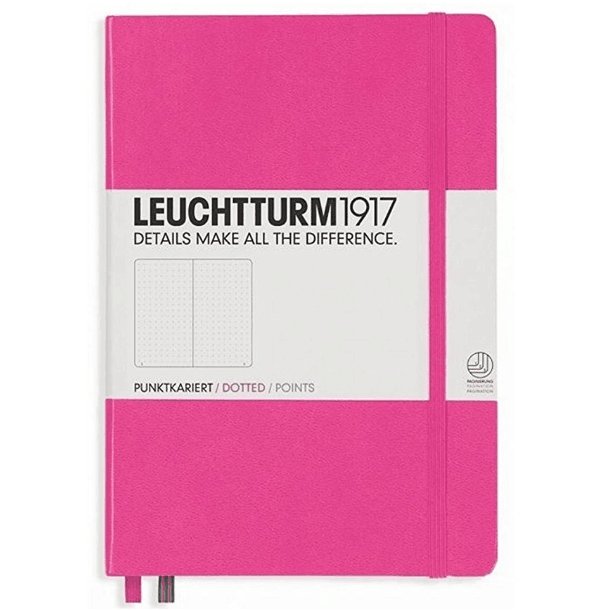 whichever color you want.
It does come in multiple colours.
With that, you can grab some gorgeous coloured pens and I always recommend this set of 42 fine tips by Staedtler!
You will have all the colours you need in case you try to be creative.
Don't forget black pens.
This one is perfect and needed to set your foundation for your habit tracker bullet journal!
I also grabbed these amazing bujo stickers that made my habit bullet journal plan so much easier.
Washi Tape is needed to add instant colour and design to your habit bullet journal as well as to add any extra decor.
I love highlighting things, so this set of highlighters is just perfect.
Oh and do not forget a ruler, you need a ruler.
Clear Habit Tracking for Beginners
Start Your Habit Tracker BUJO Today
Now that you have our ultimate list of what habit trackers are and how to start one, we highly recommend you get going at it.
It's the perfect way to stay organized and it will help you achieve a lot of goals and wishes.
If you do start a habit tracker bullet journal we want to hear all about it below.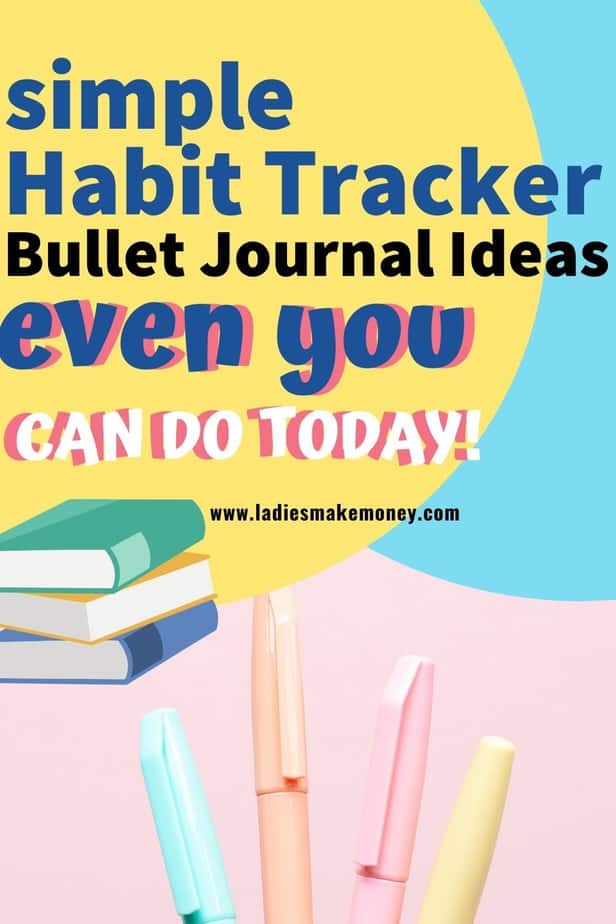 Read next:
If you enjoyed our blog we would like to have you join our email list and receive weekly money-making tips, you can join now! Don't forget to like the Facebook page. The page is created to share your work, pitch your services, and learn from other experienced bloggers!
---
***We would like to note that this post and most posts on our blog may contain affiliate links. This means that if you purchase something that has an affiliate link, we will get a commission from it. Not all items recommended on our site are affiliate links. We only recommend items that we have used and tried. These items have brought us much success and we highly recommend them to you be successful. Thank you for your trust!
15 Amazing Habit Tracker Bullet Journal Ideas You Can Steal