Last Updated on May 14, 2019 by NandiNN
Drive Sales Directly from Instagram
Trying to increase sales on Instagram or even find ways to drive sales can be tricky!
With over 1 billion active users, Instagram has become one of the most popular social media platforms. Making money on Instagram has now become the way of things.
With that in mind, there is no wonder brands use it as one of their most powerful digital marketing tools, to engage existing customers and attract new ones.
But if you want to make the most out of our Instagram account, you will have to do a bit more than sharing a few photos and posting a story once a week.
Making Money on Instagram
The hype on Instagram is only going to get big and better with each coming year, and finding a way to cash on this is the best thing you will ever do!
Can you make money on Instagram?
With the popularity of online shopping and the easy of the Instagram platform, these two information alone reinforces our beliefs that, yes you can absolutely make money on Instagram!
If you are already making some money but you are looking for ways to increase sales on Instagram we have a few great tips!
Below are seven of the most effective marketing tips, to help you make the most out of your Instagram business account and boost your sales.
But before we get started the best tips to increase sales on Instagram, we would love for you to join our growing Facebook group right here! Be sure to follow us on Instagram too!
We also wanted to take the opportunity to let you know that we use Affiliate links on some of our blog posts. This means that we could make a commission if you click on an affiliate link and purchase something. Please check out our full disclaimer and policy page here.
How Many Followers Do You Need To Make Money on Instagram
Just with all the other social media networks, you do need a lot of Instagram followers to make money on the platform. You need a strategy!
Don't get us wrong, followers on Instagram definitely matter, especial if you plan on working with brands as blogger or influencer! A few factors will come into play on what you need to make money on Instagram:
Instagram will make your post clickable after 10, 000 followers which make it easier to direct your followers to a link they can purchase from.
This will definitely help increase sales on Instagram!
How To Make Money on Instagram
The strategy you use to make money on Instagram will greatly impact how much you make!
You have to be committed on Instagram in order to really make money on it.
This could mean posting high-quality content constantly, networking with brands, communicating with your audience and much more.
By doing this daily, you can really increase sales on Instagram.
Here are the top recommended ways of making money with Instagram:
Now that you have all the ways you can possibly make money on Instagram, how can you execute these.
We are going to share our best tips on the different ways you can use your money making strategy to increase sales on Instagram!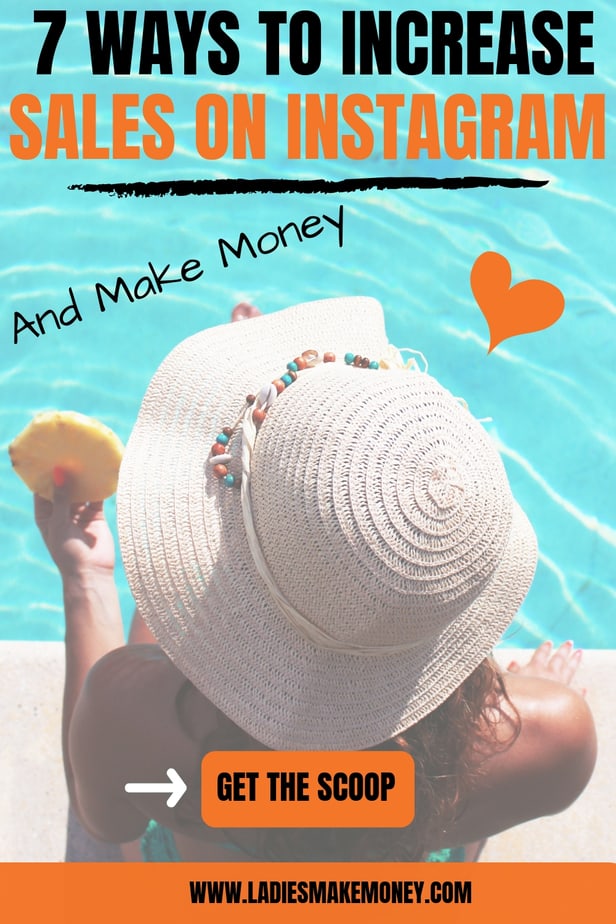 7 Ways To Increase Sales on Instagram:
Knowing how to make money on Instagram is one thing, but putting it into action is another! We can give all the tips in the world but if don't share the ways to achieve good results, you will be doomed.
That's why our 7 steps on increase sales on Instagram has helped us get great results with the platform.
And if you want the same results, follow the steps below:
1// Tell a Relatable Story
No matter what the story of your brand is, it should always be relatable to your audience.
This adds to the overall image of your business.
For example, if you are selling kitchenware, make some of your posts about kitchen tips and tricks that your customers can implement in their life and encourage them to come back and share their experience if they did.
This way, you will keep your Instagram followers engaged while improving their perception of your brand.
You can even share stories from behind the scenes, to show your followers how much work and dedication go into your products.
If, you are going to pick up materials for your products, snap a photo or two or make a short video to share with your followers. This will give them a sense of familiarity when they think about your products.
2// Keep a Cohesive and Professional Aesthetic
Instagram relies highly on visuals, and that does not only mean photos.
Everything, from your bio to your photo captions need to be aesthetically pleasing and professional, in order to send the correct message to your audience.
3// Invest in Advertisement
Let's face it, advertising is extremely important if you want your brand to reach as many people as possible.
It is an investment you will be thankful for later, especially if your brand is quite new on the market.
The two main advertising channels here are Instagram Ads and influencers.
Knowing how to use both channels to your advantage will increase your sales in no time:
4// Involve Your Customers
If used correctly, word-of-mouth advertising is one of the most powerful marketing tricks.
Which is why you should always encourage your customers to post about their experience with your products.
In theory, this sounds very easy, but it may not always be that way. Some customers may not always willingly post about your products, even if they constantly use them.
It is your job to encourage them to do so.
You can do this in various ways, such as offering a chance to enter a contest if they post a photo of your product and use a certain hashtag.
Another way to get customers to post about your brand is to post their images to your story or feature them on your profile.
Always make sure to credit the user as a way of celebrating them. This shows your existing customers that you value them and also serves as a way to provide potential customers with genuine proof that your brand is relatable and trustworthy.
5// Offer Discounts or Giveaways
This is another way of keeping your customers engaged and encourage them to spread the word about your brand.
You can ask customers to share a certain photo or hashtag and follow your page for a chance to win discount codes or products.
When you constantly offer discounts or giveaways, you can keep your current customers engaged and also attract new prospects and encourage them to try your products.
Offer a 10% discount on the first purchase or create a contest for customers who share their way of using your products for a chance to win a prize.
You can even create VIP or membership reward programs for your most loyal customers.
6// Show Your Products in Action
Using professional photos to show your products will certainly grab people's attention, but sometimes it may not be enough.
In order to make a strong impression, provide your audience with photos and videos that show your products "at work".
Depending on the type of products you are selling, you can create content that highlights them in the best way.
For example, if you are selling beauty products, you can show people different make-up tutorials they can recreate using your products.
On the other hand, if you are selling shoes and handbags, you can post various outfit ideas that include your products.
Don't forget to include a relevant caption that emphasizes the advantages of choosing your brand. The key is to show customers all the various ways they can enjoy your products and all the reasons they need them.
7// Don't Forget about Hashtags
Hashtags are a way to create instant customer engagement.
Look at Red Bull, with their famous #itgivesyouwings that is featured on over 358,000 Instagram posts.
Encouraging customers to use hashtags that are related to your brand will also allow you to easily search through images when selecting some of them to re-post.
You can use your brand slogan as the hashtag, or create a new original one, the key is to make sure people instantly recognize it when they see it.
If you are unsure of what your hashtag should be, you can turn this into a contest and ask your followers to suggest some and put up a prize for the winner.
After you have decided on the hashtag, don't forget to include it in all of your posts.
There you have it, 7 ways to increase sales on Instagram with little effort!
Instagram is dominating the world of social media, which makes it the number one channel to advertise your brand and reach hundreds of thousands of customers.
Make sure you take advantage of all the marketing tools that it has to offer, in order to enjoy all the benefits of this massive platform.
By keeping your customers constantly engaged and your brand message clear and relatable, you will make sure your business sales will increase and your brand image will gain credibility and popularity.
Read this next:
8 Well Paid Social Media Jobs for Social Media Lovers
How to create a Loyalty Program Your Clients will love
If you enjoyed our blog we would like to have you join our email list and receive weekly money-making tips, you can join now! Don't forget to like the Facebook page. The page is created to share your work, pitch your services and learn from other experienced bloggers!
---
***We would like to note that this post and most posts on our blog may contain affiliate links. This means that if you purchase something that has an affiliate link, we will get a commission from it. Not all items recommended on our site are affiliate links. We only recommend items that we have used and tried. These items have brought us much success and we highly recommend them to you in order to be successful. Thank you for your trust!
7 Digital Marketing Tricks to Increase Sales On INSTAGRAM