Last Updated on March 18, 2021 by NandiNN
What can I sell to make money from home quickly?
If you are broke, or tight on cash, I suggest cleaning out your house and finding a few household items to sell for quick cash.
This is honestly the fastest way to make extra money if you are tight on cash.
I don't know about you, but when I look around my house, I find that there is always clutter laying around.
This has become especially true since we had a baby (she is now a younger toddler and this has not made it any better).
Selling items around your household is a fantastic way to make extra cash fast to start an emergency fund (check out how I created an emergency binder for my family here), it can help you pay bills or pay down debt if you have any.
If you are trying to pay off debt, don't forget to grab my free pay-off debt planner here!
The resource library is also packed with a lot of amazing freebies you can snatch.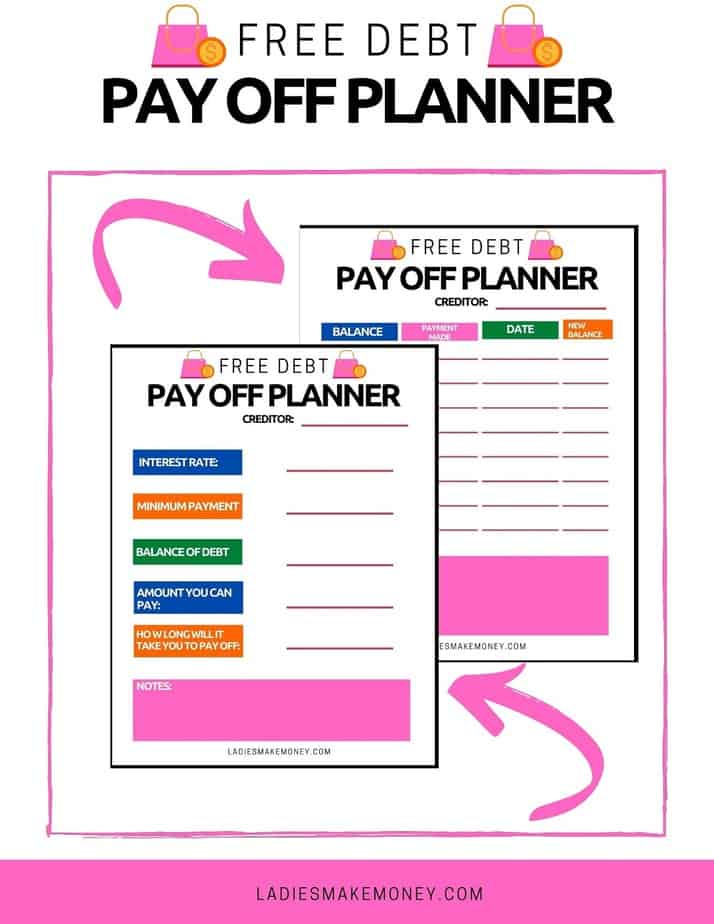 Selling household items is also a great way to get rid of clutter and make more space in your home.
I remember sitting at home one day and thinking to myself, "What can I sell in my house?"
But the more I went around and made a mental note, the more things I found.
Today I really want to focus on these things:
What household items to sell for cash

Share a list of household items worth money

How to sell stuff for cash fast

A detailed list of things to sell for money
You are here today because you need the money desperately and that's okay. We have all been in that situation.
I know I have.
And the only way I was able to get out of that sticky situation was to find ways to make extra money fast even if I had to sell household items online to make that possible.
If you are here today looking for tips that work, we have you covered.
We have a great list for you of things you can sell to make money quickly especially if you are in a tight situation.
Whether you are looking for ways to make $200 fast or even just a smaller amount, this post should help you.
So what household items can you sell for money?
For now, before we get into what household items to sell for quick cash, we would love for you to like our growing Facebook page right here! Be sure to follow us on Instagram here.
We also wanted to take this opportunity to let you know that we use Affiliate links on some of our blog posts. This means that we could make a commission if you click on an affiliate link and purchase something. Please check out our full disclaimer and policy page here.
What to sell in your house to make money
Before we get into this, I wanted you to check out this amazing webinar I attended the other day.
If you want to learn more about flipping items for profit, then you might want to check this out.
They show you exactly how to make your first $100 flipping used items in just 7 days!
This great if you are wondering how you will sell your household items fast for cash.
This couple pretty much started a flipping side hustle business that made $42K part-time and they turned it into a $133K full-time business and never looked back.
Sign up for this epic free webinar right here
If you have no idea what household items to sell for cash, then keep reading as we have a whole list for you.
Household Items to Sell For Quick Cash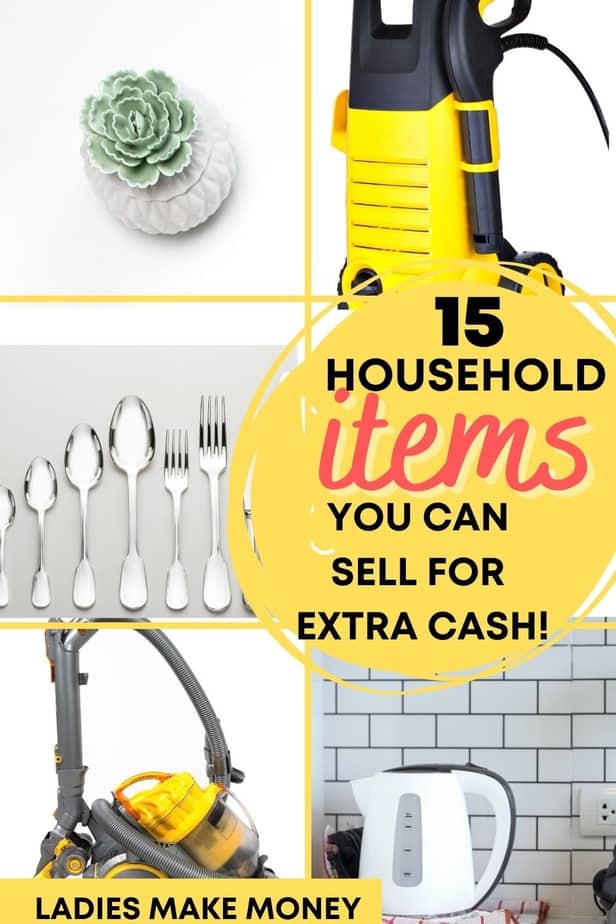 1. Electronics
If you wondering what household items are worth money, I suggest looking around your house for used electronics.
Over the years, my husband and I have bought several laptops, I have upgraded my phone and I still have old electronics such as video games, my DVD player, and an extra TV that we barely used.
At one point, I think we had a TV in every room in the house.
When I was short on cash, these are just a few household things I sold for extra money.
If you have an old iPhone or iPad lying around the house, you should really consider selling it.
I suggest when you are looking to sell household items for cash that you find things that in better condition.
That way, you make some good money.
I find that phones and iPads sell really fast as they are usually expensive and most people need them as a form of quick communication.
Do you have electronics that don't work?
Sell these too.
People will buy them for parts.
2. Baby Items
If you are looking for household things to sell to make quick cash look no further than baby clothes if you have kids.
I am the queen of selling clothes.
When my daughter was born 3 years ago, I went all out and bought a bunch of clothes for her.
Why?
Because everything was just so cute.
But then, she started to grow and she grew really fast. I was swapping out baby clothes and shoes every 4 months.
Baby items are always in demand and sell quickly.
Every time I put up a listing, within a day or so, it's gone.
These things sell fast:
Baby crib

Bassinets

Winter clothes

Strollers

High chairs

Winter clothes

And general baby clothes and shoes
You can even bundle the items and that way they are more exciting.
Here is a list of great places to sell clothes online for cash!
3. Baby Toys & Gadgets
If you are looking for more household items to sell for quick cash, consider selling used baby toys or any big toy gadgets you may have.
I have a whole room with toys that my one daughter uses.
And every day I am picking up toys in the basement, in the living area, my bedroom, the bathtub – honestly, they are everywhere!
So if you are looking for household items worth the money, get rid of those toys.
Some of these toys, she has outgrown very quickly and they are just taking up space.
4. Designer Clothes and Bags
There are a few household items worth money, you just have to think outside the box.
But one thing that may sell really well is brand name items.
So if you have that Michael Kors wallet or that Christian Louboutin shoe I see over there, sell it online to make money fast!
You can check out Rebag to sell your designer bags online.
Selling unwanted clothes for cash is a great way to make easy money fast so go through your wardrobe and start selling!
5. Kitchen Gadgets
Who is guilty of having multiple kitchen gadgets?
I think we all do.
For example, I found that I have a few coffee makers just lying around.
Don't ask me why (let's just say I love my coffee).
But do I really need 3 coffee makers?
If you have things in your kitchen that you do not use daily (for example- cake mixers, coffee makers) consider selling it for extra cash today.
I mean, let's be honest, when was the last time I baked a cake?
You will probably need extra money faster than you will need that gadget again.
6. Indoor and Outdoor Furniture
Okay, so the other day I actually spent money as I was looking for patio furniture.
I wasn't going to spend $800 to get a set or even $3000 to get a gazebo.
So I went to a marketplace and shopped around for used outdoor furniture that I needed.
This just goes to show that you can absolutely sell these household items for cash.
I bought all my outdoor furniture online used.
So look around your house and see if there is any furniture you would like to get rid of. If you are updating your home, instead of throwing things away, sell them.
7. Gently Used Appliances
If you gently used appliances you can sell to make money online this year, it is time to actually do it.
Go ahead and create that listing on Craigslist, Kijiji, or the Facebook Marketplace.
Do you have an extra fridge in your basement or garage?
Extra washer or dryer machine that is taking up space?
Sell these today to make extra money from home.
If you have appliances that are not working, do not be afraid to sell them too as people often fix them up to keep or resell.
Just note it on the platform you are selling it on.
And if you can fix things up to sell for even more money, then do it.
8. Decorations
If you have old birthday decorations, Christmas decorations, or any décor that you have not used in a while, it's time to get rid of them this year.
Decorations are one thing that most people have in their homes that tend to collect dust.
For example, I used to have a small Christmas tree at home and recently got a bigger one.
So I simply sold my old Christmas tree for $25.00 with lights.
People are always looking for a great deal on used decorations so sell them if you have any that you no longer use.
This is definitely on my list of household items worth money!
9. Used Books
I have a whole library of books in my home that I am definitely not going to re-read.
I have definitely moved on to the mobile book options and I barely buy any more books, but if you have a few that you are willing to part with, then sell them.
These are some of the best household items you can sell for cash!
Quickly turn your old gently used books into cash by selling them locally through Craigslist or during a garage sale.
If you are a student or you have some at home, consider selling them for cash on BookScouter.com.
They make it super easy to sell books on their platform.
10. Sport Gear
If you are looking for things to sell for quick cash, consider selling your household sporting gear that you no longer use.
There are a few places to sell used sports equipment you could try out such as Facebook groups or Facebook Marketplace.
Garage sales and flea markets are also places you can try if you want to sell your sports gear for extra cash.
If you are not using any of your sports gear or equipment that is just in your basement or garage, be sure to put them up for sale as you can really get great money for it.
If you are going to use the flea market to sell them, watch this webinar to learn how to sell for a profit at flea markets.
11. Jewelry
Do you have quality jewelry in your home that you can sell online to make money?
I really recommend selling jewelry only if you do not have any sentimental value attached to it.
You can typically sell your jewelry for cash at your local pawn shops, local jewelry store, or on a platform like, I Do Now I Don't!
They are one of the largest jewelry buyers, and they offer 2 distinct options that enable them to give you maximum value for your items.
Jewelry is one of the best household items to sell for quick cash!
12. Musical Instrumental
There are plenty of things you can sell from home to make money and instruments is one of them.
Ladies, my husband used to play the guitar and then he randomly bought a piano for no reason.
Guess what I did with these instruments?
I sold them.
They were just collecting dust and taking up way more space than anything and I simply wanted them out of sight.
Anything that has no purpose in my home is either sold or gone.
13. Unwanted Gift Cards
Did you receive a gift card for a store that you don't shop at or that's not close to your home?
Or maybe this gift has no benefit to you and it's just lying around collecting dust.
If you want to use them, I am all for it, go ahead.
But if it's been 3-6 months and you have not found the time or energy to use them, sell them while you can.
I recommend using a site like Raise to sell your unwanted gift cards for money.
14. Board Games
I know for a fact that a lot of households have board games in their homes.
I used to play them a lot when I had no toddler but now, who has the time? Not me for sure.
So if you are asking yourself what can I sell to make money fast?
Go through your board game section and get rid of anything that you haven't used in more than 6 months. Seriously, just get rid of them.
The extra cash will be well worth it and whoever buys them will enjoy them more.
15. House Tools
The best household items to sell for cash is definitely your house tools.
If you have these and you barely use any, I suggest selling it for cash right about now.
I don't know how many of the same house tools we have lying around the house. I mean, do you really need 7 hammers, 11 drills or even ladders?
I don't care what you say, but that is just too many.
Unless you are a construction worker, having all those tools taking up space is not a good use of space.
And there you have it, an amazing list of household items to sell for quick cash!
Which of your household items do you plan to sell this weekend for some quick cash?
Don't forget to grab this epic checklist of household items to sell (we have 40 ideas available to you)!
You can find it in our free library of goodies. Just sign up here!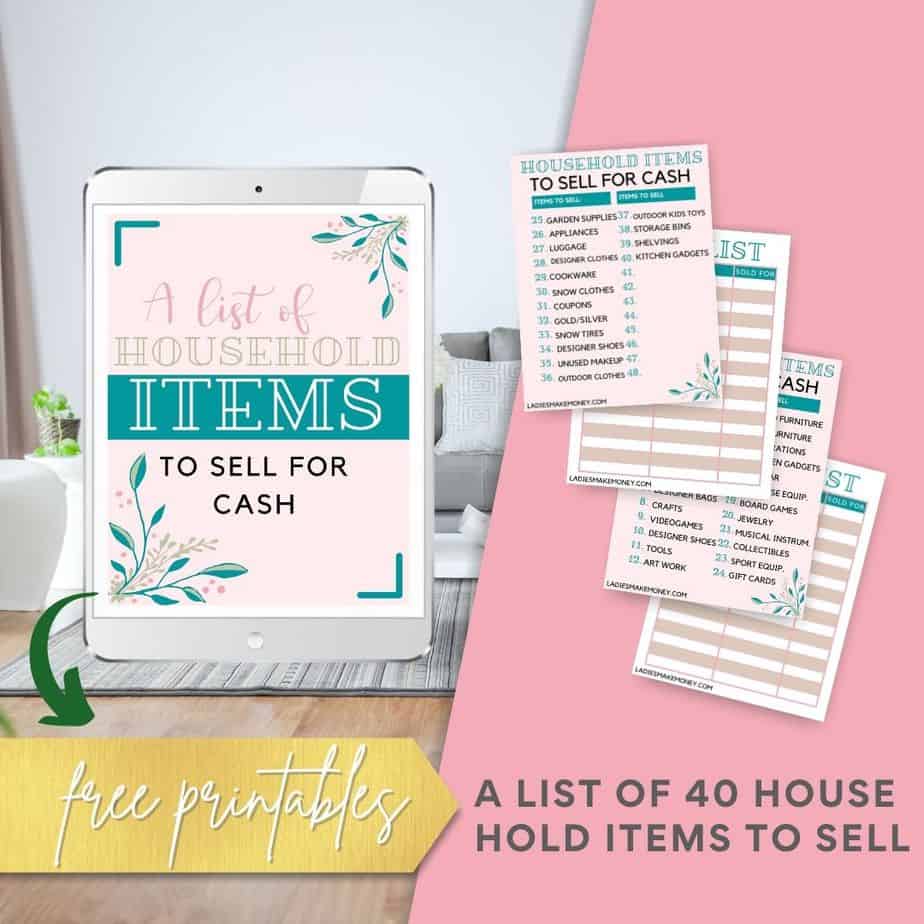 How to sell household items
Now that we have given you a solid list of things to sell to make money from home you need to figure out exactly where you can sell them.
That was the next popular question most of you had when it came to this.
You wanted tips on where to sell household items locally or online!
Here are a few places you can consider selling your household items:
Poshmark ( use code DIVINENANDI to get $15 credit for a limited time)

Facebook Market Place

Facebook Groups that Buy and Sell
Related: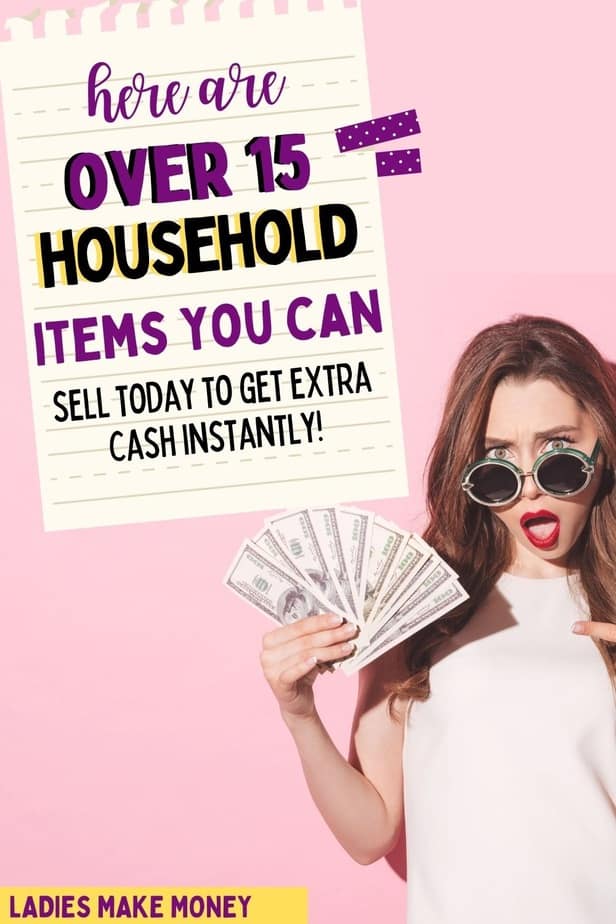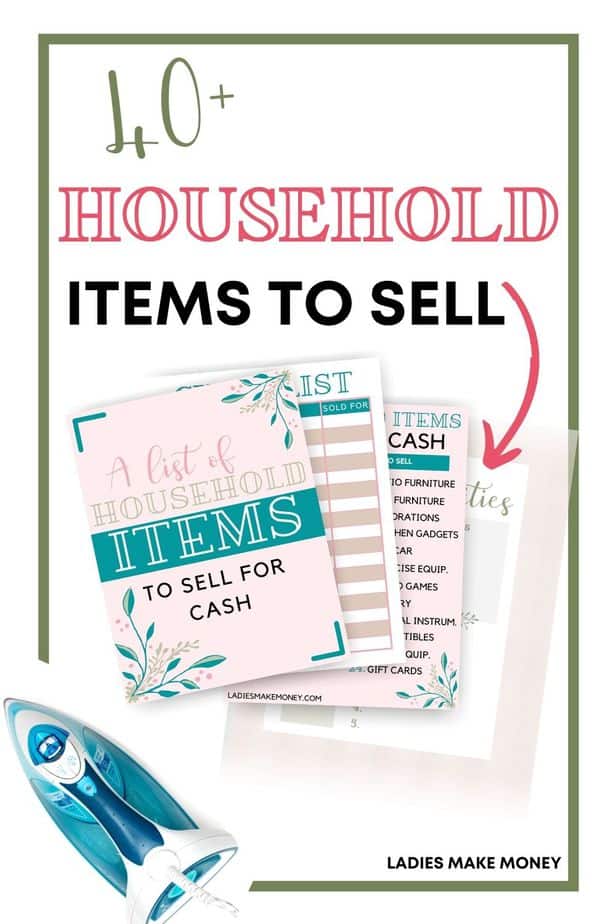 If you enjoyed our blog we would like to have you join our email list and receive weekly money-making tips, you can join now! Don't forget to join our Private Facebook page. The page is created to share your work, pitch your services, and learn from other experienced bloggers!
---
***We would like to note that this post and most posts on our blog may contain affiliate links. This means that if you purchase something that has an affiliate link, we will get a commission from it. Not all items recommended on our site are affiliate links. We only recommend items that we have used and tried. These items have brought us much success and we highly recommend them to you in order to be successful. Thank you for your trust!
15 Household Items to Sell For Quick Cash Right Now