Last Updated on March 8, 2021 by NandiNN
October is Financial Planning Month
October is Financial Planning Month, making this the perfect time to sit down and evaluate your personal financial situation.
It is the perfect time for you to work towards achieving your goals in the year ahead.
Maybe you have long-term and bigger goals that require significant planning such as purchasing a home or funding retirement.
Or perhaps you are looking to set more short-term goals, such as paying off small amounts of credit card debt or coming up with a down payment for a new car.
Either way, it is important to be intentional about goal setting and finding the best ways to plan ahead to help you reach your future financial ambitions.
What is Financial Planning?
You need to plan for your future financially. And this does not mean sitting down and coming up with a retirement plan.
Don't get us wrong, planning for retirement is equally as important, but everyday financial planning is crucial to your everyday life.
When we say financial planning, we want you to take into account all your financial goals and objectives.
This is a document that will outline and layout your current money situation as well as any long-term goals you may have and how you will achieve that.
Your plan should be so details that it shows exactly how much you have in the bank (savings, chequing) as well as how much you may need in the future and the steps of how you will get that money.
It should also include how long it will take you to achieve your money goals.
If you are new to financial planning, be sure to read this post!
Before we get started on the best route for financial planning month, we did want you to follow us on Facebook for more awesome ideas on saving or making more money. You can also follow us on Instagram for more tips.
We also wanted to take the opportunity to let you know that we use Affiliate links on some of our blog posts. This means that we could make a commission if you click on an affiliate link and purchase something.
How do I create a financial plan?
You are in the right place.
Below, you will find all the steps required to successfully create a solid financial plan.
Write down your financial goals so you can view the full picture clearly.
Honestly, having financial goals is the foundation for your financial success and that's what we want for you ultimately.
1. Understand your goals and plan ahead
While it may seem obvious, this is an important first step in achieving whatever financial goals you may have.
Taking the time to understand how you are going to accomplish your goals and make a plan to do so can be advantageous when it comes time to start actively working towards these objectives.
It always helps to start by writing down the goals you may have and prioritizing them so you can get organized and set attainable targets to get you to your end result quicker.
In fact, it has been proven that individuals that write down their goals and keep them somewhere visible are 1.2 to 1.4 times more likely to achieve their goals than those that do not.
This is because when you put something on paper, you are reminded of the goal whenever you see it written down.
Additionally, your brain responds to this visual cue by storing it in your memory, making you more likely to make decisions that help you reach this goal.
For your financial planning month, we ask you to grab this epic Money Mindset Planner to help you get your finances in order.
This pack includes 28 pages to help you get your finances and money mindset on track whether your goal is to save more, get out of debt, or simply managing your money better.
Get a full breakdown of what is included right here.
2. Create a budget
Once you have planned how you will achieve your goals, it is important to be intentional about creating a budget and sticking to it.
Even though it can be stressful to consider how your money is being spent each month, being diligent about budgeting is a great first step towards reaching your financial goals.
While you might not be able to immediately increase your income, you can change how your money is being spent.
Without a budget, it is difficult to project where your money is going and how you can better allocate these funds.
To help you with your budget, consider looking into budgeting apps to further help you get organized and help you hold yourself accountable each month.
Financial planning month is the best time to get your budget in order so we encourage you to really consider starting one day.
3. Save, save, save
When creating your budget, you will want to be sure to make it a priority to allocate enough of your resources towards a savings account.
If the financial goal you are trying to achieve involves having a large amount of cash on hand, such as purchasing a home, designating funds to a specific savings account becomes even more important.
Even if you aren't necessarily working towards a financial goal that requires a large amount of cash, it is crucial to have a savings account built up to protect you from any unforeseen circumstance.
Experts recommend having three to six months of your monthly expenses put away in a savings account as an emergency fund.
Last month I created an amazing emergency binder for my family to ensure I was at ease financially and in all areas of my life.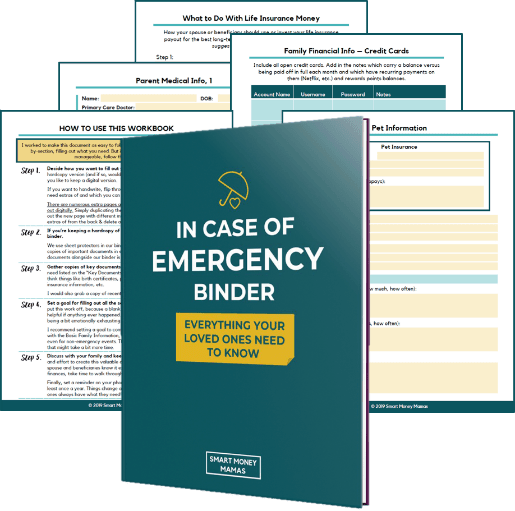 Create Your Own Emergency Binder or a go and grab right here!
4. Protect your assets
Whatever goals you may have, remember that to promote your future financial stability, finding ways to secure your assets is imperative.
Insurance is one of the most straightforward ways to make sure that you have the right safeguards in place should anything unexpected occur to hinder your financial plans.
While it isn't the most enjoyable topic to think about, accidents, injuries, and illnesses are all part of life, no matter how hard you might try to avoid them.
Making insurance a part of your financial plan ensures that you are prepared for the unexpected.
Here are a few of the most important types of insurance options to have built into your financial plan.
One of the simplest ways to secure health insurance coverage is to purchase a policy through your employer.
However, that is not always possible, and depending on your financial status, finding a health insurance plan can be expensive.
Even though it is an added cost to your budget, looking into even a catastrophic plan could help you if you were to become ill or experience a major health issue.
Maintaining good health insurance coverage is beneficial both for unexpected medical issues as well as preventative measures.
This will also ensure that you are able to go to routine visits without worrying about the financial implications involved.
Life insurance is another key safeguard when building your financial plan, especially when you have a family that relies on the income you provide.
Life insurance financially protects your loved ones if you were to unexpectedly pass away, meaning that the assets that you worked hard to secure wouldn't be compromised in this unthinkable circumstance.
Finding the right term life insurance policy for your needs with adequate coverage provides your loved ones with a much-needed cushion and in most cases, can be purchased at an affordable monthly rate.
Homeowners' or Renters' Insurance
While homeowners' insurance is required in most cases when you purchase a home, it is important to make sure that you don't skimp out on the coverage amount that you truly need.
The last thing that you would want if you were to experience a fire or natural disaster would be to be underinsured and not able to cover the remaining expenses from your loss.
If you are renting a home or an apartment, finding a good renters' insurance policy is another way you can protect your future financial plans.
Usually, renters' policies are fairly inexpensive which could financially protect your belongings in the event of theft or damage.
5. Pay off debts
When trying to achieve a certain financial milestone, it can be helpful to start by paying off debts you may have.
This not only gives you a clean slate to work with but frees up your monthly budget, especially if you pay off the debt that carries the highest interest rates first.
One of the most important debts to pay off when you have the extra funds to do so are credit cards.
Credit card interest rates can carry extremely high percentages, so if you are only making the minimum monthly payments, it can seem near impossible to eliminate this debt.
That is because not only is the interest rate extremely high on these credit cards but it is also compounded, meaning that you are essentially paying interest on top of the interest that has already been accrued.
If you want to know more about how to save money while paying off debt, this article is super helpful.
6. Invest wisely
Depending on where you are in your financial journey, investing your money is a great strategy to accumulate wealth more quickly.
There are many different types of investment strategies that help you build wealth and some may work better for your particular situation depending on the financial goal you are trying to achieve.
Please remember that there are riskier investments that could lead to a delay in hitting your financial goals.
Sometimes things could go wrong which is why it is essential to research the best investment strategies for your personal needs before diving in headfirst.
Maybe you want to invest in stocks, bonds, or index funds, or maybe you prefer to consider an alternative route by investing in real estate or commodities.
Each path you take could yield completely different results so make sure to research the best options for your scenario or consider hiring a professional financial planner to help guide you in your investing journey.
Now that you have a full understanding of what to do during the Financial Planning Month, will you do it?
Tell us in the comments below.

Because situations change over time, remember that it is okay if your goals also change.
This is why it is a good idea to revisit your financial goals every now and then, making October the perfect time to do so.
During Financial Planning Month, try to be intentional about planning ahead to help you reach your future short-term or long-term goals.
Read next: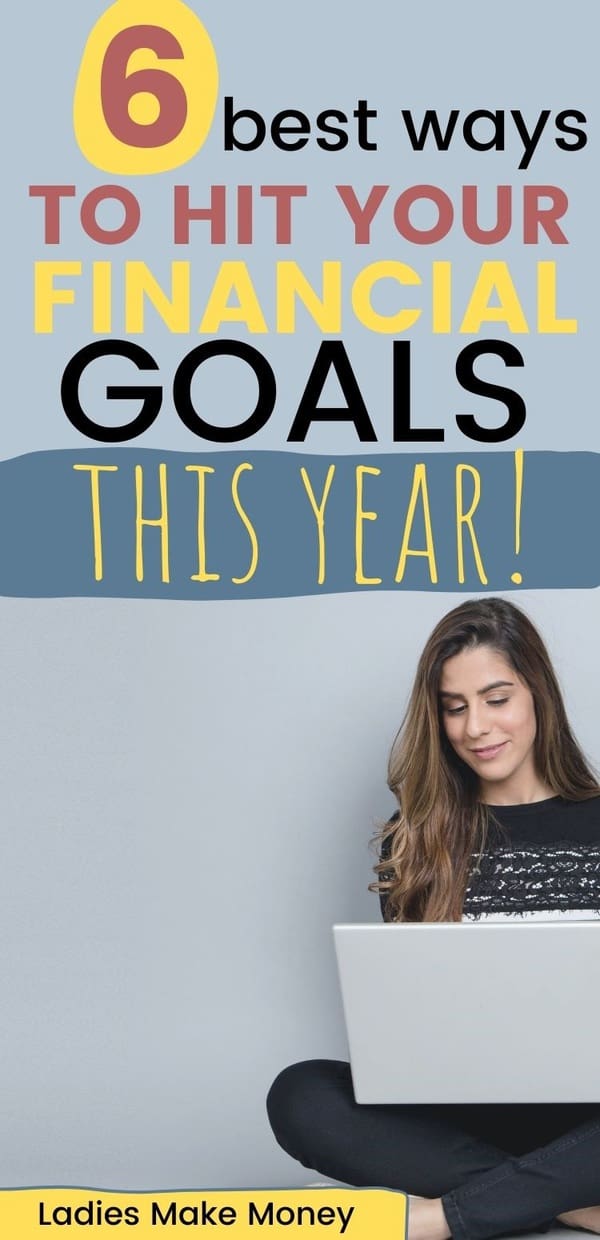 If you enjoyed our blog we would like to have you join our email list and receive weekly money-making tips, you can join now! Don't forget to join our Private Facebook page. The page is created to share your work, pitch your services, and learn from other experienced bloggers!
---
***We would like to note that this post and most posts on our blog may contain affiliate links. This means that if you purchase something that has an affiliate link, we will get a commission from it. Not all items recommended on our site are affiliate links. We only recommend items that we have used and tried. These items have brought us much success and we highly recommend them to you in order to be successful. Thank you for your trust!
Financial Planning Month: 6 Ways to Hit Your Financial Goals for 2021