Last Updated on March 9, 2020 by NandiNN
Tailwind Tribes Review
We love Pinterest, specifically the Tailwind scheduling tool, which makes it easy to schedule out pins. When Tailwind introduced the tailwind tribes, we knew we had to give it a try.
I can personally swear by how effective Tailwind tribes are and I am definitely using them more often than I use Pinterest Group boards.
We use Tailwind and the Tailwind tribes to get massive blog traffic everyday.
But the one feature we love with tailwind is the tribes section. We are going to show you how to use tailwind tribes to boost your blog traffic.
We have been having so much success with Tailwind, that we thought we should write a blog post to show you exactly how we use tailwind tribes to boost our blog traffic on a weekly basis.
At the moment, tailwind tribes are free to use.
You don't need to have a paid account with tailwind to use the tribes feature. But you should definitely give tailwind tribes a shot!

But before we get started on how to use Tailwind tribes, we would love for you to join our growing Facebook group right here! Be sure to give us a quick follow on Instagram as well!
We also wanted to take the opportunity to let you know that we use Affiliate links on some of our blog posts. This means that we could make a commission if you click on an affiliate link and purchase something. Please check out our full disclaimer and policy page here.
What Are Tailwind Tribes?
Before understanding how to use this feature, you first need to know what Tailwind tribes are.
The tribes feature is available on Tailwind and it is a tool that allows you share your pins on the platform and other bloggers will help share your content.
You do need to reciprocity!
In other words, the tailwind tribes is where a group of like-minded bloggers share their content and you pin each others work.
This is a great platform to collaborate with other bloggers in your niche.
The tribes feature are only available on the tailwind platform and so you need to be part of tailwind to join the tribes.
As we mentioned you do not need to have an actual account with them, but it is recommended for long term use.
Once you are part of the tribes you can schedule your Pins into the tribes that you are part of and other people are able to re-pin it to their groups or their boards.
The good thing about the tribes is that it is easy to monitor the users activities and those that are in charge can see who are pinning and those that are not.
The chances of your pin getting re-pinned are really high.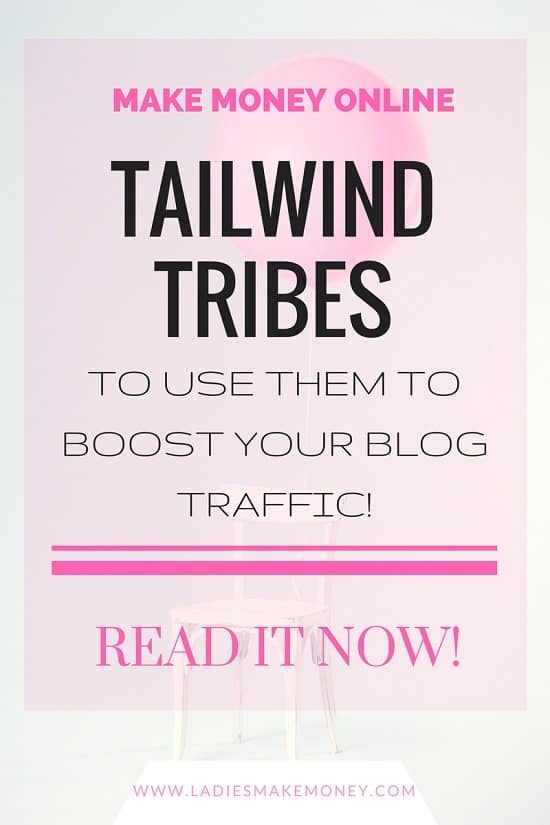 Using Tailwind Tribes to Increase Traffic
Pinterest is one of our biggest blog traffic sources and we are doing everything in our power to boost this outlet including investing in tools that will help boost more of our blog traffic.
Tailwind is the only tool we use to auto schedule our pins on Pinterest. They are an official recognized tool by Pinterest which makes it more reliable.
The platform has allowed us to grow our account from 0 to over 1500 in less than 3 months as I am visible 24/7 and my pins are getting re-shared frequently.
This number continues to grow on a daily basis and we are happy with this.
But don't focus on the numbers. You should be concentrating on the click through from Pinterest to your blog.
WANT TO GET 100 PINS FOR FREE FOR USING TAILWIND? TRY IT HERE!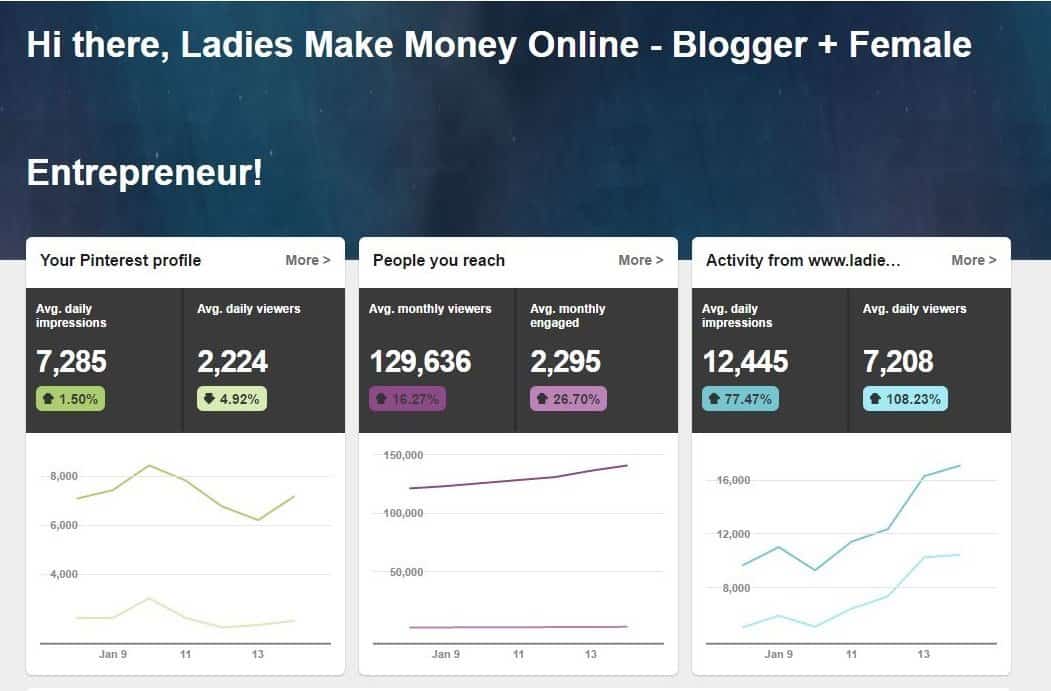 Before we show you how to use tailwind tribes to boost your blog traffic we want you to read these two blogs:
Now that you are all caught up and implemented some of our strategies above, let's get started on how to use tailwind tribes to boost your blog traffic.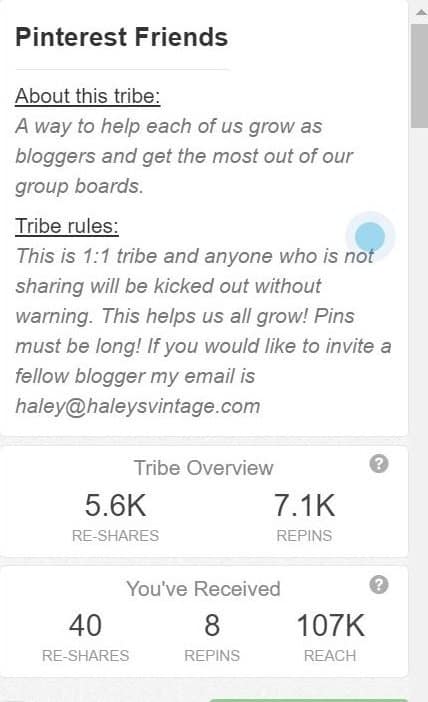 See how just from a few pins posted on this account resulted to over 40 re-shares and 8 re-pins.
I had a total of 107 K reach!
My pin was seen by more people than if I had just posted on my group boards. This is a result from just one of our tribes.
Want to join our tribe – Business Blogging Tips- Promote your Blog – We would love to have you as part of the family.
WHERE CAN YOU FIND TAILWIND TRIBES TO JOIN?
Tribes can only be joined if you know someone that has a tribe.
You are not able to search for tribes within the platform like you can with groups on Pinterest. They are a few people that advertise their Pinterest tribe groups within Facebook groups.
You can also do a Google search. Try to join groups that are part of your niche just as you would with groups.
Updated 2019: Tailwind has since made it easier for you to find and join tailwind tribes right on the platform.
You can use the search function and type your niche keywords to find tribes that align with your online business.
Here is a list of 10 Pinterest Tribes you should consider joining today!
The list will help you start your Pinterest strategy on how to use tailwind tribes to boost your blog traffic.
SO HOW DO YOU USE PINTEREST TRIBES?
If you have an account with Tailwind then great, if not, do not worry.
Find tribes that you want to join by doing a google search or reading our blog about the 10 tribes you must join. You will then pin your content to a tribe.
See an example below: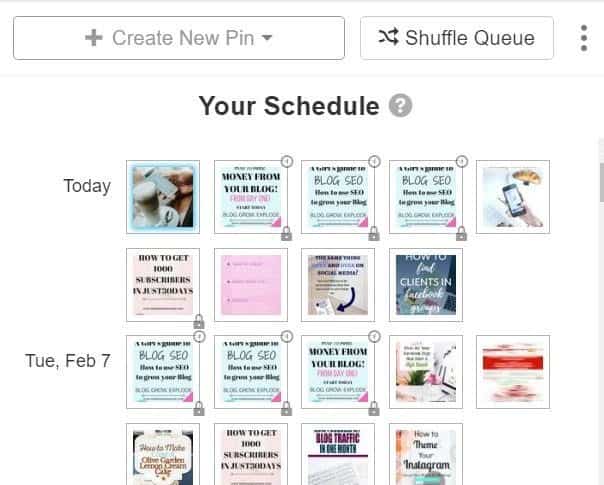 Under schedule, go to create new pin

Upload or attach a link to start with a new Pin.

Then go to your draft section to see the uploaded pin

You are going to want to pin it to a group board and then include all your tribes that you want to send it out to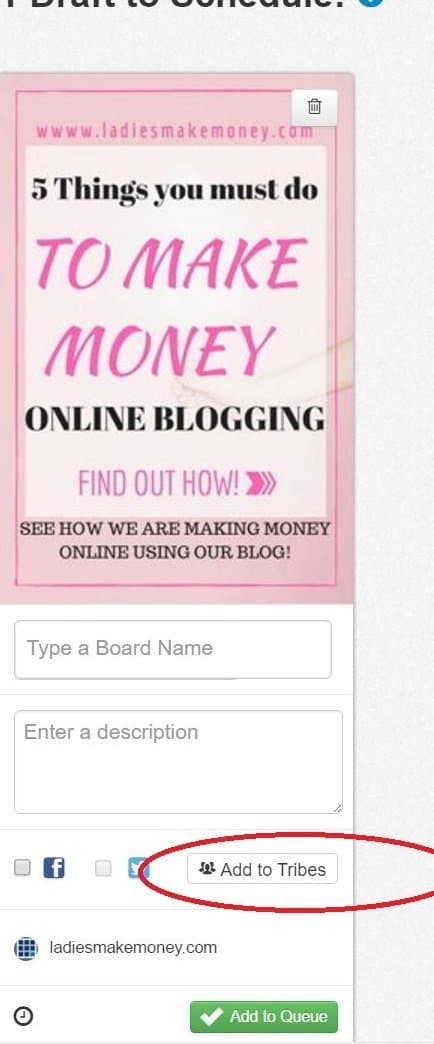 Share your best pins to the groups to start your boosting campaign.

The bloggers will re-pin your work if your content and image you are sharing are of top quality.

Please share and participate by re-pinning other contents- otherwise, you will get booted out. Under my tribe, I can see exactly who is just pin and the number of times they have re-pinned. I will then send out a notice or remove them from the group.
How Many Tribes should you join
If you opt to use the free tailwind option which is not a bad thing, you only get 5 tribes.
I think if you get into 5 amazing Tailwind tribes then you will do amazing. Especially if they are directly related to your niche. If the tribe is not doing too well or to your liking be comfortable enough to leave them.
But give it at least 2 months to properly analyze.
This means going into your Google analytics and figuring out how much of the traffic is coming from Tailwind tribes.
Tailwind Tribes Power Up
As I mentioned, the free plan comes with access of only 5 tribes and you can submit 30 Pins per month. This is more than enough for those starting out and you may go ahead and sign up for it right here.
If you would like more access and this should be used only if are seeing great results with the 5 tribes.
Tailwind Power up costs an additional $5.00 per month.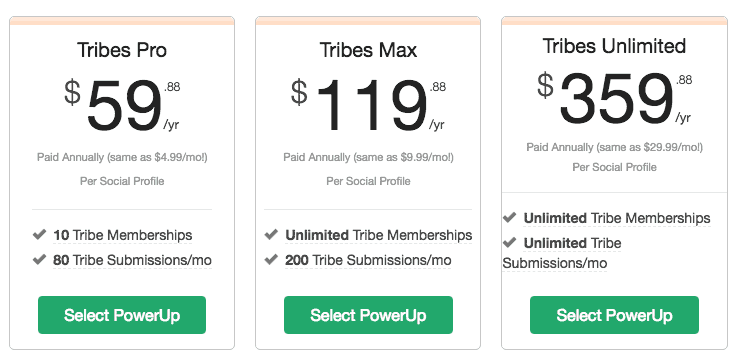 TOP TIPS ON HOW USE TAILWIND TRIBES TO BOOST YOUR BLOG TRAFFIC
Only join tribes that fit your niche. There is absolutely no point in joining a dessert niche if you are a fashion blogger.
You are more likely to get better results that way.
This part is totally up to you: Most bloggers pin there new content to give it a kick right after creating a post.
I personally wait a week or two to pin the pin to the tribes. I allow the pin to circulate on Pinterest before pin that onto the tribes.
I found that it works better for me.
When using the tribes, try not to self-promote your work.
Ensure your pin images are high quality. I definitely second guess before I pin an image even if the content is great.
Don't forget to add a description to your pins for Pinterest SEO Power.
Mastering Tailwind Tribes
Want to get one month free to use Tailwind? Use this link – sign up for tailwind here!
Do Tailwind Tribes Work?
Definitely pay attention to your analytics which you should be doing at least monthly.
The tailwind platform makes it easy for you to evaluate your performance by looking at your Tribes Overview!
The overview will give you an idea of your engagement related to your tribe. I usually use the analytics on Google to get more accurate numbers.
However, on the Tailwind platform you can actually see the number of re-shares you have as well as how how many re-pins your pins are getting.
Again, feel free to leave tribes that are not working out for you.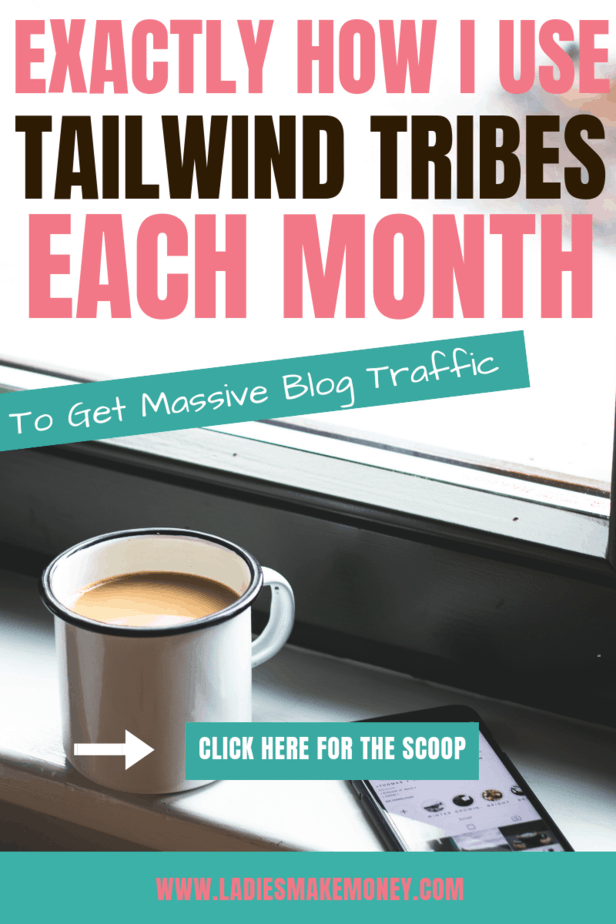 To Join Tailwind tribes or use Pinterest Group Boards?
To be honest, Pinterest did say that they are not giving priority to group boards any more.
I am using them less and less but should be taken out of your Pinterest marketing efforts unless they tell us to completely stop using them.
By joining great Pinterest group boards, you will be able to see great results. Keep in mind that it is getting harder to join these groups now.
It is much easier to join and use tailwind tribes and you will get better results much faster. You should definitely use tribes as part of your marketing strategy.
Additional Pinterest marketing tools:
P.I.Q Strategy – An Amazing guide to sky rocket your Pinterest marketing efforts almost instantly.
Pinteresting Strategies – I use this guide religiously and my traffic goes on the rise or stays stable depending on the algorithm or updates on Pinterest.
You can view my full review here: Pinteresting Strategy Review!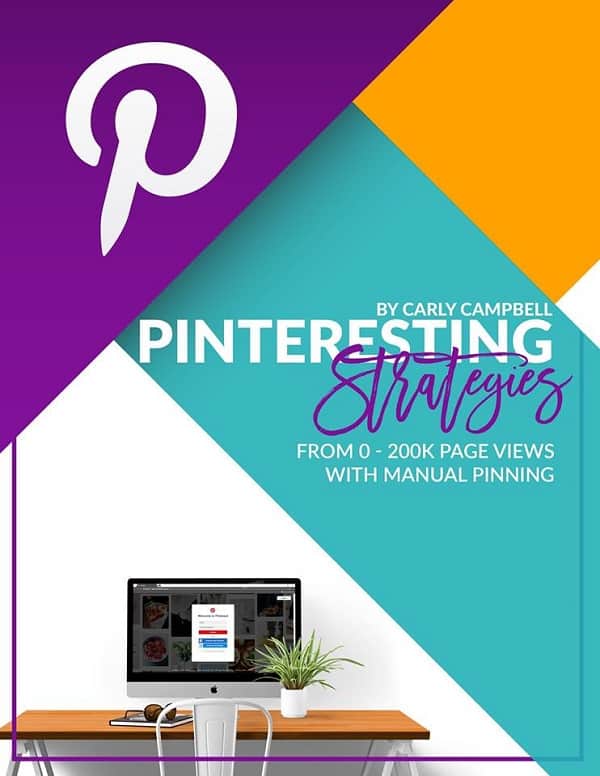 Learn more about Pinterest Marketing for Bloggers right here!
If you enjoyed our blog we would like to have you join our email list and receive weekly money-making tips, you can join now! Don't forget to join our Private Facebook page. The page is created to share your work, pitch your services and learn from other experienced bloggers!
---
***We would like to note that this post and most posts on our blog may contain affiliate links. This means that if you purchase something that has an affiliate link, we will get a commission from it. Not all items recommended on our site are affiliate links. We only recommend items that we have used and tried. These items have brought us much success and we highly recommend them to you in order to be successful. Thank you for your trust!
How To Use Tailwind Tribes To Boost Your Blog Traffic