Last Updated on May 3, 2021 by NandiNN
Cute iPhone wallpaper quotes
These cute iPhone wallpaper backgrounds are perfect for entrepreneurs, bloggers and go-getters that are looking to feel motivated daily.
I love motivational quotes, inspirations and mantras.
They help inspire me to keep going and when I read one, I normally get the extra push I need to get things done.
If you are looking for beautiful quotes and inspirational wallpapers for your iPhone, then you have come to the right place.
You find a great selection of iPhone wallpaper for girls.
Whatever you are looking for, I am sure you find it below.
We really wanted to create a few girly iPhone wallpaper quotes to help inspire you as a businesswoman.
So if you are looking for positive affirmation iPhone wallpaper ideas for yourself, keep reading.
I don't know about you, but most of us spend a lot of time on our phones.
I know I use my phone to complete small blogging tasks, check my emails and schedule social media posts.
So when I pick up the phone, I enjoy reading cute motivational quotes I saved as my wallpaper.
I truly hope you enjoy these cute iPhone wallpaper inspirational quotes.
Are you ready for some motivational quotes for iPhone wallpaper?
Before we share cute iPhone wallpaper you can use for motivation, we did want you to follow us on Facebook for more awesome ideas on saving or making more money. You can also follow us on Instagram for more tips.
We also wanted to take the opportunity to let you know that we use Affiliate links on some of our blog posts. This means that we could make a commission if you click on an affiliate link and purchase something.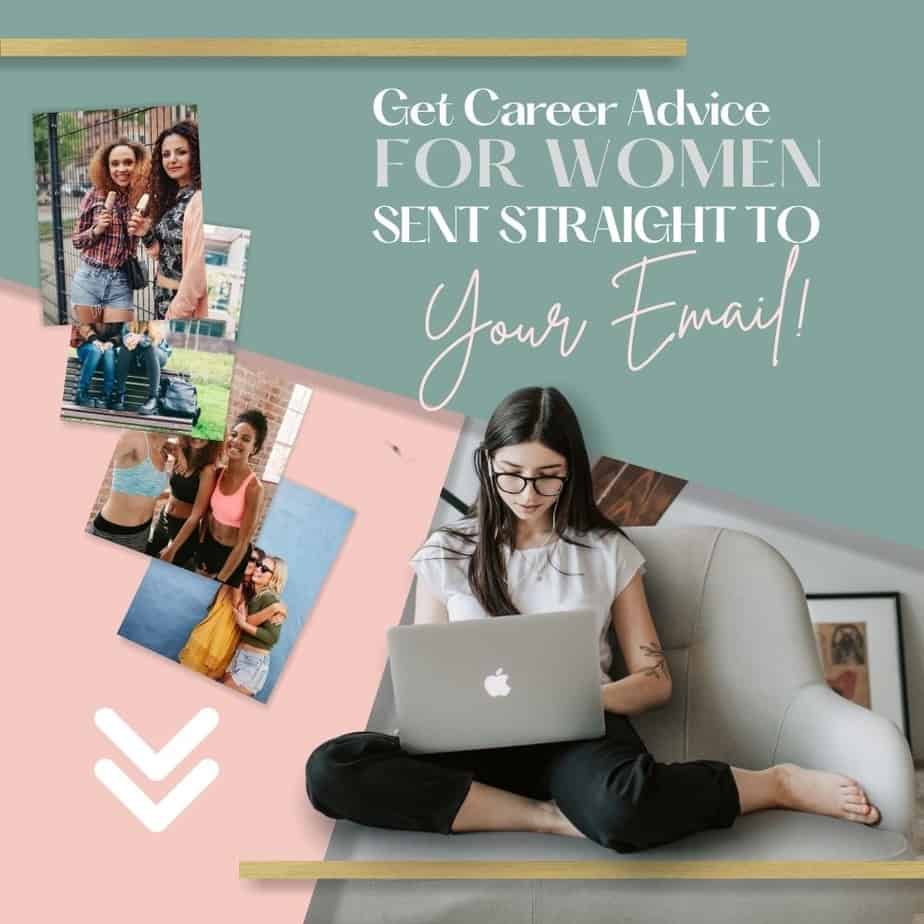 And if you want career advice sent straight to your email, click here.
I share all the unique and clever ways I have made money over the years.
15 cute quotes wallpaper for iPhone
These quotes will inspire you to work harder and hopefully motivate you to do the best you can.
I have personally felt extremely motivated after reading quotes.
They can be a wonderful reminder of how hard you are working and the potential of how far you can go.
The best way to keep your favourite quotes with you all the time is to have them as your iPhone wallpaper.
That way you will constantly stay motivated to work harder.
Enjoy these inspirational quotes for iPhone wallpaper today.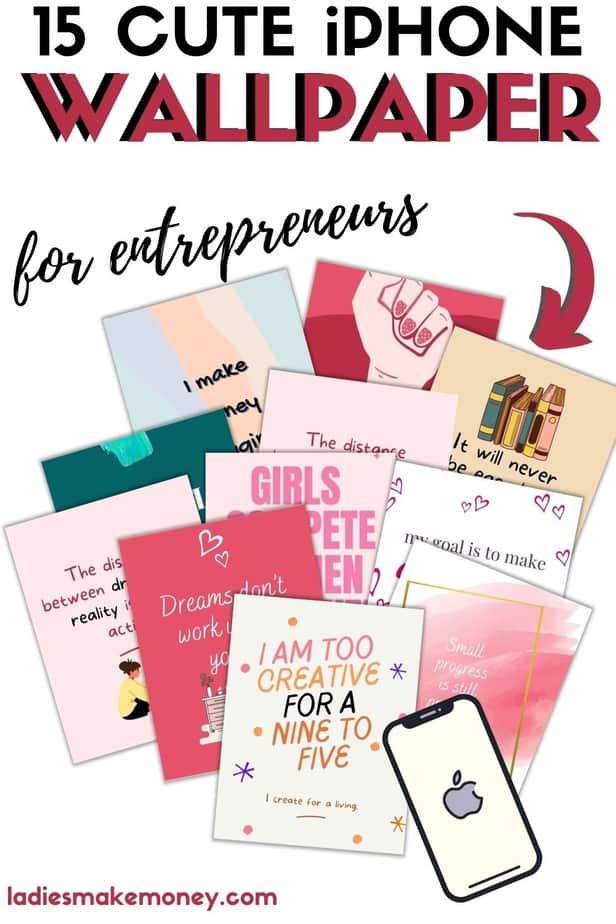 1. iPhone Wallpaper that motivates
If you are looking for an iPhone wallpaper that will keep you motivated on working on your goals, then you need this one.
I don't know about you, but I personally have so many financial and money goals that I am working on every day.
My hope and dream are to be financially free within a few years.
So this cute iPhone wallpaper is perfect for constantly reminding me of where I want to be.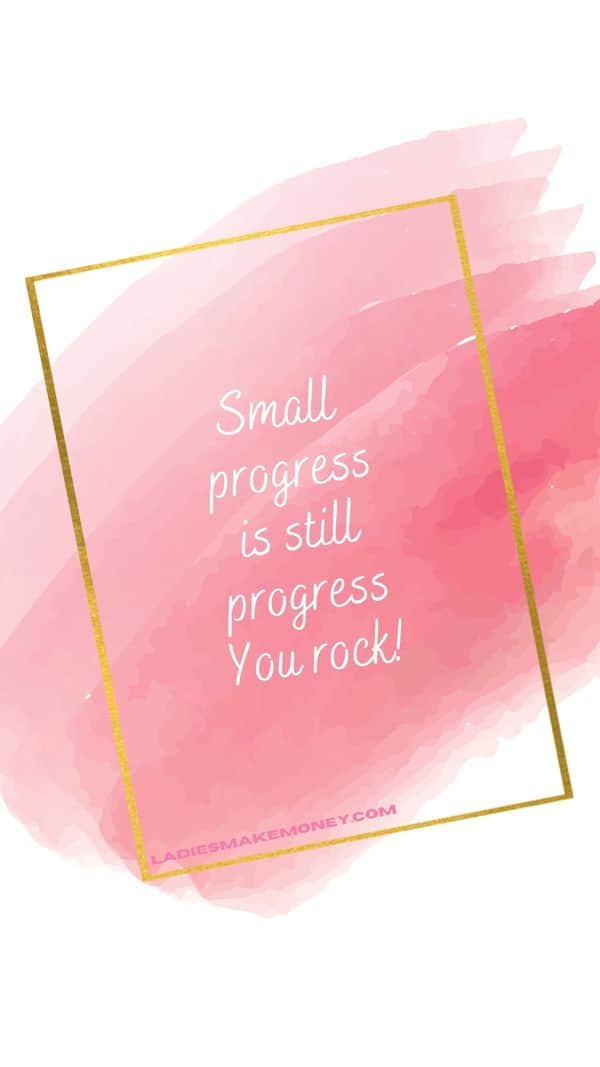 2. For Action Takers
This cute iPhone wallpaper is perfect for entrepreneurs that are too scared to take the leap.
You know you want to start that blog, change that career or buy that first house but something keeps holding you back.
Today is the day that you take action.
If you do not take action someone else will live your dream.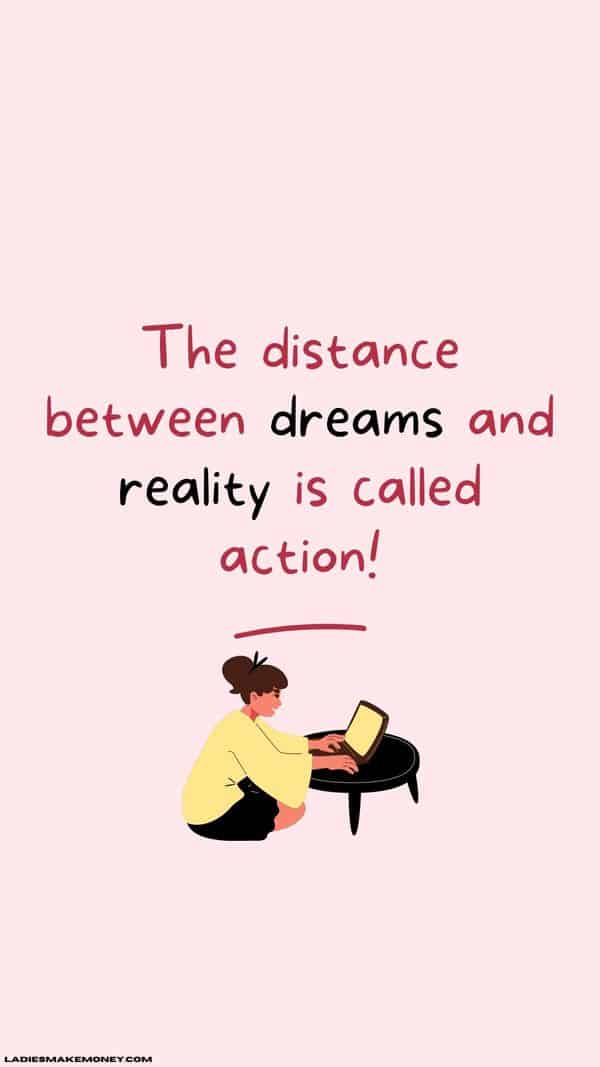 3. Make a plan
I have already mentioned this, but setting goals and not doing anything about it is worthless and a waste of your time.
We all have a few dreams and no matter how small or big, your dreams matter.
The moment we take the time to write our dreams down, they become more concrete and we can then create a plan to make those dreams come true.
When I was deciding new career path I was going to take a few years ago, I wrote it all down in my now popular "Dream Business Planner"!
That dream has now blossomed into big things.
Grab this iPhone wallpaper to motivate you to dream, plan and do!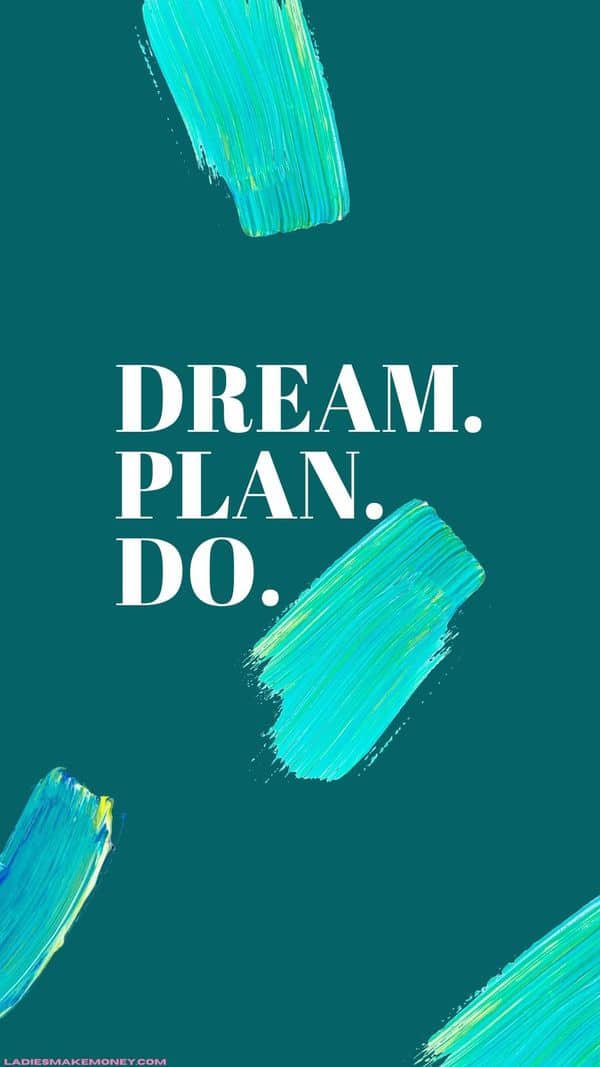 4. Positive iPhone wallpaper quote
If you are looking for positive quotes wallpaper for iPhone, this one could work beautifully.
I enjoy motivating women so any chance I get, you will find me uplifting and empowering other women.
If this quote resonates with you, be sure to grab it today.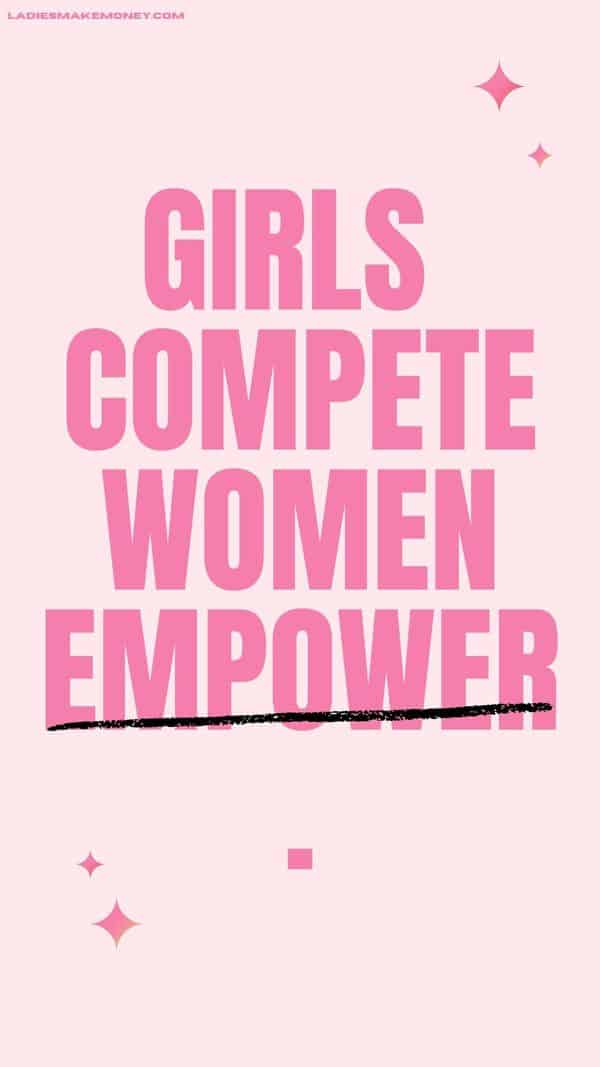 5. Cute iPhone wallpaper for women who create
Here is the thing.
If you want a lifestyle that you can control and profit from, you need to create it.
Find opportunities that will open doors for you and go for it.
Start by grabbing any of these epic books every entrepreneur should read and find some inspiration to get your dream life started.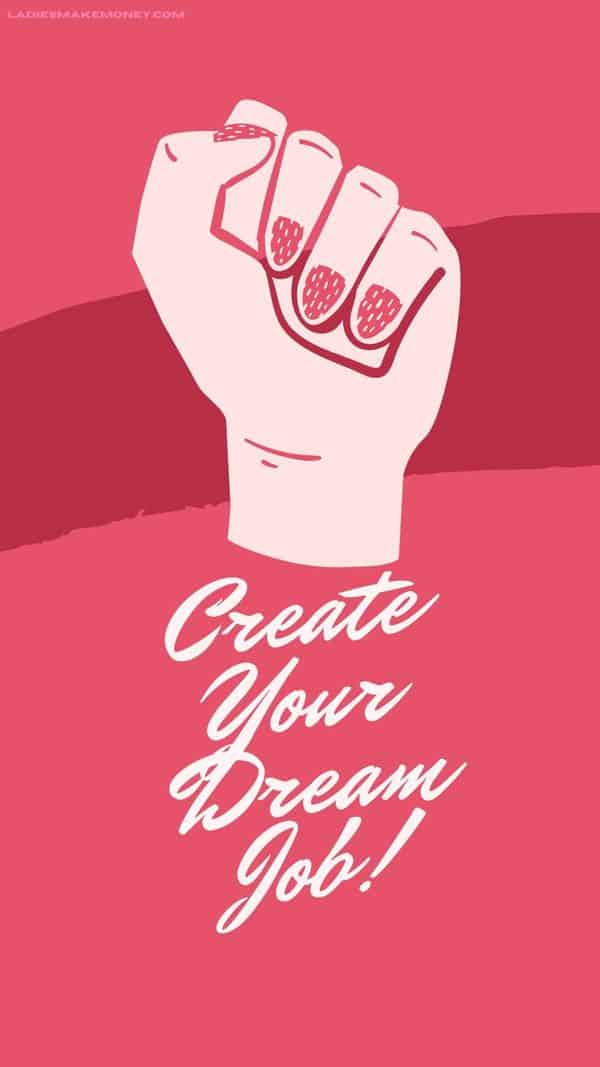 6. I am a blogger iPhone wallpaper
If you are a blogger, then cute iPhone wallpaper is up for grabs.
Bloggers work hard every single day to create life-changing opportunities for themselves and for those that read their blogs.
I personally make over $5000 from home with my small blog.
This has definitely been a life-changing opportunity that I was glad I go into.
Read this if you want to learn more about how I make a full-time income blogging.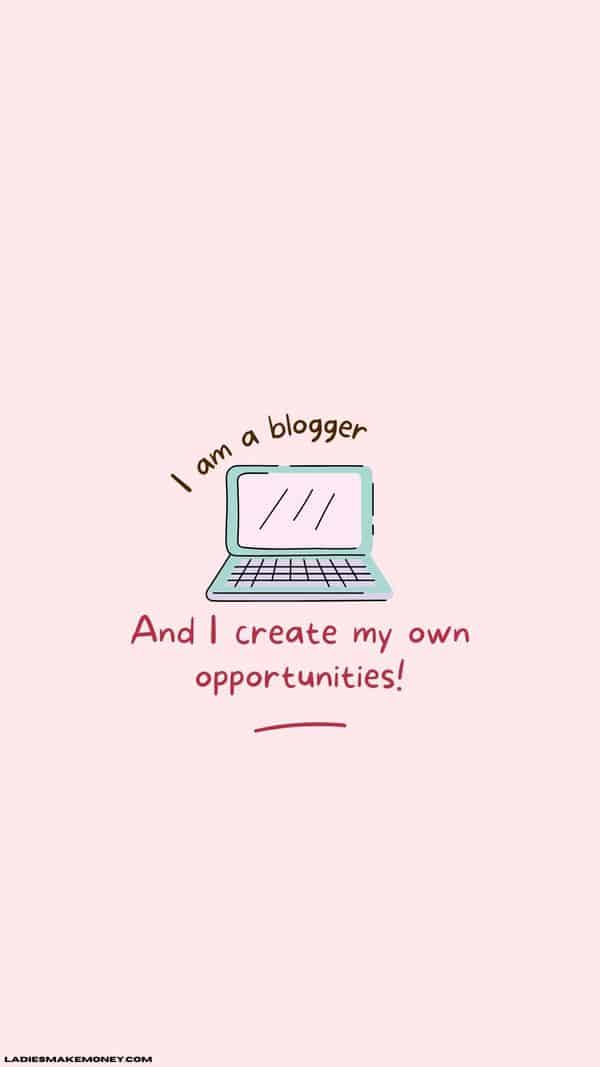 7. Create an impact
As a blogger, you are constantly creating posts that people are reading and relying on to help them take action, learn, or even get inspired.
It is important that the information you spread out really creates that impact for positivity for anyone that reads it.
Remember, the client is the center of your business.
Without clients, your business is virtually nothing.
So, the best way to create an impact for your business is to develop an approach where the client is kept at the center of everything you do.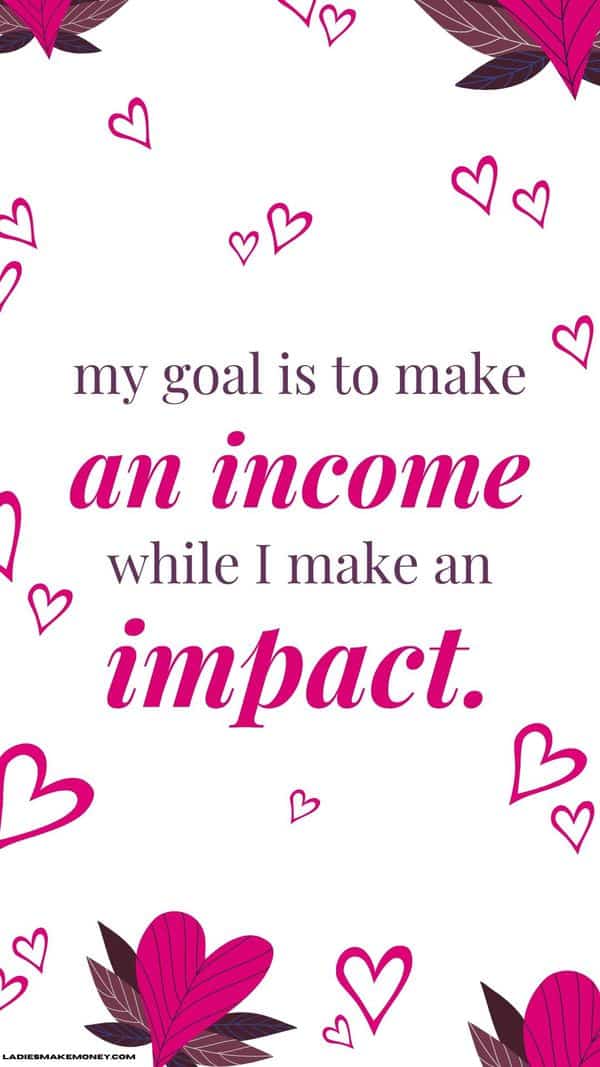 8. iPhone wallpaper for Entrepreneurs
Are you a creative person?
Why not use all that creativity to create something that will not only make an impact but make you some money.
A good place to start is to use this side hustle planner to come with your winning side business.
This productivity side hustle planner is perfect for entrepreneurs, busy women with part-time jobs, and business owners who need help with focusing on tasks and projects rather than the constant overwhelm of endless to-do lists.
Grab it today, and get your side business going.
And from here, you can grow that into a profitable full-time business.
Go ahead and grab this cute iPhone wallpaper.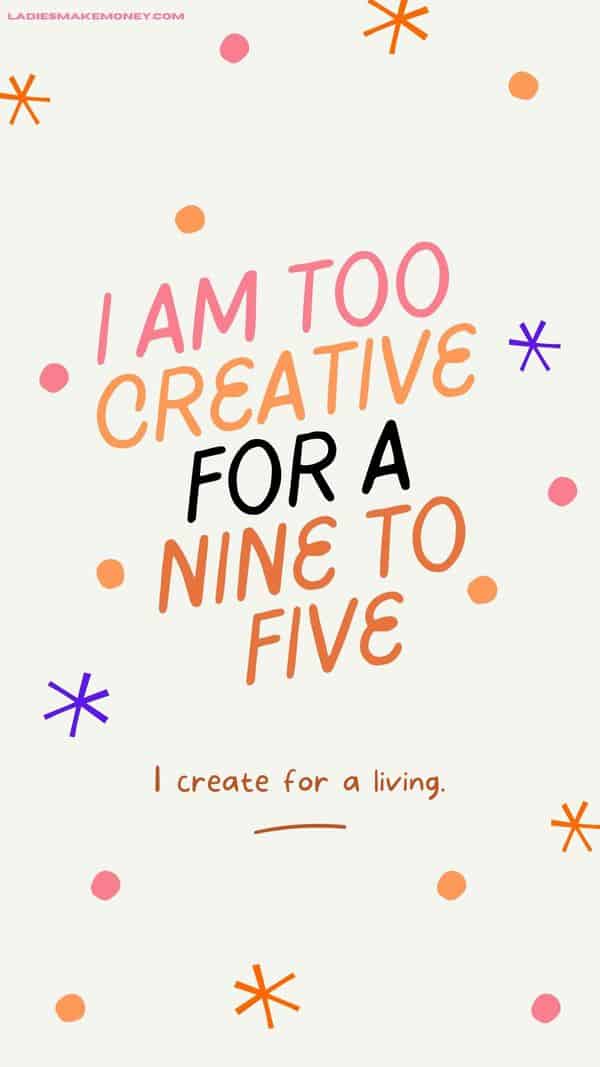 9. Community matters
For business owners, having the support of a strong community can mean the difference between success and failure.
You can't do it all.
For most female entrepreneurs, that support often comes from other women.
If you are a supporter of women entrepreneurs, be sure to grab this iPhone wallpaper.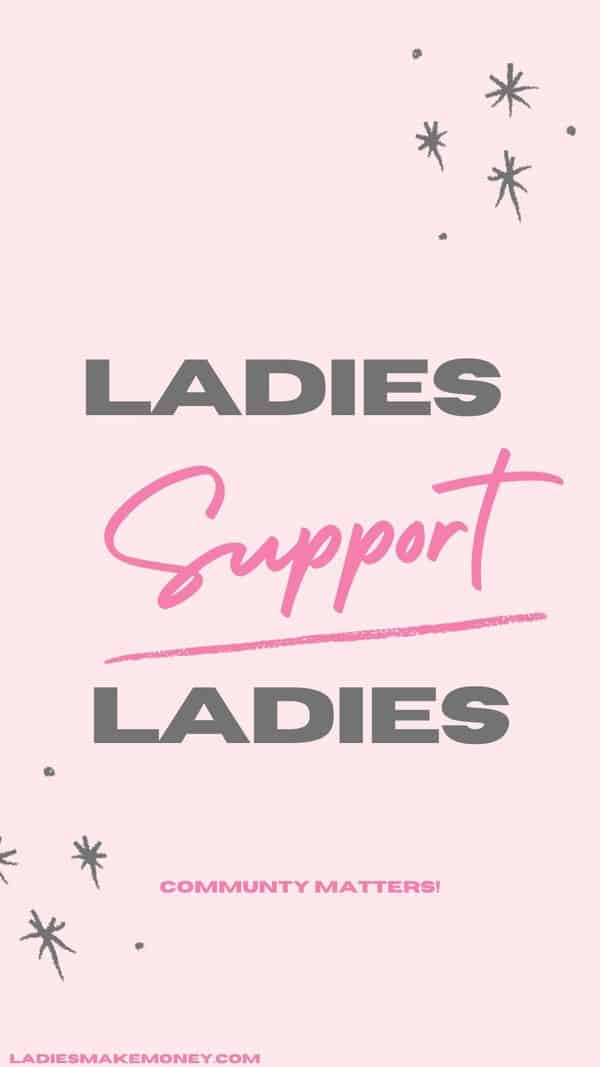 10. Work on your dreams
If you haven't already grabbed my popular "Dream Business Planner" be sure to get it.
Unless you have a creative plan in place, your dream might not ever come true.
Make a list of everything you need to do to make your dream come true and start with the easy stuff.
Use this cute iPhone wallpaper to remind you to keep working.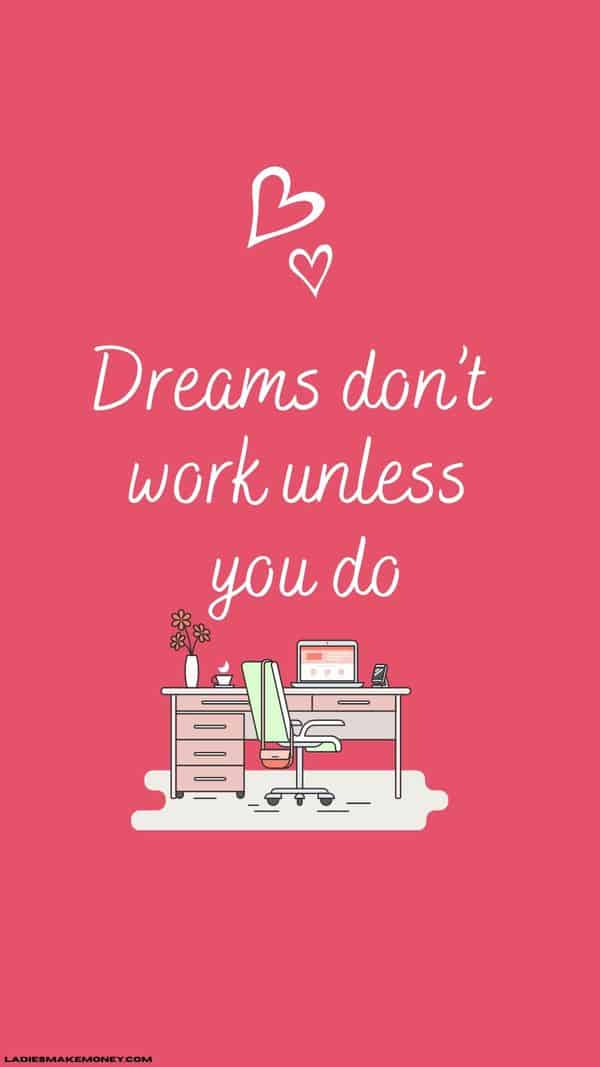 11. Stay positive iPhone wallpaper
This positive affirmation iPhone wallpaper is designed specifically for bloggers.
As A blogger, I know how stressful things can get and at times you may not even feel like blogging.
But you have to stay positive.
Positive thinking is when we consciously cultivate positivity in our minds so that we think we can get through anything.
And it's been scientifically proven to improve your work life, physical and mental health, and relationships.
Bloggers need to have a lot of positive thoughts to succeed.
This cure iPhone wallpaper can help you keep pushing through even when things may not seem like they are working.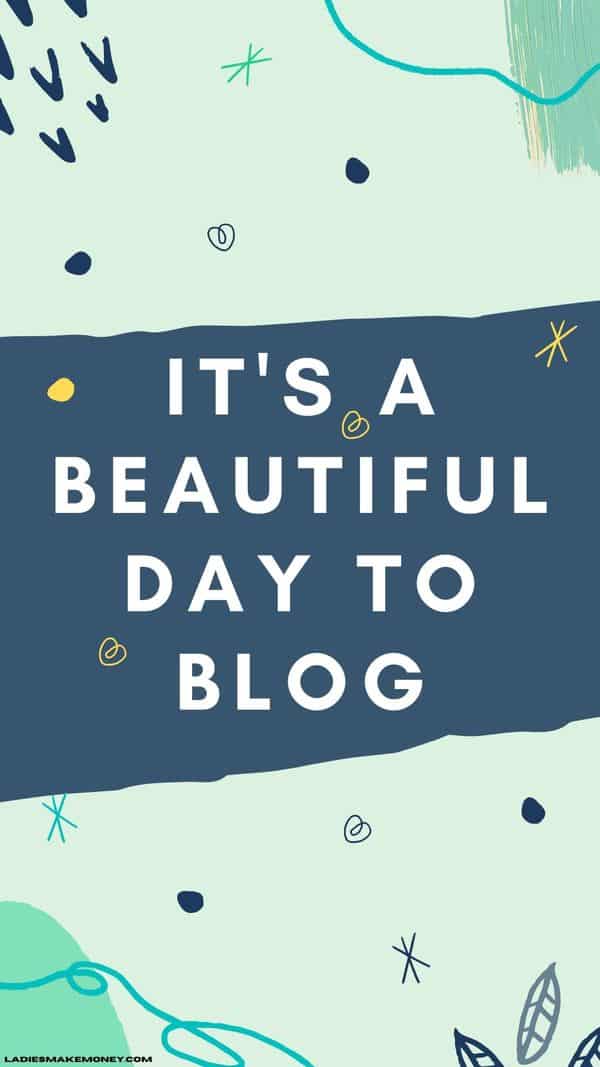 12. Problem solving
I have made the majority of my blog income by creating my own products.
And the best way to come up with products that will make you money is to find products that solve your reader's problems.
If you are a blogger, then you should absolutely stop depending on traffic for income.
Instead, grab this product planner to help you kick start your journey into learning how to make products that will make your readers buy from you.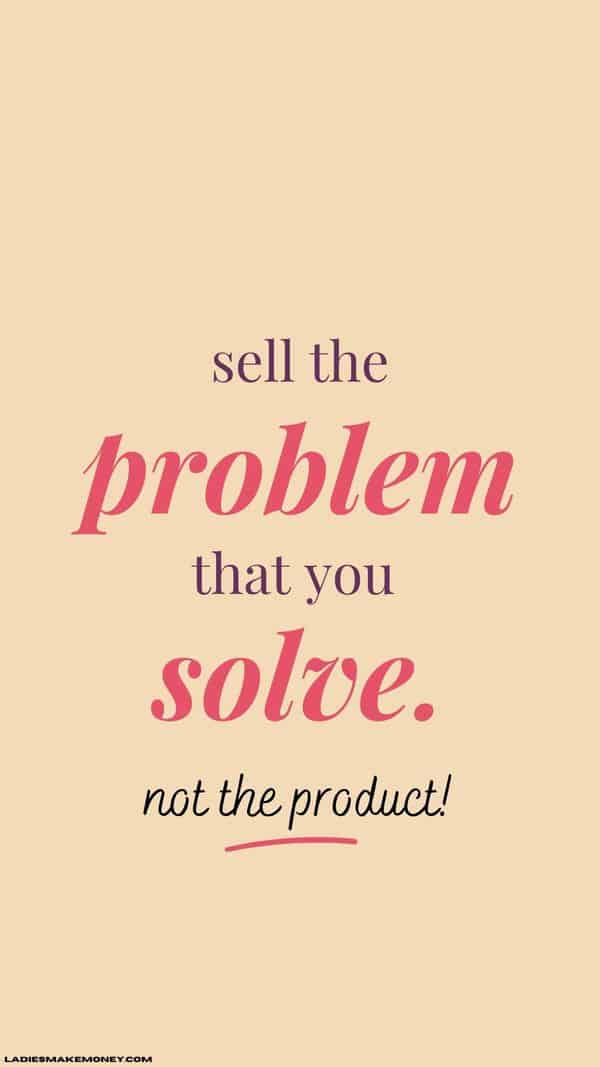 13. Make money blogging
Stay motivated to grow your blog income by downloading this cute iPhone wallpaper.
Do you think blogging is just a hobby?
Think again, my friend!
Blogging can actually make you quite good money if you have the right strategies in place.
How would you like to make consistent INCOME with your blog by setting up REAL systems that work over and over with little effort?
Go ahead and grab my Blog Income Strategies Simplified right here.
14. Nothing is ever easy
Unless you have a great plan and you have it all figured out, things may get hard.
If you truly want to make things work out, you need to put in the work.
Create a solid plan and work on your dreams.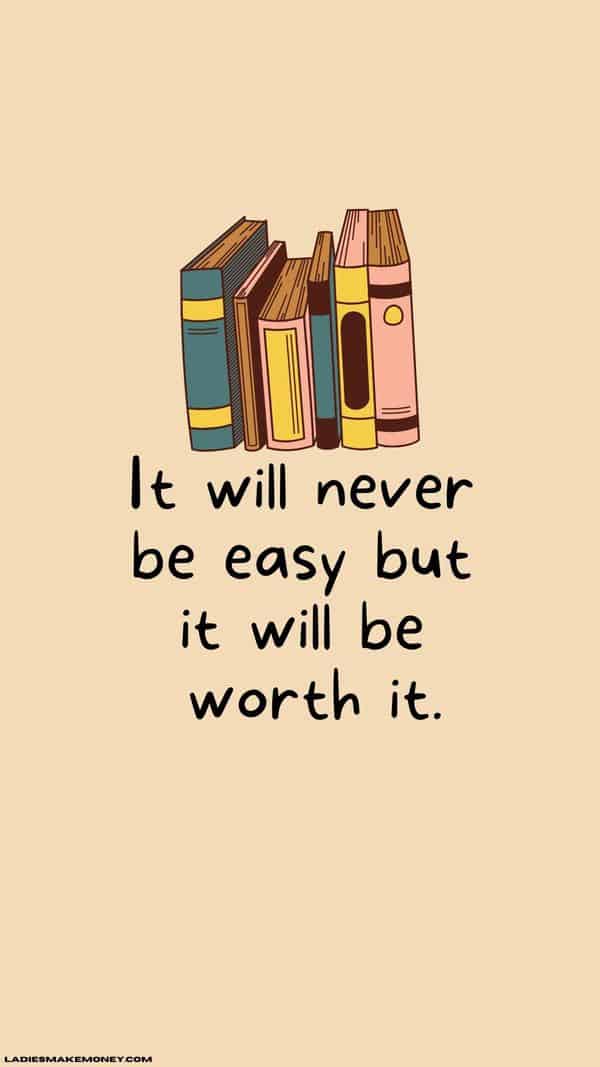 15. Cute iPhone wallpaper for bloggers
Here is another cute for bloggers.
I am so glad that blogging is actually a career and that it has helped me land so many other amazing opportunities.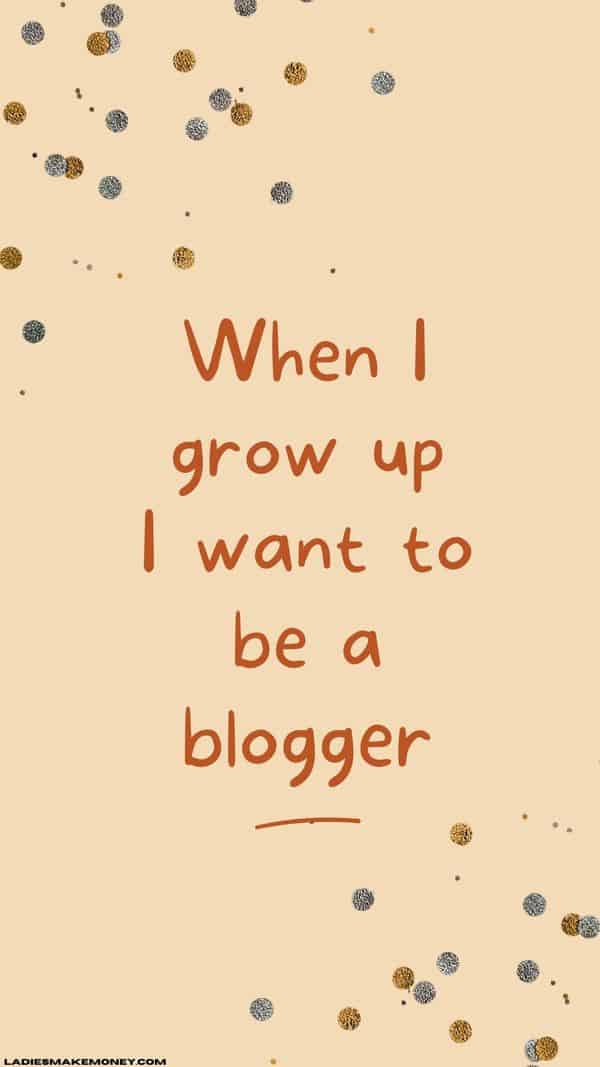 There you have it, pretty iPhone backgrounds with quotes that you can download for free.
Which one of these will you download?
To save these pretty iPhone backgrounds:
If you want to download these, simply sign up here and you will get the images without my logo on them.
Tell us which one you will use in the comment section.
Read next:
If you enjoyed our blog we would like to have you join our email list and receive weekly money-making tips, you can join now! Don't forget to join our Private Facebook page. The page is created to share your work, pitch your services, and learn from other experienced bloggers!
---
***We would like to note that this post and most posts on our blog may contain affiliate links. This means that if you purchase something that has an affiliate link, we will get a commission from it. Not all items recommended on our site are affiliate links. We only recommend items that we have used and tried. These items have brought us much success and we highly recommend them to you in order to be successful. Thank you for your trust!
15 Cute iPhone Wallpaper Perfect For Women Entrepreneurs & Go-Getters