Last Updated on June 28, 2019 by NandiNN
SEO Tips For Bloggers
We are going to share our best SEO tips for bloggers to help you get ranking on Google.
Are you in a niche market that gets little to no SEO traffic from Google?
So, your online business operates in a pretty small niche. But SEO is for companies with a lot of online competition, right?
You might think that being one of fewer fish would be a good thing… less competition, more chance to be seen… but actually, you are also in a much smaller pool, which can be very problematic.
The main problem niche businesses face is that they are constantly battling low search volume keywords because fewer people are using the search terms they need to rank for.
When you have naturally low traffic, you do not have as many chances to grab people's attention and, if you get it wrong, you have alienated a larger proportion of your potential customer base.
However, putting the reality-check to one side, there are some steps you can take as a niche business owner to drive more traffic and boost your visibility in relevant search results?
In this blog, we will highlight and describe three of the most effective ways to do SEO in a niche business.
But before we get started on the SEO tips for Bloggers, we would love for you to join our growing Facebook group right here! Be sure to give us a quick follow on Instagram as well!
We also wanted to take the opportunity to let you know that we use Affiliate links on some of our blog posts. This means that we could make a commission if you click on an affiliate link and purchase something. Please check out our full disclaimer and policy page here.
What Is SEO Niche?
Niche marketing simply means you are targeting a specific market by using very specified keywords.
If you are able to attract and target specific audience or buyers that interested in a very specific topic, item or interest then you are golden.
Most SEO experts believe that niche markets do way better than if you blog on different topics.
This means you are trying to attract everyone and anyone which makes it hard to make sales.
But those that are too niched down, may find it hard to get the volume they require to do well in their chosen industry.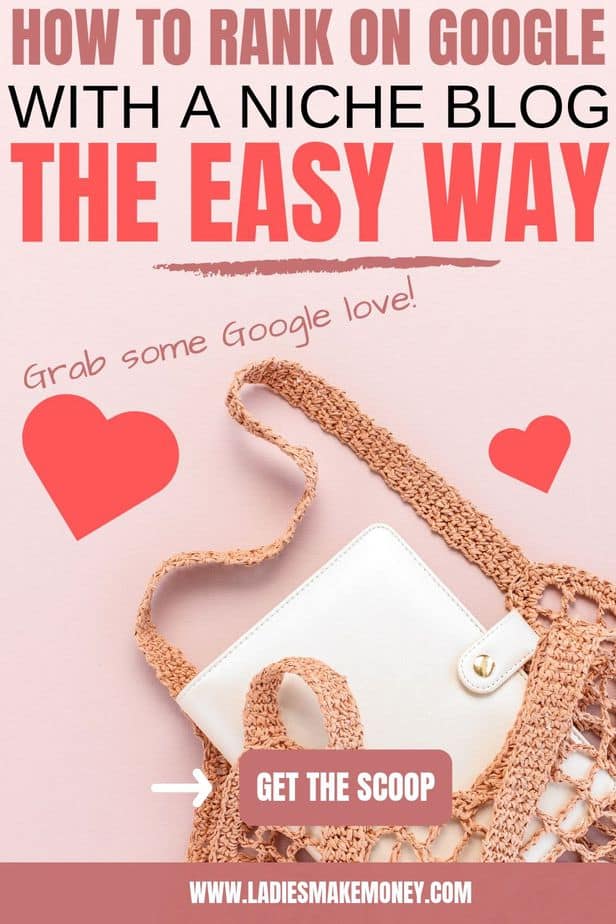 Here are a few ways around that:
Target related search terms with the most volume
The first step in any good SEO strategy is to conduct keyword research.
Use a keyword planner like kwfinder.com , Semrush or Google Ads
Enter terms people might use to find you, e.g. "hand embossed silver spoons" and a keyword planner will tell you the number of people who search for that term per month, whether competition for it is high or low and possibly suggested, alternative keywords.

Image source: Google AdWords
You will find that if you enter a very niche search term you will get an error notice that says it is 'ineligible'.
What this message is telling you is that so few people use it that it is not worth targeting as a keyword. Depending on how niche your niche is, you might get this message for most of your plausible keywords.
If this happens, or the monthly volume is particularly low, you are unlikely to drive much, if any, traffic to your site, regardless of how well you rank for those keywords.
Therefore, you should:
Substitute complex words for more common ones, e.g. 'cheap toys' instead of 'inexpensive toys

Use related-if-not-perfectly-accurate terms, e.g. 'ethical hammocks' instead of 'handmade recycled hammocks'
Yes, in general, it is better to rank for keywords that are as specific to what you offer as possible, but, if what you offer is too specific to be found using keywords, it's better to compromise and related terms that drive more traffic.
The best strategy is to avoid ineligibles and target some low volume and some high volume keywords (some with less competition and some with more).
Perfect your technical SEO
If the term 'technical SEO' makes you shudder, it might be better to employ an expert to tackle this part.
However, it is possible to markedly improve your technical SEO without a lot of expertise.
Use a good guide, like this one from Moz, and work on the basics like:
Building internal links between your website's pages

Ensuring you have the right security certificates (e.g. an SSL certificate that comes with good free web hosting plans and most paid versions)

Get rid of bad links to your website, e.g. by using a link audit tool

Structure your pages well, with clear headings, subheadings, paragraphs, etc., as well as meta-descriptions and an XML sitemap (all of which help search engine bots scan your site more easily)

Add links to high-authority sources on each of your pages (they must be related to what you're writing about)

Learn how to easy backlinks for SEO which is essential to fast growth
Good technical SEO provides a solid foundation for everything else, meaning the rest of your SEO efforts are much more likely to be impacted.
Diversify your content
Too many niche businesses make the mistake of narrowing down their content.
No matter how niche your product is, there are always a tonne of related topics you can cover. For example, if you only sell handmade wooden children's puzzles, you could cover:
Historical kids toys, including puzzles

Child development and how it relates to puzzles

Handmade toys in general with guest posts from craftspeople making other toys

Wooden toys in general

Ethical topics that explain why you chose handmade and wooden
As long as what you write is related enough to what you sell that your audience will still be interested, it is fine to diversify.
It also provides opportunity to network with a much wider range of industries, which will improve your reach and give you a better chance of gaining backlinks from authoritative sources.
The takeaway…
SEO is always going to be something we love to hate, but mastering it is essential if you want to be successful online.
While it is more challenging for niche businesses, being different is also your strength. So, break the mold a little and make sure you:
Find some balance between popular and less relevant and low-traffic but more relevant keywords

Get your technical SEO in order

Broaden your content horizons to reach a bigger audience
These SEO Tips for bloggers are supposed to be implemented right away if you want to see great success.
Don't be afraid to go back to older articles to update and change up things. As long as you do not mess with the URL structure you should be fine.
Other SEO Tips for Bloggers:
How To Increase Organic Traffic from Google Without Tearing Your Hair Out
I guarantee this will increase your website traffic
If you enjoyed our blog we would like to have you join our email list and receive weekly money-making tips, you can join now! Don't forget to like the Facebook page. The page is created to share your work, pitch your services and learn from other experienced bloggers!
---
***We would like to note that this post and most posts on our blog may contain affiliate links. This means that if you purchase something that has an affiliate link, we will get a commission from it. Not all items recommended on our site are affiliate links. We only recommend items that we have used and tried. These items have brought us much success and we highly recommend them to you in order to be successful. Thank you for your trust!
3 Top SEO Tips For Niche Businesses – Ranking Your Blog Content