Last Updated on April 29, 2018 by NandiNN
We are honored to have this guest post which focusses on things you must not do when paying off your auto loan. If you have a car loan or considering taking one, be sure to read this first. 
Before we get started, we would love for you to join our growing Facebook group right here! You can also join our Pinterest group by scrolling to the bottom of this page! If you are looking for guest blogging opportunities or if you need a personal affordable coach to take you from A-Z, we can help you. Get all the juicy details right here! Have you seen our brand new shop! 
We also wanted to take the opportunity to let you know that we use Affiliate links on some of our blog posts. This means that we could make a commission if you click on an affiliate link and purchase something. 
What should you not do when Paying Off Your Auto Loan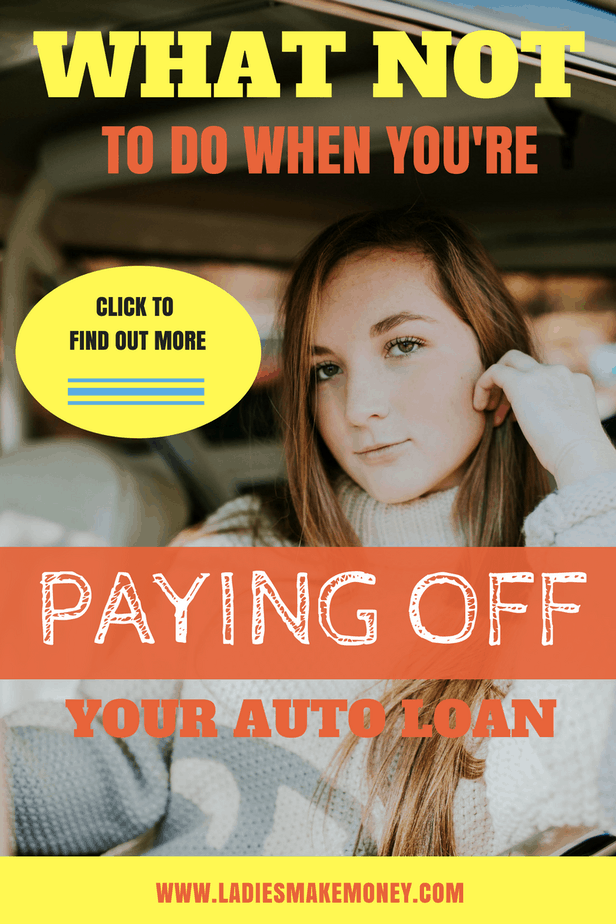 Getting an auto loan can be a big ordeal, especially with your time and budget. You also have to reassess your budget and schedule carefully to make sure you have the capacity to pay for the auto loan. However, it's much more efficient if you take various factors into consideration before ever taking an auto loan out. Here's what not to do when you're paying off your auto loan:
Negotiate Poorly
Should you ever come to a point where you have to negotiate your auto loan to your lender, always remember to negotiate for the price of the payment in itself and not the monthly payment you're going to do. This is because if you say your monthly payment capacity, you will inevitably give your debtors some idea of how much they can add as costs to the debt, and this isn't always convenient.
Always be one step ahead of the game. Take note of what kind of lenders your auto loan lenders are so you have an idea on how to negotiate with them.

Be aware of how your credit rate is performing, just so you have a good idea of how realistic your offers can get.
Remember, you're already paying off your auto loan, but there might be opportunities for you to meet your lender and even decrease your interests or loan period. These opportunities should not be missed if you want to save money.
Ignoring Credit Ratings
Just because you're already trying to pay off your loan doesn't mean you can just as easily slack off. Make sure your payment plan has something that addresses your credit woes as well. If there's some way for you to increase your credit woes at the same time while you're paying for your car debt, it will help you in the long run.
Aim to improve your credit rating at the time that you've been paying off your loans. Not only can this help you when you get another car loan in the future, but this can help you give a good impression when you want to take out more loans.

Try to make sure your credit report always has the right information. This is especially by the time you finish your car loan. Make sure it indicates your debt as paid in full, so it'll reflect this on your rating.
Taking On The Extended Deals
Sometimes auto loan lenders can offer special offers to come with your car loan. These can be in the form of services, extra parts, and even an additional lengthy warranty. They can be very attractive options, no doubt, but always remember that these don't always work in your favor. Make sure these things are absolutely necessary for you before deciding on them.
Some special offers tend to be useful, but a lot of them are also just ways for lenders to get money from you. Always remember to take note of which is which.

The best tip is if you can do it by yourself, don't sign up for that service or special offer.
Related:
How to pay off $10, 000 worth of debt 
Stop letting your finances control you 
Always Accepting Long and Lengthy Loans
Sometimes, loan periods that span years can be ideal especially since we have no control over the kind of income we're getting. However, this isn't always a good thing when it comes to auto loans. Remember, cars tend to depreciate over time, so it's best to always opt for a loan of the right length at your optimum payment capacity.
Long and lengthy loans seem attractive for now, but they're going to have a negative impact on you and your car. You'd end up paying more for a car that's already lessened its value in a few years.

This means you should opt for a more reasonable time span when loaning your car, such as three to five years.
Not Considering Other Options
We have to realize that sometimes our payment plans don't always work. When something isn't working, we shouldn't continue pushing because it might harm our overall financial scenario. The case is the same with auto loans.
If you think your current plan isn't working, try to opt for refinancing your loan. Refinancing your car loan allows you to follow an alternate payment scheme if your current one isn't working. This is a good alternative option if you're having problems paying off your auto loan.
Also, don't always assume that everything is going to be okay. Always remember that you should be two steps ahead in the auto loan game because things can happen all the times. 
Related 
The Money saving aims everyone should have
Conclusion
Paying off your auto loan can be a very arduous journey, as sometimes they tend to take a big chunk of your time and budget. A well-thought financial plan can help alleviate your situation and lead to a more secure financial future without affecting your financial life too much. However, make sure you follow the tips above in order to make sure your auto loan is paid appropriately and without any hassle.
If you have any problem with a late payment for your auto loan can you check this out? 
Do you have other advice you want to share with our readers?
Like this post? Pin it to your "Money Saving Tips" board and read it again. Be sure to share the love. 
If you enjoyed our blog we would like to have you join our email list and receive weekly money-making tips, you can join now! Don't forget to join our Private Facebook group. The page is created to share your work, pitch your services and learn from other experienced bloggers!
---
***We would like to note that this post and most posts on our blog may contain affiliate links. This means that if you purchase something that has an affiliate link, we will get a commission from it. Not all items recommended on our site are affiliate links. We only recommend items that we have used and tried. These items have brought us much success and we highly recommend them to you in order to be successful. Thank you for your trust!