Last Updated on July 15, 2018 by NandiNN
Statistics show that 51% of the U.S. workforce is not engaged. So, what does this mean for you? How can you keep your employees engaged and motivated? 
Before we get started, we would love for you to join our growing Facebook group right here! You can also join our Pinterest group by scrolling to the bottom of this page! If you are looking for guest blogging opportunities or if you need a personal affordable coach to take you from A-Z, we can help you. Get all the juicy details right here! Have you seen our brand new shop! 
We also wanted to take the opportunity to let you know that we use Affiliate links on some of our blog posts. This means that we could make a commission if you click on an affiliate link and purchase something
First, poor engagement triggers poor workplace productivity, which may heavily affect your bottom line. Namely, disengaged employees are costing businesses between $450 and $550 billion annually.
Second, they are more likely to hop jobs. According to Gallup, 73% of disengaged employees are looking for new challenges, compared to 37% of engaged ones.
So, how to retain your star employees and make them happy?
Let's find out.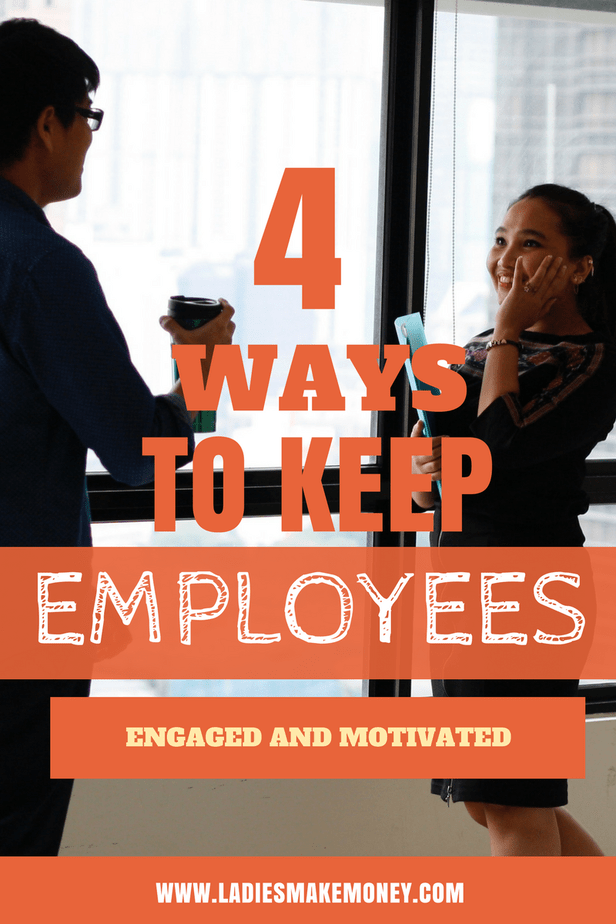 1.      Give them Advancement Opportunities
One of the most common reasons why your employees leave you is the lack of career advancement opportunities. Having too many obligations, they usually don't have enough time to work on perfecting their skills.
You shouldn't allow this to happen. When you hire ambitious people, you expect them to learn continuously. And, you need to motivate them to do so. Invest in their education and help them reach their goals, even if that means that they may switch to another company one day. Ask them what courses they would like you to organize. Provide them with all the resources needed. Give them the opportunity to plan their obligations effectively and work on their personal enrichment.
If they see that you take them seriously, they will probably decide to stay with you. Studies show that over 30% of Millennials would keep working at their current company if they give them a chance to advance.
2.      Reward Them Regularly
Providing incentives is one of the most effective employee retention boosters. You need to keep tabs on your employees' performance and reward them for both their hard work and loyalty. Now, there are different types of incentives and you need to find the option that works for you.
For example, if a difficult project has just been completed successfully, start with praising your employees publicly. You could also throw a party to celebrate and even allow them to bring their family members. If saying thanks is not enough, you could give out monetary rewards and prizes to boost their morale. And, to show how much you trust them, you could even set up a share option plan and give your most loyal employees the chance to buy a certain number of your company's shares.
3.      Be Transparent
To complete their tasks effectively and on time, your employees need to know what is expected of them. This is why you need to set clear and achievable goals and communicate them to your team. Answer all their questions to make sure they understand what their responsibilities are.
You should also give your employees feedback regularly. Keep in mind that monthly, quarterly, or annual performance reviews aren't enough for your employees. Instead, provide them with weekly reports. To feel motivated to give their best, they need to know where they stand, compared to what you require of them. Studies claim that highly engaged employees receive feedback every week.
Your feedback needs to be to-the-point, objective, and helpful. Its purpose is to tell your employees how to improve their performance. You should talk to them and offer them actionable tips and tools that will help them do so.
4.      Show that You Care
Being a good boss is not about hiring people and managing their activities only. It's about getting to know them, as well.
What are their hobbies and interests? When are their birthdays? Who are their family members? Do they have pets? You need to know all this in order to understand what motivates them or what keeps them up at night.
Apart from their professional success, you should also celebrate their personal milestones. For example, if it's one's birthday, you could take them out for ice cream, throw an office party, or buy them a cake. It's not that too expensive and yet it will mean a lot to them.
You need to monitor your employees' behavior patterns regularly to see if something strange is going on with them. For example, if you notice that one of your best employees is underperforming, talk to them in person and see what is going on. Instead of sweeping such problems under the carpet or yelling at your employees, try to be compassionate. Focus on helping them overcome their problems and give them tips on how to separate their private issues from their professional life.
Back to You
Boosting your employees' engagement is not something that happens overnight. To do it right, you need to observe it as a long-term investment. These are just some of a plethora of strategies that will boost your workers' satisfaction, improve their performance, and create a unique corporate culture.
How do you motivate your employees?
Like this post? Pin it to your "Work Ethic" board and read it again. Be sure to share the love.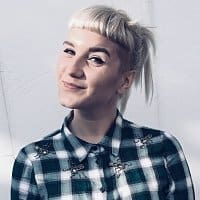 Lauren Wiseman is a marketing specialist, contributor to bizzmarkblog.comand entrepreneur. She helps clients grow their personal and professional brands in the fast-changing and demanding market, strongly believing in a holistic approach to business.
If you enjoyed our blog we would like to have you join our email list and receive weekly money-making tips, you can join now! Don't forget to join our Private Facebook group. The page is created to share your work, pitch your services and learn from other experienced bloggers!
---
***We would like to note that this post and most posts on our blog may contain affiliate links. This means that if you purchase something that has an affiliate link, we will get a commission from it. Not all items recommended on our site are affiliate links. We only recommend items that we have used and tried. These items have brought us much success and we highly recommend them to you in order to be successful. Thank you for your trust!