Last Updated on July 13, 2018 by NandiNN
There are so many things you can do on the Internet, one of the best things being the ability to make money on it. Whether used as a side hustle or as a way to make a steady income from home, you can make some serious money online. We want to share amazing ways you can make money using the internet quickly. 
Before we get started on how the different creative ways to make money from home, we would love for you to like our growing Facebook page right here! 
We also wanted to take the opportunity to let you know that we use Affiliate links on some of our blog posts. This means that we could make a commission if you click on an affiliate link and purchase something. Read our full disclosure and blog policy for more information.
If you'd like to make money using the Internet, be sure to take a look at the five points listed below.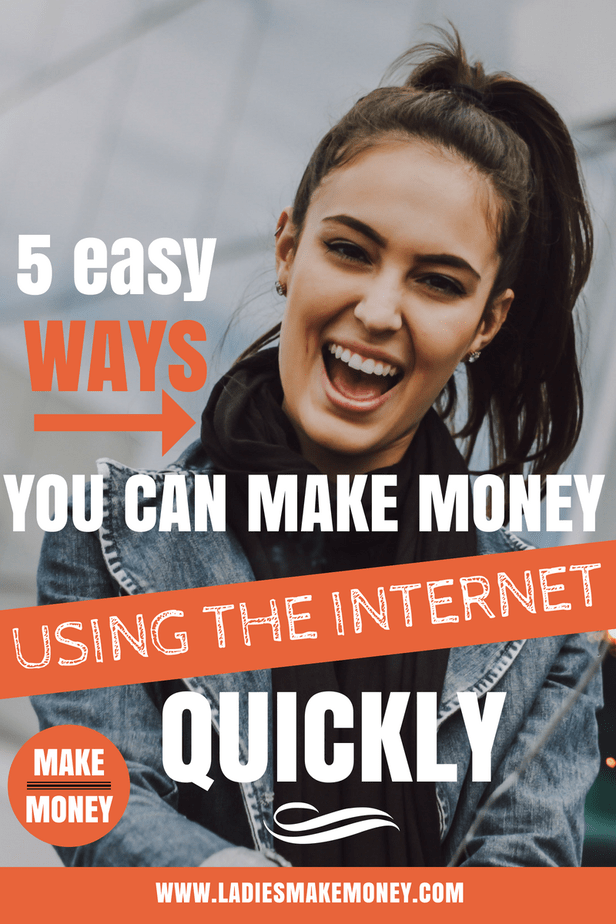 Trade currencies
If there's something worth investing your time, efforts and money into on the Internet these days, it's currency trading. Do you want a piece of the action? Well, jump right into the world of Forex trading, the go-to place to find all the best brokers, and open up your potential to make some serious cash. If you're new to the world of trading, grab a Forex bonus to help you build up your capital.
Once you get comfortable, and you know your bear from your bull market, you'll be trading currencies like a pro in no time! It's the perfect way to make money using the internet. 
Taking surveys online
Another popular trend when it comes to ways for you to make money using the internet is by taking online surveys, and it's easy to see why. Taking surveys online isn't hard work, and it has proven itself a big hit with those looking for an online side hustle. The most work you will do is pretty much sharing your opinion, testing new products and watching and commenting on new videos on the web.
Related: 
A guide for moms to make extra money online with Surveys
17 Creative Ways to make money from home
Get clicking
Did you think it couldn't get any easier than taking surveys when it comes to ways you can make money using the Internet? If you did, you were wrong, because clicking is even easier. As a clicker, all you would be doing is, well, doing what you do online every day… searching the web. You'd be getting money for using the likes of Google, Bing, and Yahoo to conduct searches online — yes, it is that simple!
Places like Nielsen digital voice and Swagbucks is helpful for this. 
Blog yourself to some cash
Blogs equal big business in today's market, there's no denying that. Yes, they demand a lot of hard work and devotion, but the return on investment can be huge. The best thing of all, your blog could be about whatever impassions you the most.
So, by blogging, you wouldn't only be blogging yourself to some serious cash, but you'd be blogging your passion with the world too.
Related: 
How to start a Blog and make money
Make Money using the Internet with Freelance work
There are always going to be freelance opportunities online, whether you're looking for a steady income or a side hustle. This is because, in this day and age, we're seemingly all about flexibility when it comes to our work.
By becoming a Clickworker, no two days would be the same. One day you could be creating texts, the next you could be taking surveys, the next you could be categorizing data and the next you could be searching the web and directing your traffic. Or, you could find yourself a job that tailors to your talents. Avid writer? Why not grab yourself a freelance copywriting role?
The Internet has proven itself to be worth its weight in gold in the money-making department. So, what are you waiting for? Go make money using the internet today!
If you enjoyed our blog we would like to have you join our email list and receive weekly money-making tips, you can join now! Don't forget to join our Private Facebook page. The page is created to share your work, pitch your services and learn from other experienced bloggers!
---
***We would like to note that this post and most posts on our blog may contain affiliate links. This means that if you purchase something that has an affiliate link, we will get a commission from it. Not all items recommended on our site are affiliate links. We only recommend items that we have used and tried. These items have brought us much success and we highly recommend them to you in order to be successful. Thank you for your trust!