Last Updated on January 11, 2021 by admin
I make more money than my boyfriend
I had a girlfriend that once dated this guy for about a year and one day she bluntly told me, "I make more than my boyfriend!"
I was shocked for two seconds (not because of what she said) but just shocked.
For one, I was once in that situation before.
And to me, frankly, that was no big deal!
My now husband definitely makes more than me now but when we first started dating when I was 21, he did not even have a job.
Granted I was in college and he was in university, but I still worked part-time.
He had a scholarship so he lived off of that, I didn't want any student loans, so I paid my way through college.
But still, I made more than my boyfriend.
The question is do you care if your husband or boyfriend earns less than you?
When we finally graduated, being an ambitious woman, I landed a full-time job in my field.
He on the other hand wanted to take it easy, travel the world, and just enjoy life.
Within a year and a half, we moved in together, I bought my first car and yes we traveled.
As you know, traditionally, most men are expected to earn more than women in the relationship, but when the tables are turned things become interesting.
If you are in a relationship where a woman makes more money than their significant other, here are a few things you need to know.
Before we learn more about what to do if you make more than your boyfriend, we would love for you to like our growing Facebook page right here! Be sure to follow us on Instagram here.
We also wanted to take this opportunity to let you know that we use Affiliate links on some of our blog posts. This means that we could make a commission if you click on an affiliate link and purchase something. Please check out our full disclaimer and policy
I earn more than my boyfriend – here is what to consider:
You are here today because you have a few questions you need to answer.
When my girlfriend first asked me the question, I knew others had the same questions and I wasn't wrong
Here are a few questions that kept coming up:
Should I date a guy that makes less money than me?

How do you know a guy is using you for money?

Should I be dating a man who is not financially stable?
Trust me these are all reasonable questions and you have every right to ask.
You want to do what is best for you at all times.
The last thing we want is someone using you for your money.
So it is best to be safe than to have regrets later.
Dating a man who makes less money? Here is what you need to know:
1. Dating a man with no money will raise concerns
If you are in a relationship with a guy that is struggling financially expect people to ask you a few questions or even question your judgment.
So be prepared for this.
If you love the guy and he genuinely loves and cares for you, then it is really no one's business.
But you need to be sure of this.
When my boyfriend was struggling financially he spoke to me about and brought up his concerns. A man that is willing to talk about his finances with you is a great man.
This opens up doors for communication and you can really help each other out.
You can also decide together how you want to handle people that ask.
If they are asking in a caring way, don't be rude (they just care about you)!
2. Get on the same page if you make more than you boyfriend
Communication is key in every relationship.
If you decide to make the move to living together, I suggest having a big talk.
Lay everything on the table in terms of your agreement.
Who is going to pay for out

How is the other going to make up their part

Should you wait to move until you are financially stable
Don't jump in if you expected to foot the majority of the money unless this is what you want and you are comfortable with it.
You might say you comfortable now because you are in love but truly think about it.
When I first started dating my boyfriend, I paid for all our restaurant outings, movie dates, trips, gas, taxis, and even his phone bill.
Yes, it was that bad.
But I was okay with it because we talked.
Trust me 13 years later and he spoils the hell out of me and my daughter (it worked out for us).
3. Create a realistic budget
If you do plan to move in with your significant other and you make more than him, be sure to create a household budget that you can stick to.
He also needs to stick to it.
If you are paying all the bills, getting groceries, rent, and everything else, things can start to become hectic.
I have this free budget I encourage you to grab and work on.
You can also use this spending planner, to help you organize your spending as much as possible (it's free).
4. When you are dating a man with no money you need to be more understanding
You might become frustrated that you are doing everything.
And you might even argue.
Arguing about money is the number cause of most breakups, so be sure you are willing to be supportive and understanding about the situation.
We definitely encourage you to have that talk we suggested earlier and lay it all out.
It is easy to take a shot at someone about money during an argument that can easily break your relationship.
So avoid bringing that topic up during any arguments.
I am not going to lie, arguing about money if one makes less than the other is going to happen.
Especially if women make more than men, arguments are known to arise more often.
Be kind ladies.
5. You will need to become creative
When comes to dating anyone that makes no money, you will need to come up with creative ways to do things that cost little to no money.
Pinterest is a great place to find great ideas.
Here is what I would suggest you do more to make the other person feel comfortable in the relationship if they are making less:
Make meals at home together

Watch movie nights at home

Find cute dates ideas that require no money like these

Spending time planning your future and seeing how to better things
Remember being broke and being in love is not always a bad thing!
6. Understand why you are together
You didn't get together because of money.
Think positive and remember why you decided to date your boyfriend in the first place.
Dating a financially unstable man has a lot of challenges but as long as you remember that is it, love, you will be fine.
Your love should overcome a lot of things as long as there is progress, you are on the same page and your partner is willing to do more.
When I first started dating my boyfriend, even though he had no money, we connected on a much great level as we spent a lot of time talking and getting to know each other.
We talked about the future, what we wanted to do and be, and how we were going to get there.
Not only was this amazing, but we were on the same path, and we helped each other get to our goals.
Dating a man who makes less money than you can be an amazing success as long as you both know the true reason why you got together in the same place.
7. You will be making the most sacrifices
Due to the nature of your relationship, sacrifices will need to be made.
Expect to be the one that pays for most things, such as your day to day living.
When it comes to birthdays, Christmas, and other special occasions, you might not get anything at all. If you are okay with that, I am okay with that.
You will need to adjust your budget frequently.
And if you feel like you are drowning and can't keep up, adjust accordingly.
8. Get a better job
If your partner is open to getting a better paying job or moving up in his career, then there is nothing better than a supportive girlfriend.
Find a way to help him get a better job so he can make more money.
I mentioned earlier that when I met my then-boyfriend (now husband), he wa
9. Respect, love, and support each other
To end this post, we want to say that even though you earn more than your partner, it shouldn't matter at all especially in this day and age.
As long as you have an understanding, you are both secure with yourselves and each other, everything else should be secondary.
Have a way to have open communication about money and if you can help them make more money by getting a better job, go for it.
Women have been fighting for equal pay for a while now, so I am glad that you are making great money.
You should never apologize for that and dating a man who makes less money is not a bad thing either.
Here is a list of celebrity women who make more money than their Men:
Nicole Richie (estimated $35 million whereas Joel Madden is worth about $16 million)

Anne Hathaway (estimated $30 million whereas Adam Shulman is worth about $1 million)

Angela Basset (estimated $25 million whereas Courtney B Vance is worth about $4 million)

Julia Roberts (estimated $140 million whereas Daniel Moder is worth about $10 million)

Carrie Underwood (estimated $65 million whereas Mike Fisher is worth about $30 million)

Jessica Alba (estimated $350 million whereas Cash Warren is worth about $20 million)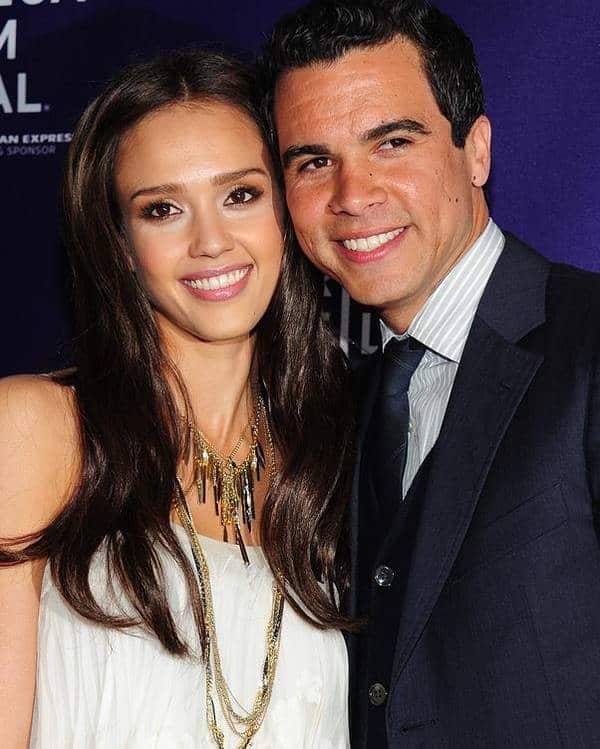 As you can see, things always work out.
I make more than my boyfriend and I am proud of that.
Well, not anymore, but you should be proud if you do.
Tell us what you think of the article below.
Would you date a guy who earns less than you?
Related post: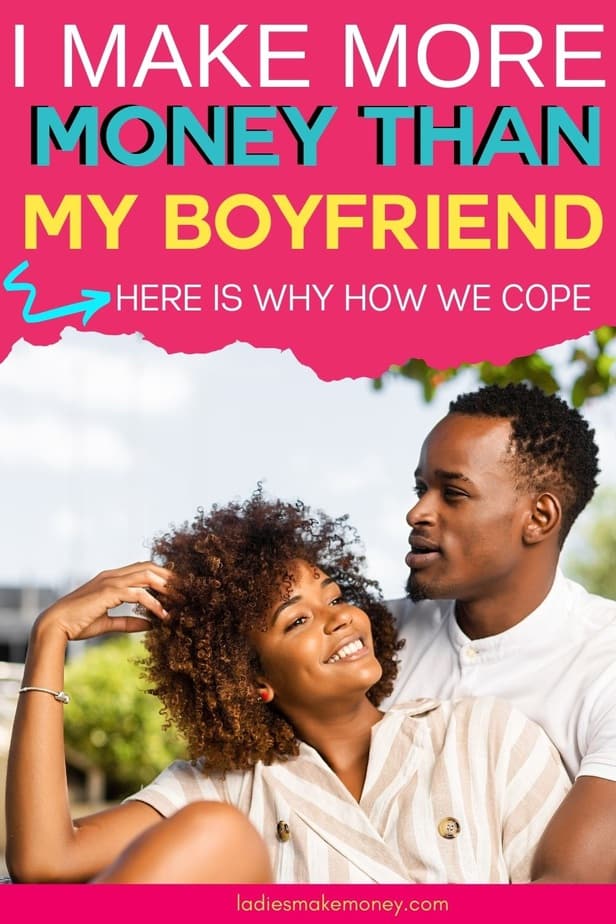 If you enjoyed our blog we would like to have you join our email list and receive weekly money-making tips, you can join now! Don't forget to join our Facebook Page. The page is created to share your work, pitch your services, and learn from other experienced bloggers!
---
***We would like to note that this post and most posts on our blog may contain affiliate links. This means that if you purchase something that has an affiliate link, we will get a commission from it. Not all items recommended on our site are affiliate links. We only recommend items that we have used and tried. These items have brought us much success and we highly recommend them to you in order to be successful. Thank you for your trust!
I Make More Than My Boyfriend – Why This Is A Good Thing