Last Updated on August 13, 2019 by NandiNN
Comparing Business Suppliers
Some entrepreneurs who started their business may have gone with the supplier who's most insistent, without waiting for the one that offers the best deal.
There are lots of reasons for this scenario to happen.
They may have been pressed for time and just went with the vendor that sent their package quotation first. Others may not have anticipated needing the service and, similarly, end up with the one who reached out to them.
In most cases, it's the company's growth that pushes business owners to find a supplier that offers more extensive functions and features.
That's why there's a need for continuously comparing vendors even if you've already partnered with a service provider.
But before we get started on the reasons behind comparing business supplies, we would love for you to like our growing Facebook page right here! Be sure to give us a quick follow on Instagram as well!
We also wanted to take the opportunity to let you know that we use Affiliate links on some of our blog posts. This means that we could make a commission if you click on an affiliate link and purchase something. Please check out our full disclaimer and policy page here.
Here are some of the reasons why you save money when comparing business suppliers: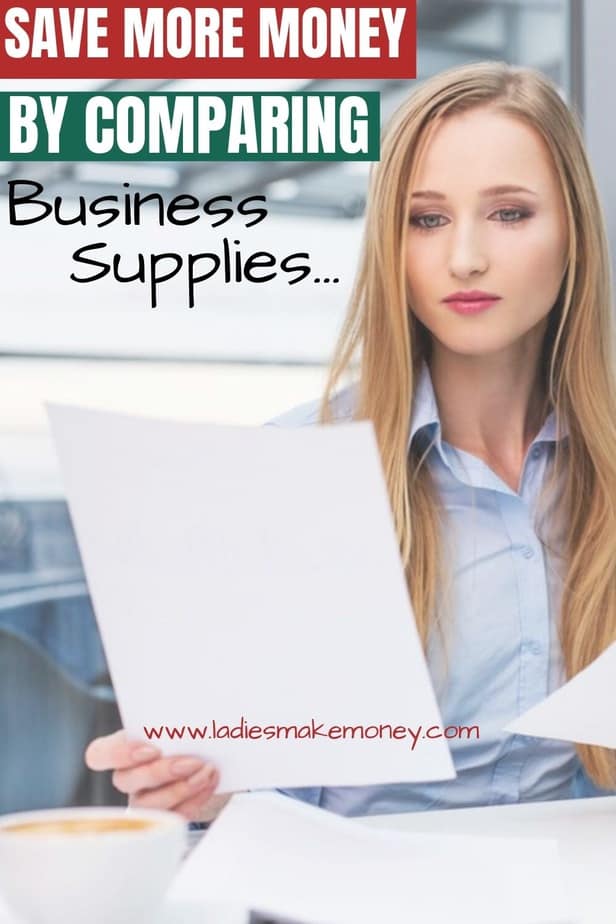 1// Get the Market Price
The primary benefit of comparing business suppliers is you get the average market price for the functions or features you need.
It's challenging for entrepreneurs to estimate the fees because there's the tendency to overprice due to the perceived importance of the service to your company.
Sometimes, the service has a complicated process, such as credit card payments.
Different card processors have varying processing fees and add-ons that can take a significant portion of your profit if you aren't aware of them.
Stephen Hart, the founder of CardSwitcher.co.uk, provides a solution to this dilemma by allowing entrepreneurs to view pre-screened supplier quotes and find the provider that best suits their company's needs.
You just need to type in a few details about your enterprise, and the website automatically shows filtered results according to your preferences.
The site also gives you an idea of the market price for credit card processors.
2// Negotiate New Terms
You give yourself the opportunity to negotiate a new contract with updated packages when you look for potential business suppliers, whether it's with your current service provider or a new one.
If you're working with a partner company right now, they may be able to adjust your current terms with one that's more favorable for your enterprise.
Even if you don't budge, you can always consult with another supplier to ensure that you get the features you currently enjoy and get additional support at no extra cost.
Some tips to help you negotiate with suppliers:
Know the Actual Cost – Before you communicate with your supplier, find out exactly how much their competitors are charging for the same service. You can use this information as leverage for your negotiation.
Learn Industry Jargon – Studying industry-specific terms will let the supplier know that you won't be manipulated into a lesser deal because you actually know what you're talking about.
Think like a Supplier – Present your company in a way that shows how much you'll be an asset to the supplier. They want to be assured that you can help them increase their revenue through your sales potential and customer base.
Find Areas of Mutual Gain – Take the time to understand why the supplier may not be agreeing to lower their price. Look at other areas where you both may win, such as the down payment amount, warranty length and scope, and bulk purchase discounts.
Be Ready with a Deposit – Don't waste the opportunity of having the supplier agree to your terms by giving them time to think twice about the negotiation. You should prepare the money before you talk to them so you can seal the deal once they consent to your proposal.
3// Customize Your Plan
Whether you're a seasoned entrepreneur or someone who recently started earning from your hobby, you'll understand that your business will have different needs from other enterprises.
There's a possibility that you can mix and match the various services and create a personalized package just for your company.
4// Enjoy Free Upgrades
Another significant advantage of comparing business suppliers is that there's a chance that they'll give you new equipment or, at the very least, updated technology at no additional cost.
This setup is ideal for businesses that have used the same machines for years. With the ever-evolving technology nowadays, you're definitely due for an upgrade.
You may be able to save money by looking at vendors that offer these much-needed updates with their plans or packages.
Comparing Suppliers
If you're planning to start a business or your current provider's services are no longer enough for your company, you should compare suppliers to find the right one that suits your needs.
You get to know the market price, which you can use as a basis for negotiating with potential vendors.
You'll end up with the best features and may even enjoy free upgrades at no additional cost.
Read this next:
17 Small Business Ideas For Women To Make Extra Cash
9 Tips for Starting A Business While Working Full Time
If you enjoyed our blog we would like to have you join our email list and receive weekly money-making tips, you can join now! Don't forget to like the Facebook page. The page is created to share your work, pitch your services and learn from other experienced bloggers!
---
***We would like to note that this post and most posts on our blog may contain affiliate links. This means that if you purchase something that has an affiliate link, we will get a commission from it. Not all items recommended on our site are affiliate links. We only recommend items that we have used and tried. These items have brought us much success and we highly recommend them to you in order to be successful. Thank you for your trust!
Why Comparing Business Suppliers Is Ideal To Save Money