Last Updated on October 22, 2017 by NandiNN
Cheap travel destinations? We are extremely excited about this post. We happy to have the lovely Ivona Harčarová from Ivona Harcar Travels! She gave us amazing on how to save over $500 on each trip! This time we will be focusing on 5 stunning places a female entrepreneur like you can travel for cheap! Who is ready to take some vacation? We are! And if you would like to make some extra money for that vacation, here is how to make an extra $800 using your cell phone!
Before we get started, we did want you to follow us on Facebook for more awesome ideas on saving or making more money. We use affiliate links on our posts which means we can make a small commission if you use a link from our site to buy something.  
Want more amazing saving and money making tips:
Nowadays the options of traveling abroad are uncountable. You can simply pack your stuff, buy a ticket, and go! You can go anywhere in the world, however, there are some places that are much cheaper than others, but they are equally beautiful!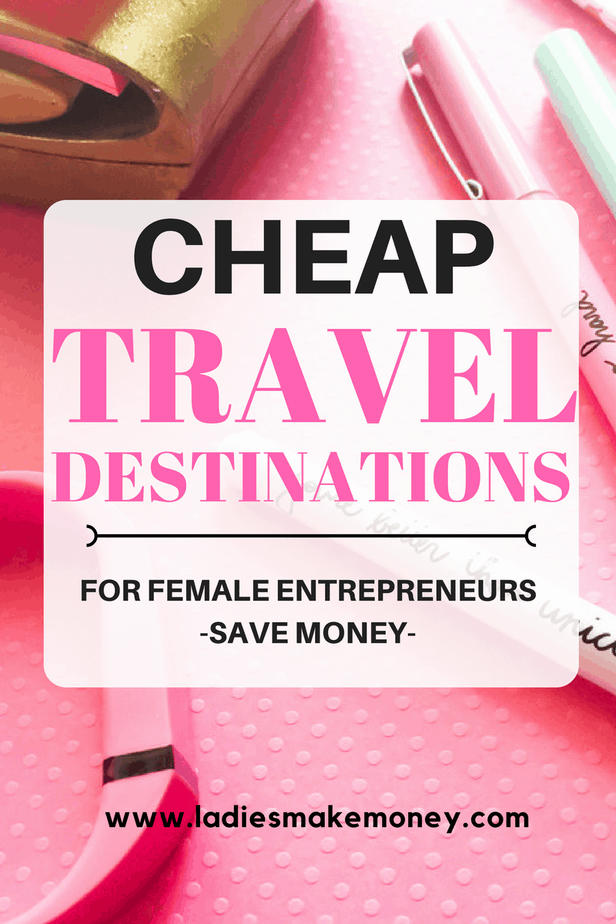 Slovakia
Slovakia is for many people an unknown part of the Europe that usually gets mistaken for Slovenia. In fact, it is a tiny country in the heart of Europe, where you can have a time of your life. It is very cheap there, as you can get an espresso for 1,50€, or a set lunch during the weekdays for about 3,70€. Of course, this usually depends on how far from the capital city or main tourist attractions you are. Accommodation is very reasonably priced and there are plenty of places to see – amazing mountains in the North, stunning castles all over the country, or tiny cities full of history! Nowadays this tiny country gets more and more popular, so you should go and explore Slovakia before it is overcrowded with tourists!
Croatia
Croatia is one of the places where you can get a cheap vacation by the Mediterranean Sea, while there is still a lot of historical and natural sights to explore in the tiny streets of Zadar, Dubrovnik or Split. However, those places used to be much cheaper when I was a child. The more tourists go to Croatia the higher the prices are.  Croatia is no longer a place only for people from the Eastern Europe, for this reason, many people choose to go on a vacation to Bulgaria, which despite lifting the prices still remains to be the Cheapest option for a beach style vacation. Croatia is considered as one of the cheap travel destinations among many. 
Turkey
Moving a little bit more East, Turkey is a great place to connect sea with sightseeing and reasonable prices. Again, this all depends on the location you choose. The last time I have visited Turkey I spent a couple of days in Iskenderun. This was a completely unique experience because not many tourists come to this part of Turkey. The prices are set for locals, there are lovely villages and spots, where you can eat fresh food for less, and it is just a few kilometers away from Syria. I bet there are many places like this in Turkey, so just pick one and you can explore it yourself.
Indonesia
Indonesia is such an amazing country with so many places to see! The only hustle could be an air ticket, however, there are parts of the year when you can get an unbeatable price and fly over for less. Once you are there, everything from food, accommodation to transport is very cheap. I believe you can afford much more than in Europe. However, if you would like this vacation to be cheap, I would recommend staying there longer, because that way your costs (including the return ticket) could equal a short holiday in Europe or in the US. Once you are in Indonesia, you can simply rent a scooter, go everywhere you want, and stay there as long as you wish. The full tank of fuel would cost you about 2 to 3 euro and one-night accommodation can be found for about 7 euro. Isn´t that a paradise? ?
China
China is never mentioned in the cheap travels option and honestly, I don´t understand why! These days you can get a pretty cheap air ticket to Beijing or Shanghai, and it is very easy to travel anywhere in China from there. You can take a train that could be a bit expensive, but there are cheaper trains used by locals. Yes, this could take longer, but the experience is unforgettable. Prepare to be the main attraction of the train, and if you speak Chinese, then your journey will seem to be quicker than you think! The food is also very cheap here and the street food is the best option ? I would recommend visiting China with someone who speaks Chinese because you will get a chance to bargain prices on almost everything. That can save a lot of money and a trip to China is no longer something you cannot afford!
Want more Cheap Travel Destinations? Don't forget to sign up to receive coupons, frugal and money making tips. 
If you enjoyed our blog we would like to have you join our email list and receive weekly money-making tips, you can join now! Don't forget to join like our Facebook fan page. The page is created to share your work, pitch your services and learn from other experienced bloggers!
---
***We would like to note that this post and most posts on our blog may contain affiliate links. This means that if you purchase something that has an affiliate link, we will get a commission from it. Not all items recommended on our site are affiliate links. We only recommend items that we have used and tried. These items have brought us much success and we highly recommend them to you in order to be successful. Thank you for your trust!