Last Updated on November 30, 2016 by admin
Welcome to Traffic Building Bootcamp! Your only Blog Traffic Course! 
In the course, you are going to learn how to effectively grow your traffic in the long run without working for hours. It will take a bit of work to set it up, but hopefully everything will run on automatic for you once you set it all up. I'm excited to have you all here and I hope you are ready to rock your online Biz and take it to the next level.
By following the strategies in the course, you are sure to be able to grow your blog sooner than letter. With more traffic coming your way, you can increase your passive income earnings, you can book more clients if that's you are doing, you can apply for ads which typically require you have at least a 100,000 Page views per month!
We want you to keep this in mind. You do not need a lot of traffic to start monetizing your blog. Traffic will bring you so much more freedom, but it doesn't mean that you need to wait until you get this traffic to start monetizing your business.
If you are new to blogging or you just want more traffic. this course will help you get started by implementing the right tools to get you on the way.
The Bootcamp start December 1st, after this date, it goes up to $97.00. Grab while it's still hot! Want a Sample of what you will get? SEE IT NOW! OR ENROLL BELOW!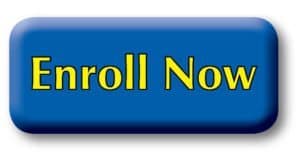 Blog Traffic: Traffic Building Bootcamp for Bloggers 
What is in included in this course:
Module 1: Traffic 101
Why you need traffic to your site

The tools you require to measure and see your blog traffic

How to set up Google Analytics

SEO 101: Organic search engines

How to use keywords to help boost your blog traffic


How your Titles on your blog help with blog traffic



Module 2: Blogging 101
What blog content will help you get blog traffic

1O Tools that will help boost your blog traffic

Guest Blogging 101

How often should you promote your blog post


Where to promote your post



Module 3: List Building strategies
Why your email list will help boost blog traffic

Tools to help build your email list


How to get your first 1000 subscribers



Module 4: Using Pinterest to Boost Traffic
How to use Pinterest to boost your blog traffic

The best tool to help with Pinterest promotion

15 Active Pinterest Boards you should join today


How to create

Pinterest-worthy

content and strategy



Module 5: Other Social Media Platforms
How to use Facebook groups to get blog traffic

20 Active Facebook groups to boost blog traffic

How Facebook ads can help with your blog traffic

How to use Twitter to boost your traffic


How to use Instagram to boost your traffic



Module 6: I have traffic now what?
How to use the traffic to your advantage

Join Affiliates programs and ads with your new stats + Monetize your biz
Affiliate Information
How to be part of our Affiliate Program
WANT A PREVIEW OF WHAT YOU WILL GET? NO PROBLEM. OUR BLOG IS ABOUT BEING TRANSPARENT WITH OUR CLIENTS AND HELPING THEM SUCCEED WHERE WE ARE! CLICK THE IMAGE BELOW FOR YOUR FREE PASS!

Who is Ladies Make Money ONLINE?
We started this blog in early November as a way to document our journey on how to effectively make money online. Prior to this, we ran a highly popular and successful wedding blog which we still manage as of today. The blog is based on weddings (http://www.culturewedding.ca) and we help female entrepreneurs in that niche set up their own successful wedding businesses.

That blog is currently 90% automated and continues to bring us sign-ups, sales, and leads on a daily basis. We also run a very active Facebook group with that business.
We then took the opportunity to start a new blog to show you that anyone can really start to make money online regardless of their niche. This blog is a documentation of how we ran and continue to run a successful wedding blog that is easily bringing us in about $10, 000 per month in client bookings, affiliate sales and products (We have a store where we sell online courses on the blog).
Because of that amazing experience we had on that blog, we decided that it was time to help other entrepreneurs who were looking to also make money online. Ladies Make Money online was born.
They are plenty of amazing information out on the web all based on "This is how to start a blog, this is how to make money blogging, sell products and join affiliates". But then what?
– You have created this amazing content
– You have joined all these affiliates programs
– You have created hours and hours worth of products "(courses and e-books)" But now what?
Who is seeing your work? Where is the traffic ? Where are the sales? What are you doing wrong? You launch but you have no audience. Crickets………
Pour a glass of wine, roll up and cry! Maybe feel like giving up???
You don't have to! So many amazing bloggers are making money online every day. I swear- READ this blog about 10 female entrepreneurs that are rocking it online.
You can totally do the same. All you need is to get eyes on your brilliant work. You don't only need to bring traffic to your blog, but your FREEBIES, your courses, your email list, lead magnets and everything else you use to run a successful blog. So how can you do that?
Creating content is not only about writing great content and expecting the world to come running to read it!
No one will read it because they do not know you exist. You need to put yourself out there in the most efficient way possible and we will show you how.
The modules will go through the things you can set up today and continue doing in order to have great success for the future. This will ensure everything you put out to the world is getting seen by your current and future clients. No more crickets for you, my friend! Only success!
Can a new blog get traffic?
Yes, you can totally get traffic to a brand new blog. Take a look at my blog. I set it up at the end of October.
Week 1: of November 7th – I hit 1000 page views.
Week 2: November 14th- I was doing a bit of redesigning and tweaking including implementing the tools I will be showing you today. Including working on this course.
Week 3: November 21st – I doubled my first week of traffic, hitting 2000 page views
Week 4: Which is this week- November 28th, I hoping to double that to 4000 page views by the end of the week (December 3rd).
Yes totally possible to start getting traffic and sales from a new blog. See the proof below. This is a week by week status. This week just started, it's a bit low.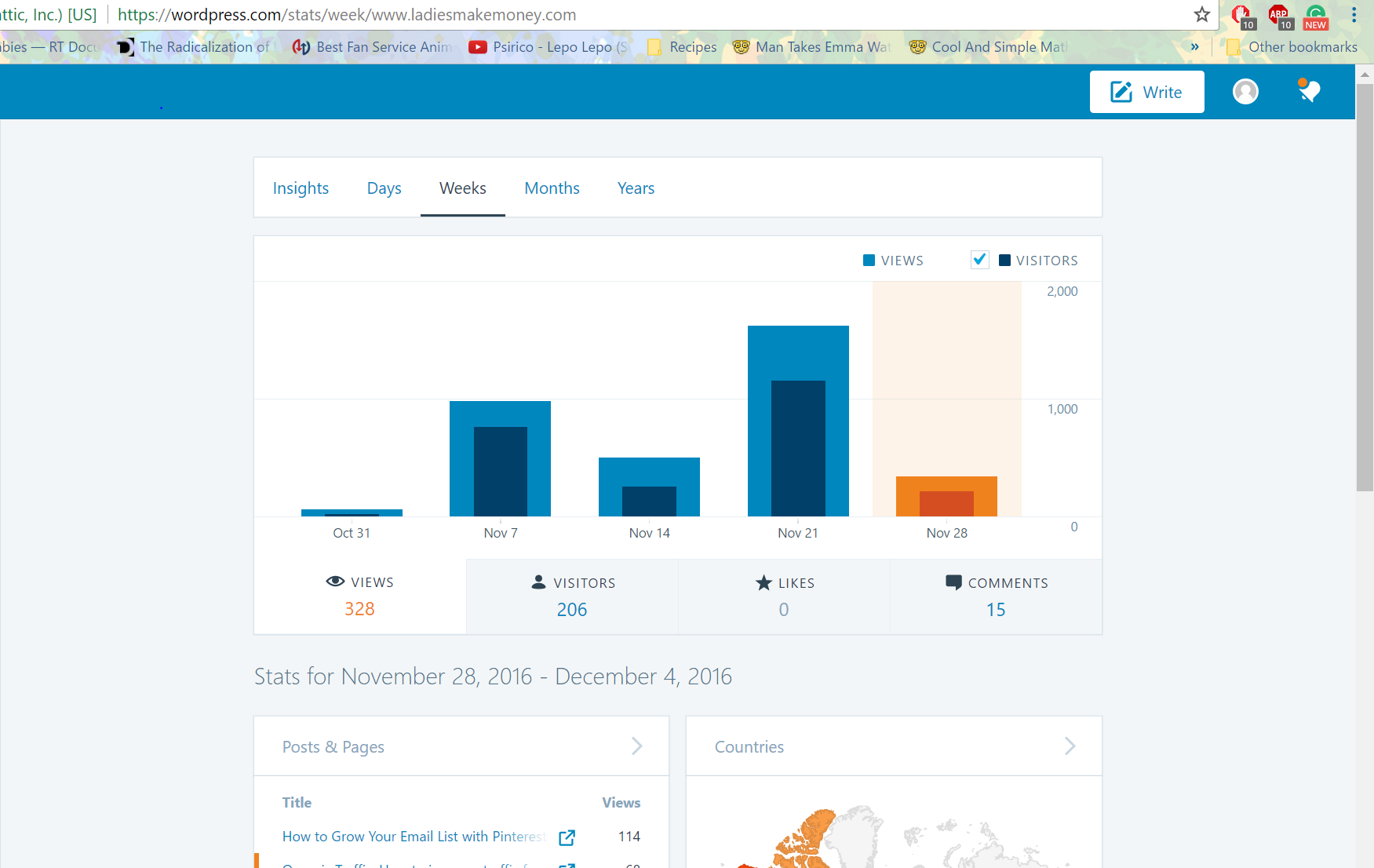 Ready to get started?
By the time we are done, you should be on your to seeing regular and consistent traffic to your blog. We will get you started and then implement a tool to further help you.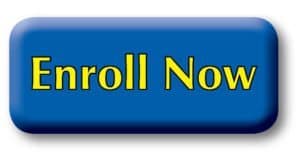 What are the benefits of joining the program? 
You are going to get tons of traffic 

You are able to apply for the affiliate and make 40% on each sale – make your money back (And we will give you the tools to succeed)

You will be able to start making income as soon as you implement the strategies 

Once you hit the 100,000 mark traffic, you can apply for most sponsored ads 
How soon do you see results? 
I saw a lot of my traffic within the first few weeks

For long term impact, it takes about 4-6 months for organic traffic to start working (Your work getting found on Google)

The tools you implement now, you could start seeing BIG traffic within 3 months 
JOIN THE COURSE NOW BEFORE THE PRICES GO UP, AND LET 2017 BE YOUR YEAR OF GREAT SUCCESS!